Contents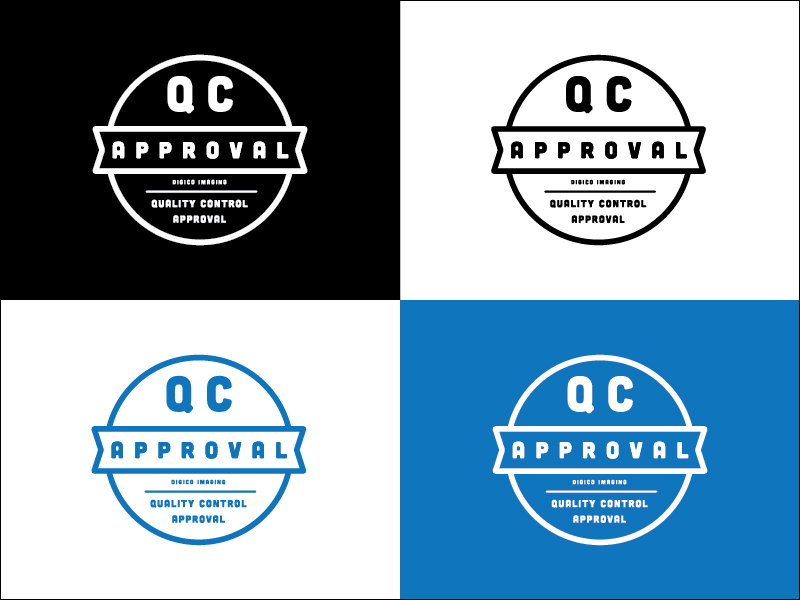 Considering today's consumers are becoming more aware of what they purchase, they now pay more attention than ever not only to the style but to the quality of what they buy. They also place great emphasis on value for money and if a garment manufactured under the highest possible standards.
This becomes particularly true when fast-fashion has an almost infinite stream of products being manufactured and thrown out season in and season out with inconsistent fitting and low-quality materials.
Doing thorough research to ensure you are working with a serious, ethical factory, is perhaps the first step —although no guarantee— to minimize quality issues in the future. It is much more likely that factory which offers fair wages and work conditions will also not want to sacrifice quality for profit at the expense of their client, hence your production.
Still, most entrepreneurs or design teams who deal with manufacturing encounter quality issues (like quality fade) at some point in the production, especially in the early stages when they're still testing suppliers, factories and materials or when developing new products.
The more pieces a style has, the more hours and qualified hands it takes to create and the more details we need to oversee. Beyond choosing the best possible factory, fabrics and materials, there are other aspects can make a significant difference in the quality of your garment:
One of them is the fit. And ever so often even experienced designers overlook this essential aspect. This can mean the difference between having someone hooked on your products for a long time or losing them in a second.
These top tips will ensure a great fit for your product and we'll explain how to do it step by step. Also how to use Techpacker to aid the quality control process:


1) Provide Garment Measurement Tolerances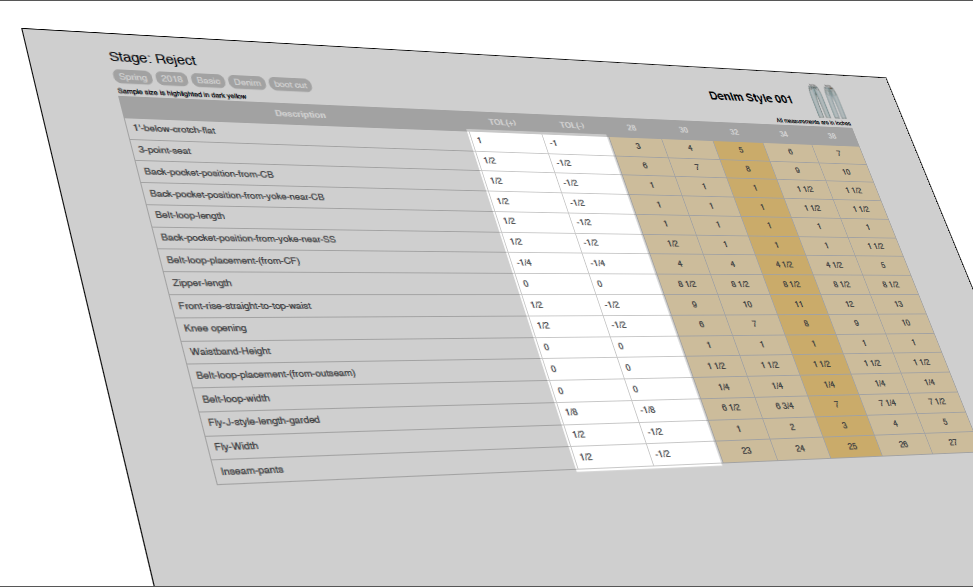 Remember that beyond all the computer-aided design sketches, garments are confectioned by hand in the production stage. Unlike other products, garments manufacturing process doesn't benefit from fully end-to-end automation, at least yet.
Besides, it's more likely to find discrepancies in the specifications of clothing than other products, since each clothing style have different characteristics like special constructions, different weight and drape of the fabrics, or catering to different body types etc.
When it comes to creating your sizing measurement tables you should ideally provide a tolerance allows for a small margin of error
And therefore when creating the size measurement tables in your style techpack, you should ideally provide a tolerance for each point of measurement. Since perfection in clothing is impossible, Tolerance allows a small margin of error, a plus-or-minus measurement that is acceptable and meets the quality standards.
Image by Fashion Incubator
And therefore when creating the size measurement tables in your style techpack, you should ideally provide a tolerance for each point of measurement. Since perfection in clothing is impossible, Tolerance allows a small margin of error, a plus-or-minus measurement that is acceptable and meets the quality standards.
Learn more in depth about Tolerance here.
Measurements Tolerances are usually provided to manufacturers or QA (Quality assurance) professional through measurement tables in the style techpacks.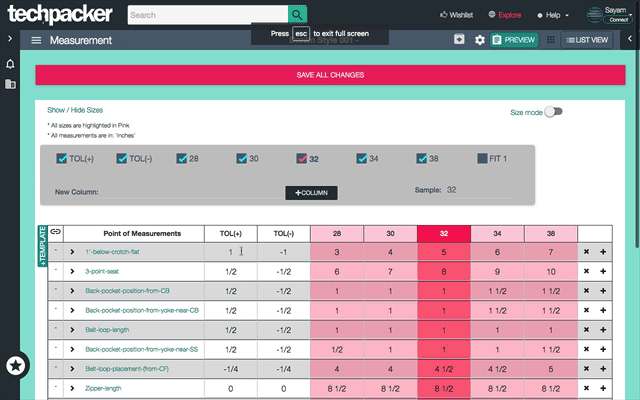 If you use Teckpacker, you can easily add custom columns (TOL+ OR TOL -) in your measurements chart and at any edit, re-arranges Point of measurements and generate/ send PDF ready techpacks right through the platform.
Related: Is Alpha Sizing Right For Your Brand?
---
2) Add a "Fit" Column In Your Measurement Table to Inspect Samples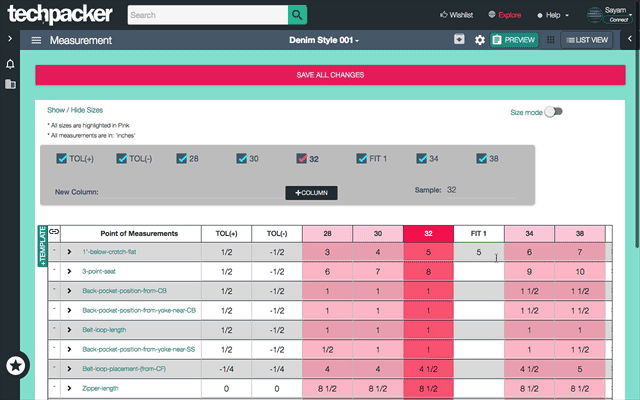 In Techpacker you can create cards for each Point of Measurement (POM) for example: sleeves, neckline, back etc. So changes can be done to each card versus the entire garment as you may only need to modify a specific measurement.
Switching to the list-view stack measurements cards in a tabular format to make garment inspection easier.
When a fit sample is received from the manufacturer you can add a custom column (like in the example above) and register the actual measurements. Your team can view this update live if they are working remotely.
There, you can enter the measurements of the sample piece quality control is checking and compare it to the initial measurements in the table and check whether the particular dimensions are within tolerance.
This is why having cards (different "lines" in list view) makes the process a lot easier: if you used one image and drafted out all the measurement specifics, with sizing and notations, you wouldn't be able to edit the card so easily: you risk getting it saturated with notes or not making it clear where the garment needs adjustment and confuse your team.
Let's say you need to edit the collar drop for a shirt; then you only need to change that card (or line) containing the collar, not the entire card for the shirt. This also helps quality control catch any detail that may show up with the fit of collars in the future.
---
3) Automated Changes and Making Notations
If your QC team or inspector finds a significant discrepancy with tolerances, evidently the measurements will need to be adjusted. With Techpacker the card is automatically updated with the new measurements, so no need to go back and forth to notify the team.
So any fit changes and comments made will show up on the Techpacker card for that item. If your dimensions are outside of the given tolerances, this can represent a serious quality control problem because any discrepancies found are likely present in many other garments of that particular style or size.
When a factory makes changes, tech designers can be reminded of any fit issues they had in the initial process, thus allowing for better communication between all teams.
Later, when sending over the final tech pack to the factory you can hide the "fit" column, as there is no need for them to visualize the quality inspection part and they can just work with the final dimensions.
Some tips for taking garment measurements: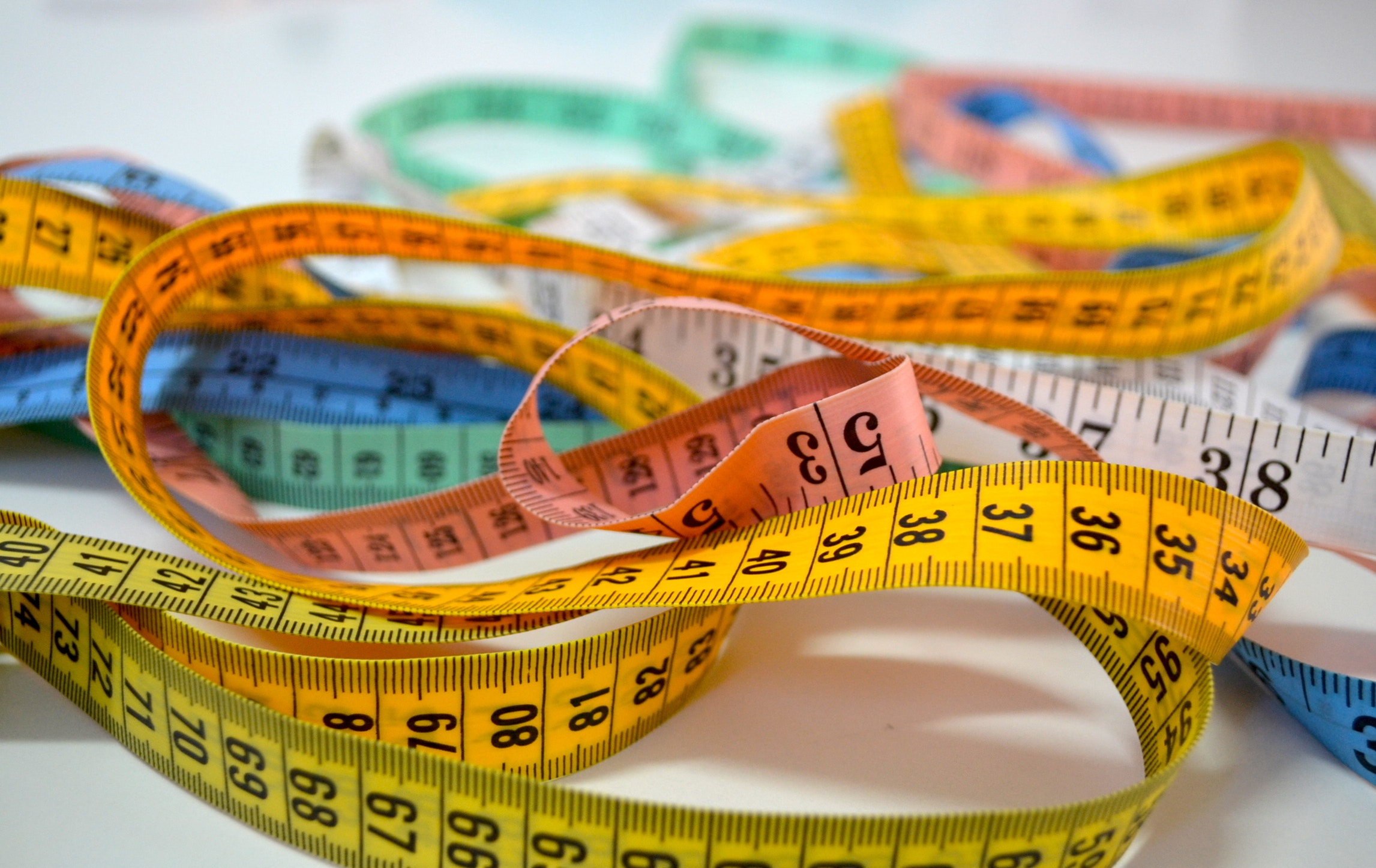 Related: 3 Tips for Writing Measurement Specs
Lay the garment flat on an even surface for more accurate measuring.

Introduce measurements for every size; it's a great way also to get the hang of using Techpacker and get familiarized with sizing.

Make sure it's properly laid out but do not stretch the garment in any way beyond it's "natural" form, this will give erroneous results and take all extended measurements at the end.

Take measurements before fitting the garment on a model or mannequin.

When measuring garment openings, ensure that they are slightly tilted inwards so the seams are not positioned at the end.

Use the Techpacker grade rules feature, especially when sizing complex garments, it will make for better sizing consistency.

Go back to your cards to update any consumer feedback as soon as possible. Remember that this can work for all styles using the same card to be updated as well, so there is no need to manually go to each garment card and re-introduce all the adjustments.
To get fresh industry updates and original content in your inbox every week, sign up for the Techpacker weekly newsletter! no spam, only carefully curated news!
Other articles from Techpacker you may enjoy:
What Is Alpha Sizing and is it Right For Your Brand?
Is Your Factory is Downgrading Your Product Quality? What to do