Free eBook: The Ultimate Guide to Importing Clothing & Textiles From Asia
---
Getting your product to market is one hell an undertaking.
Creating a comprehensive techpack is a good start, but it's only a piece of the puzzle.
You have to find the right supplier, get your samples made, and navigate through a quagmire of tests and regulations.
What if there was a reference manual that could guide you step-by-step through this process?
You're in luck.
Our friends at Chinaimportal.com just released a Kindle book detailing the entire clothing and textile development process from A to Z.
Techpacker put the finishing touches on this book - so here it is, free for our readers this week only.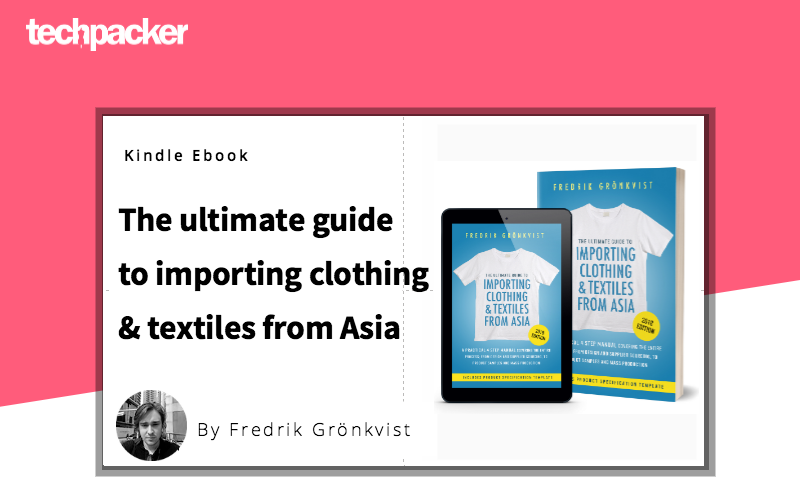 What will you learn in this book?
Everything from creating a techpack (preferably on Techpacker.com), to supplier sourcing, from product sampling to production.
On top of that, it's jampacked with a lot of hard-to-find information laid out plainly for you to refer back to.
This includes:
⦿ Textiles labeling and other regulations for the US, the European Union, and Australia.
⦿ Overview of import taxes: US, EU, and Australia
⦿ Other resources such as shipping companies, design software, quality control companies and more.
Here are the topics covered:
⦿ Overview of the primary textile manufacturing destinations in
Asia (China, Vietnam, and India)
⦿ How to create patterns, size charts and label files
⦿ How to find the right suppliers on Alibaba.com or at trade shows
⦿ How to get accurate price quotations
⦿ How to order materials samples and pre-production samples
⦿ How to place your first order and avoid scams
⦿ How to manage quality control, lab testing and payments
⦿ How to book shipping
If you're interested, get it here today.
Note: This book is only available for free this week.
---
About the author
Fredrik Grönkvist is a co-founder of Chinaimportal.com, an online knowledge base offering information and services for startups and small businesses importing products from China, Vietnam, and India.
Since 2011, he has helped hundreds of companies launch custom designed products in multiple industries, and has been quoted in Alibaba Insights, Globalsources.com, China Chief Executive, Bloomberg, Quartz Magazine and more.
---
Other Key Resources
Textiles Labeling Requirements: 5 Things Every Designer MUST Know
Why Ensuring Compliance with Substance Regulations is so Complicated when Sourcing Apparel & Textiles in Asia