Contents
Project management is frequently associated with fields such as engineering and construction, as well as, more recently, the fashion industry. The project management process typically entails a complex set of components that must be completed and assembled in a specific order to produce a working product.
In this post, we will look at how project management works in fashion product development, why it is used, and which project management tools you can use for your next project.
---
What is project management in fashion?
Project management in fashion product development is the application of processes, methods, skills, knowledge, and experience needed to achieve go-to-market goals within a budget and timeframe.
The fashion industry is one of the fastest growing, and it is probably the most unpredictable. Every fashion company faces some common challenges known as the "iron triangle": deadlines, budget, and quality. The fashion industry relies on the fashion chain and collections. Which vary and evolve in response to market trends, market specifications, and market profiles. To face these challenges, the design team comes together to focus on specific project objectives.
When a design team wants to create a product that meets the set requirements within an agreed budget and timeframe, they use project management. Each clothing collection must have a distinct beginning and end point. Product development teams are using project management tools to meet these milestones.
---
How fashion businesses use project management tools
The goal of project management in the fashion industry is to deliver an end product. This includes team onboarding, organizing its work, setting deadlines, tracking progress, asset management, and maintaining clear communication.
Let's review how fashion businesses are using project management tools to develop their products efficiently -
Product Development Stages
Fashion collections include multiple styles that are being developed at the same time. It is important for fashion teams to keep track of each product in order to meet deadlines and deliver each product on time.
Stages allow you and your team to track the progress as they are developed. You can assign stages to your tech packs (product specs sheet) and view them at a glance at any time, from design to approvals or sample rounds to production.
Create custom stages, assign them to tech packs, filter tech packs by stage, quickly identify bottlenecks, and keep your entire team on track.
Communication
Clear and timely communication is an essential part of every product development process. Whether it is communication between design team members or manufacturers.
The purpose of a project development tool is to keep everyone in the team up to date with instant notifications. Design teams can use this tool to brainstorm new designs or to review and provide notes regarding factory samples.
Or sharing tech packs and fit notes directly with manufacturers:
T&A reports
Time and action reports are crucial for maintaining product development schedules. The primary goals of a T&A calendar are to improve performance and maintain a planned schedule. That means keeping your calendar as up-to-date as possible, marking deadlines as met or missed, contacting those in charge of various tasks, and anticipating other processes that may be impacted by such delays.
T&A reports improve design team collaboration, and performance by collecting accurate data for decision-making, and efficiency by eliminating time-consuming manual processes.
In our T&A report, we can clearly see the planned dates for our stages and when they actually happened.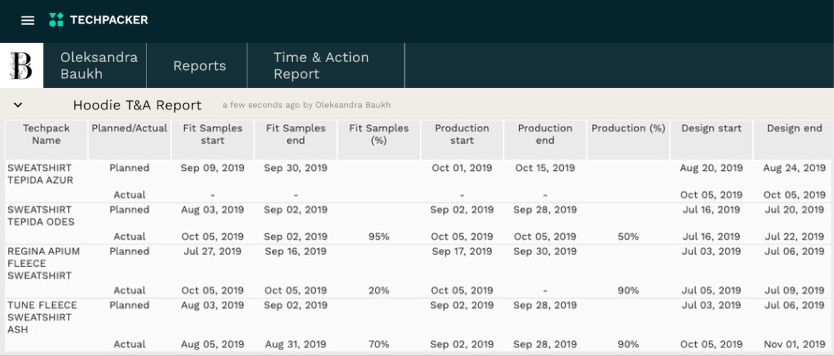 Deadlines
Product development is a complex process, and in order to run successfully, each stage has to be completed on time. The due dates and approval status features are excellent tools to monitor the progress of product development.
We can assign due dates to specific cards in our tech pack and set the approval status to them in order to resolve bottlenecks and always deliver on time.
Gantt chart reports
A Gantt chart is a horizontal bar chart that illustrates the timeline and tasks of a project. This provides your team with a visual representation of your project's schedule, upcoming milestones, and overall timeline.
This report illustrates the progress of your product development stages through these horizontal timeline bars, which represent your set planned dates vs the actual dates they were accomplished.
Materials report
A material report is a summary of all materials listed in your product development tech packs. It keeps track of material lists and vendors, as well as milestone dates and stages of sourcing.
Tech pack versions
The compare versions feature enables you to easily compare the difference between the most recent tech pack version (which includes recent changes made by your client) and its previous versions, avoiding unnecessary delays and miscommunications.
---
To sum up
In fashion product development, project management is critical. The fashion industry is one of the most capital-intensive industrial sectors in the world. It faces deadlines, budget constraints, and quality control issues. Knowledge of project management provides a systematic approach to overcoming these challenges.