Contents
We are thrilled to announce these new product updates! We introduced a set of two new reports - the Material report and the Approval Status report. These reports will give you a concise overview of your design's material requirements as well the approval status in form of a consolidated spreadsheet.
Also, Techpacker now supports Hangul language to generate tech packs. And at last we have improved our connect card feature which will allow you to sync your product development data across all your tech packs with a click. Let's dive-in to learn more about these updates-
Material Report

If you are a product developer or a merchandiser and you want to consolidate data on all the material required for your selected styles, you don't have to collate it manually by going inside each tech pack anymore. If you are our Premium plan user, at anytime you can generate a material report which will consolidate BOM for all your selected designs in seconds.  
Through this report, you can instantly analyze all the materials you will need to place with which supplier, in what quantities, and their related cost! All your BOM data can be sorted in a spreadsheet view so you can place your sampling or bulk orders accordingly. This will leave no scope for missing out on any material requirement and will ensure that your sampling or production doesn't go on hold due to the unavailability of material.  
Learn more about how to generate a material report on Techpacker here.
---
Approval Status Report

This report summarizes the approval status of all your listed items in the sketches, material, measurement, and custom sections of your selected tech packs. It serves as a checklist to manage the deliverables and the deadline during product development and bulk production stages. Once you know that all the listed items of the sections are approved by your team, you can share them with your manufacturer so they can efficiently plan their production capacity. This way the manufacturer will only take up those styles for production that are approved to further help them reduce SAM and finish your production more efficiently and on time.
However, it's important that you timely maintain this approval status record with the approval dates so that you are able to foresee the roadblocks if any. This reporting tool is not only helpful in planning and organizing the sampling and bulk production activities, but it also ensures the process is more consistent throughout and aligned with the set deadlines and you may actually target to achieve 100%  on-time deliveries.
Learn more about how to generate an approval status report here.
---
Hangul Language Support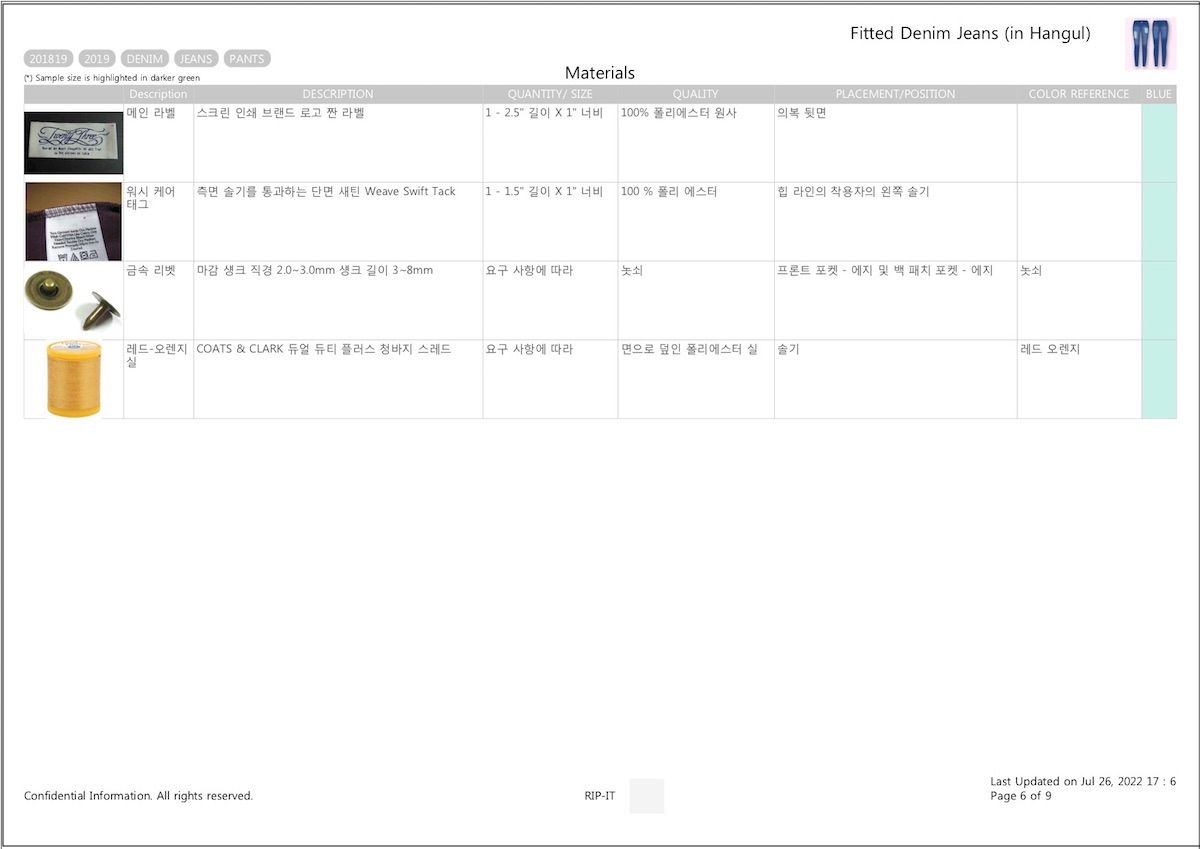 After supporting tech pack PDFs in Arabic, Korean, Japanese, Mandarin Chinese, Thai, Bengali, Czech, and Hindi, we are including Hangul (Korean) on the list.
Based on our user's feedback to help them optimize the workflow with their manufacturers in Korea, we now support Hangul as a new language. You can now type your design details inside the card in Hangul, and generate PDFs instantly to share with your manufacturers.
---
Connect library cards with multiple tech packs
Now you can connect your library cards with multiple tech packs. Meaning this feature will standardize your design information across the selected tech packs. So if you make any change in the selected library card, the same information will be updated to all the linked tech packs.
Let's dive a bit deeper to learn how this works! For example, you may like to keep your branding and packaging information uniform across the product range for a season, or you may want to keep some measurement specifications the same throughout the selected range of products. You first build your BOM or your measurements here inside the library in the form of cards. Now by using the connect cards feature you can connect any library card to different tech packs and can also keep the card information synchronized across all tech packs where it's being used. So, precisely you only update the details or make changes inside the source card which is your library card and you may see all the updated information or changes are also reflected inside the destination cards which are all the linked tech packs. You don't have to go to individual tech packs and update the card information. Imagine how much time you are able to save!!!
This makes library card information more meaningful beyond the sum of their sources taken individually. With the connecting feature, the metadata stored as library cards becomes more accessible.
Learn more about how to connect cars on Techpacker here.