Contents
Vince Lebon has been designing shoes for 10 years before he founded Rollie Nation. In 2012 using his extensive background in the footwear industry, Vince decided to pursue his idea to make a shoe that was light enough to pack in a carry-on and comfortable enough for all-day adventuring.
Before designing a single pair of shoes Vince focused on creating a business model for his brand for six months.
"Rollie Nation has a focus on the customer rather than building the brand. It's all about celebrating the personality of the wearer and comfort." - Vince says.
Rollie Nation uses up-to-date technology and next-generation materials to make their shoes. Their outsole is engineered to evenly distribute weight. So, there's no need for metal shanks. The rubber sheeted outsole conceals a lightweight, cushioning EVA midsole that gives softness in every step.
"We are always looking to update our designs with the best innovations in comfort technology. Our latest-generation Derby is version 3.0." - says Vince Lebon.
During his career as a footwear designer, Vince had a chance to test many PLM solutions. He opens up about the main advantages and drawbacks of the fashion PLM systems that currently exist on the market.
---
Finally, a PLM solution that gets the footwear sizing right
"Techpacker is one of the few platforms that really understands the importance of the tech packs". - says Vince.
"Unfortunately, nowadays very few PLM solutions have horizontal size codes. It makes it challenging for footwear brands that have large inventories. When the brand has one style in fourteen sizes it must be displayed in the horizontal size chart. Many times I have thought about starting my own PLM solution. I think there is a niche for it in the footwear and apparel industry. And I think that Techpacker is one of the best solutions on the current market." - continues Vince.
---
There is a massive gap in reporting
Rollie Nation uses multiple platforms to manage its product development on a daily basis.
"We currently use Excel for demand planning. Photoshop and Illustrator as design tools. We also use AirTable, which allows us for a lot of customization. And we use Apparel Magic as the ERP solution." - says Vince.
Although, Vince points out that there is no good solution for reporting.
"The real value comes in once brands begin to understand what style is selling, what sizes are in demand, and what needs to be replenished. Unfortunately, no PLM system focuses on that. To keep up with the production we have to be able to change the statuses and materials levels quickly. Imagine if the factory comes in and says that some specific material is not available, you will have to go into each tech pack of the shoe made with this material to change it." - says Vince.
---
Keeping up with the demand and longer lead times for footwear
Rollie Nation is a very popular and fast-growing footwear brand. They deal with large inventories and restocks on a daily basis. Being able to create tech packs fast is important for them.
"At Techpacker it is nice to build a new product instantly by dropping the sketches or photos. The ability to change the stages of multiple products is a time-saver for me and my team."- says Vince.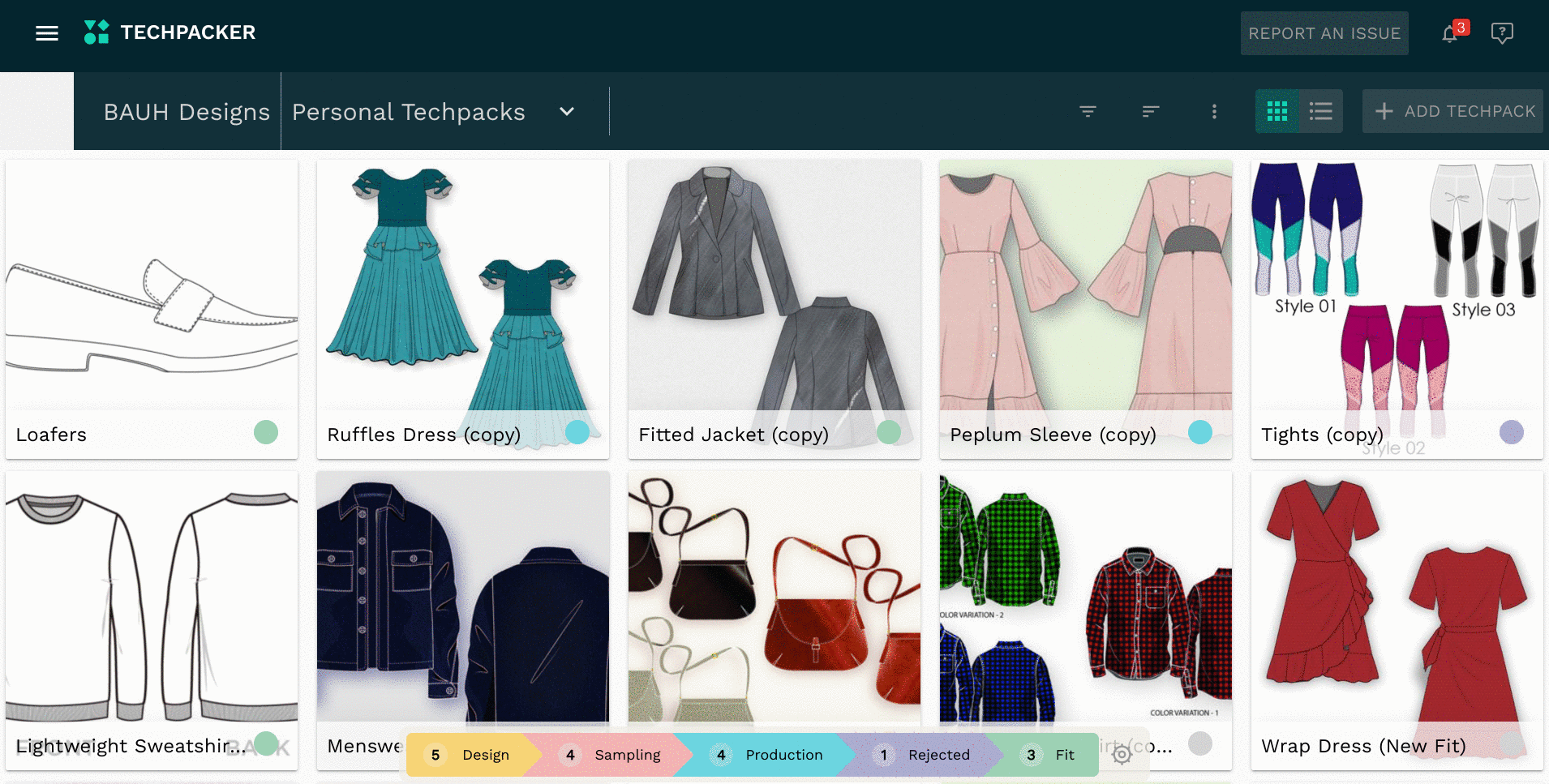 Techpacker's annotation tool helps Rollie Nation quickly add specs to the technical sketches.
"Being able to link and unlink the stored information at Techpacker is very valuable. Annotations and comments come really handy because they are very quick and easy. Choosing what to show and what not to show is a very solid solution. The customization on what you can report is very strong."- says Vince.
Combining all information in a factory-ready tech pack is a huge time-saver for Rollie Nation.
"I think what you did in Techpacker is really impressive, being able to combine different APIs into one PDF is very cool."- says Vince.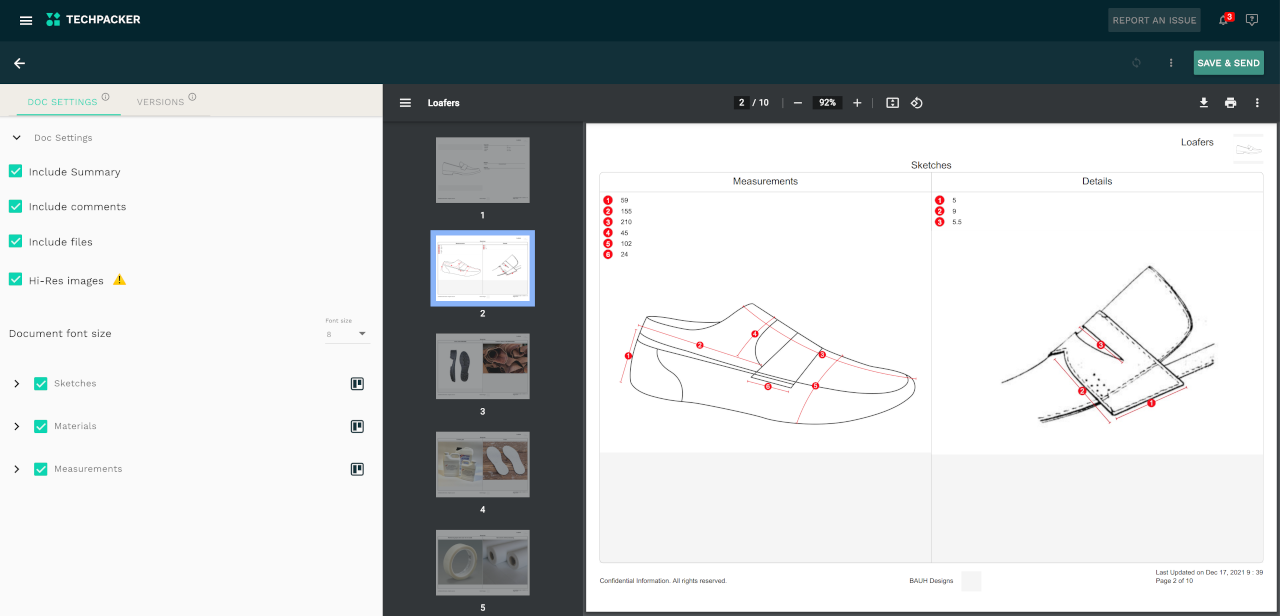 ---
Building new styles fast by re-using the design assets
The core idea of the brand is to create a classic shoe and then reinvent it, making it identifiable with the white sole/white laces.
"Once people get one pair they come back to get more. On average our customer has four pairs and we have customers who have thirty pairs." - says Vince.
Techpacker's libraries are the first most important feature that Rollie Nation utilizes on a daily basis.
"We like having a library with cool materials that we can then allocate to seasons, SKUs, and tech packs. We can then easily check what collection and season it was a part of. Being able to report on the materials, their prices, metrics, usage, thickness all become really important for the precision of the tech packing. "- says Vince.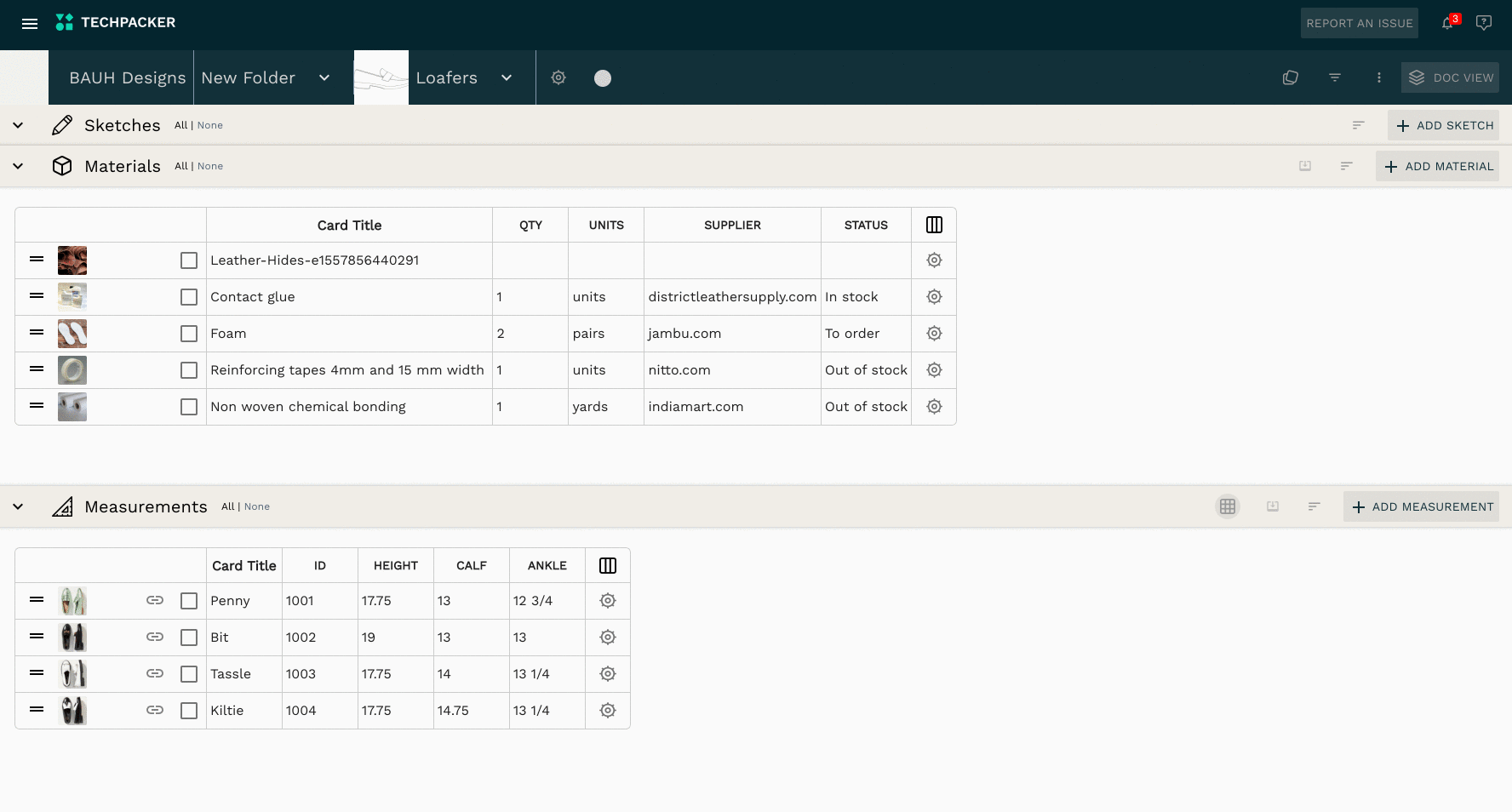 "It would be also nice to be able to update some of the info in products without going inside of each tech pack. For example, duplicating the same shoe four times and changing its color. Would be nice to have a list view without going into each single tech pack." - says Vince.