Contents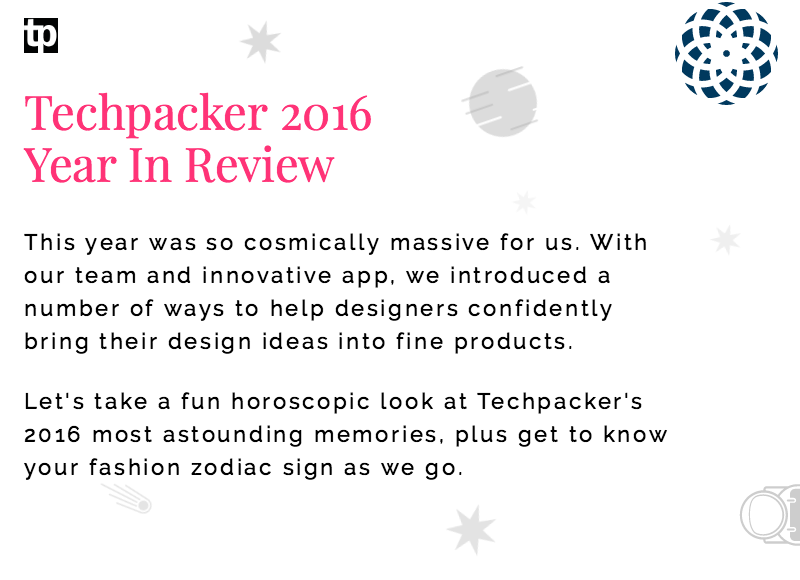 2016 by the Numbers
2016 by Zodiac
AQUARIUS Jan 20 - Feb 18
Expect an eccentric designer born under Aquarius to come up with designs that are off the wall and totally individual (like Christian Dior). In the spirit of such individuality Techpacker introduced fashion industry's first open-source fashion library with resources contributed by and for our community.
---
PISCES Feb 19 - Mar 20
Amongst the most creative and naturally artistic of the zodiac signs, the designs of Pisces designers are decidedly dreamy (like Alexander McQueen). And to make sure that all such great design ideas are instantly communicated to the factories, Techpacker launched Notification Alert pop-up at browser.
---
ARIES Mar 21- Apr 19
Aries are the rebels and game changers that dare in the fashion industry, boldly going where others fear to tread (like Marc Jacobs). Techpacker launched the Tag Folder on the TP Dashboard- a smart way to organize techpacks using keywords. We also won the best start-up (Bronze) at the Hong Kong ICT Awards.
---
TAURUS Apr 20 - May 20
Tauro the Bull is in tune with their senses, feeling out the finest fabrics and most luxurious textures and designs (like Valentino Garavani). Techpacker was featured in Gartner's Cool Vendor in PLM, 2016 report; at the same time these High-school fashion students created their first collection on Techpacker.
---
GEMINI May 21 - Jun 20
Gemini fashion designers are in their element creating fashions with a sense of duality (like Salvatore Ferragamo). In that similar dual fashion, Techpacker launched a user-friendly interface with a simple on boarding process and a web tour for all new users, while meeting their other expectations
---
CANCER Jun 21 - Jul 22
The signature color for Cancer fashion designers is usually white, like Armani. As a feminine water sign they are sensitive to the emotional needs of people. In turn, we realized our designers needed a simple tool to draw lines & call-outs on their sketches. And so we launched sketch Annotations.
---
LEO Jul 23 - Aug 22
Laid back Leo Yves Saint Laurent is a purrfect cat in the Moroccan Sunshine, Coco Chanel was a proud Leo too. They've got the midas touch, that's for sure. Around this time of the year, Techpacker organized a successful Fashion contest for design students to sell their designs in stores of a renown Hong Kong brand.
---
VIRGO Aug 23 - Sep 22
You've got to embrace the Virgo in you to be at the top. Practical and detail orientated, organized and rigorous (like Stella McCartney). In the same fashion Techpacker brought a juxtaposition of practical and fun to communicate through tech packs, using 87 new fashion emojis.
---
LIBRA Sep 23 - Oct 22
Libra fashion designers often produce beautifully streamlined clothes with a romantic feel (like Ralph Lauren). In cue of this zodiac, Techpacker released an update for simplifying the designers work process with new features like grading, printing comments on PDF, sorting etc.
---
SCORPIO Oct 23 - Nov 21
The fashion designers born under this sign can really do dark and stormy like no other! Roberto Cavalli typifies such mysterious aesthetics in his designs. On this month, Techpacker launched the capability to directly upload Ai files to their techpacks. We alsi conducted our first live webinar on fashion sketches + techpacks.
---
SAGITTARIUS Nov 22 - Dec 21
Bright colors, bold statements and cartoonish style. It's the Sagittarius Fashion Designers that are trailblazing in fun fashion (like John Galliano). With that momentum, we collaborated with Sew Heidi– a fashion illustrator specialist to create a fun/free e-course on how to use Illustrator & Techpacker to create quality techpacks.
---
CAPRICORN Dec 22 - Jan 19
Authoritative, ambitious and really realistic, count on Cappy to give you high quality. They are desk bound but stay stylish (like Diane Von Fürstenberg). You expect the best for you and your team: meaning, the best ways to create joint techpacks and produce quality clothing. That's why we launched Techpacker for Organizations.
---
The author of this post is our CMO & Co-Founder at Techpacker. He resides in New York City where he graduated from FIT and previously worked with Tory Burch and Perry Ellis. He enjoys his early morning readings, he plays no instruments but is proud of his beat counting skills and high chances that you'll run into him long-boarding at Prospect Park with his friends.
---
Follow us on
---