Contents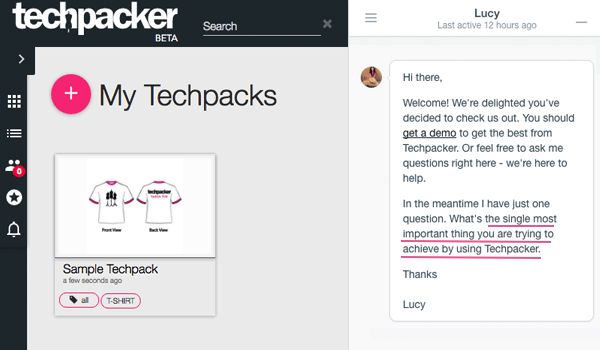 Whenever a new user sign-up on Techpacker, we send them a short welcome message through our chat support box. This first interaction serves as a perfect opportunity for us to thank new users for trying our tool, offer them any assistance to get started and even to learn more about their expectations. We are always keen to hear from our users, what exactly are they trying to achieve and why they chose Techpacker. This helps us synchronize our time, efforts and resources to build a tool that can actually serve a need.
This past week we had many new sign-ups and a few of them wrote back to us their expectations. After reading them and analyzing them with the comments we have received in past, we realized a similar pattern in the goals that our community is trying to achieve on Techpacker. And so we decided to write a blog post about the Top 3 expectations or goals and map out how Techpacker can help achieve them.
Below are those 3 users expectations -
---
"Trying to get my idea on a sketch"
Techpacker was designed with a visual work approach in mind because we figured that designers nowdays, and in fact, people in general are prone to visually receive and express information. Thanks to social media, this has become a faster and effective way to communicate.
On Techpacker we employ such visual approach through tagging comments on sketch or images. We introduced a smart tool called Annotation to help overcome the communication obstacles between designers and factories and make the process faster and more efficient.
This tool enable designers to tag comments or add notes on any specific detail of a design sketch. This helps them get their ideas and requirements across to the others. And when a factory receives information like this in a tech pack, they are able to develop and deliver high quality results.
Learn more about how Annotation works on Techpacker here.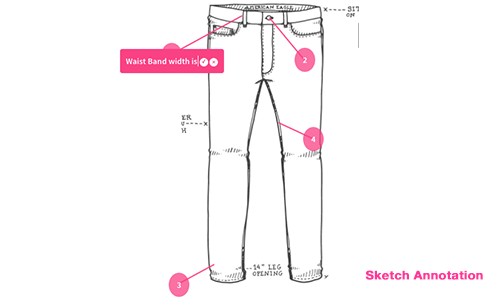 ---
"A proper workflow of information from sampling till sending goods to warehouse"
Getting a collection made is a time consuming process. It involves allot of information that has to be exchanged between a designer and their factory. Each style in a collection has its own set of data in form of design instructions, email threads, charts, flats etc. And since all this information is scattered out in different apps like excel, illustrator, email browsers etc.. it becomes very hard to organize and optimize this valuable data.
Techpacker is very carefully designed to help designers organize and maintain the entire workflow of information from the product development (sampling) to production. When you create a style tech pack on Techpacker, you break down your entire style in form of Cards and group them inside three major categories - Sketches, Material and Measurements.
So let's say you created a card for a button inside a style tech pack. This card will keep the entire information of that button together at one place. This includes its sketch, description and even the comments or files you shared with the factory or team. This way a designer has a better grip of their entire fashion data together organized at one place so they can make faster decisions.
Learn more about the cards here.
---
"Just wanted to be able to create simple and to the point tech packs."
When you shop for furniture at Ikea, it usually comes with a booklet with a step-by-step information guide on how to put together different parts of that furniture. Similarly, designers creates tech packs as their design guides and provide it to their factories. Therefore it's very important that Tech packs are clear, organized and covers every aspect of a design, step-by-step.
Therefore, incomplete or unclear Tech packs can result to major delays, bad quality designs and waste of money.
Creating tech packs on Techpacker is quite simple and intuitive. It's an organized process that covers every important aspect of a design that should be included in a tech pack. And once the entire style information is together, with a click of a button you generate a PDF version of an industry standard Tech pack that any factory can easily follow. So no formatting required, simply print or send the PDF's to anyone. It's a simple and straightforward process.
Learn more about how to print or download a tech pack here.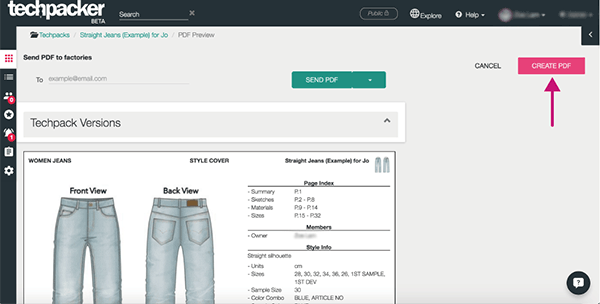 ---
The author is the CMO & Co-Founder at Techpacker. He currently resides in New York and is in love with that city. Music and video making is very dear to him and he thinks he can count beat drops. He graduated with Merchandising degree from Fashion Institute of Technology and has previously worked with Tory Burch and Perry Ellis.
---
Follow us on
---
with
♥
Techpacker.com
'make it happen'