Contents
The current state of Great Lockdown has forced store closures and supply chain disruptions across the world. It also has exposed many weaknesses of the fashion industry. Just in march, the sales of clothing, footwear and accessories went down by 75%. The only hope for retailers is their online shops and quick replenishments to carry them through this economic downturn.
However, as the virus peaks, world is preparing for a mission to reopen, manufacturing is coming back to normal in some US states and in other countries. It's time to get ready for the Great Comeback of your fashion brand!
The lockdown provided us with an opportunity to take a step-back and understand how businesses are getting affected and the tools needed to prepare you to work remotely and thereafter for the great comeback. We have been gathering feedback from you so as to reinforce our efforts on what matters the most to you.
The number one feedback was -  speed and faster ways to work on Techpacker! so you get to spend less-time working and more time with your pets and family (By the way, we have added that as one of our critical goals at Techpacker and you can read more in detail here).  
---
Overall Speed
We value your time and are continuously working on improving the overall performance and speed of Techpacker. It's a challenge that's worth fighting as nearly a million cards and images are constantly added to Techpacker and to manage such big data requires talented engineers. Therefore we are continuously expanding our product team and luckily we now have Miguel (our CTO highjacked from Google) and Talha Anwar leading from multiple fronts.
Now, you'll notice that Techpacker will load at least 5 times faster. You can observe these changes on Login to Folders Page and Libraries. There's more work that needs to be done, especially on Cards Board and Doc View (PDF). We are rewriting the entire module to bring you faster experience.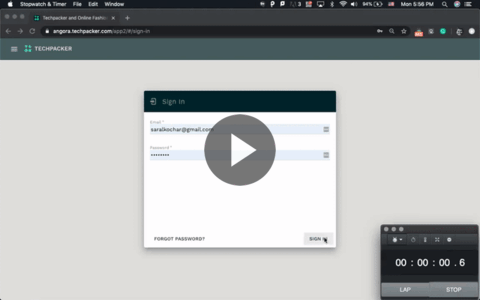 ---
Automate and Customize with Org Settings
In most cases, you are using the same size range for your products. Or you prefer having certain additional columns in your bill of material tables. But do you really have to add them one-by-one whenever you create a new Tech Pack? Well, we have something cool!
Now you can set-up default sizes, columns or doc-view settings directly through Organization settings and save yourself a ton of time.  Next time you create a new Tech Pack, they are automatically set up for you!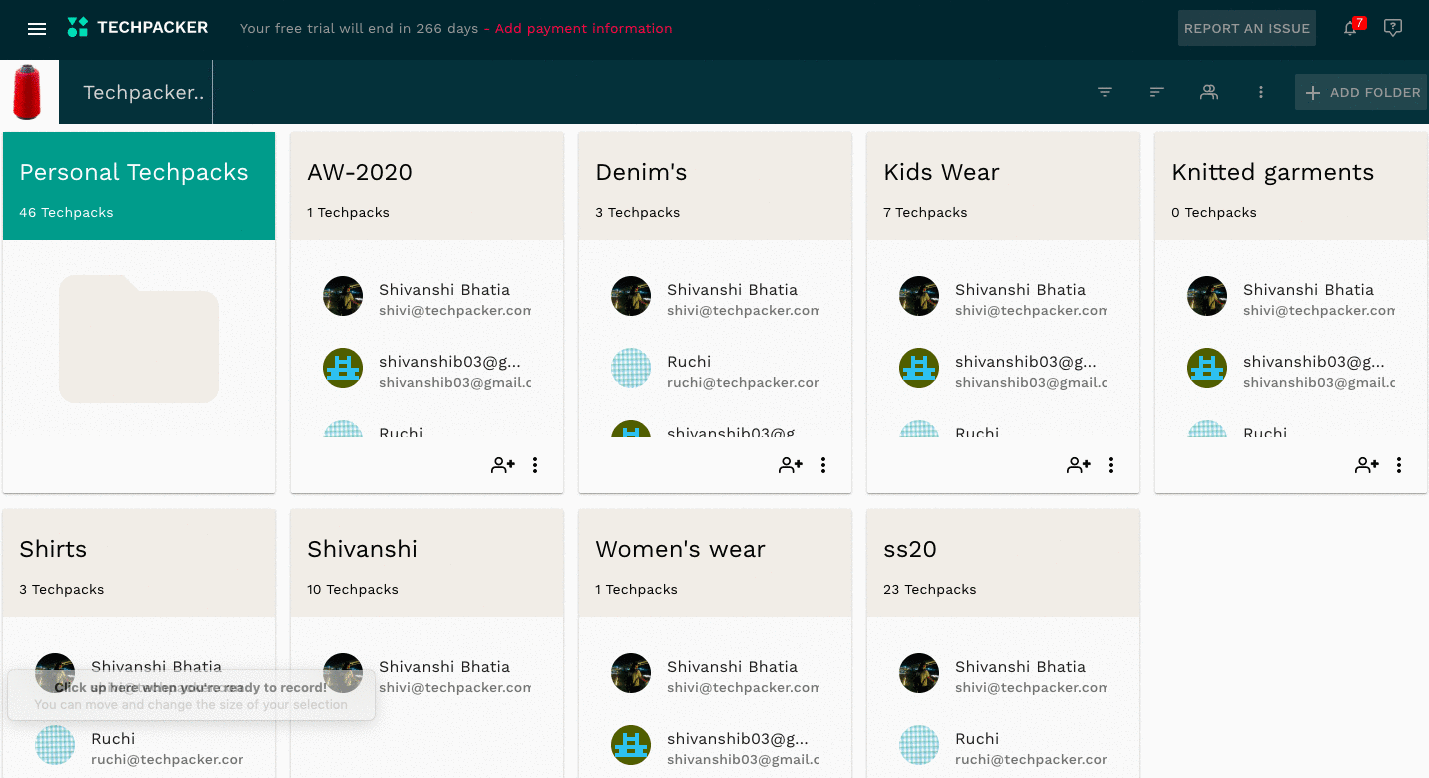 ---
Clone Folder Settings
Speaking of reducing repetitive work, how frustrating is it to create folders and then having to add the same stages over and over again?
Well, there's a better way of doing it now! Simply clone the folder so that all stages get copied over, together with team-members! 👍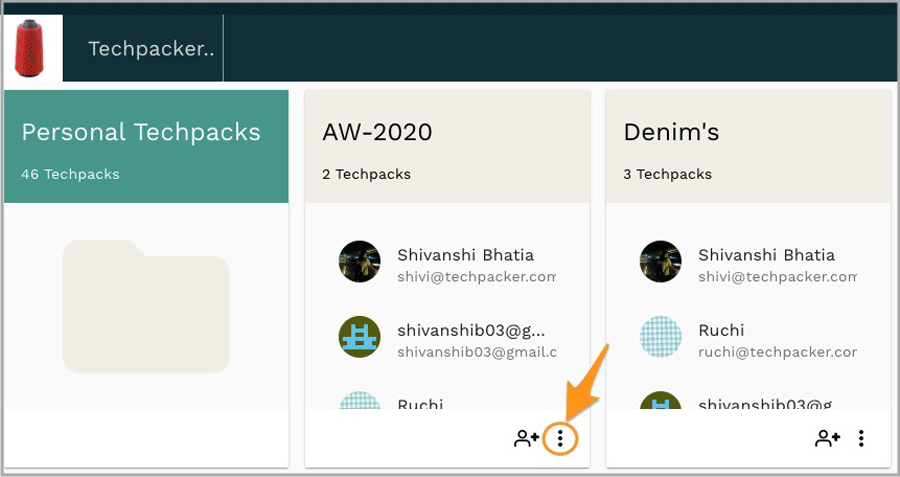 ---
The All New Redesigned Notification Center
As you work remotely, clear communication between your team members becomes critical. Therefore we have redesigned the notification center with these top features:
a. You can now mark notifications as read;
b. Clear them individually or all at once to stay on top of your notifications;
c. Get notifications when stages are due;
d. Get notifications when cards approvals are due;
e. Filter notifications by type.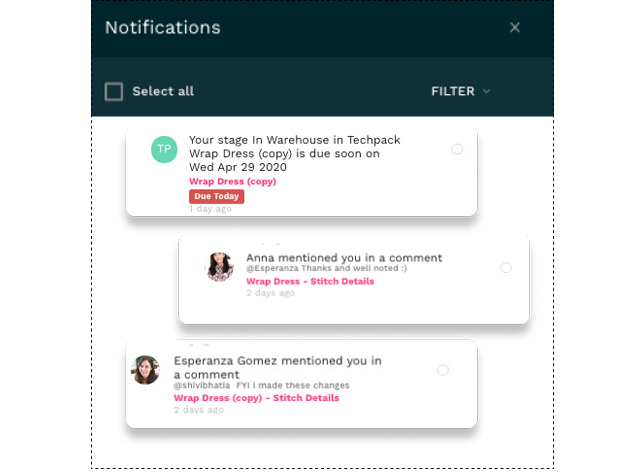 ---
File and Comments (Delete and Copy)
Delete:
While you are working remotely, you are constantly leaving comments and sharing files with your team members. Now imagine, suddenly your cat walks over your keyboard and steps on ENTER...💥boom, the message is gone to my boss....S#*t💩. Before she reads it, let's delete it :)
So yes, a much-awaited feature of removing comments and attachments from your cards is here! Because we all deserve a second chance and shouldn't have to feel guilty for those auto-corrects for the rest of our lives.
NOTE: Only the admin or the users who wrote the comment and added files has the privilege to remove them.

Copy:
Just like how you can remove comments and attachments, you can also include or exclude comments and attachments when you copy cards to other tech packs. It's useful if you wish to carry forward the history of a card to the next style. So you can remember things like why you rejected a button or a lab-dip in the first place.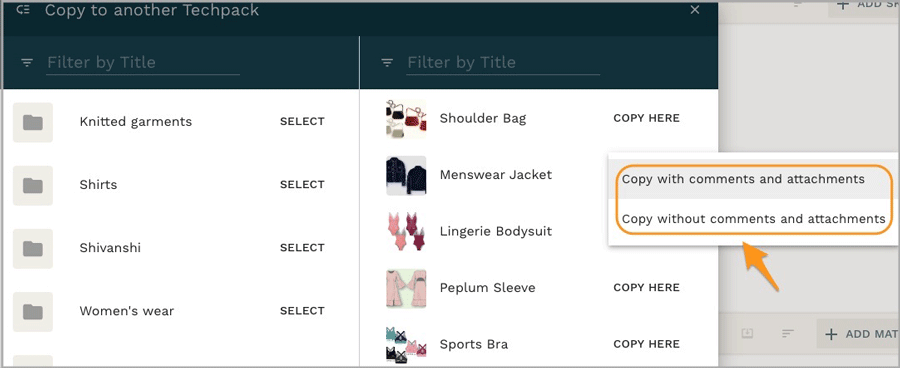 ---
Restore Tech Pack Versions
Working remotely has many benefits but also comes with many WHAT IFs...A feeling particularly related to consequences of something undesirable happening like cards being DELETED or information jumbled.
To avoid these troubles, we introduced this new option to enables easy restoring any previously saved version of a tech pack.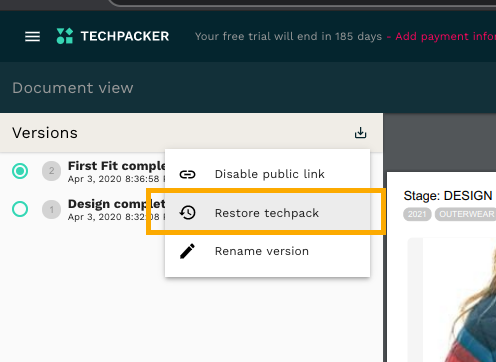 ---
Expanding Coverage of Undo Function
"What the heck, I can always undo it". In Techpacker we have been working on providing a safety net when things go wrong. Next time, while working on cards board, try using cmd+z on Mac or ctrl+z on Windows to undo the changes.
Note: This function is still on beta mode but we are continuously expanding the coverage.
---
Pick annotation colors
We do need bright colors to cheer us up while working from home! So we think more color options for annotation are a must!
The other benefit, it may also help with images where you need contrasting colors 😉.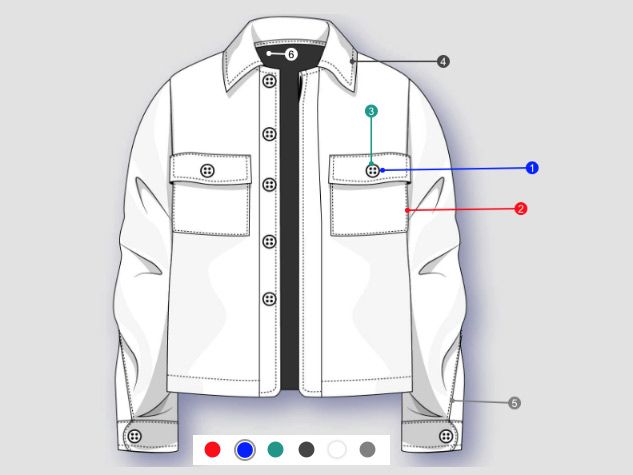 ---
New Libraries
🏷️ PRO account feature

The classic card libraries was great and is one of the most used features on Techpacker. Though, it had limitations like you could only choose between the organizational and personal library and couldn't save column information with it.
So we decided to upgrade the libraries with new features! The new libraries are much faster, organized and can store a lot more information. Here are the top 3 benefits:
Organize efficiently by creating and separating libraries. For example; buttons library, Pantone library or Care-label library etc.
Store additional column data within the cards in new libraries. Such as supplier, cost etc.
Use new libraries for everything including measurement templates, how to measure diagrams and annotations or save entire custom section in a library.

---
Export Techpack in Excel Format
🏷️ PRO account feature

Are your manufacturers requesting to send Tech Packs in Excel format? There are multiple reasons for that. Mainly because it's easier for them to translate to local languages. Or simply feed the data into their ERP systems.
You can now use Techpacker Export to 'Excel feature' to export the entire tech pack as xls format. The Tech Pack data will be separated in multiple sheets and will also include images.
Note: It's currently in beta so please provide your feedback on how we can improve from the comment section below!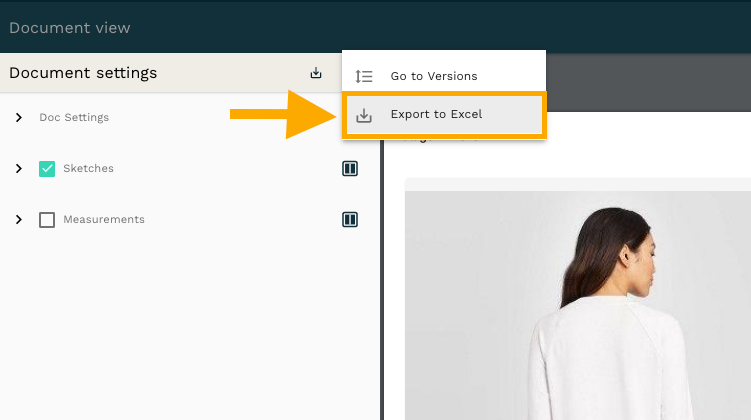 ---
Reports
🏷️ PRO account feature

We have introduced reports and infographics to help you spot product development and production bottlenecks and understand data in meaningful ways. Now you can get real-time insights into your organization's techpack data and make smarter business decisions to improve your products and services.
To learn about different types of reports available and how to create one on Techpacker click here.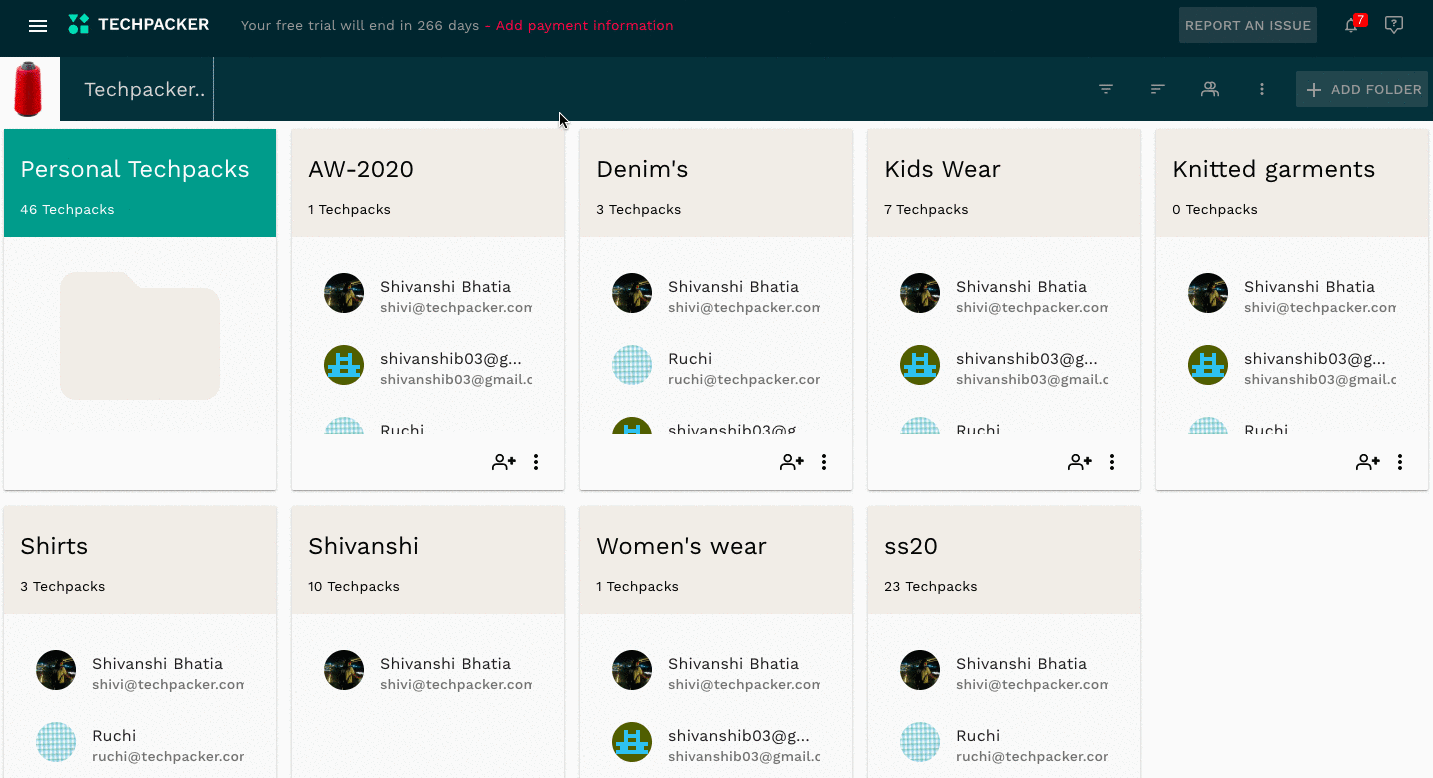 ---
Folders Sorted
Sort function is now also available on your folders page. You can easily rearrange folders by their creation date or in alphabetical order. It works exactly the same way as you sort your cards and tech packs. But the best part is, it will not affect the order in which your other team-members prefers to view them. Sorted, innit..✌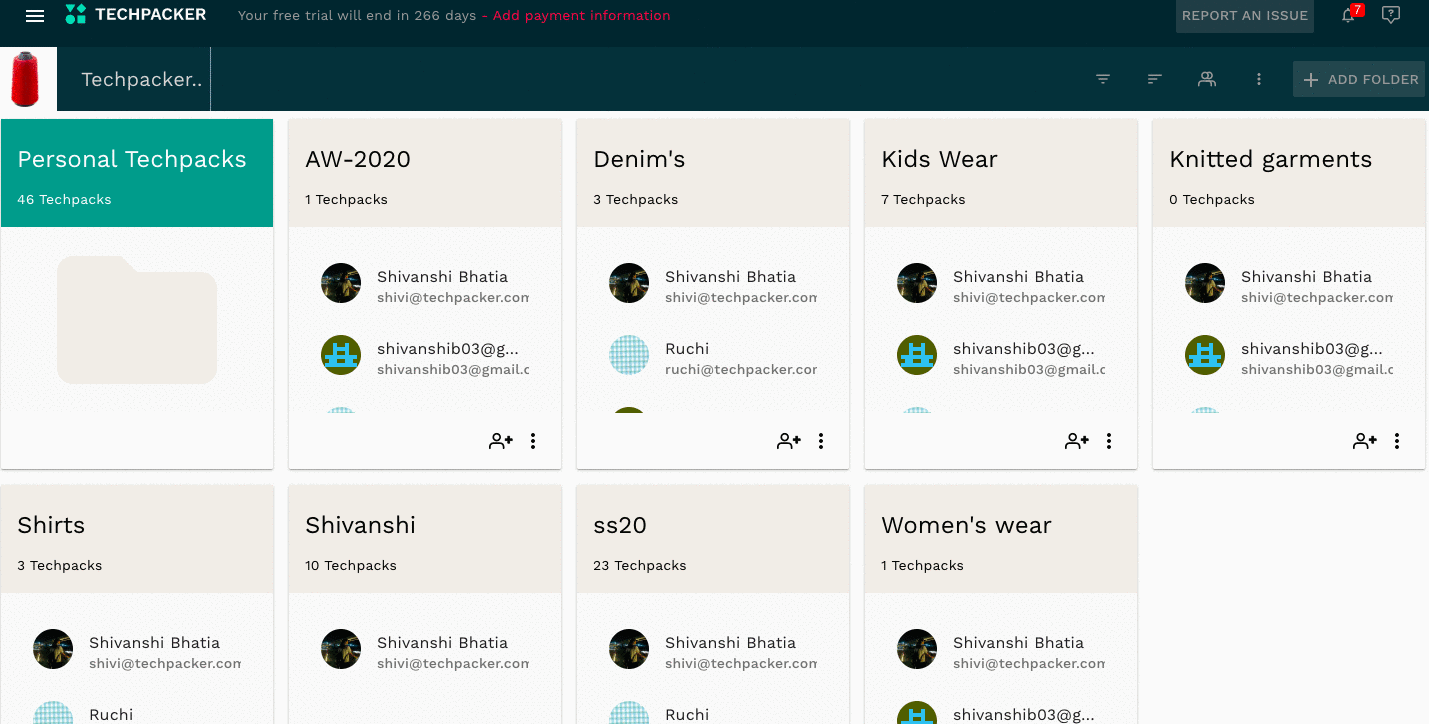 ---
More Options to Customize Tech Packs
Finally, we continue to improve our document settings feature to give you more flexibly to customize your Tech Packs PDF's. Here are some of the updates:
a. Customize font-size
Now you can rescale the font size of your Tech Packs (PDF's) so you can use less paper or fit more columns and details in the same page.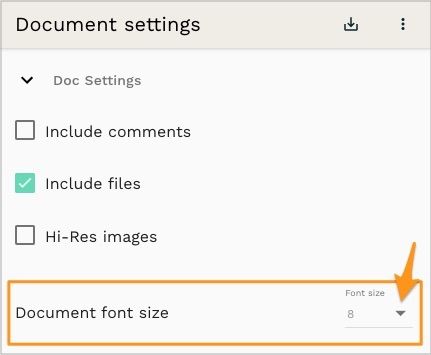 b.  Hide or move tables
Now you have the options to include or exclude tables in your PDF doc OR view tables before images.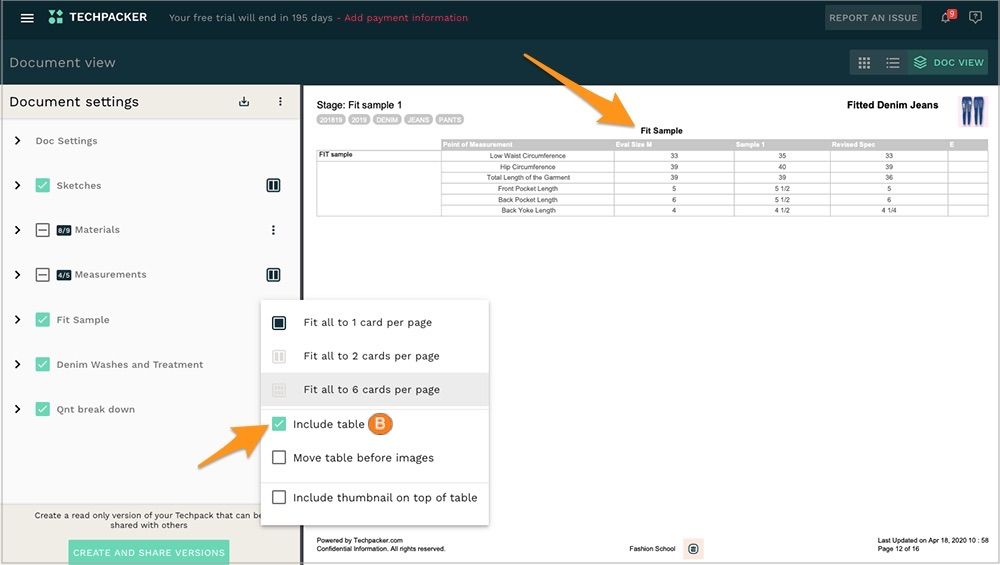 c. New layout option to include images and table on the same page
To save pages and have more options for your techpack layouts, you can now include images as thumbnails on top of your tables. This comes handy if you have Point of Measurement images or FIT comments and have them all included on the same page.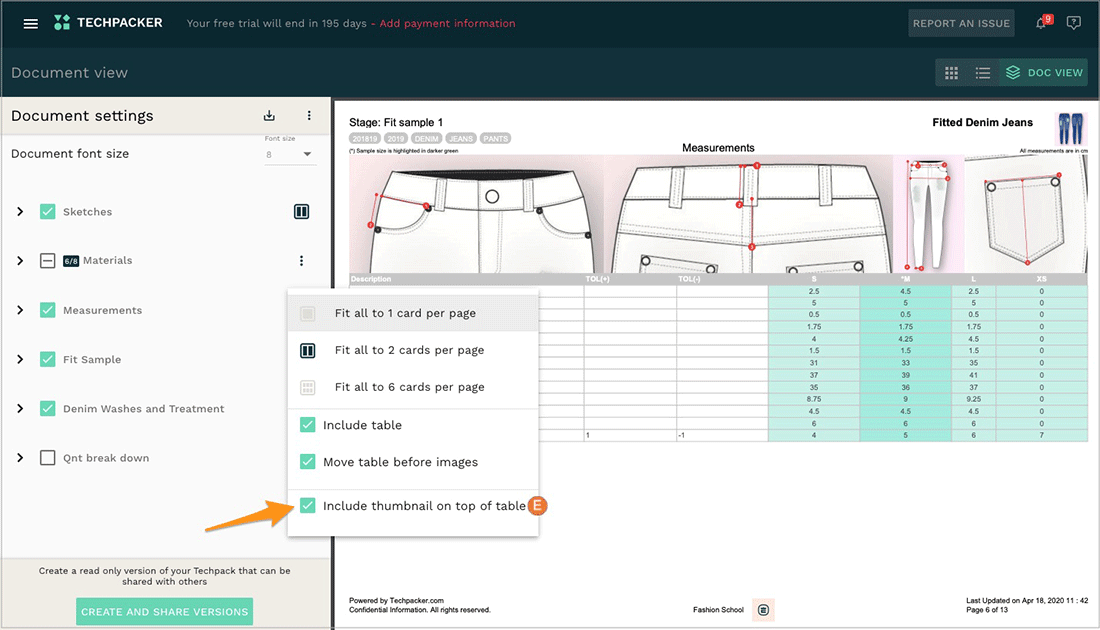 ---
(Bonus) Send Tech Packs directly to your Manufacturer
You can now send Tech Packs directly from Techpacker and know the second a manufacturer views your tech packs or downloads it so you spend less time chasing your manufacturer and more time designing.
Below are the highlights:

Select a read-only version of a Tech Pack and send to your manufacturer.
Add customized messages when sending tech packs.
Track when you manufacturer opens your Tech Pack.
Get e-signature from your manufacturer when they download your techpacks.
Keep all back-&-forth communication together with your manufacturer at one place.
Ability to remove access and make it private again when done.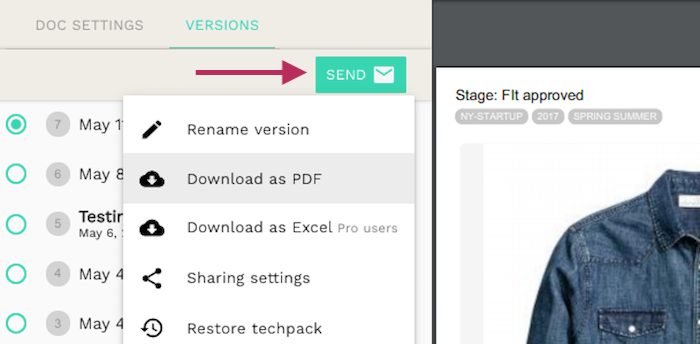 ---
Hope these changes will help you work effectively while working remotely. We are currently working on increasing the performance of the Cards Boards as we know that our customers are spending most time on those.
Finally, we have introduced new pricing based on seats so you can have more flexibility of upgrading or reducing the number of users whenever it makes more sense. Check it out here.
Wishing you all a healthy and safe time at home 😷