Contents
An ideal cost sheet should be simple, yet comprehensive enough that it holds all of the necessary information about the garment you're producing. Techpacker helps you create a neat, organized, cost sheet that keeps track of all the expenses and that you can also save for your records.
First of all let's discuss -
Why Excel sheets are not ideal for garment costing
Many organizations still rely on Excel spreadsheets for their costing operations. They're confusing, difficult to read and more prone to calculation errors. Take for example this costing sheet created in Excel: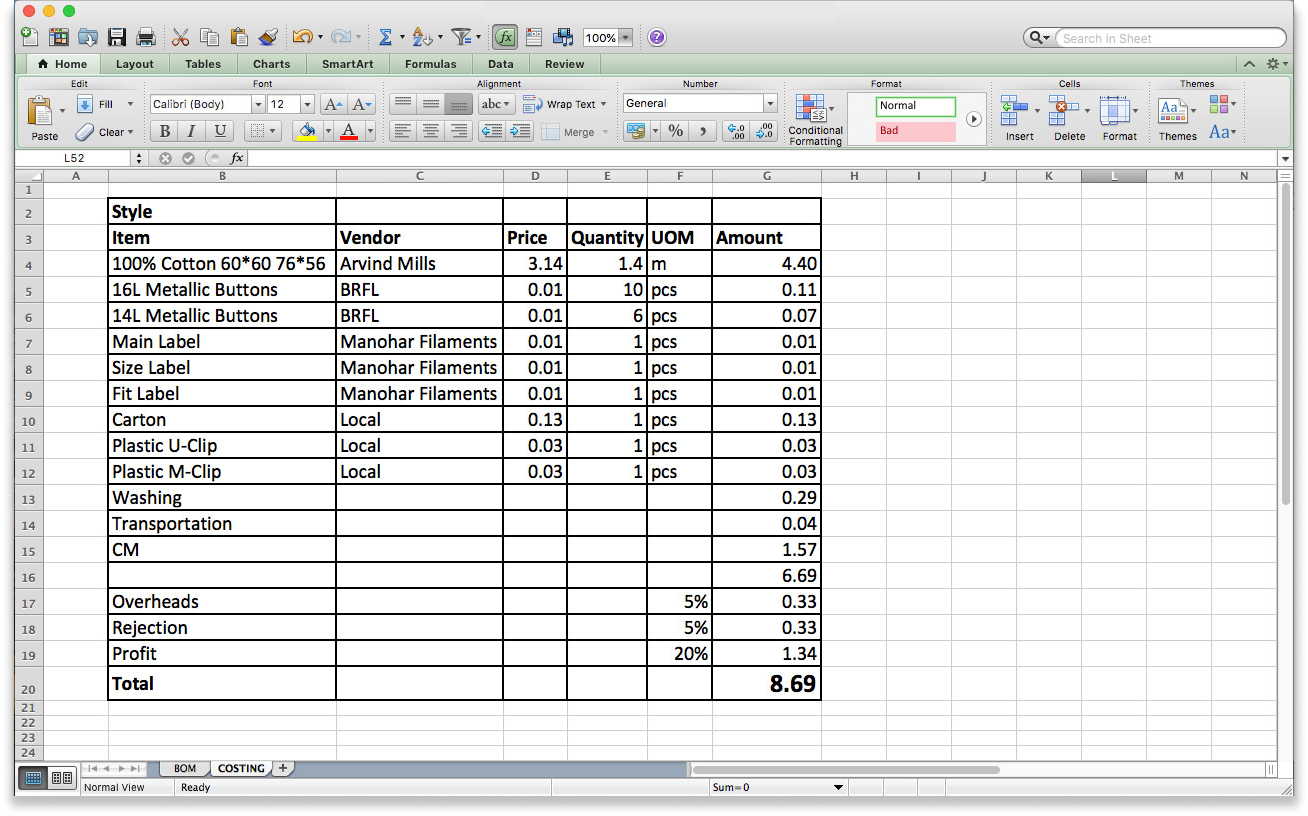 At glance, it appears to be clean and organized. However, upon closer inspection it gets tricky:
In Excel all of the details for the BOM have to be entered manually, one by one. It will be necessary to format the table and introduce the right formula to calculate costs.
It's usually the case that these formulas and formats are copy-pasted to other tech packs to keep a consistent template. It doesn't require too much thought to see why this method could go wrong easily!
All of this is particularly inconvenient when updating product prices during product development. As you know these are constantly changing, and having to manually reintroduce everything is very time consuming, not to mention primed for mistakes.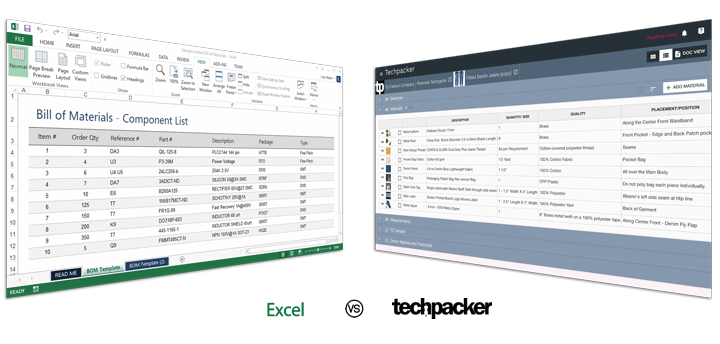 Costing sheet Examples
Each type of the product has different specifics and therefore a different Costing table. Each one has essential elements that you don't want to miss. We prepared some visual examples to help you create a detailed and easy-to-read Costing Table in Techpacker for your particular product.
The number of details always depends on the complexity of the garments. To calculate the final cost of the garment you will need to clearly specify each piece that goes into making. For example: main fabric, lining, interfacing, trims, buttons, zippers, embellishments, appliques, etc. All of these details have to be included in the Costing Table. Quantities of each item must be listed, ideally on another column to make the visualization and calculation easier.
There are parts that are commonly used for all types of products. Things like tags, labels, sewing thread, packaging materials will be a part of any Costing Table no matter what type of product you are creating. So make sure to add those too.
Tip: Add supplier's name to every material that goes into your Costing Table, that will save you time in future if you run out of any of the parts and will need to order more. Tracking the status of each order is useful too - whether it's in stock or needs to be placed on the backorder.
Tops
Let's start with the example of a Costing Table for a shirt. In our example it is a mens shirt with a button up closure. Like for any other kind of shirt the essential element will be the main fabric, interfacing for the collar, collar stand and cuffs, thread and of course buttons for the placket, pockets and cuffs. As you can see all of those elements are added to our Costing Table.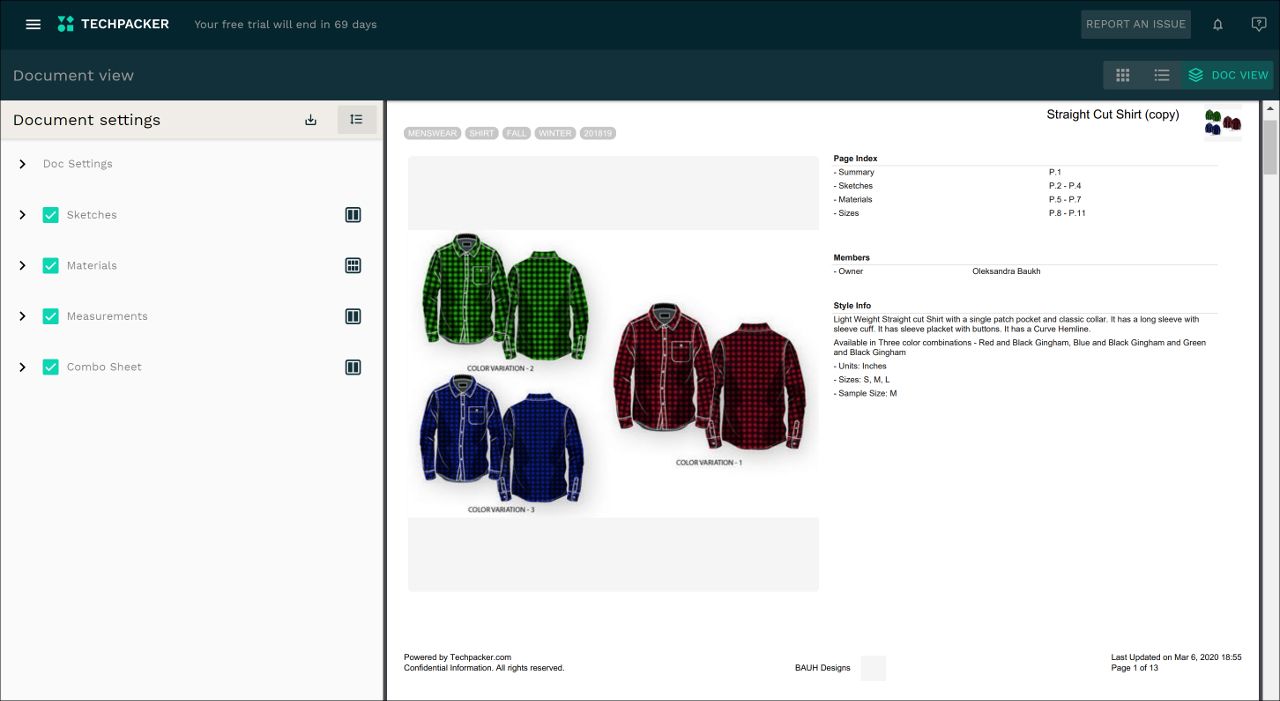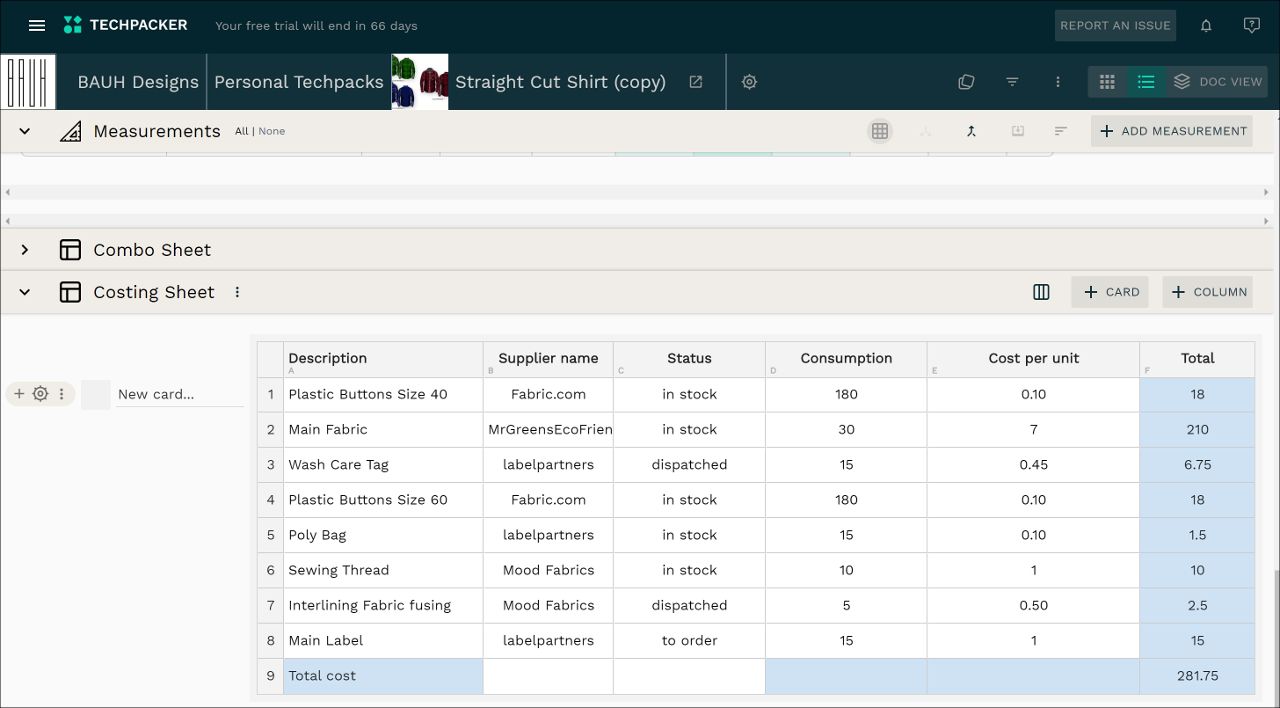 Bottoms
There are various types of bottoms that can be made, like tailored pants, elastic waistband pants, leggings, denim pants, etc. The number of details depends on the complexity. Our example is a pair of denim pants. Apart from essential elements like main fabric, thread, zippers, buttons don't forget to include the metal rivets and the contrasting orange thread that distinguishes a pair of jeans from a pair of classic pants.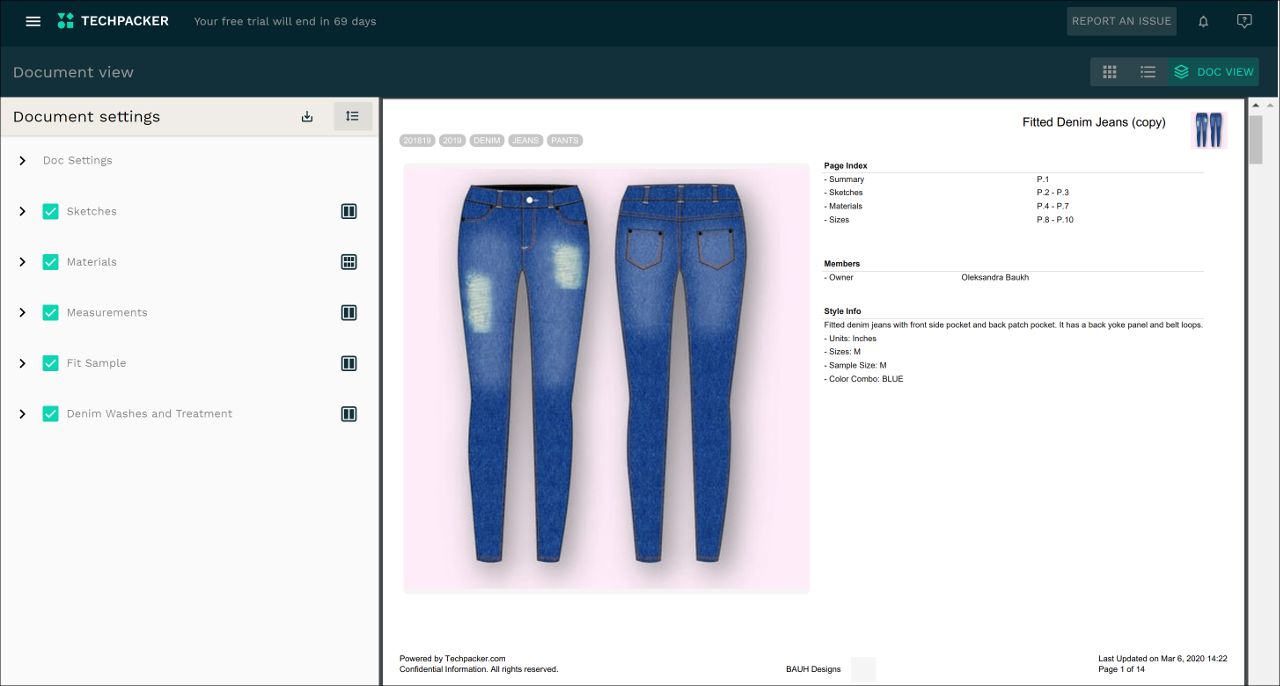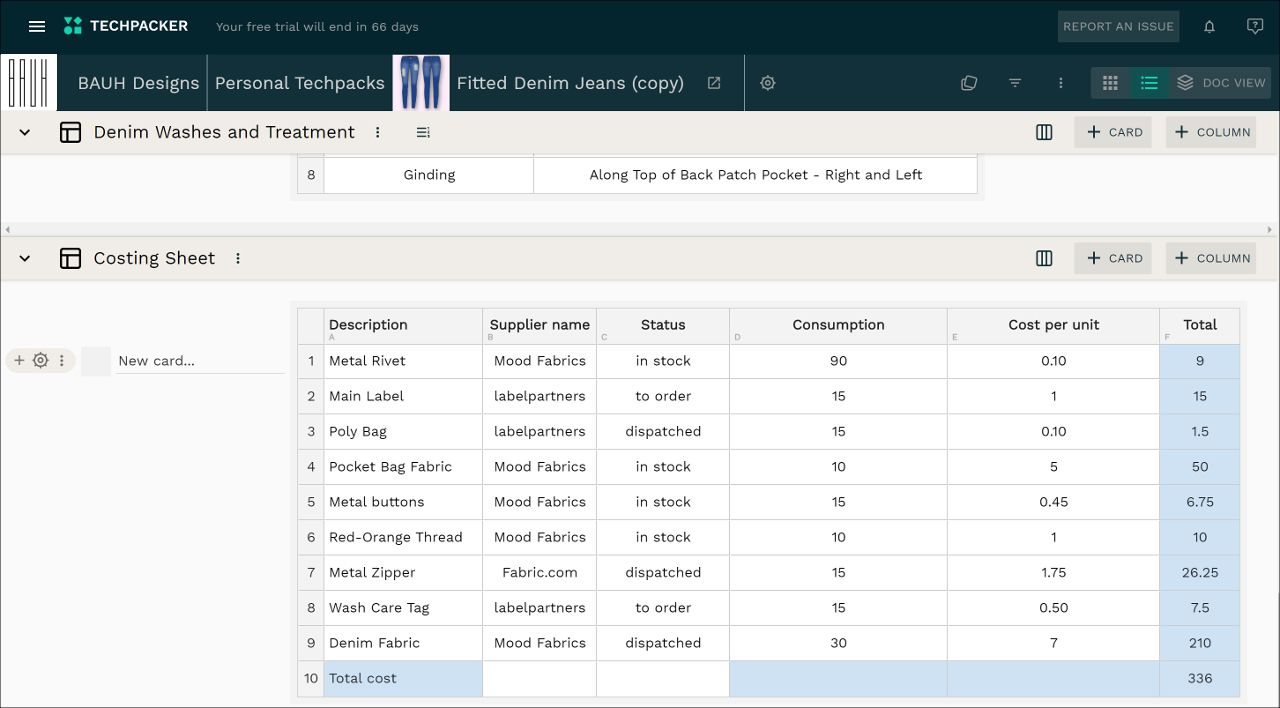 Dresses
Whether you are creating a casual dress or a special occasion one the number details depends on the style you are making. Our next example is a casual wrap dress made with knit jersey fabric. This style features a waist tie belt therefore the buttons or any other types of closure are missing. For this dress the essentials elements that we put in the Costing Sheet will be the main fabric, thread, fusible interfacing and the packing supplies. You will be able to calculate the needed amount of the main fabric at the Sample Making stage of your product development.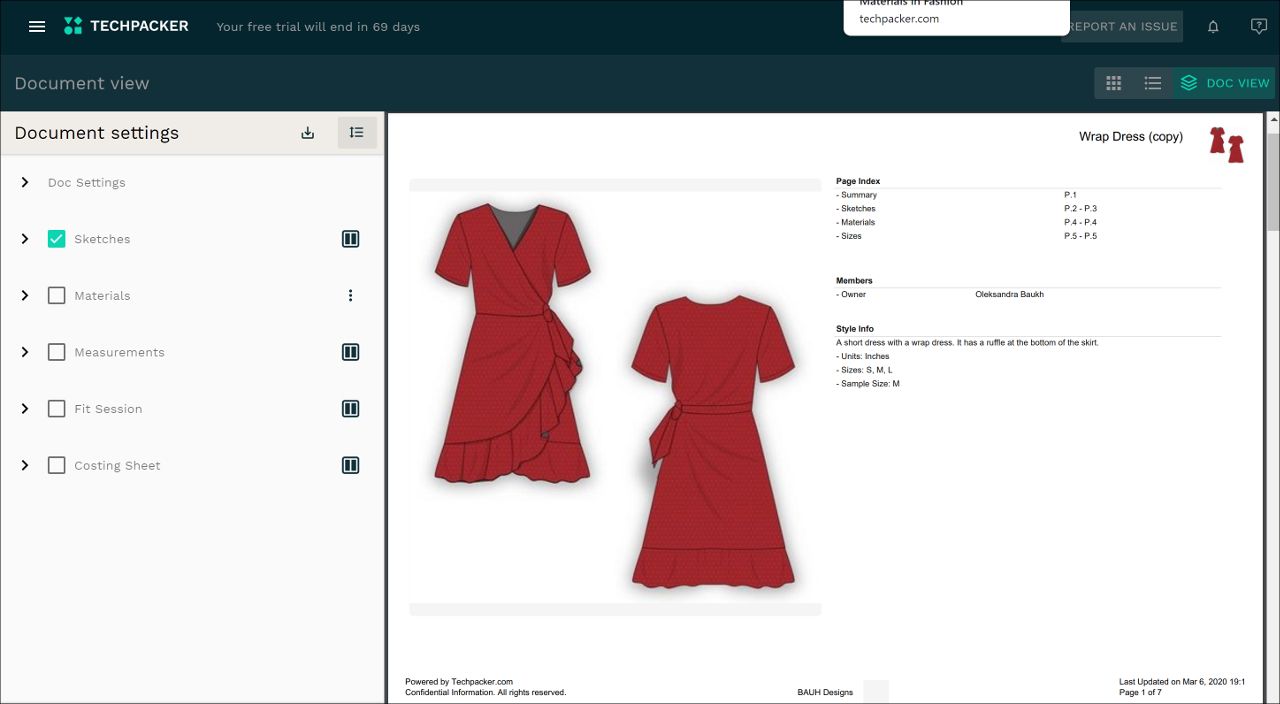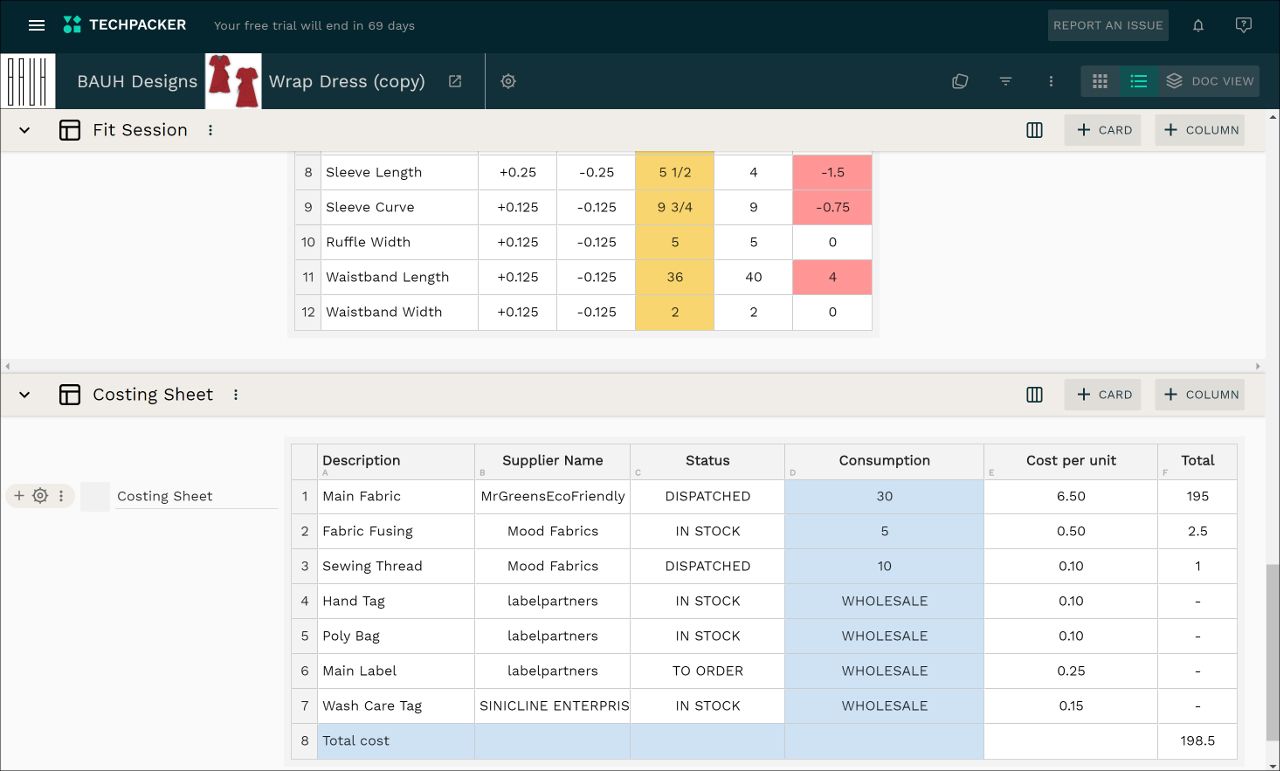 Jumpsuits
Complex styles like jumpsuits usually have more parts like additional zippers, buttons and other closures. Our example here also has a decorative detail - white crochet lace.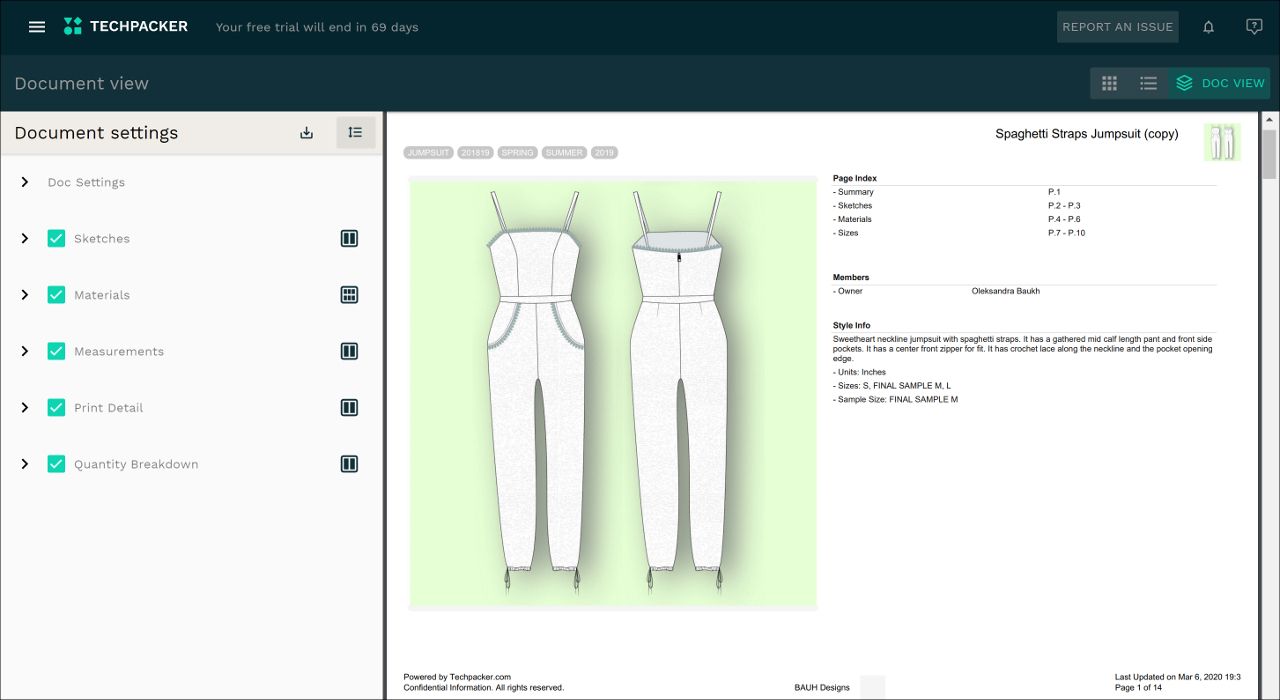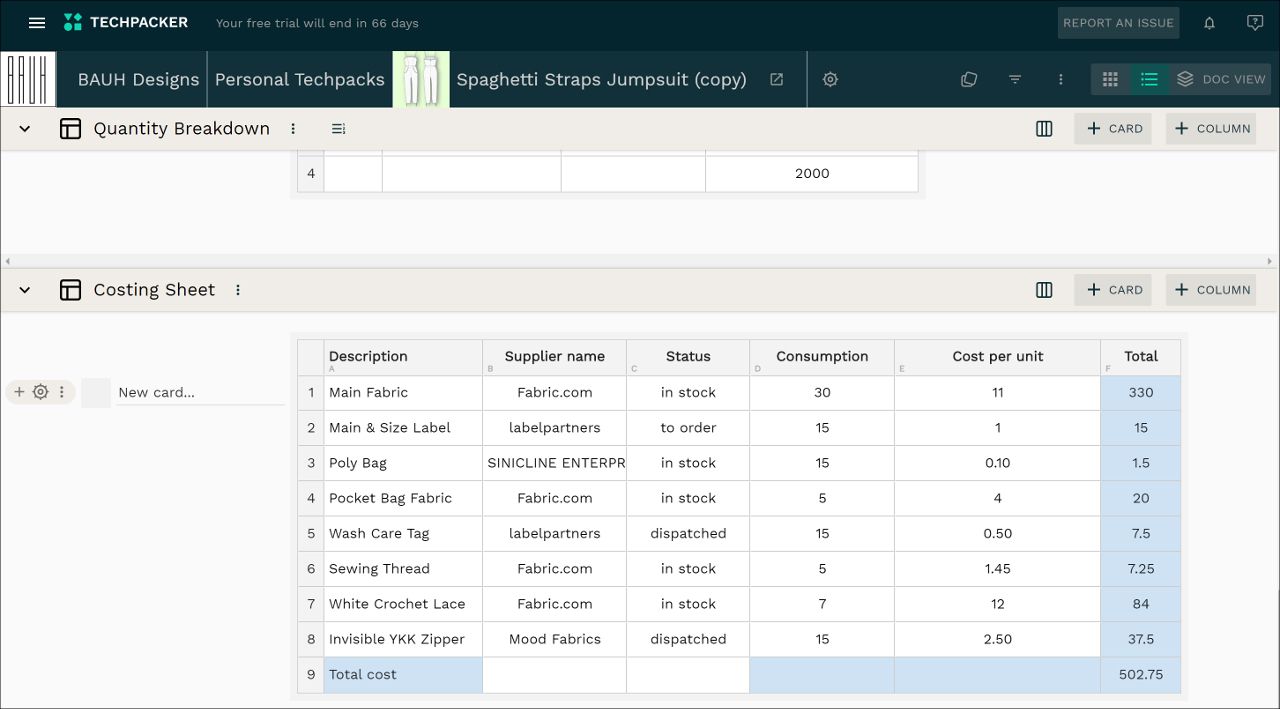 Outerwear
Outerwear is technically the most time consuming piece of clothing to make. It is often fully lined and needs a certain type of interfacing to keep its shape.  For example, if you are going for a tailored, more structured look you may wish to choose a woven fusible hair canvas. If you are going for a softer look then you might choose a woven non-fusible midweight interfacing.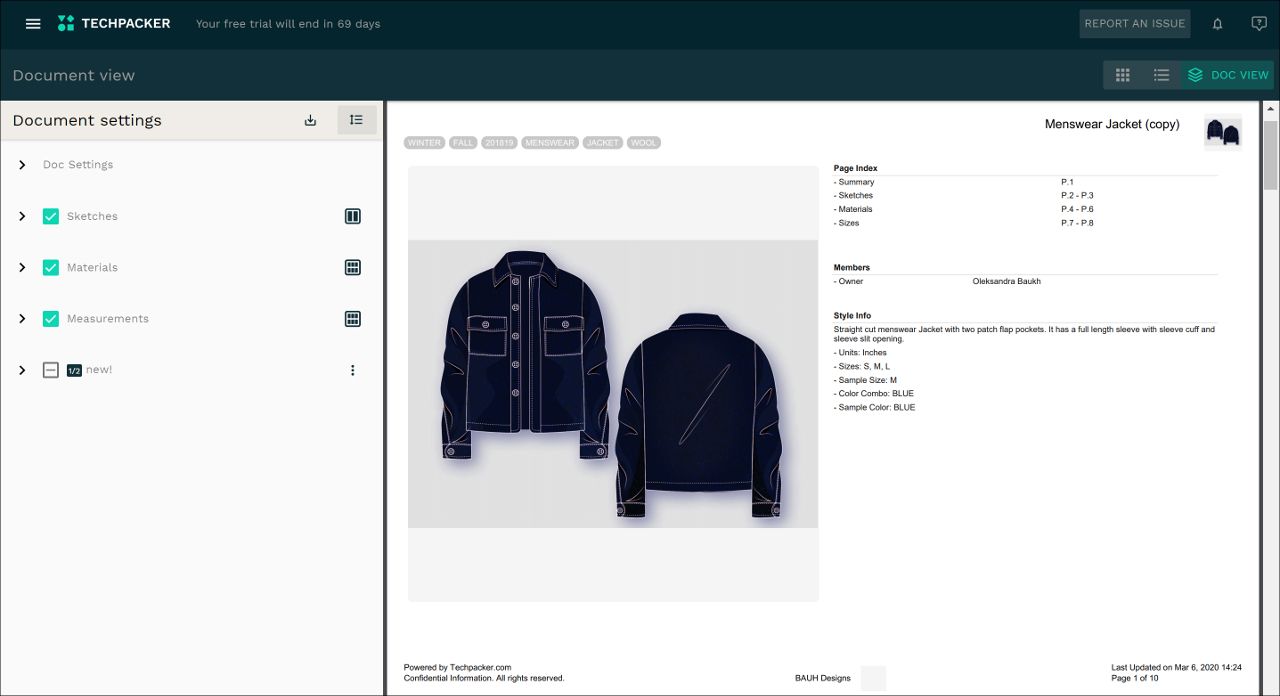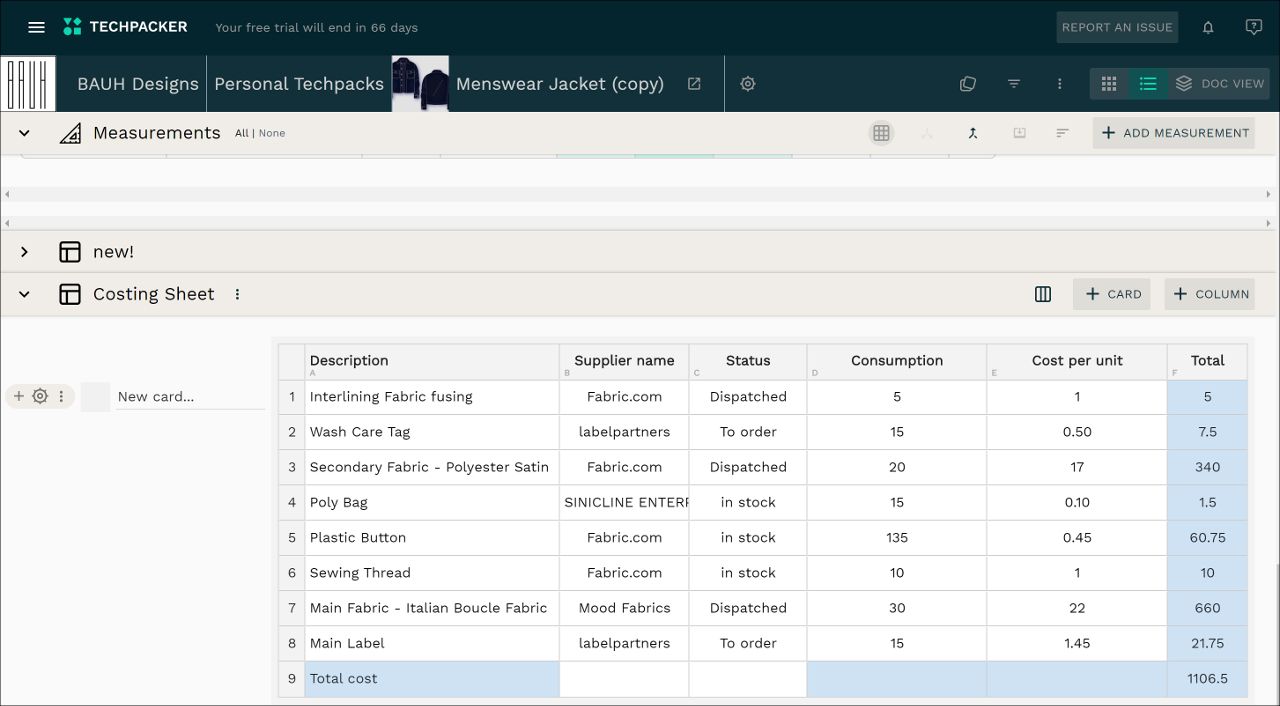 Swimwear
Although swimwear doesn't seem to have as many parts as other types of clothing it has certain specifics that are different. Swimwear and activewear fabrics are mostly made of a special type of fabric which is stretchy and doesn't absorb water, usually it is nylon that has a significant amount of Lycra or spandex. Please note that womens swimsuits often have bra cups, if your style has those don't forget to add those to your Costing Sheet.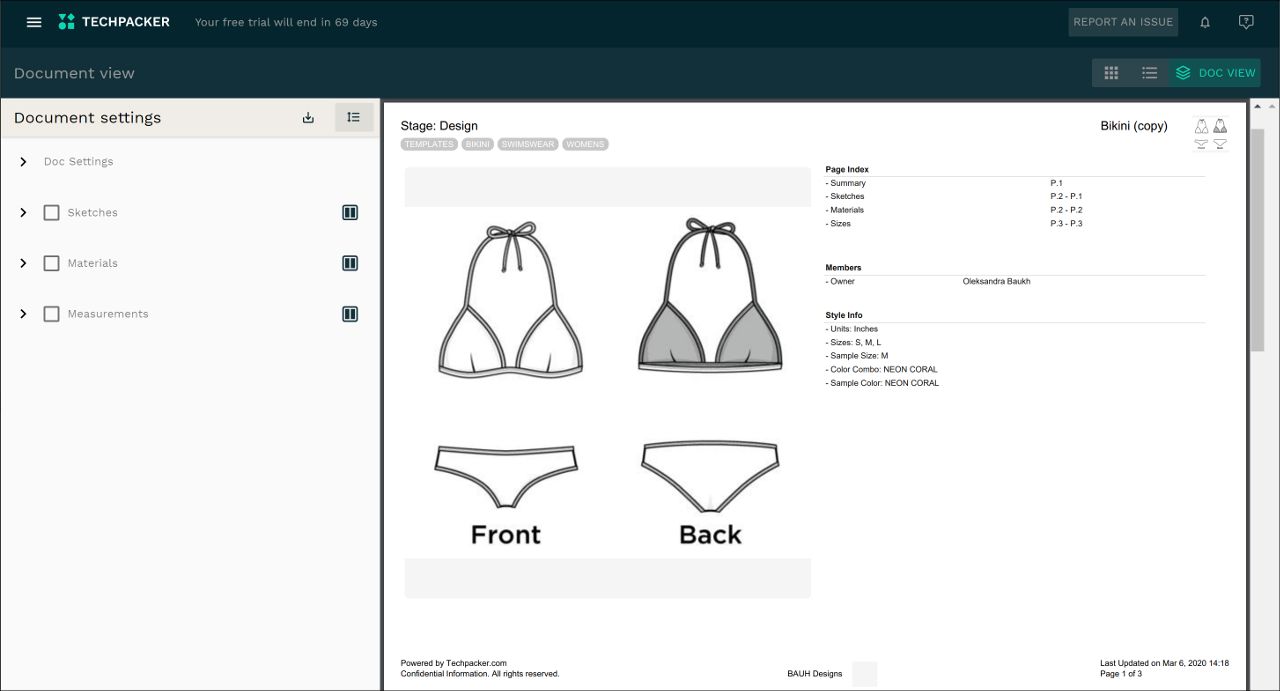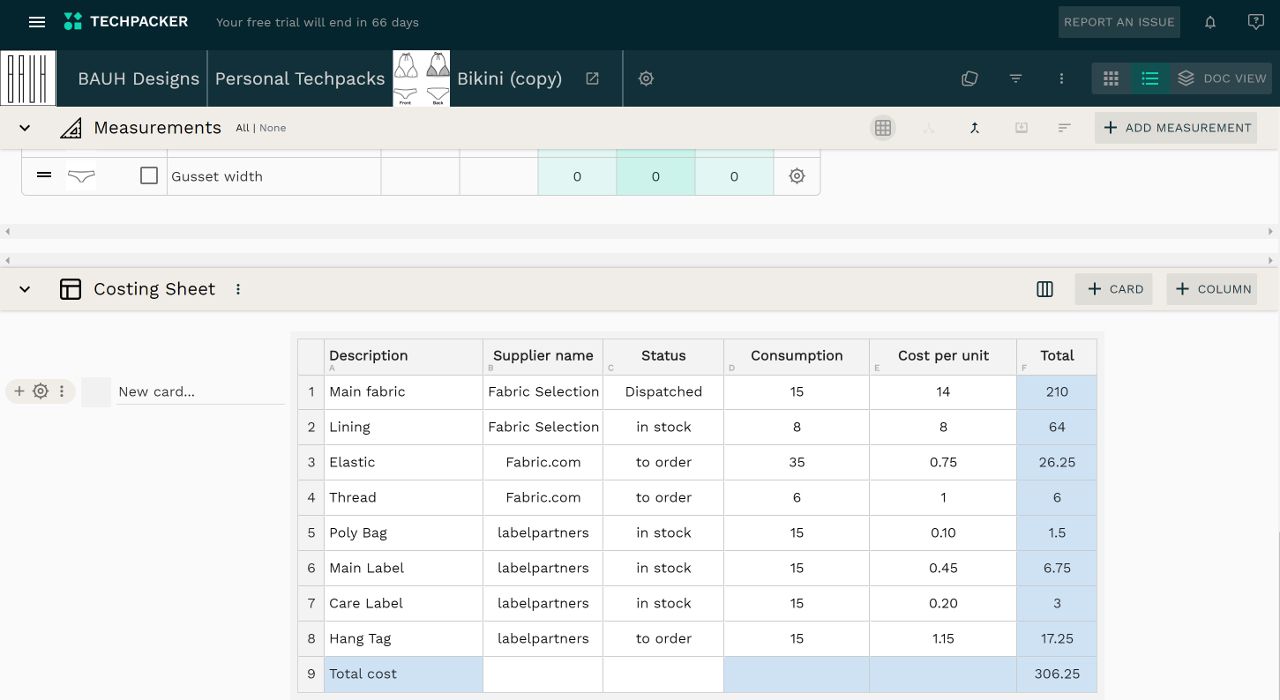 Handbags
Costing sheets for handbags and other accessories are slightly different from the clothing ones, they also require different types of machines to manufacture them. The leather used to make a handbag is often heavier than for the clothing, lining is more durable and the hardware is specific to this type of product. It may include sliders, metal rivets, internal wire frames to make a specific form, rings, metal labels, locks, screws, chains, clips or snap closures.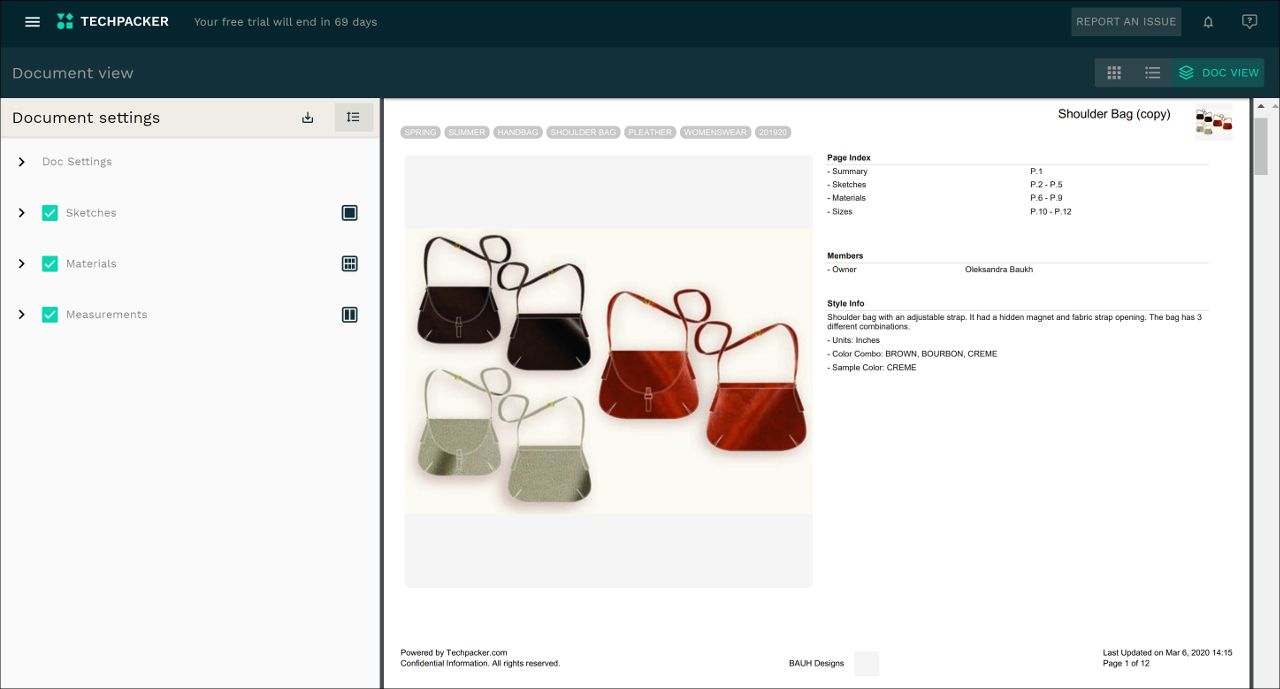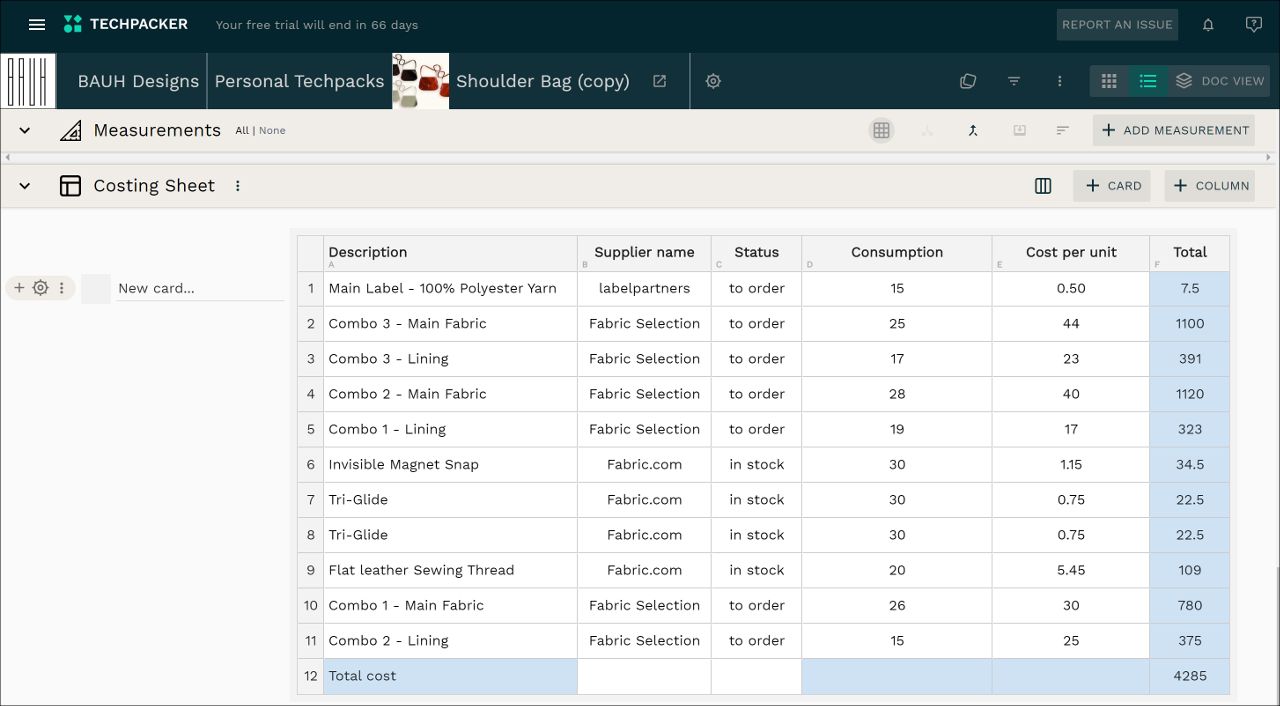 Sportswear
The main difference of the sportswear from the casual clothing is the type of fabric you use. Make sure it has a lot of stretch to it to allow easy moving. The thread is different too. Most sports tops include the bra cups for comfortable fit. If you are planning to add lining make sure to add its cost to your table.
In Techpacker you can calculate the total price per piece as well as the total price for the whole order. In our Costing Sheet for the leggings we calculate the total cost of one pair.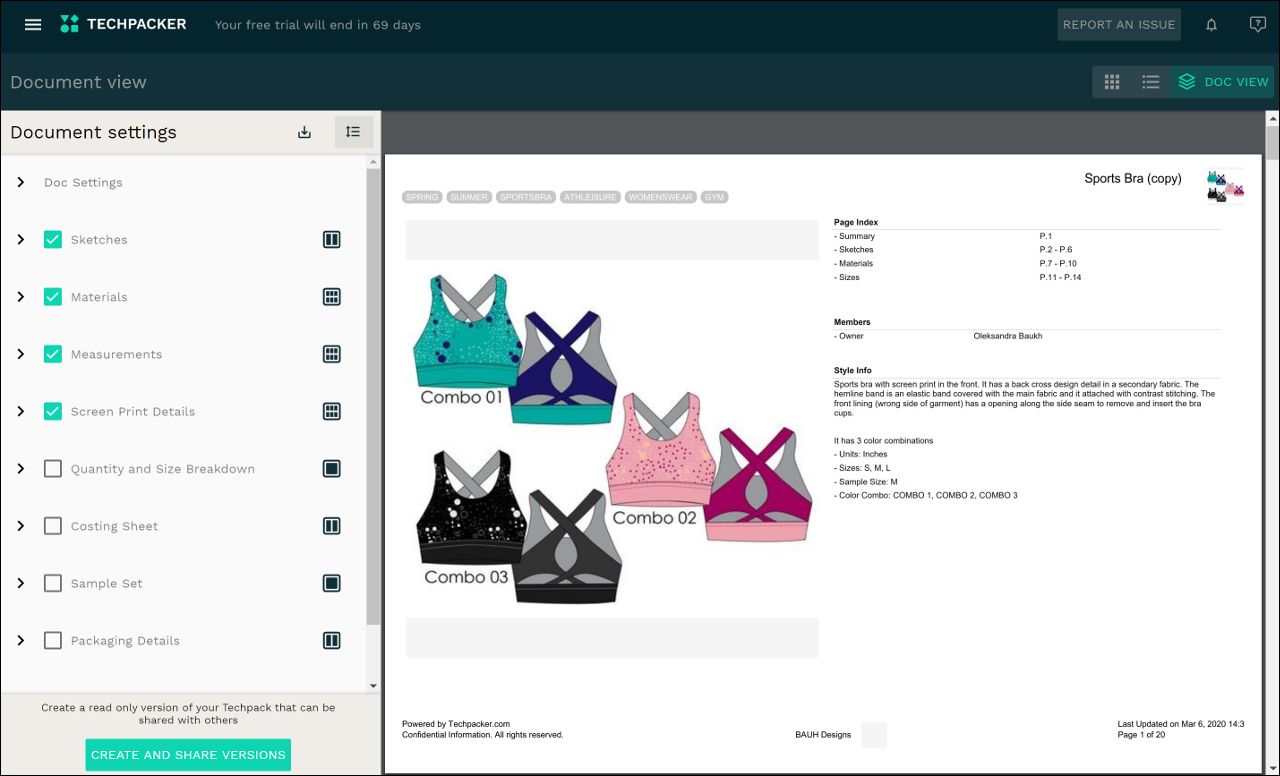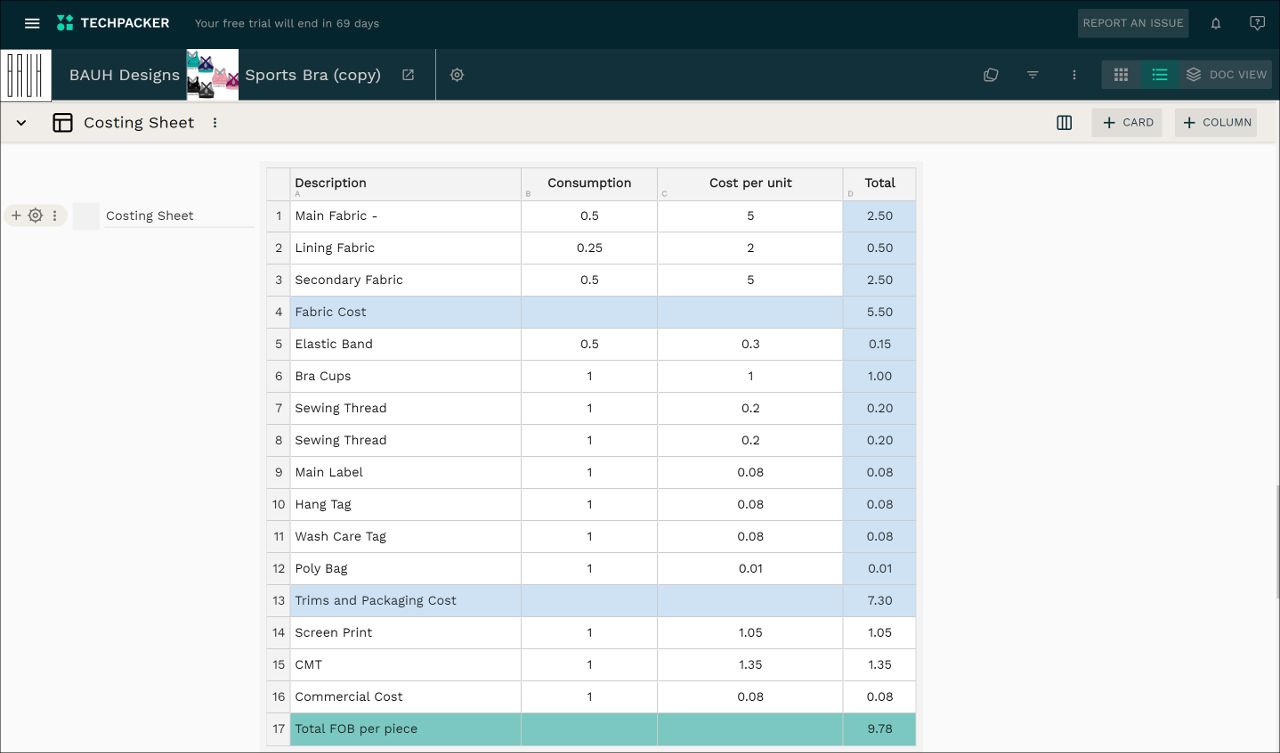 Lingerie
Usually lingerie consists of many little details like elastics, underwires, hooks & eyes, knit interfacing, ribbons and lace for decorations, hardware for adjusting straps and stretchy main fabric. Your final cost will depend on how many parts you are including, so make sure to add the correct quantity and final cost for each one.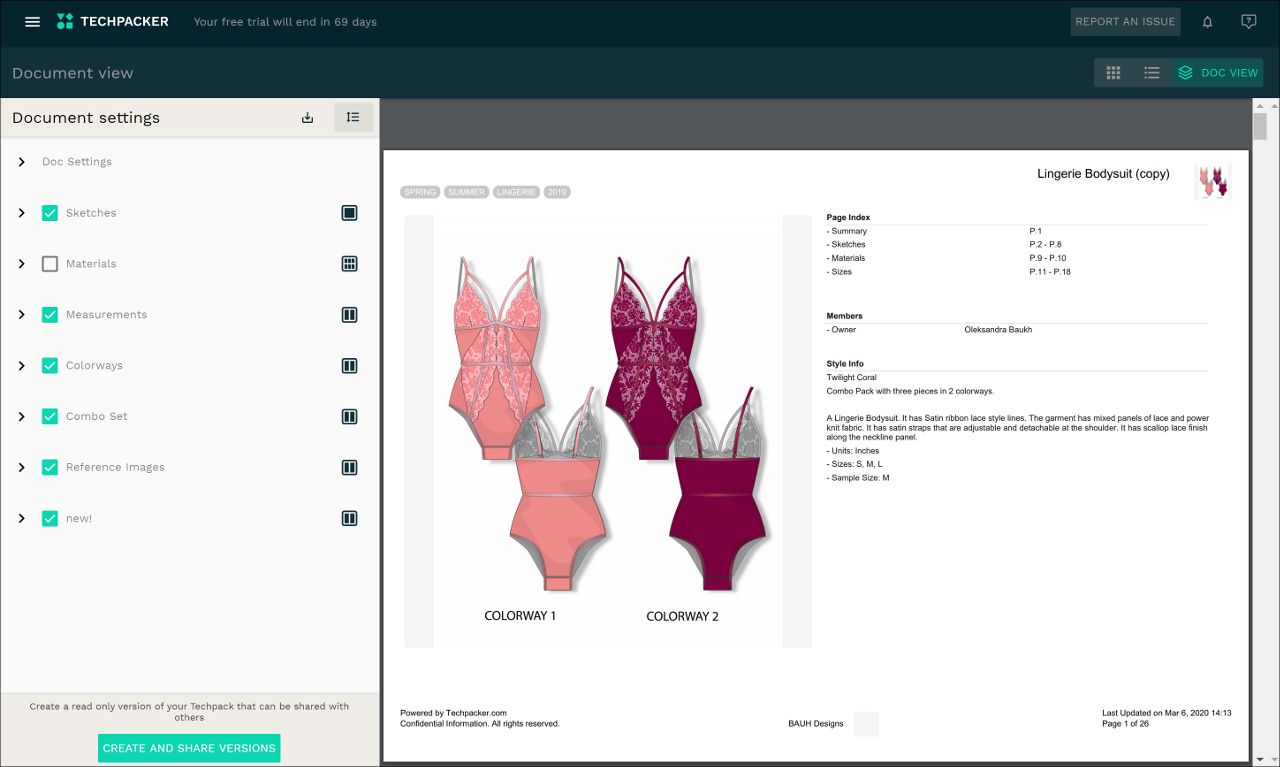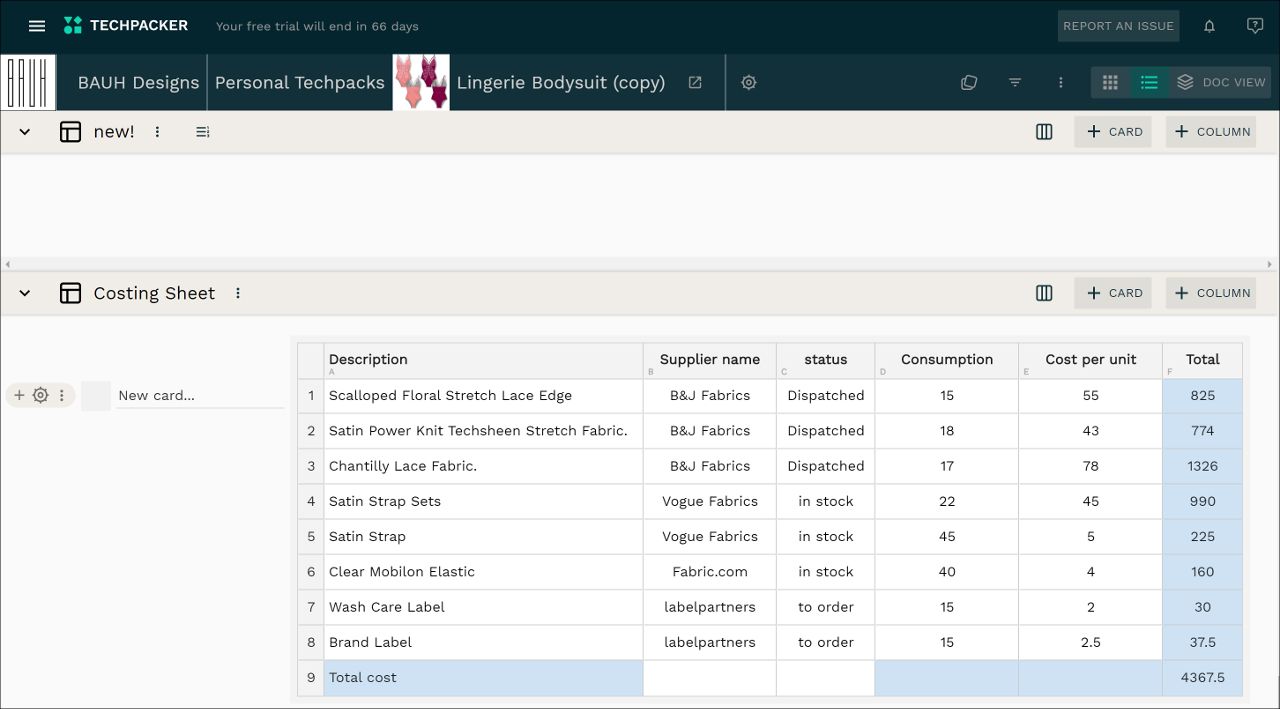 Kids Clothing
The Costing Table for the kids clothing will be very similar to the grown ups clothing. However, some brands would stand out by creating a high quality kids product by for example, making it with flame resistant fabric or using snaps over buttons to decrease the risk of swallowing.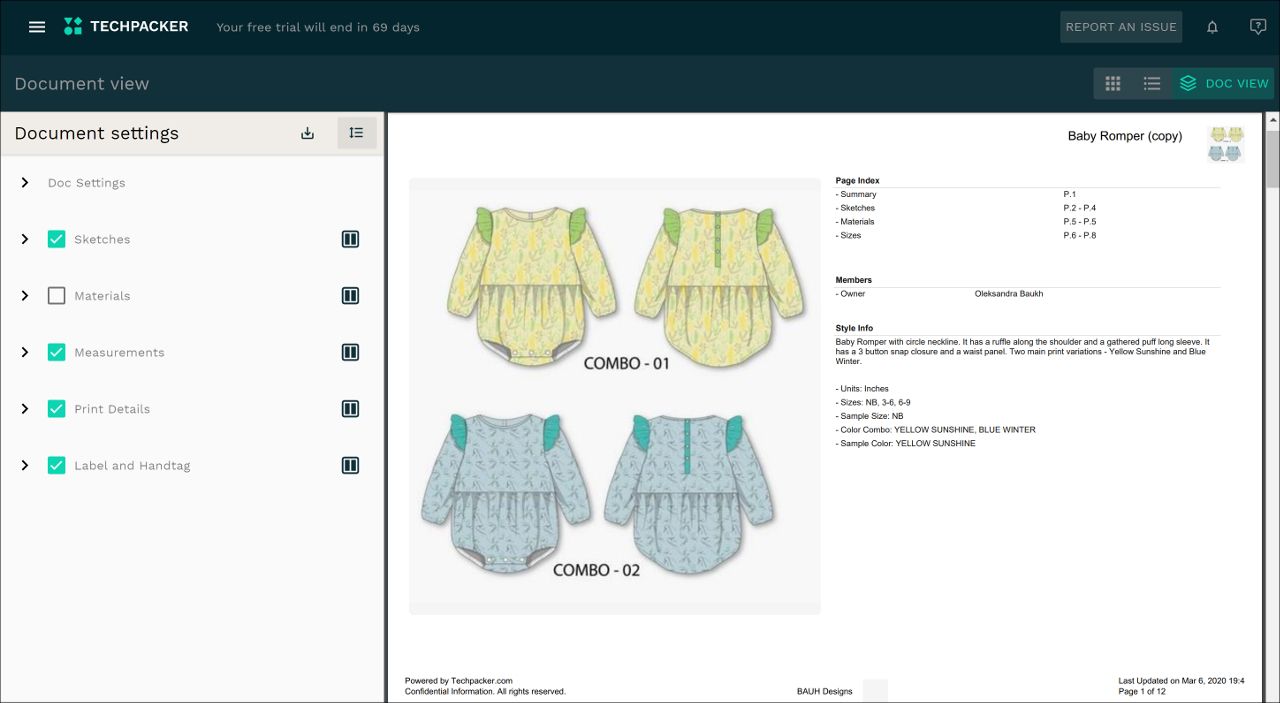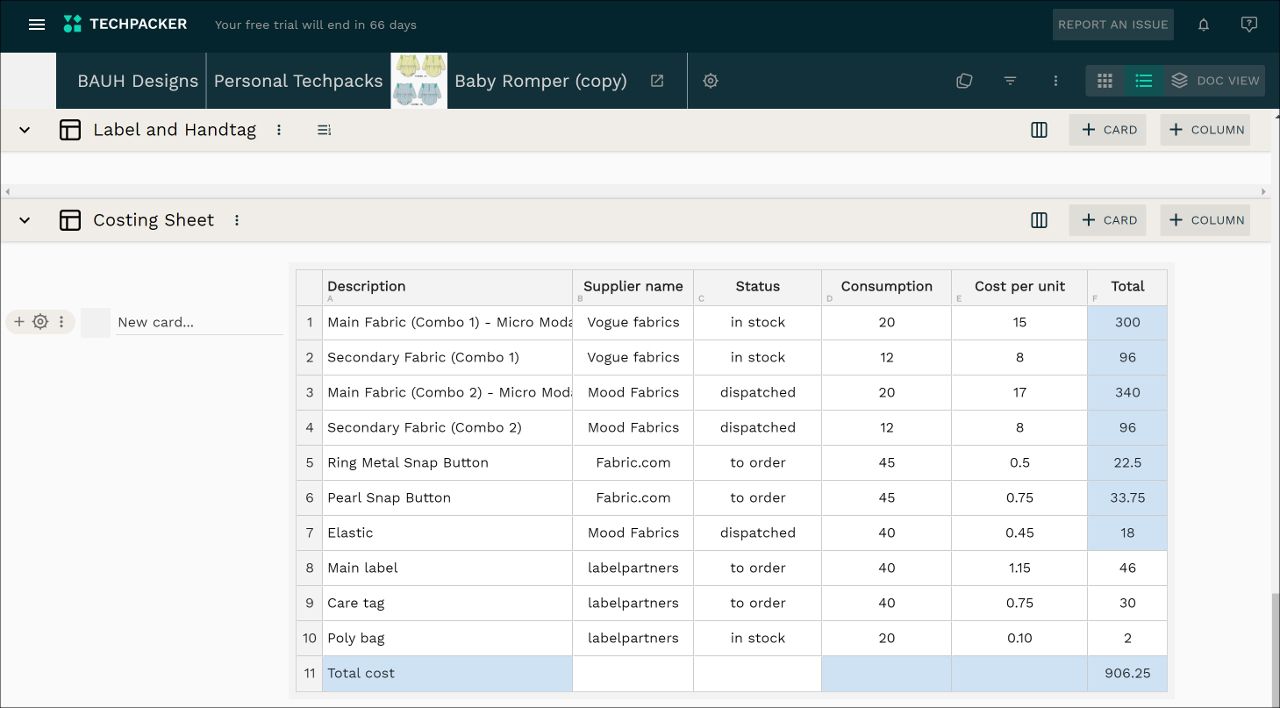 Home Goods
Dreaming of creating your own bedding? No problem! Include the type and cost of the main fabric (the most common for bedding are cotton, linen or silk), lining (optional) and the closures like zippers or buttons. And don't forget the labels and packaging.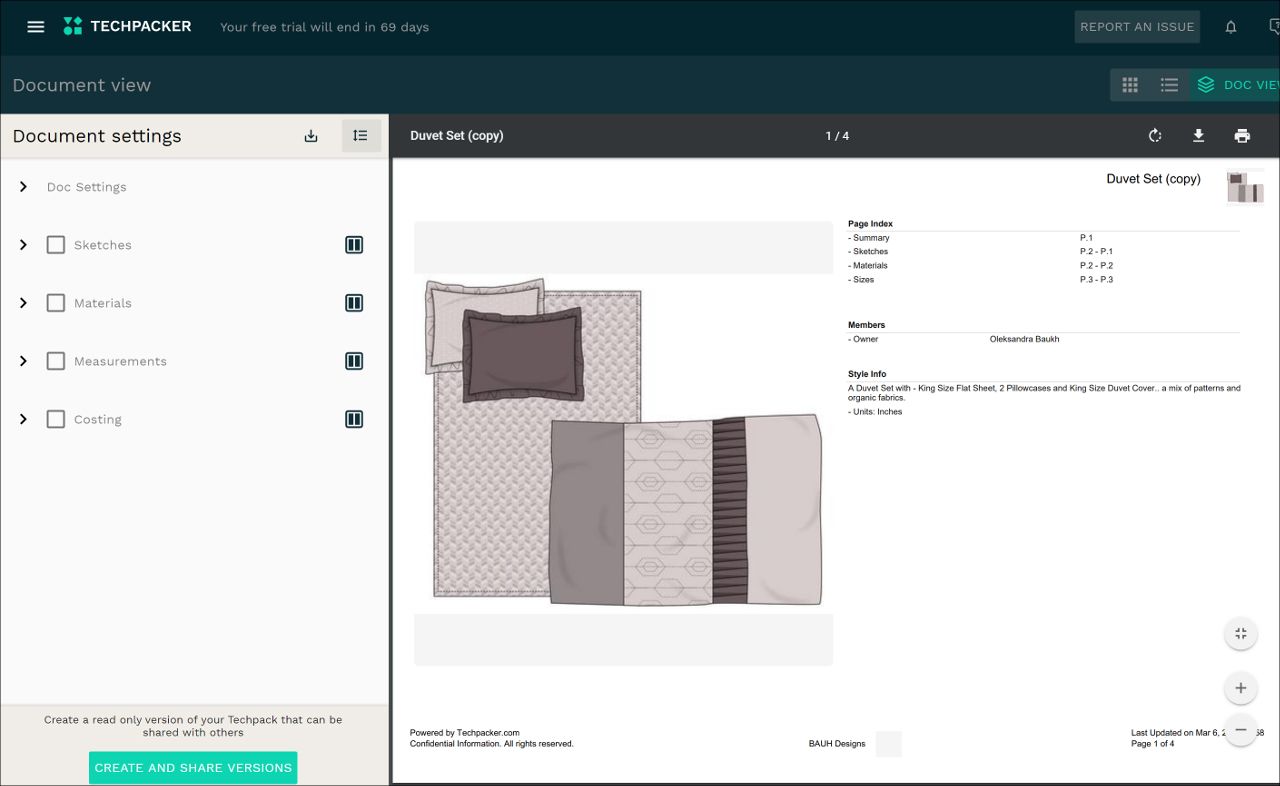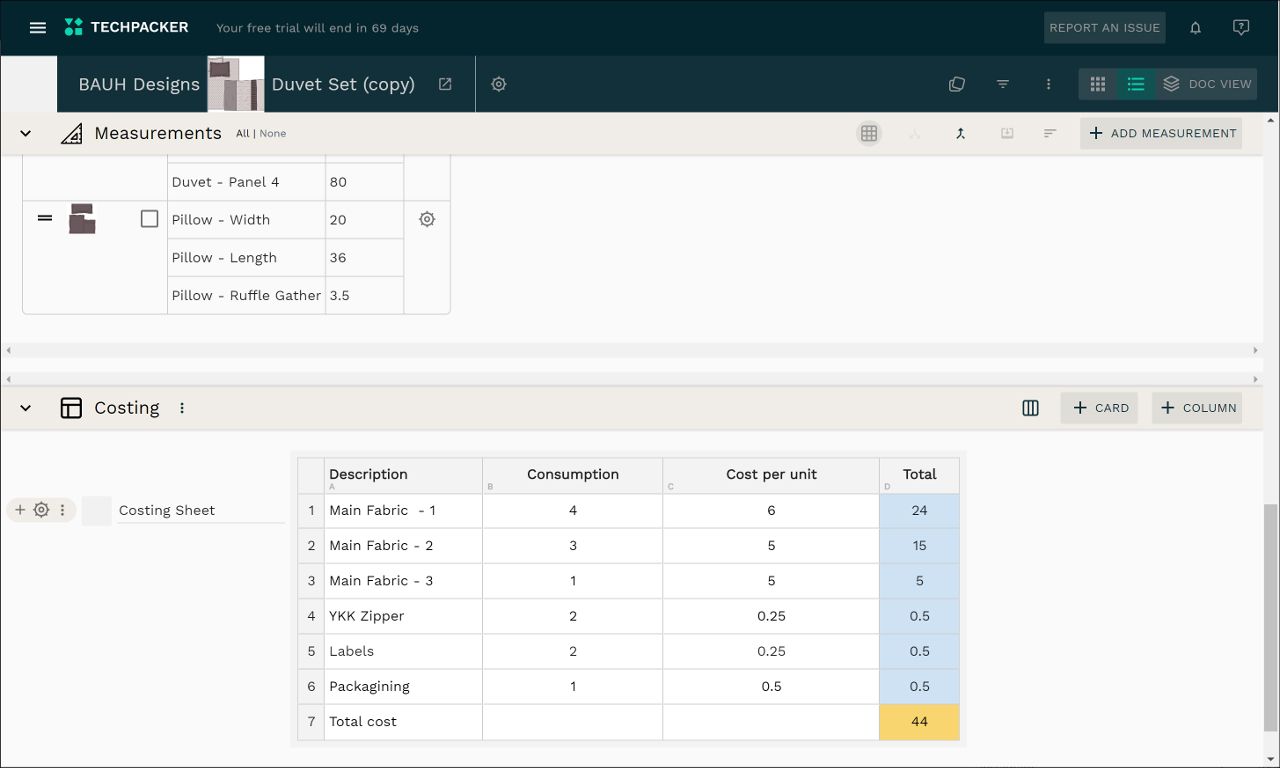 How to create costing sheets on Techpacker

Advantages of using Techpacker for creating costing sheets
QUICK: Techpacker simplifies the process of Costing by providing the templates to calculate your materials cost. At the same time you still have the opportunity to create a custom table.
SMART: Techpacker's template extracts the names of your existing Materials info in the BOM table and lists them all in this table along with formula presets to calculate costing. This will save you from painstakingly assembling tables from scratch on Excel and shuffling between spreadsheets.
COLLABORATIVE: In Techpacker you can always make edits and keep your entire team up to date with real-time information.
EFFICIENT: In Techpacker you can share Costing Sheets with vendors and brands and generate multiple PDF versions right from the platform. This makes it super easy to compare and analyze and make the necessary adjustments before sending to production.
Step by step tutorial

On Techpacker, all style related are information like sketches, material, measurements etc.. are added together in a single-view called Techpack board.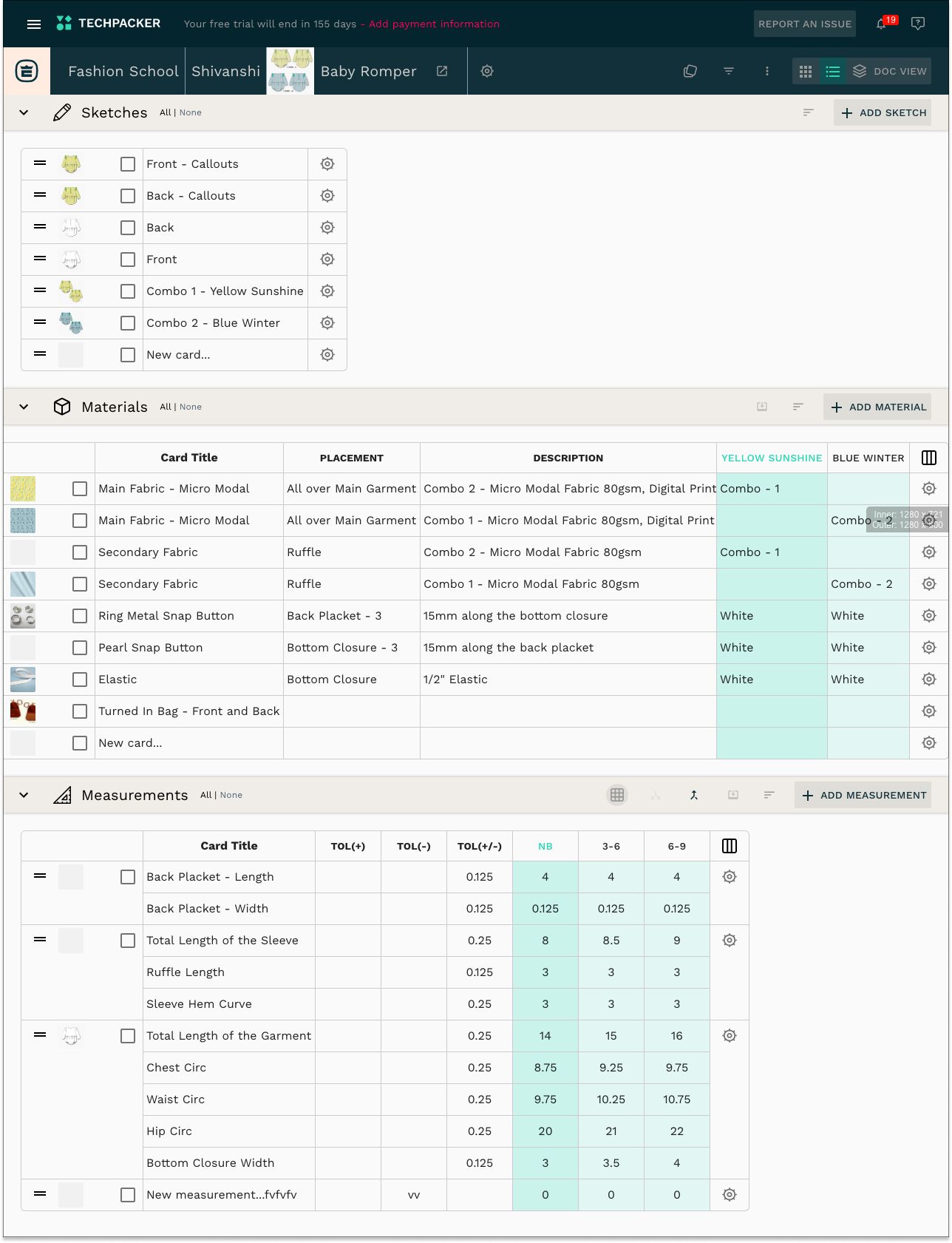 Step 1: On your Techpack board, list all your materials inside and don't forget to name them. Learn more on how to track your costs through Bill of Materials here.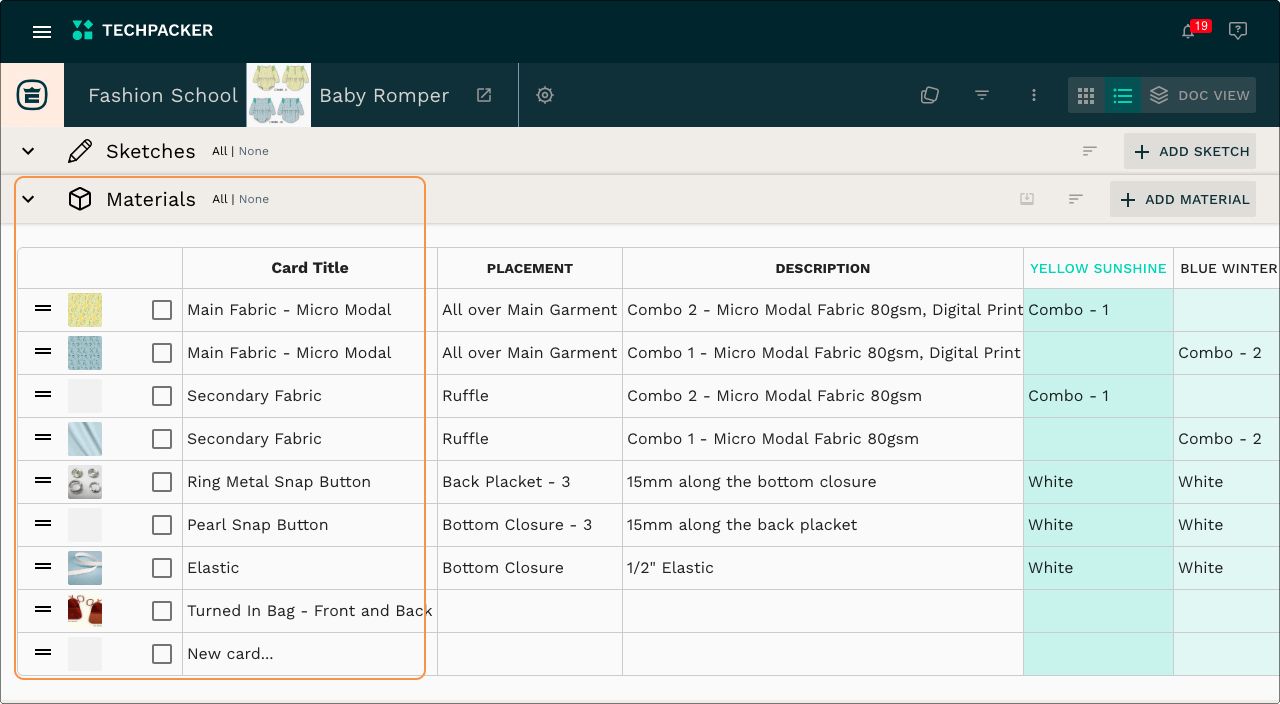 Step 2: Add a new section at the bottom of your techpack board and select Costing template.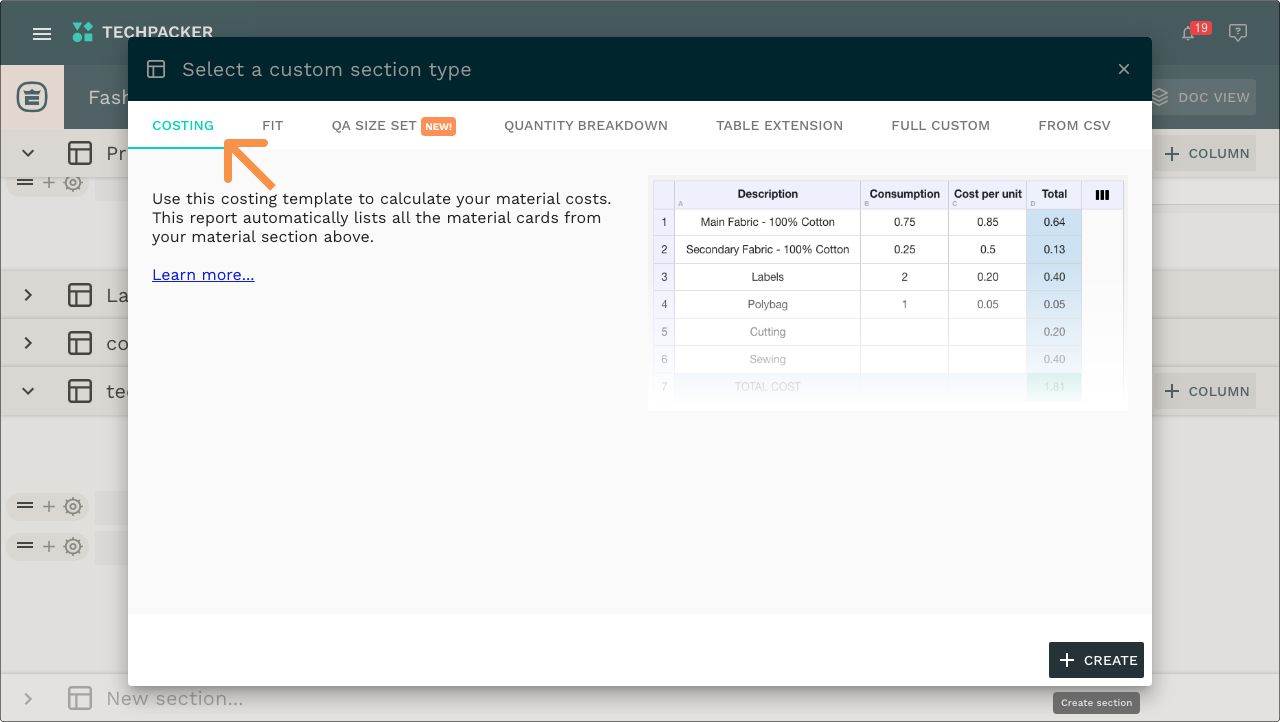 Step 3: A costing table will be created with all your product materials listed automatically description column. Simply enter your Consumptions units and Cost per unit. The formulas are pre-set so the total will be automatically calculated for you.
Step 6: Enter your Consumptions units and Cost per unit. The Total will be automatically calculated for you.
Check our full guide on how to create a Costing Table here.
Wondering what exactly goes into the cost of the garment and how to set the right price for your specific product? Check out -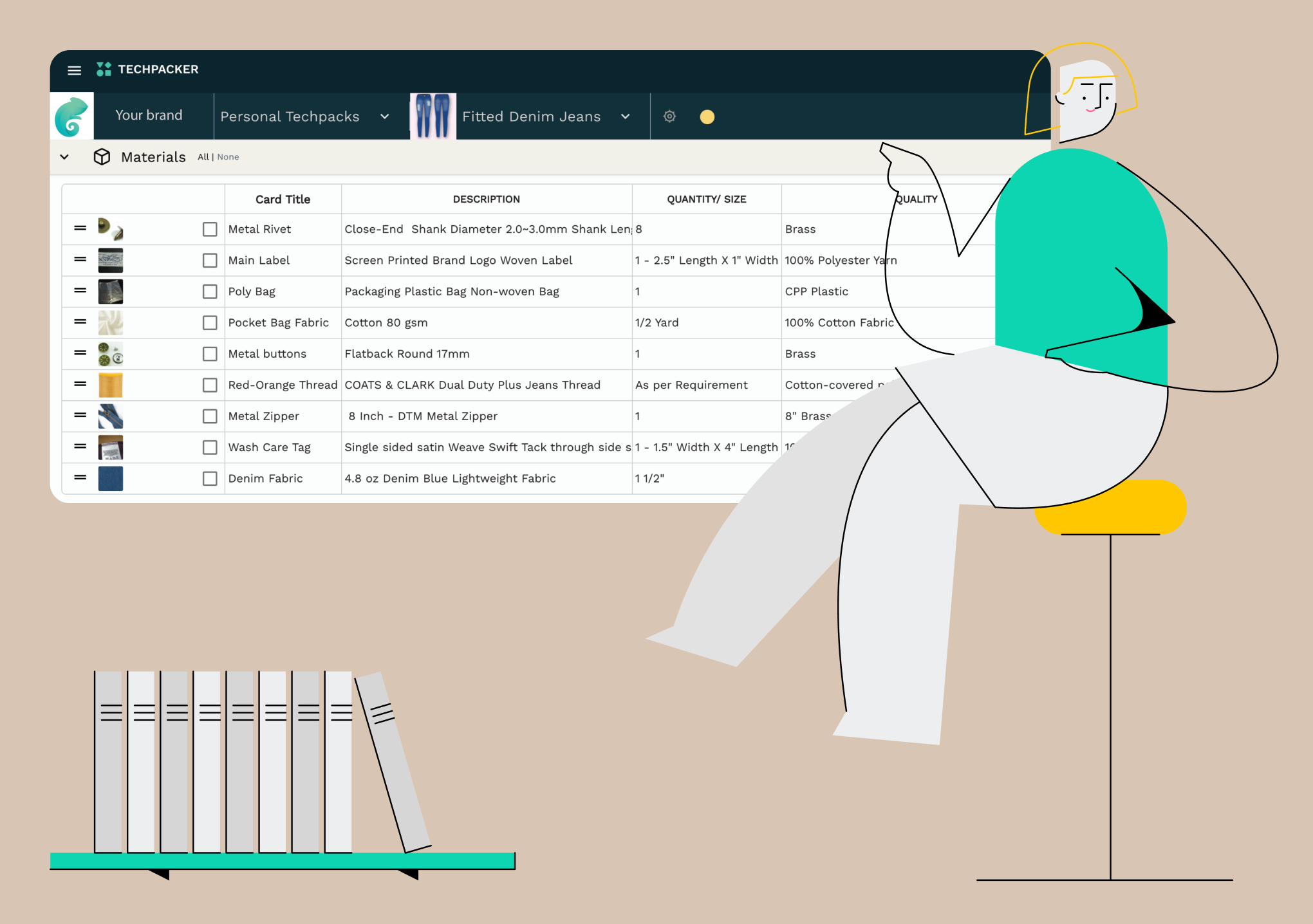 Ready to create your costing sheet?
OR
Manage your product development to production workflow with factories hastlefree. Try Techpacker.