Contents
Here are our Top 10 sustainability picks from the thought-provoking "Fashioned From Nature" exhibition currently in the Victoria & Albert Museum in London.
Designing a more sustainable fashion industry is one of today's biggest concerns and should be at the heart of every brand.
Considering environmental impact during the manufacturing process not only improves the environmental outcomes but can also reduce costs in the long run and make for a more attractive and positively-perceived brand overall.
In the attempt to incite change in this pressing issue, The Victoria & Albert Museum in London is hosting an exhibition, "Fashioned from Nature", aiming to explore the complex relationship existing between fashion and nature from 1600 to the present day. It will be open until January 27th of 2019.
The showing hosts a wide range of nature-inspired garments, materials and innovative new fabrics alongside natural history specimens, inviting visitors to think about the materials of fashion and the sources of their clothes.
From the animal skin and fur to keep us warm, and precious stones and sea pearls that intend to reflect status, the history of fashion taking from nature goes as far back as humanity.
Aside from well-known materials like wool, cotton, silk, flax, and animal skin, there are unexpected uses of other organic materials found in Fashioned from Nature, and surprisingly, many historical pieces were made in an incredibly advanced way for their time.
There are two main themes addressed in the exhibition. The first covers the way fashion has taken inspiration from nature throughout hundreds of years, from botanical embroidery from the French courts of the 1700s to Stella McCartney's prints and Alexander McQueen's amphibian dresses of his Plato's Atlantis collection.
The second turns to the subject of fashion's devastating impact on nature, which includes the use of animal skin, furs, feathers and the damage caused by the mass production of textiles like cotton and silk and more.
Here are ten of the most interesting examples to get you thinking about how fashion can better its relationship with mother nature, which will ultimately better you as a designer and entrepreneur as well.
Blast from the Past
10. The Beetles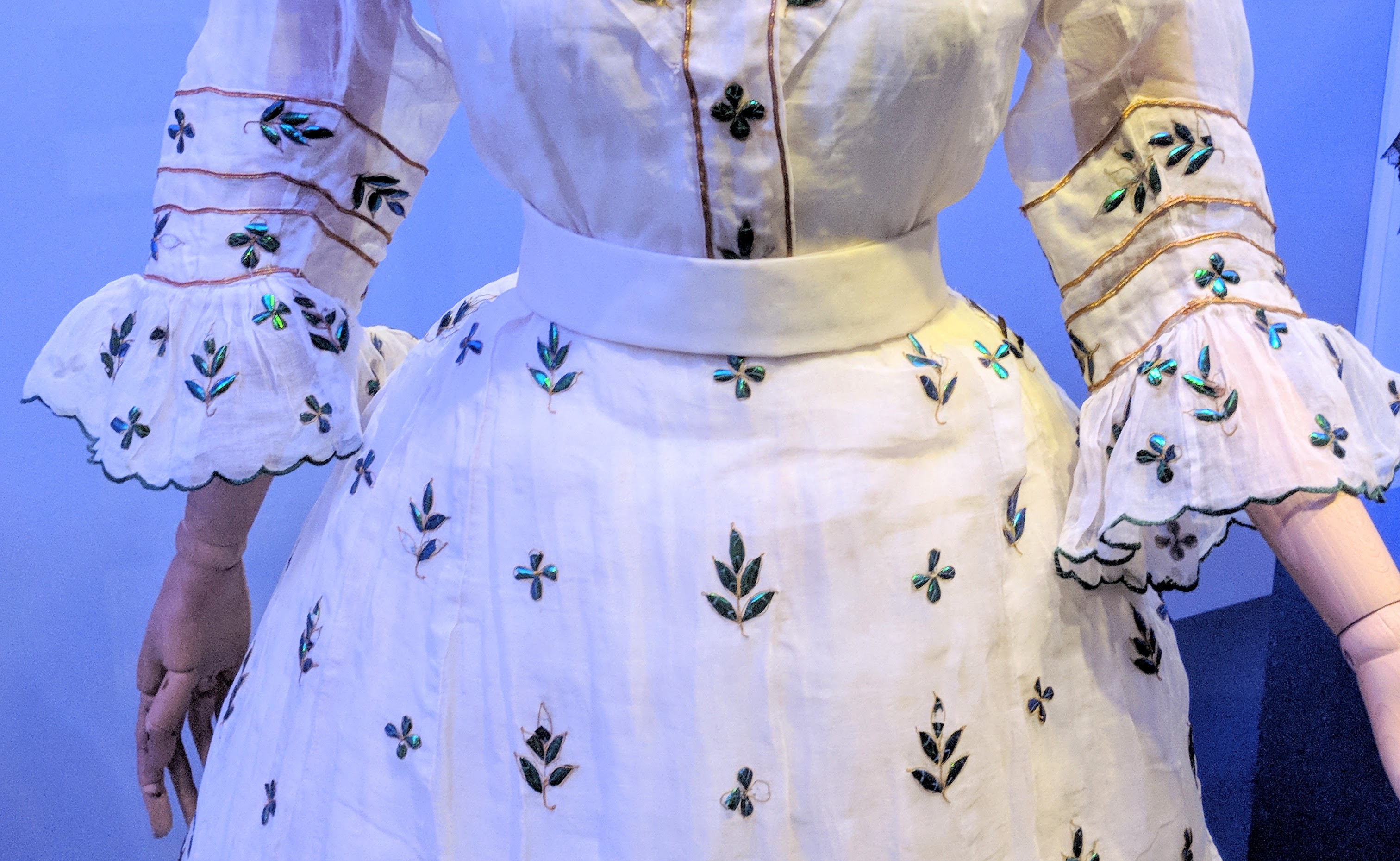 Insects may bug you (pun intended) but it's easier to get over the creepy-crawly factor when focusing on the beautiful, iridescent, shiny quality of the wings, which are said to last the test of time. It's no surprise they were used on both textile and jewellery as they offer a wide array of colors that look different depending on the light, from deep coppery tones to green, yellow, blue and even purple.
Apparently, most of the wings are collected after the beetles have died. However, if the demand for these sparkly wings gets out of control, it will be hard to guarantee their ethical harvesting.
---
9. If You Want Piña Colada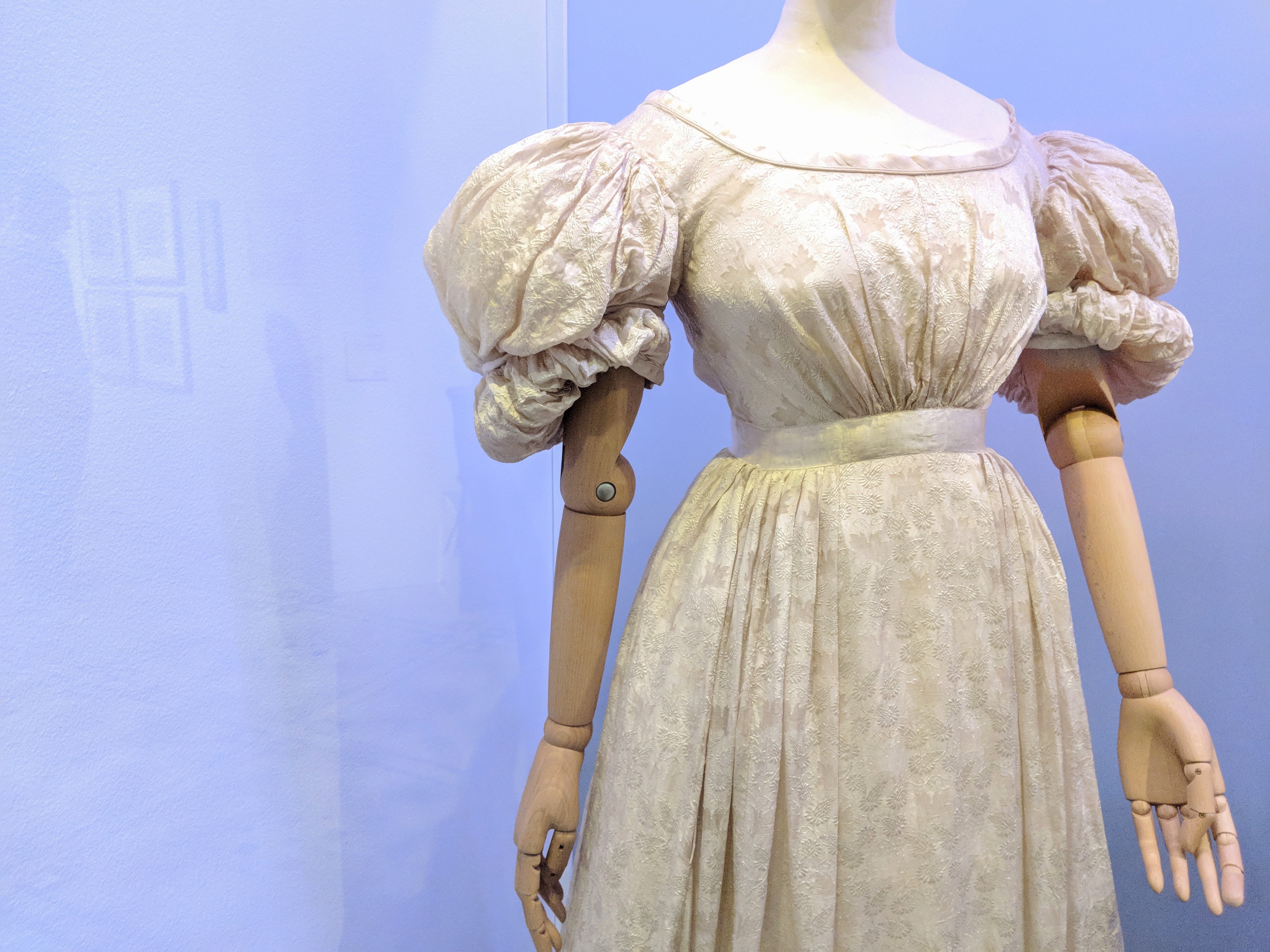 Contrary to popular belief, this is not a new trend brought by the increasing need for sustainable fabrics. Our ancestors have been utilizing fibers derived from pineapple leaves for hundreds of years. Yes! Even before Pinatex leather jumped onto the scene.
8. Bark Lace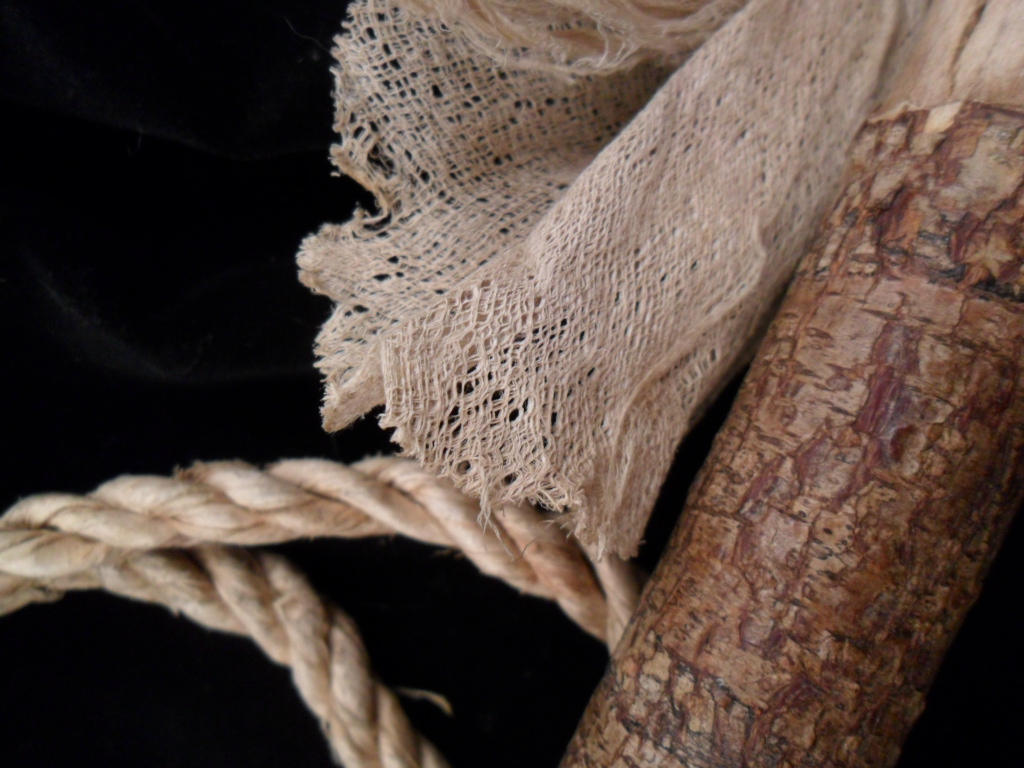 Not related to dogs ;) this delicate lace-like fabric is the result of taking out the inner layers of a tree and teasing them out to dry. The fiber, which comes from Jamaica, was used by craftsmen to make fans, doiles, shoes and more. It became one of the most sought-after souvenirs for visitors.
The New Textiles
7. Better Than Wine?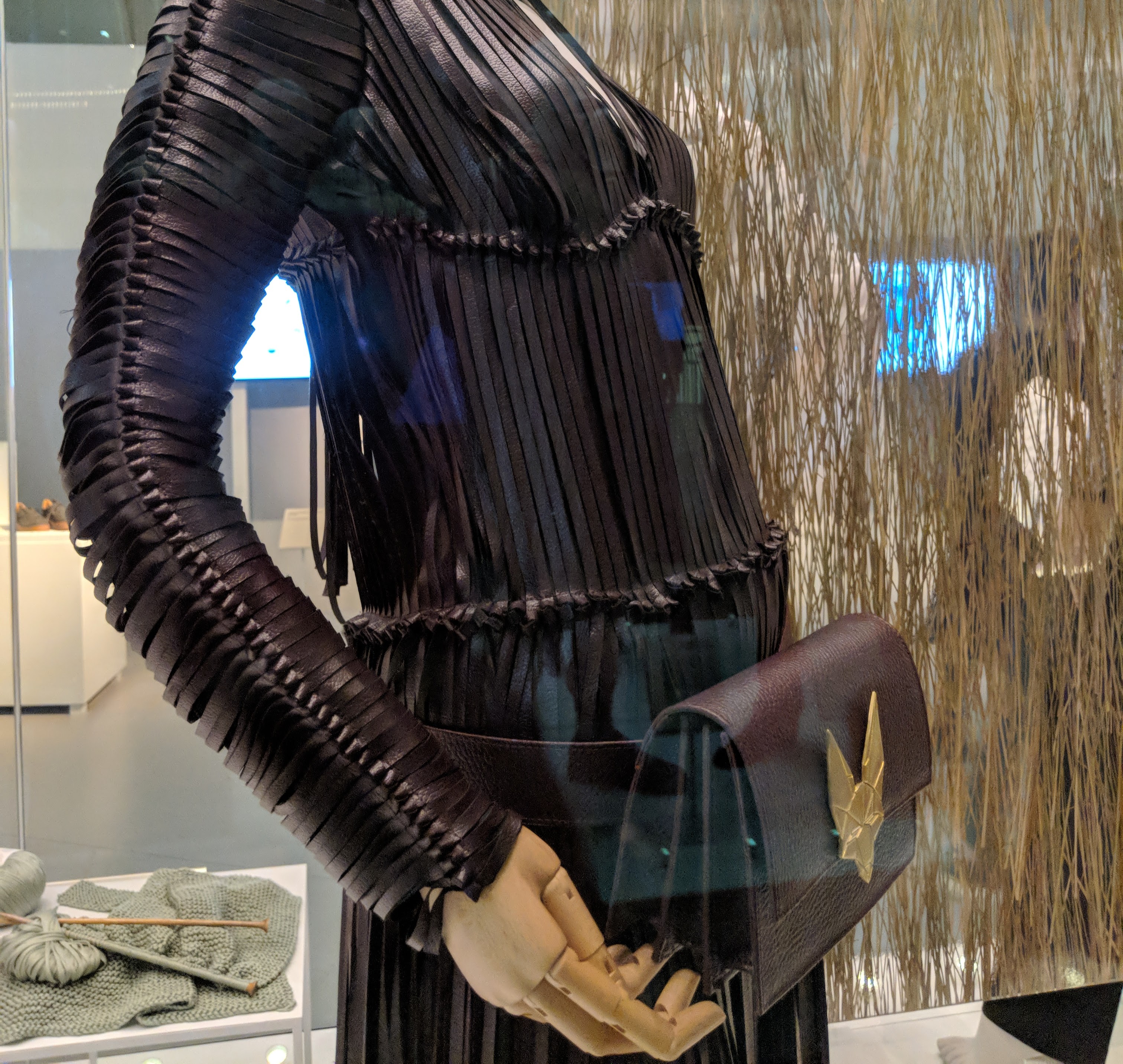 This fantastic fruit can become leather as a byproduct of wine! A company called Vegea, is using waste from the wine industry such as grapes stalks, seeds and skins to produce beautiful leathers (in tones other than purple) which are chemical and animal free. Cheers!
6.Citrus Fabric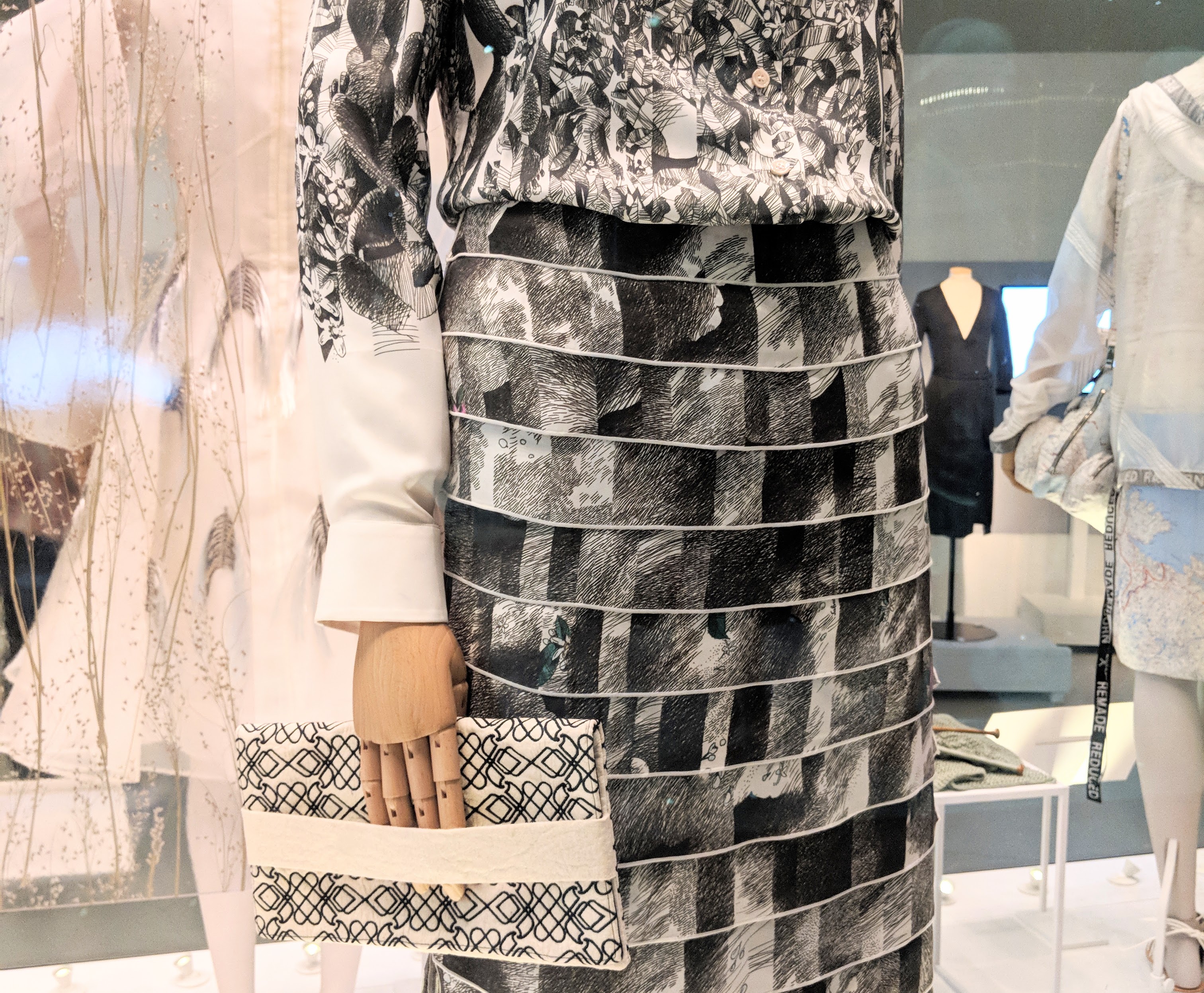 Similarly to the previous example, orange fibers are also being created from orange waste (There's a Techpacker post with more about this fashion tech). The fabric is obtained from a silk-like cellulose yarn that can easily blend with other materials. In its purest form, it's lightweight and soft and silky to the touch. The overall look can opaque or shiny depending on the design requirements.
The clutch is made from Pinatex, a non-woven leather like textile made from pineapple leaves.
5.Grass Root Fashion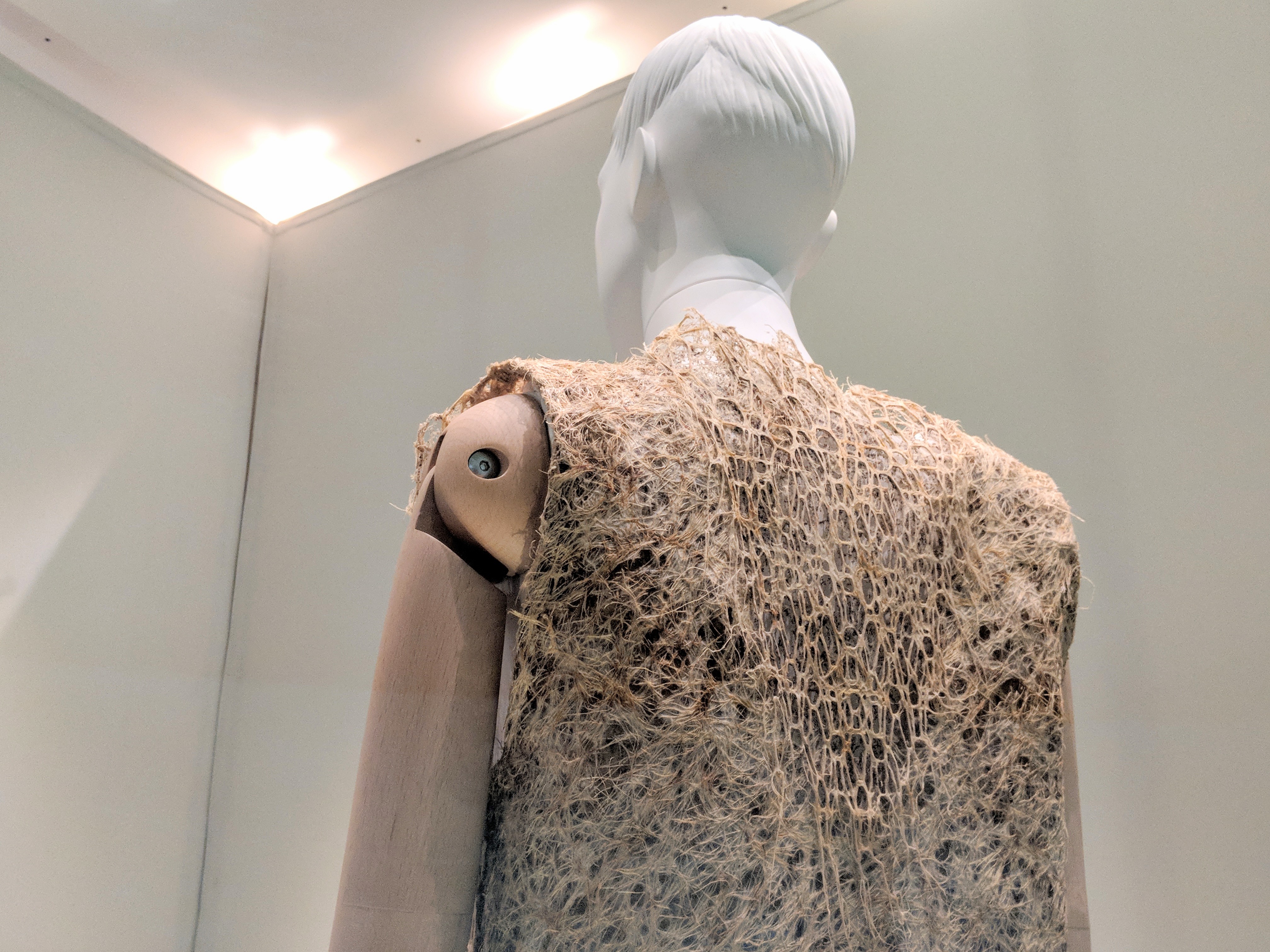 This is an ongoing project by the visual artist Diana Scherer who focuses on creating dresses made from plant roots. The intricate, natural geometry of the oat roots (in this particular example) make the simplicity and beauty of nature resemble a futuristic 3D garment.
4.Recycled Paper Cloth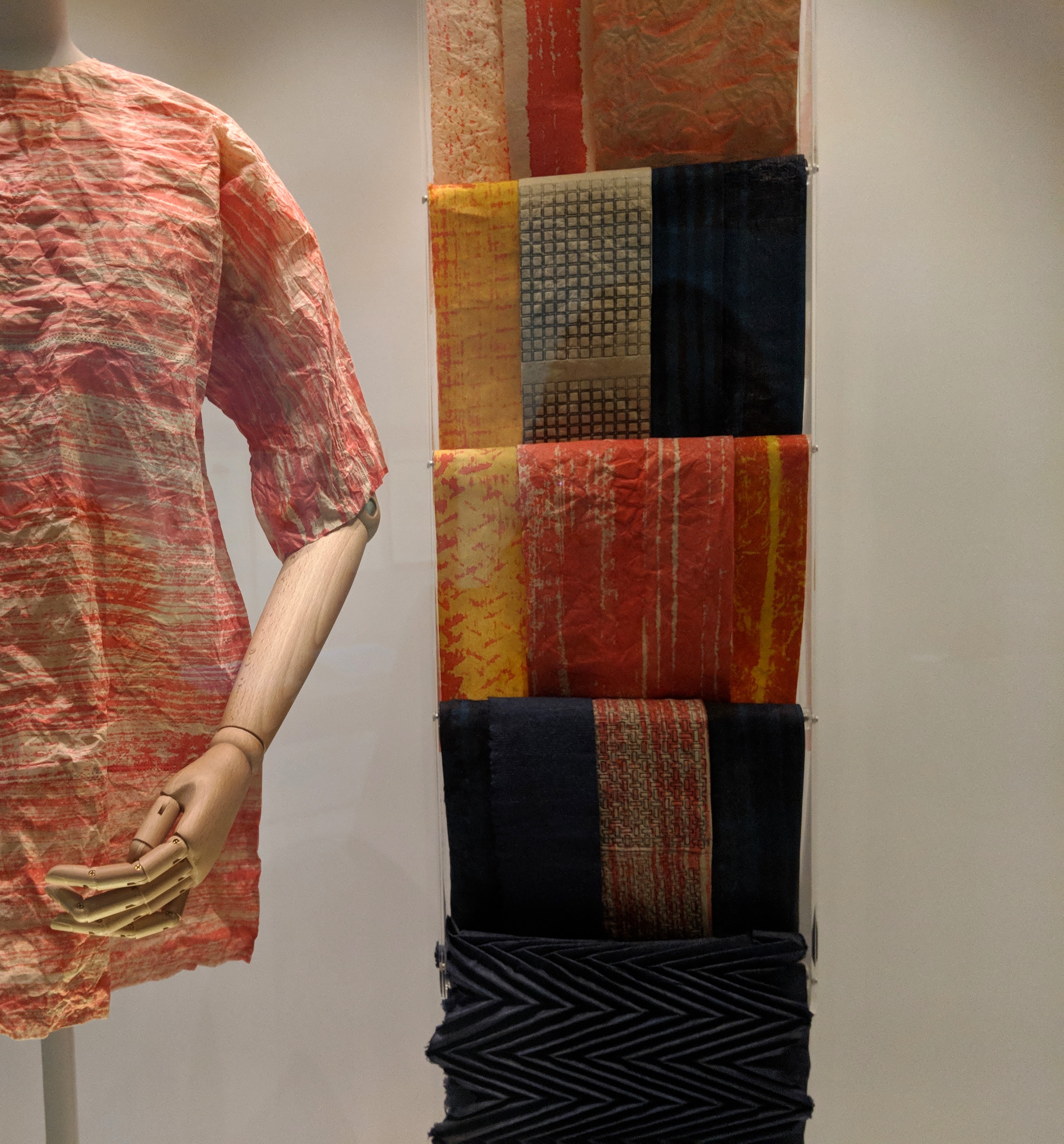 Thought almost designed entirely for the needs of fast fashion, recycled paper cloth allows for frequent changes in style and maximized customization in colors and texture. It's made with unbleached wood pulp and other bio-based material so it's completely compostable.
Since it's not entirely paper, but rather a paper-like, non-woven textile, it wouldn't fall apart under the rain or be as fragile as the paper used in a notebook, for example. Now, this would be a sustainable fast fashion solution!
3. Bolt Thread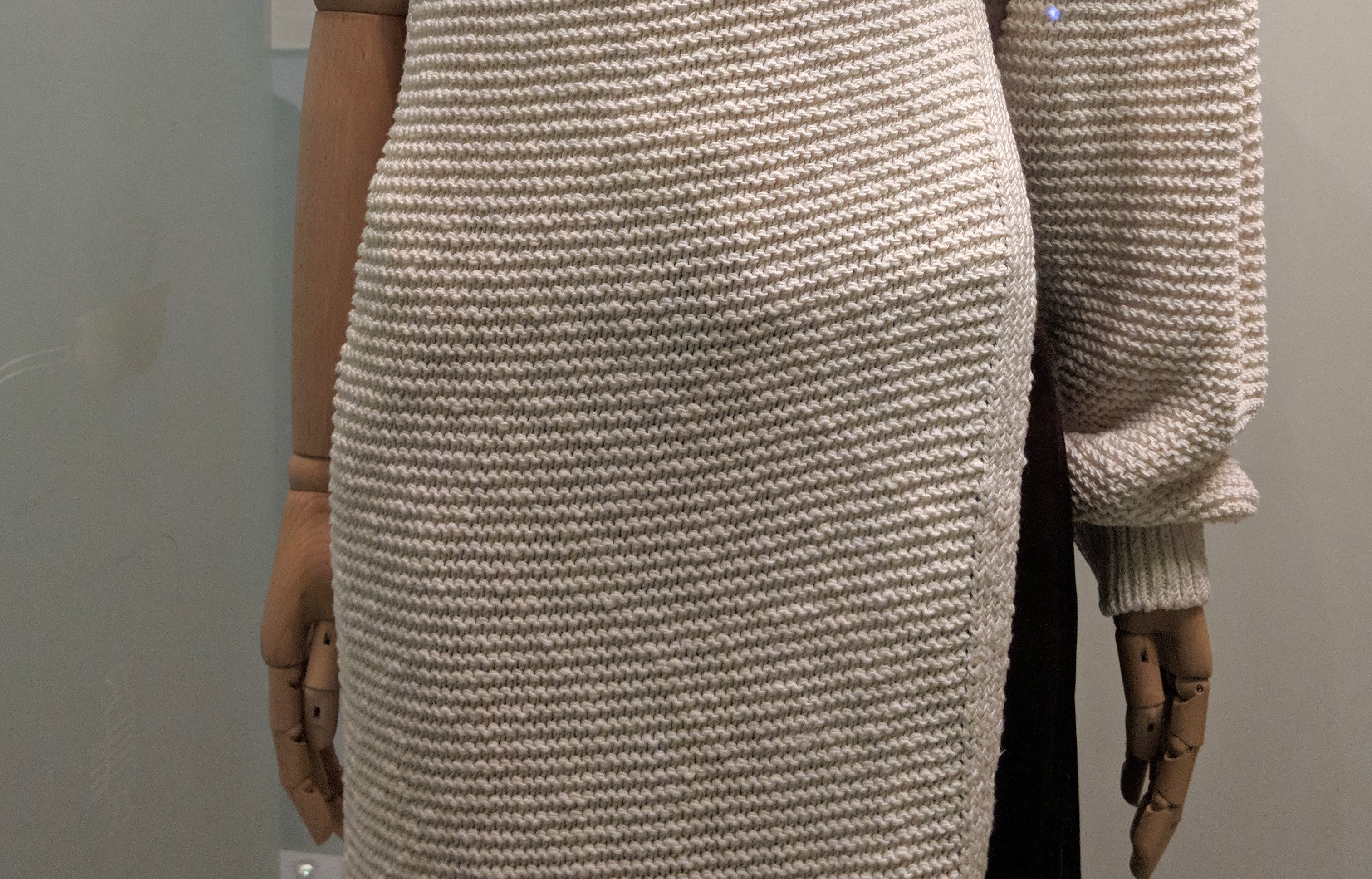 Yeast, sugar, water and salt. Sounds more like beer brewing (it kind of is), but the Bolt Thread mix can mimic the characteristics of spider silk in flexibility and durability, and versatility. As if that wasn't enough, it's easy to blend with other fibres, so countless new materials can be created.
2. Mycellium leather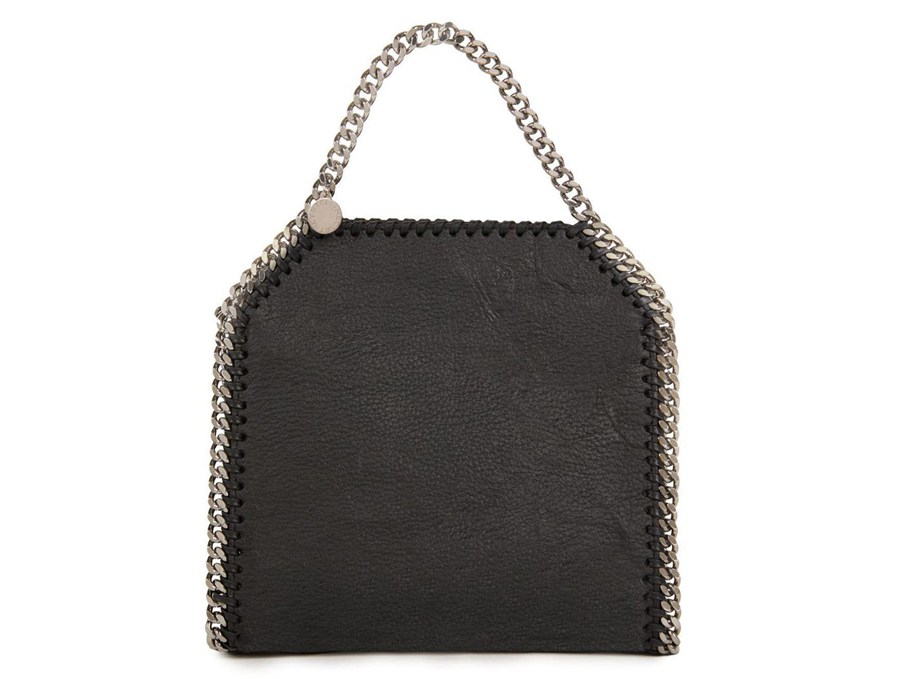 Stella McCartney Falabella bag made from Mylo leather by Bolt Threads.
The world of fungi never ceases to fascinate. In addition to its many wonderful nutritional, nontropic and special forms, it's notably debuting as leather on a Stella McCartney handbag in the exhibition. The new material called Mylo (developed also by the maker of Bolt Thread) is made from mycelium, the roots of a mushroom.
The material is not only completely biodegradable but can be grown in a small space and colored with tea, so no toxic chemicals are needed.
1.Furs and Feathers made from Spun Glass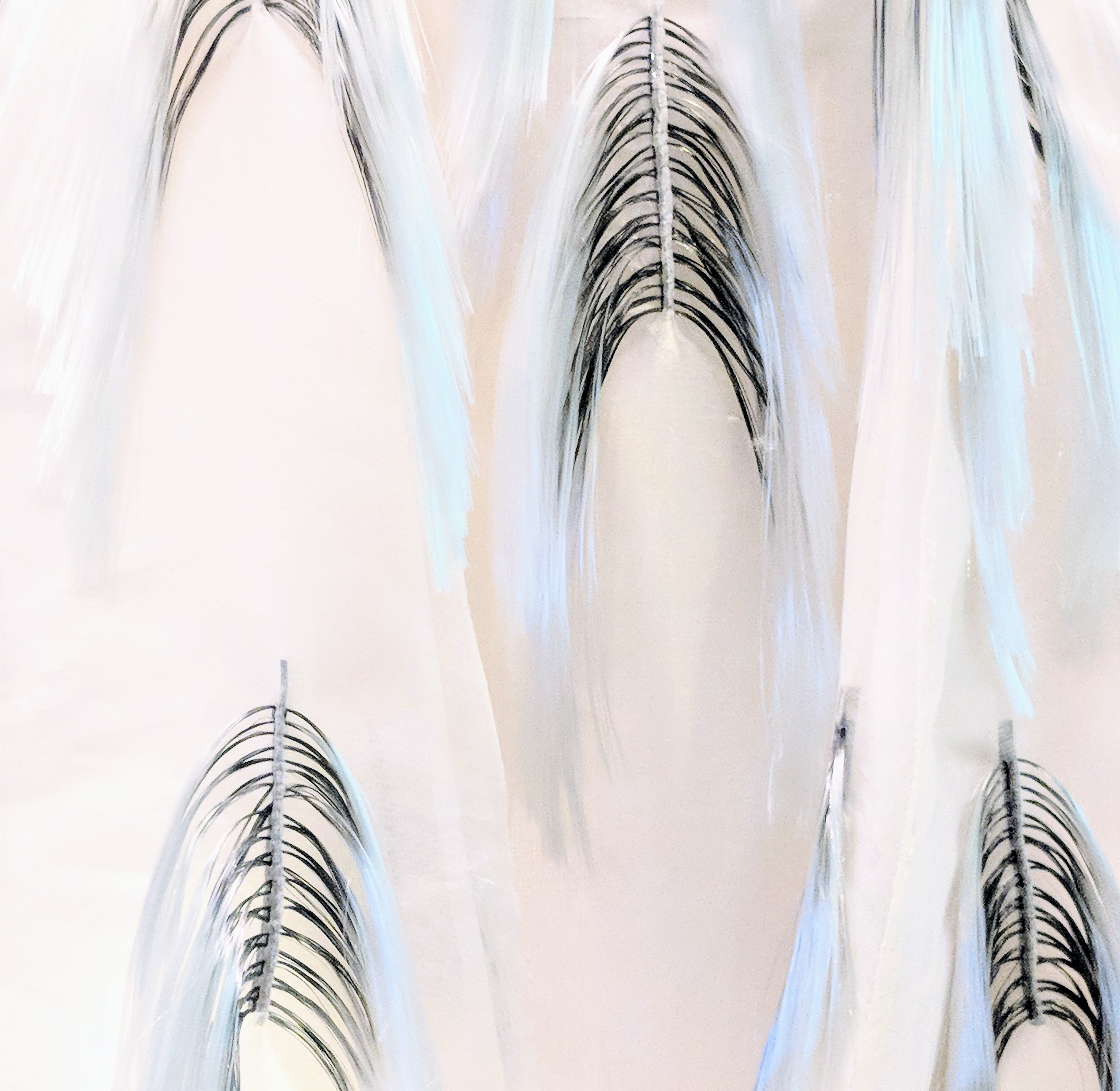 It costs less than silk, colors last a lot longer and it's not susceptible to moth, rust or mould. Although the idea of "glass" makes it sound fragile, it's quite flexible and will only break if a great deal of pressure is applied. Since it's glass it can be recycled almost endlessly!
These are only a few examples from Fashioned from Nature. The exhibition is not only a beautiful show of innovation and history of fashion design and nature, but sends out a clear message of what the present has to address now to have a future. It's a must-see for every designer, manufacturer and fashion entrepreneur visiting London this year.
For us at Techpacker going green beyond garments is just as essential to the entire sustainability equation. This is why the amount of waste generated by manufacturers and their customers due to simple errors in technical packs cannot be underestimated.
Having unsellable garments produced over and over again is hugely contributing to the pollution generated by the fashion industry. Minimizing errors could be as game-changing as substituting animal materials for vegetable ones.
How does Techpacker make you greener?
By helping you sustain excellent communication with all of your teams in each critical step of the manufacturing process.

Recycling garments is not enough! Techpack data can also be recycled thanks to the organization library, where you can reuse cards to create new tech packs.

You can save trees and also in printing expenses by directly working with your production partner on Techpacker. If you must print, you can customize your tech packs with up to 6 images per page and save!
How do you think we can improve sustainability in fashion with Techpacker? We want to know!
Don't miss a thing and get our expert-led manufacturing advice, industry news and the latest about fashion tech in our weekly newsletter. It's super easy to sign up. No spam, we promise.
More cool articles
Top 10 Fashion-Tech Innovations Coming In 2018
Top 5 Manufacturing Trends Shaping The Future Of Fashion