Contents
Most fashion designers will tell you…
Adobe Illustrator is king when it comes to vector graphics.
In fact, the vast majority of our users start by drawing their flats on Illustrator.
Before uploading them on Techpacker for all the nitty-gritty.
We're talking adding constructions details, creating tables, inputting measurements specs, costings, fit sheets, gradings etc.
The tech pack is then magically formatted for them in one click.
The final result is a flawless tech pack in just minutes.
So full disclosure: Techpacker isn't here to dethrone Illustrator.
The pair work beautifully together.
But as much of a powerhouse Illustrator is, it has a few holes in its game when it comes to creating and managing tech packs
Using it might be so ingrained into your routine, you might've never noticed them before.
Techpacker is here to patch those holes and make Illustrator even better.
Here are 3 ways Techpacker enhances Illustrator when creating techpacks
1- Upload and forget. Image formatting is done behind the scenes.
Are you using Excel in conjunction with Illustrator to create your tech packs?
That's the status quo.
Once flat sketches are done on Illustrator, you take a screenshot then paste them on Excel.
This forces you to resize every image and adjust them later once the text and tables come in.
The transition from Illustrator to Techpacker is much more seamless.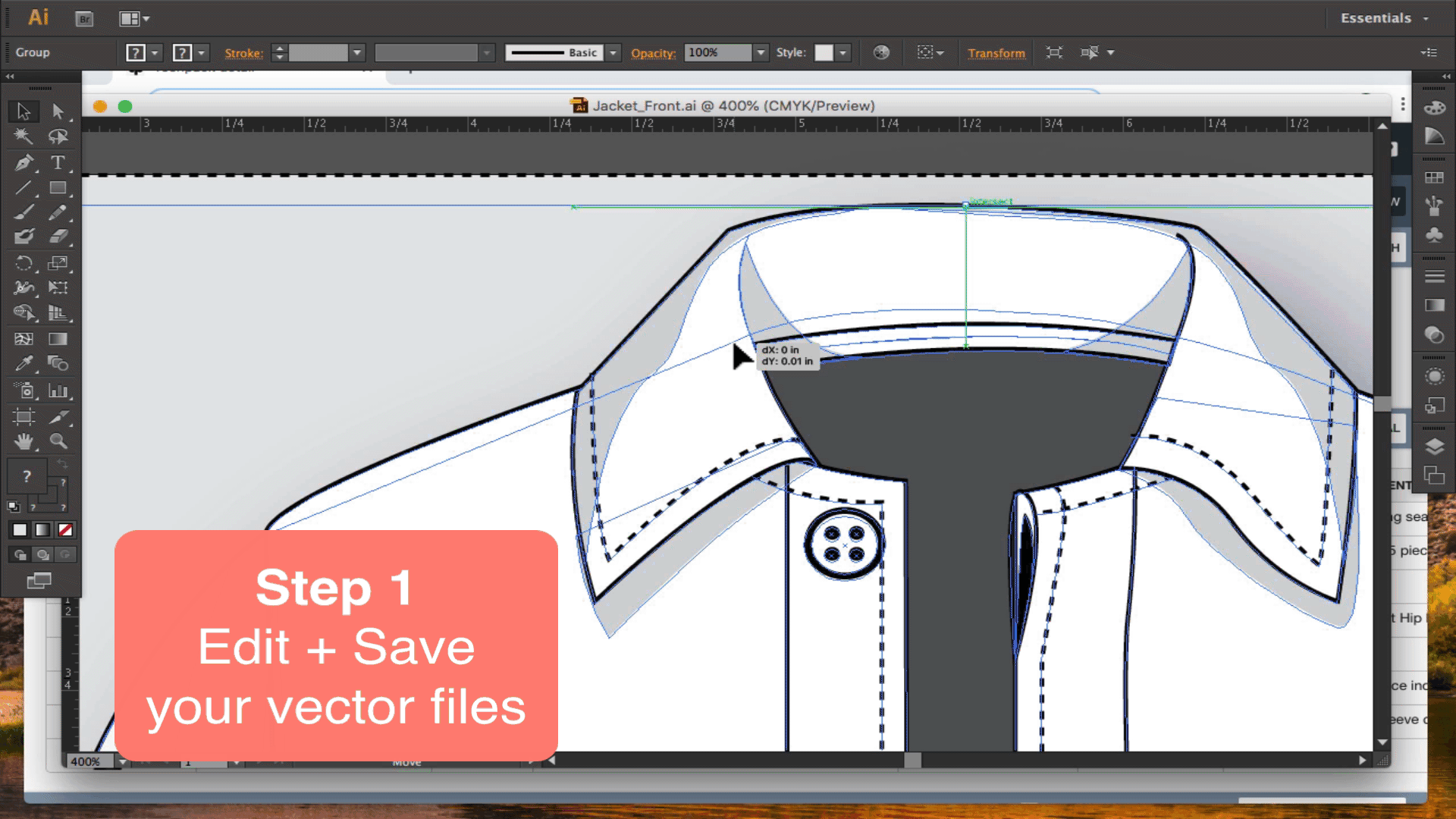 Once you're flat sketches are created on Illustrator, simply drag and drop them on Techpacker.
Then let the rendering system do all the heavy lifting.
Your images are instantly converted to fit your techpack template.
This keeps your flats crystal clear.
And unlike working with Excel, you'll never have to give a second thought about how your sketches will appear on your PDF once text and tables are added.
Think of the simple act of uploading an image on Techpacker as killing two birds with one stone:
1. Your image never has to be formatted or resized. What you see is what you get.
2. Any table, annotations or text you add align perfectly with your image.
2 - Draw annotations and callouts in one fell swoop.
We're probably preaching to the choir here, but…
You HAVE to include close up construction details in your techpacks if you want your samples to come out right.
Your manufacturer needs to know where each label, seam or stitch is placed on your garment.
This is done by drawing arrows and text boxes on your technical flat sketches to point out important details in your design.
And then creating callouts to specify what they are.
If you've ever done this on Illustrator, you know how tedious this part is.
It's a seemingly simple task that requires way more steps than it should.
Just to illustrate my point, here's how it's done: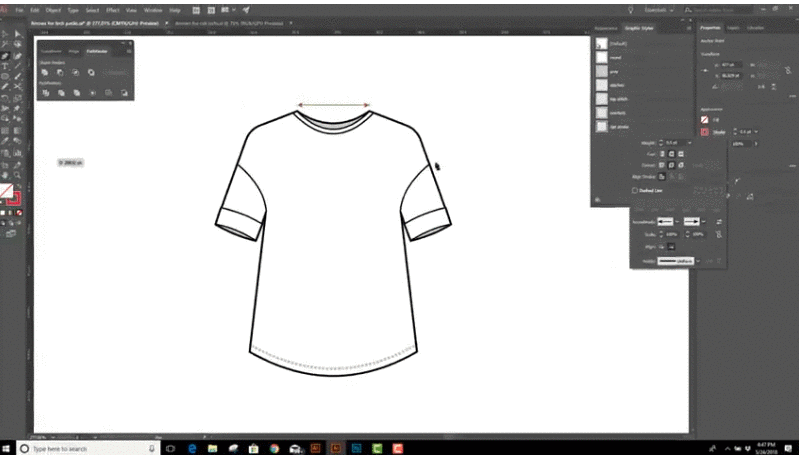 1. You need to first lock the layer your sketch is on.
2. Create a new layer for your callouts.
3. Draw a path to your construction detail.
4. Add arrowheads to your line to point to something specific.
5. Click and drag a textbox and type in your design detail.
Yeah…
A lot of zooming in and out, a lot hitting the return key every 2 seconds.
Oh and having to awkwardly adjust your text boxes to fit your descriptions.
For such a powerful tool, you'll almost have an easier time doing this on Microsoft Paint.
And after all that, one big thing is still missing:
A construction table where all these callouts are laid out and numbered.
This is especially important if you have multiple sketches with many arrows pointing in all directions.
Now, here's how it's done on Techpacker.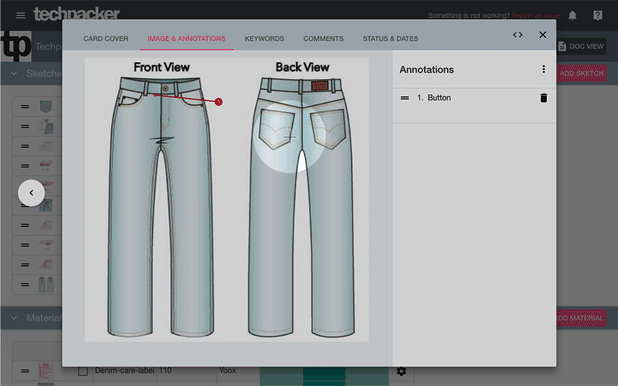 Again, you can drag your technical sketches and drop them directly on Techpacker, without having to upload anything.
You then simply click and drag to annotate your sketches.
Draw a line and a corresponding callout field will appear for you to fill out.
This makes it really easy to label each arrow.
Your annotations and callouts are then numbered and laid out for you in a table in your Techpack PDF.
That's right, the entire table is instantly created and formatted for you.
No need to do painstakingly do it on Excel.
3 - Quickly modify your sketches (without worrying about annotations and callouts)
If creating annotations and callouts on Illustrator wasn't clumsy enough…
Changing them during revisions is even worse.
Further down the product development cycle. Modifications will inevitably spring up.
During a round of revision, if your flat sketches have to be changed, your annotations and callouts have to adjust with them.
However, the flats you've uploaded on your spreadsheet is a static image.
You can't change it on the go once it's on Excel.
This leads you to jump from Illustrator to spreadsheet every time there's something to modify on your sketch.
This sort of works if you're just starting to lay out your sketches in your tech pack.
But what happens when you need to change your construction details?
And then add new descriptions, annotations and callouts?
You have to start over.
Back to Illustrator. Make your changes. New annotations and callouts. Copy paste it to Excel.
Once again, Techpacker offers a more graceful solution.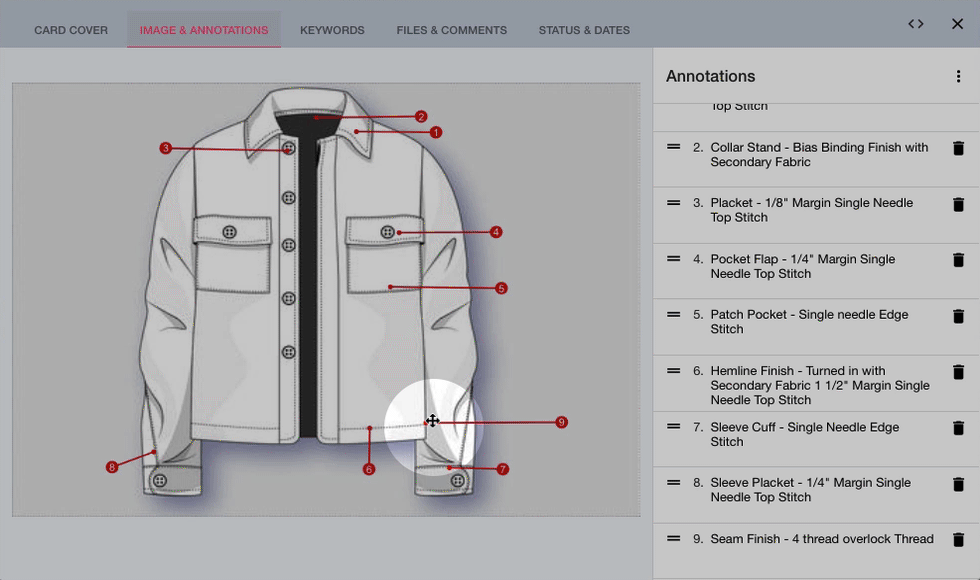 Once your new flat is ready, all you have to do is re-upload your new vector file on Techpacker in a Card.
Note: If you're new here, a Card on Techpacker is simply one of your design details, with all its images, annotations, comments and files, saved in one block that you can reuse freely.
Annotations can be easily added or removed, and callouts can be edited directly on Techpacker.
No need to switch back to Illustrator each and every time.
Hence, this makes it a whole easier to make changes to images quickly.
What comes next?
Direct annotations and callouts plus instant formatting is just a taste of what you can do with Techpacker.
Once your technical sketches are drawn on Illustrator, you can use Techpacker to complete the rest of your techpack.
Are you using Excel right now?
Check out our Techpacker vs Excel post.
It shows you how for every step involved in creating a techpack, Techpacker makes it far easier, faster and more enjoyable than Excel.
● Measurement specs: Reuse measurement templates in one click.
● Grading: Add grading rules without Excel formulas.
● Communication: Real-time, laser-focused chat with manufacturer and team.
● Versioning: Create new version in one click. Share them with a link.
Test it out yourself.
Once you make the switch, you'll never turn back.
Signing up for a free trial now!
---
Other related articles you may be interested in:
How To Switch from Excel to Techpacker in Seconds?
Fashion Flat Sketches 101: All You Need to Know




---