Contents
One of the few silver linings of the pandemic has been increased awareness of global climate change. Including efforts to lessen the impact of the fashion industry. It is now widely acknowledged that the fashion industry contributes significantly to greenhouse gas emissions, which is one of the most pressing issues for climate change activists. It is also responsible for pollution, waste, and massive water consumption. Despite calls for change over the last decade, it is the pandemic that has compelled those words to be put into action.
"It's interesting to see that some of the influencing new designers are tackling sustainability in their products, as well as in their business practices. They say: "These items are the style with substance." - Tonne Goodman, Vogue's sustainability editor.
Interested in incorporating eco-friendly fabrics into your fashion line? Let's have a look at the top sustainable materials for 2023 in the fashion industry.
Recycled plastic bottles
Svitlana Bevza, a designer based in Kyiv, unveiled her AW22 collection, which was motivated by a "love letter to the Earth." Her brand continues to use ethically sourced materials and eco-friendly fabrics made of recycled plastic bottles since she is dedicated to advancing sustainability in her native Ukraine. On the runway, these were displayed using long, sleek vests and maxi skirts.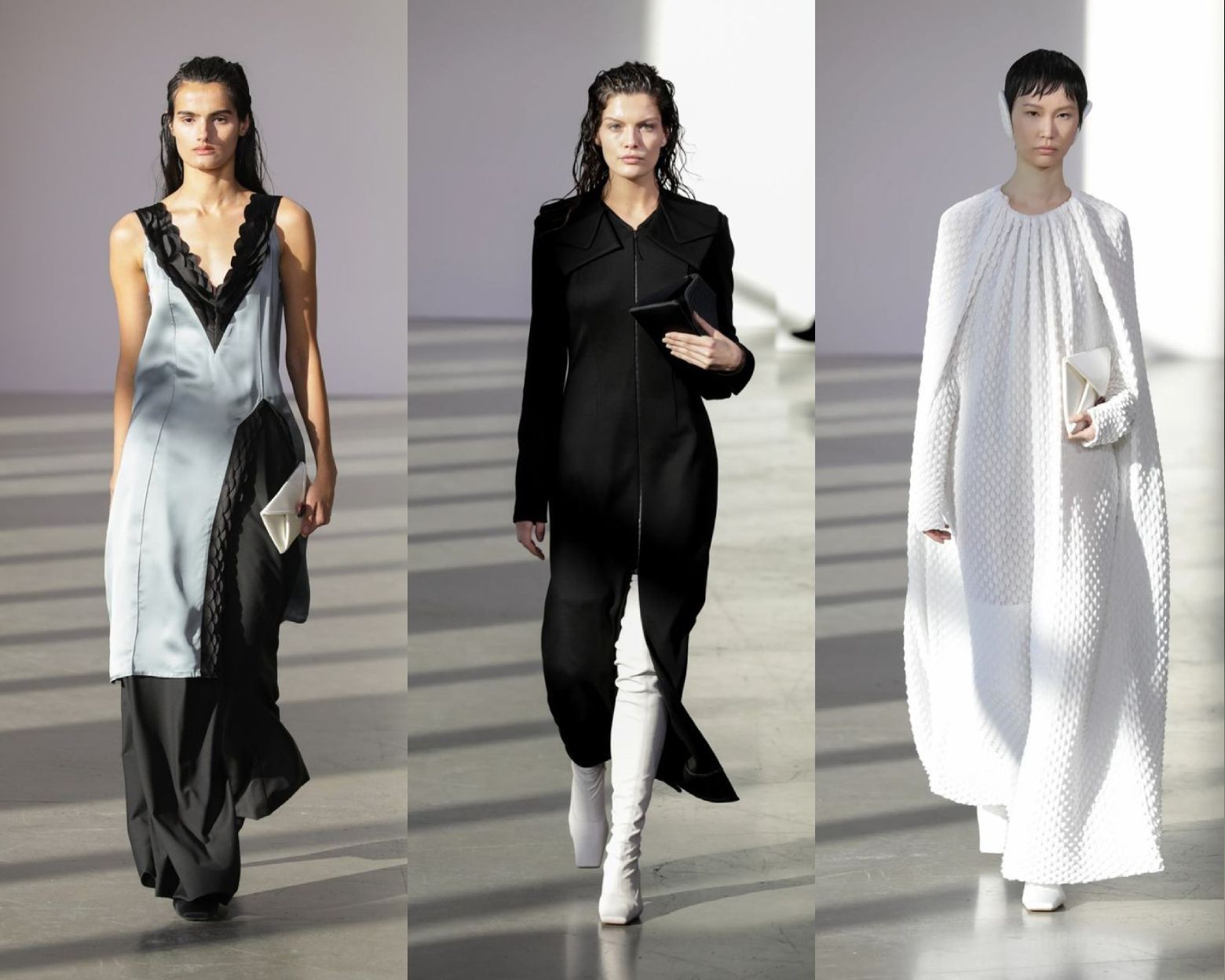 The fabric made out of the PET (polyethylene terephthalate) fiber is essentially polypropylene and it's ten times stronger than traditional polyester fabric.
10 plastic bottles = 1 pound of polyester fiber.
How it is made
PET bottles are sorted from other recyclable plastics like PVC and HDPE, because the reclaimed material (PET flakes) is more useful when they are from purer sources.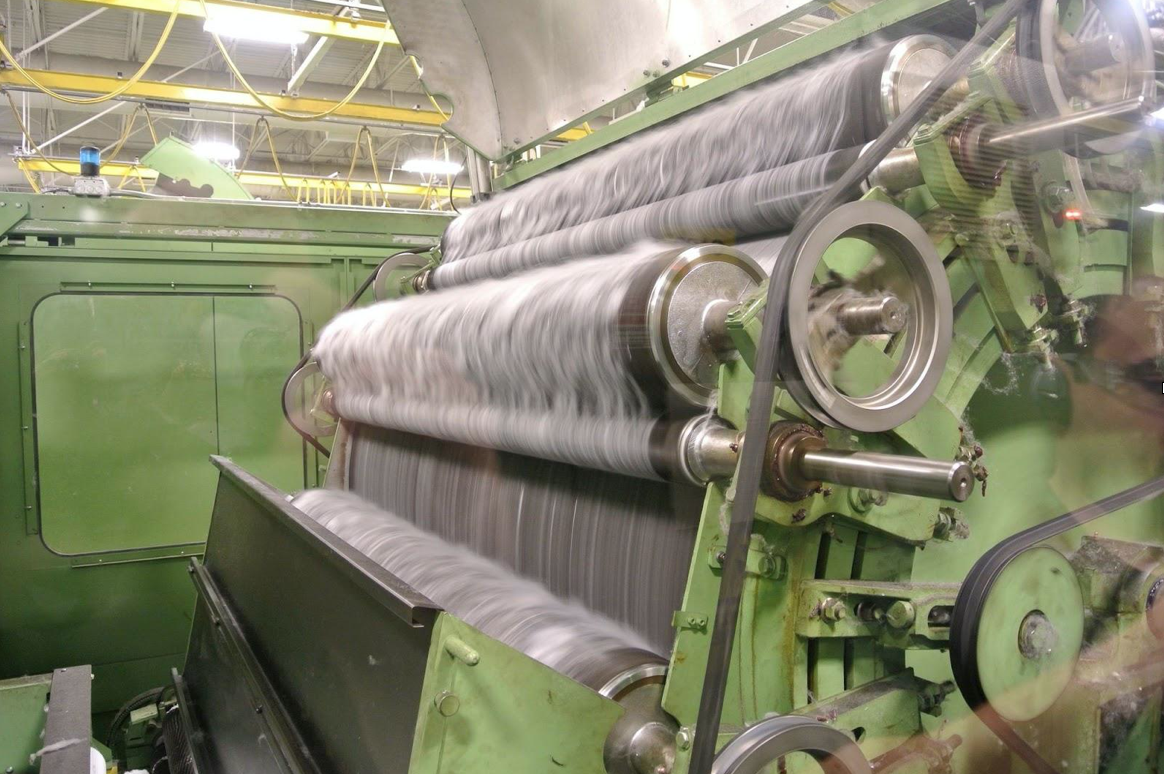 The bales of recycled bottles are sorted manually or automatically on the basis of color. At this point, machines help to get rid of any foreign material or non-PET lids and bases.
The plastic is then washed using a process called a sterilizing bath, after which the clean containers are dried and crushed into tiny flakes.
The flakes are washed again to create the purest possible final product; these flakes become the staple for brand new products.
The light-colored flakes are then bleached and are considered for lighter yarn, while flakes from darker bottles are used for yarn that will be dyed in a dark color. The flakes are then melted in a vat and pushed through spinnerets to construct fiber.
What it is used for
The recycled PET threads are often used either alone or alongside other fibers to make a variety of fabrics. Traditionally, such fabrics were used to create strong, durable products, such as jackets, coats, shoes, bags, hats, and accessories. However, these fabrics can be rough on the skin and cause irritation. Therefore, they're not used on any clothing which will irritate the skin, or where comfort is required. There has been an incredible increase in demand for green products in today's eco-friendly world. As a result, many clothing companies have started trying to find ways to insert themselves into this emerging market, with new innovations and ways to process the material. The biggest issue is making it wearer-friendly, so it has a wider variety of uses.
Fiber from recycled PET bottles is used to make other items such as:
Fine fiber is used for clothing.
Coarse yarns that are used for carpeting.
Colored recycled fiber blends for producing economical colorfast yarns.
Integrating recycled fibers within the yarn center to make a core filler.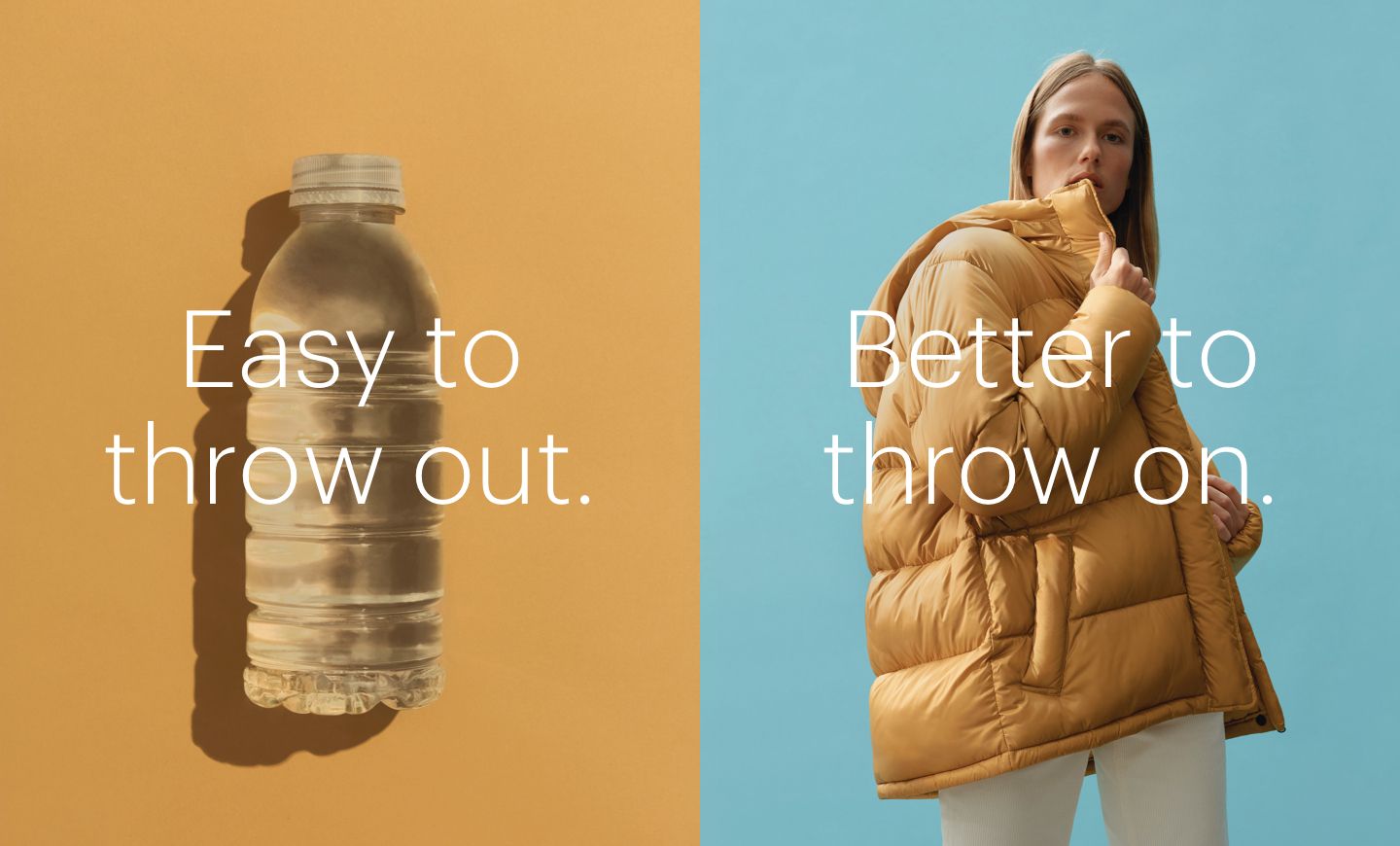 Recycled plastic bottles fiber manufacturers
Arora Fibres recycles discarded plastic bottles into polyester which is generally used as packaging material.
Patrick Yarns is leading the revolution in spinning top-quality yarns from recycled fibers.
Delhi-based Orient Syntex is exporting its yarn to Malaysia and on the domestic level, it is selling its yarn through agents in Erode, Tirupur, Salem, etc. who are further selling these yarns to companies like Export Tex, Javan Knits Garments, etc.
Unifi has turned 4 billion used plastic bottles into yarn in the last seven years.
---
Cork leather
Cork is a very sustainable material, which is emerging as an alternative to leather. It is less common than recycled plastic but is becoming increasingly popular.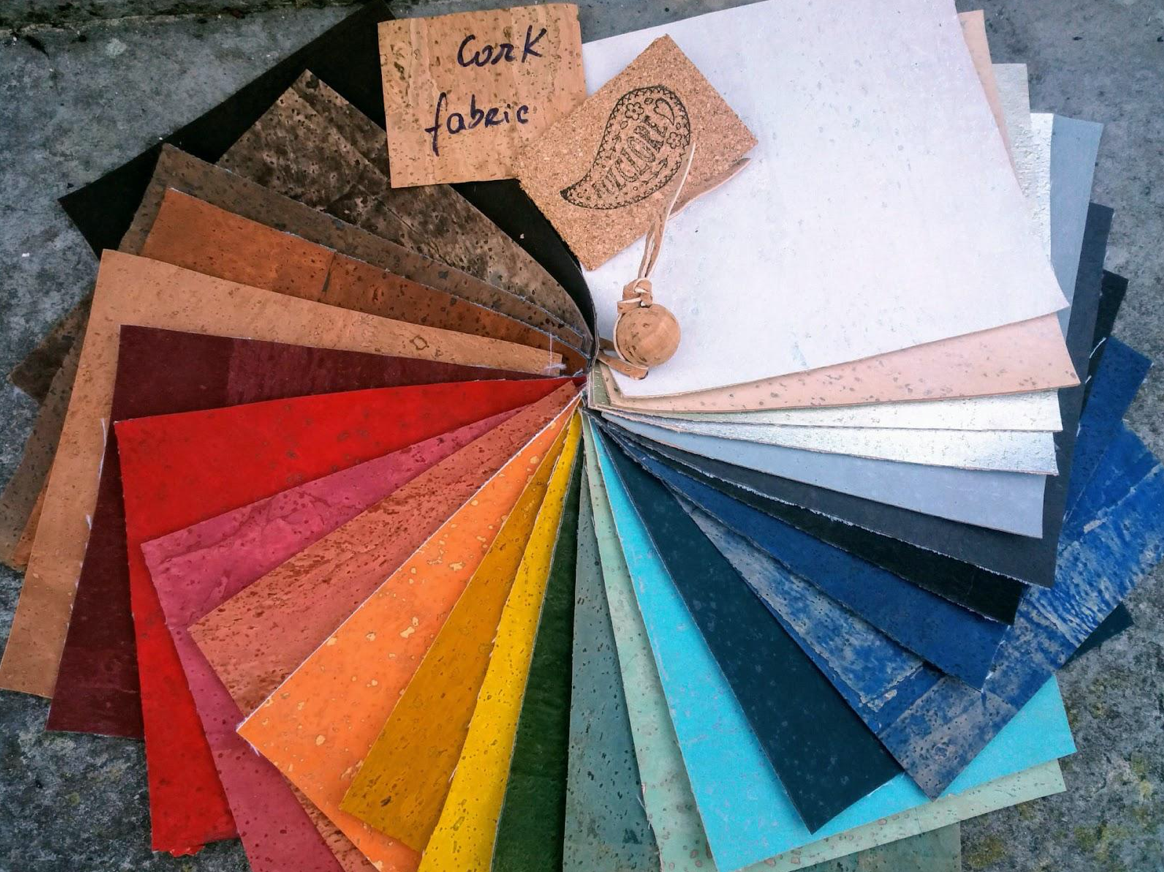 Cork Leather comes from Oak Trees and is sourced naturally from parts of the tree. It is currently one of the most attractive alternatives to animal leather, as it is completely renewable. It's used to make consumer products like wallets, footwear, and bags. Cork is 100% natural, and most of its production is in Europe, particularly in Portugal.
How it is made
It takes approximately 25 years before a  cork tree can be harvested. The cork (bark) is taken when an Oak Tree is around 60 cm in circumference. The process of harvesting is repeated only after every 9 years since it usually takes several years for the cork to regenerate.
The workers specializing in removing the cork are called extractors. Harvesting is done with a very sharp ax. Firstly, a horizontal cut at a height of 2-3 times the tree circumference is made, followed by several vertical cuts to remove the cork from the tree.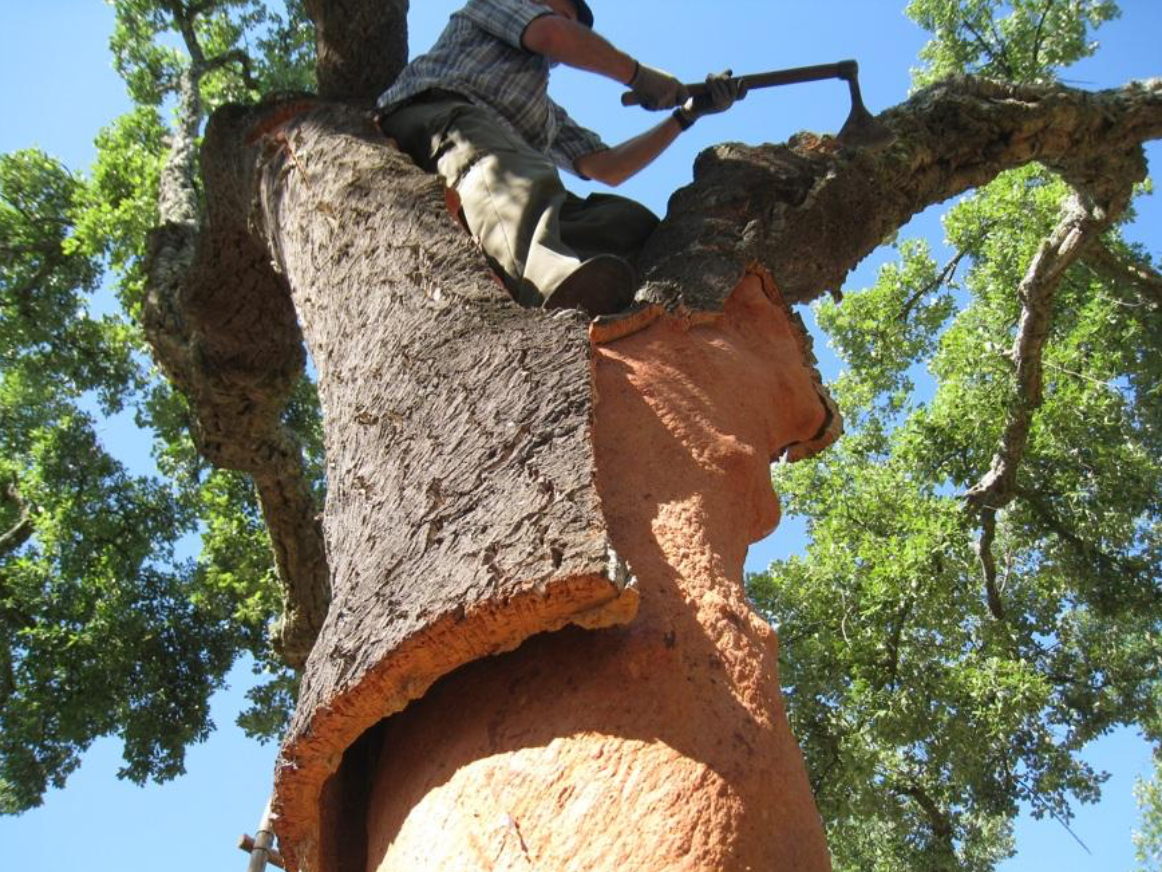 After being harvested the cork is stacked in the factory or the forest and allowed to dry naturally for six months. After that, it is transported to a processor where it gets cooked and steamed to make the fabric even more elastic. The cork is then pressed into blocks by applying heat and pressure. These blocks are later cut into thin slices that can be turned into a variety of cork leather accessories. As an alternative to the chemical-laden process of making animal leather, the production process of cork leather is 100% chemical-free.
The material is extremely flexible and thin and can be processed into various fashion accessories. Many designers will ask for dyed cork leather to create unique designs.
What it is used for
It is being used by larger brands like Calvin Klein, Prada, Stella McCartney, Louboutin, Michael Kors, Gucci, etc. It is mostly being used to make handbags and shoes but the cork trend is getting bigger, with many new products appearing on the market.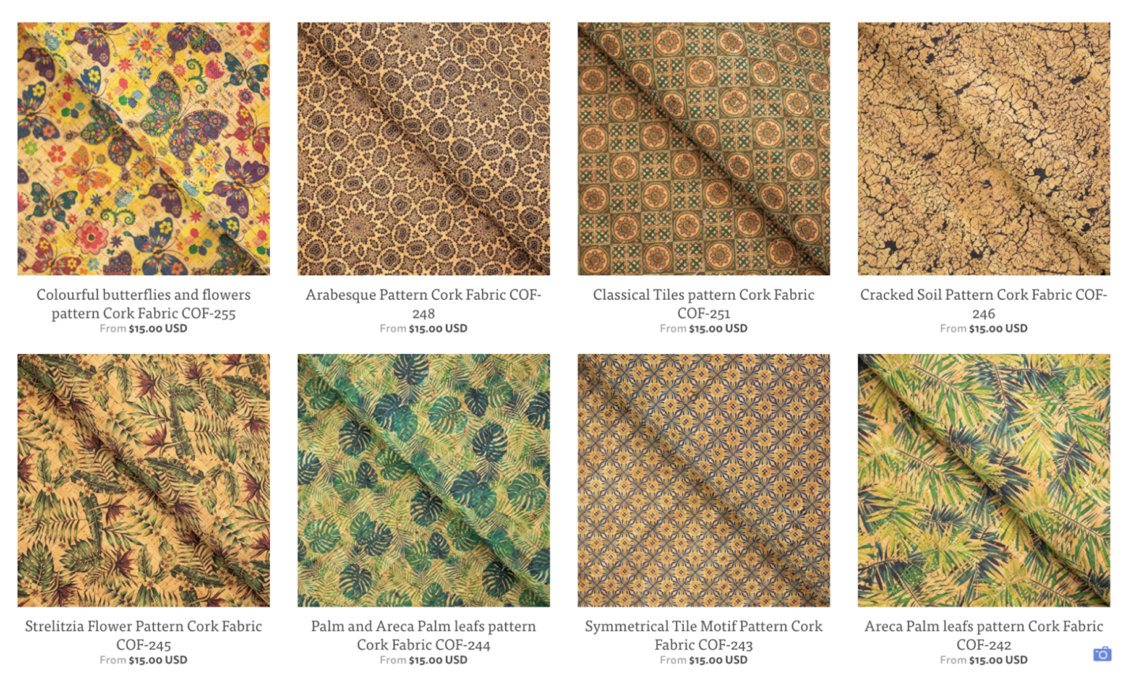 Some of its key characteristics are: it's lightweight, water-resistant, has a soft texture, and it's long-lasting.
Cork leather is used to make handbags, wallets, watches, clothes, accessories, furniture, yoga mats, shoes, wall coverings.
Cork leather manufacturers
Cork leather is mostly produced in Europe, particularly in Portgular. As most of the cork in Portugal is imported and processed worldwide, it is one of the epicenters of the material's development.
---
Piñatex
Piñatex is a natural leather alternative made of cellulose fiber extracted from pineapple leaves, PLA, and petroleum-based resin. Piñatex was developed by Dr. Carmen Hijosa and was first presented at a Ph.D. graduate exhibition held at the Royal College of Art, London.
Whenever it comes to vegan leather alternatives, Piñatex is the go-to material. It is a cruelty-free replacement for leather, which is also natural and sustainable. As Piñatex is formed from a food by-product, it reduces waste and helps the farming communities that grow the fruit!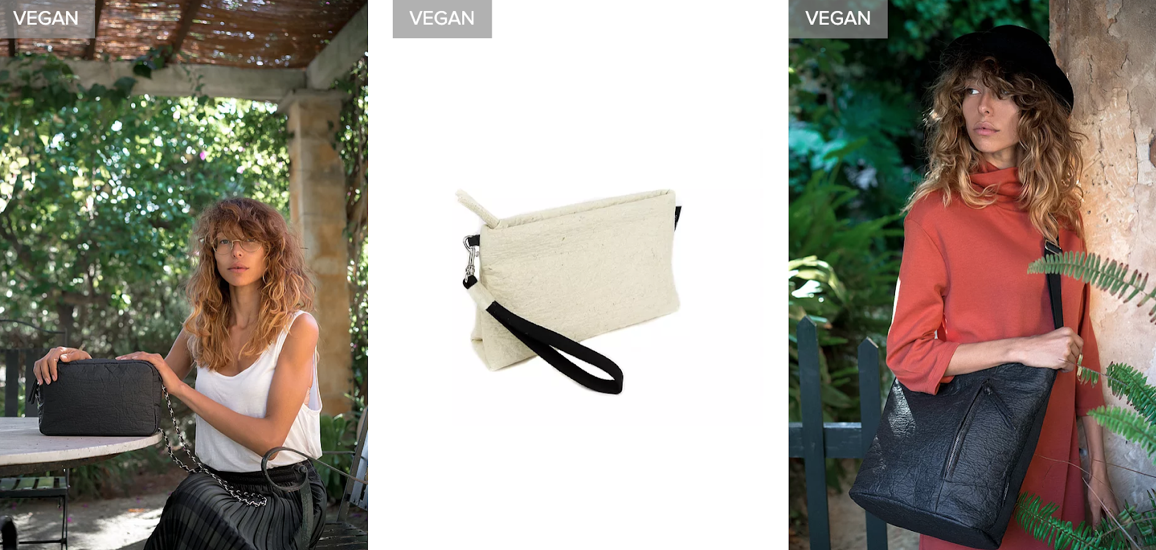 How it is made
Piñatex is made by weaving together pineapple leaf fiber to make a non-woven derivative product.
Approximately 480 leaves (the waste from 16 pineapple plants) are needed to make 1 square meter of fabric. Piñatex is produced partially from a waste that needs no additional land, water, pesticides, or fertilizers. It also avoids using toxic chemicals and heavy metals, which are involved in animal leather production, and has none of the wastage of leather caused by the form of the animal's skin. The process follows as:
Collection of pineapple leaves: Local farmers in the Philippines collect pineapple leaves that are then processed to produce pineapple leather. Piñatex is entirely made out of pineapple leaves. About 13 million tonnes of waste is produced by the pineapple industry globally, of which 40.000 tonnes are pineapple leaves, which would otherwise be burned or left to rot.
Decortication: It is the process of extraction of cellulosic fiber from the leaves. This process still takes place at the farm to further reduce C02 emissions. The biomass left over after removing the fiber isn't wasted either. It is a really nutrient-rich natural fertilizer for the soil and gets used as a biofuel. After being harvested, pineapple fiber is washed and dried.
Removal of pectin/degumming: The extracted fibers then get washed and dried. After the fibers have dried, they're degummed in a process where pectin gets released from the fiber. Pectin is the molecule that is responsible for the leaves' stiffness. Once the pectin has been removed, the pineapple fiber becomes a soft and versatile, cotton-like material. Thereafter, the fibers become a non-woven mesh by stinging thousands of needles into the fibers in an industrial, mechanical process to supply a felt-like structure. However, this process is the base of Piñatex.
Processing in Spain: The raw Piñatex materials then get sent abroad to Spain where they can be processed into the final material. It gives Piñatex the texture surface and sturdiness of leather. This is the final step after which the fabric is packed in rolls and gets delivered to exclusive designers and brands.
What it is used for
Since Piñatex is so versatile it is often used for nearly any piece of fashion ranging from small watch straps to jackets. Piñatex is also used in the automotive industry for leather seats and interior decoration.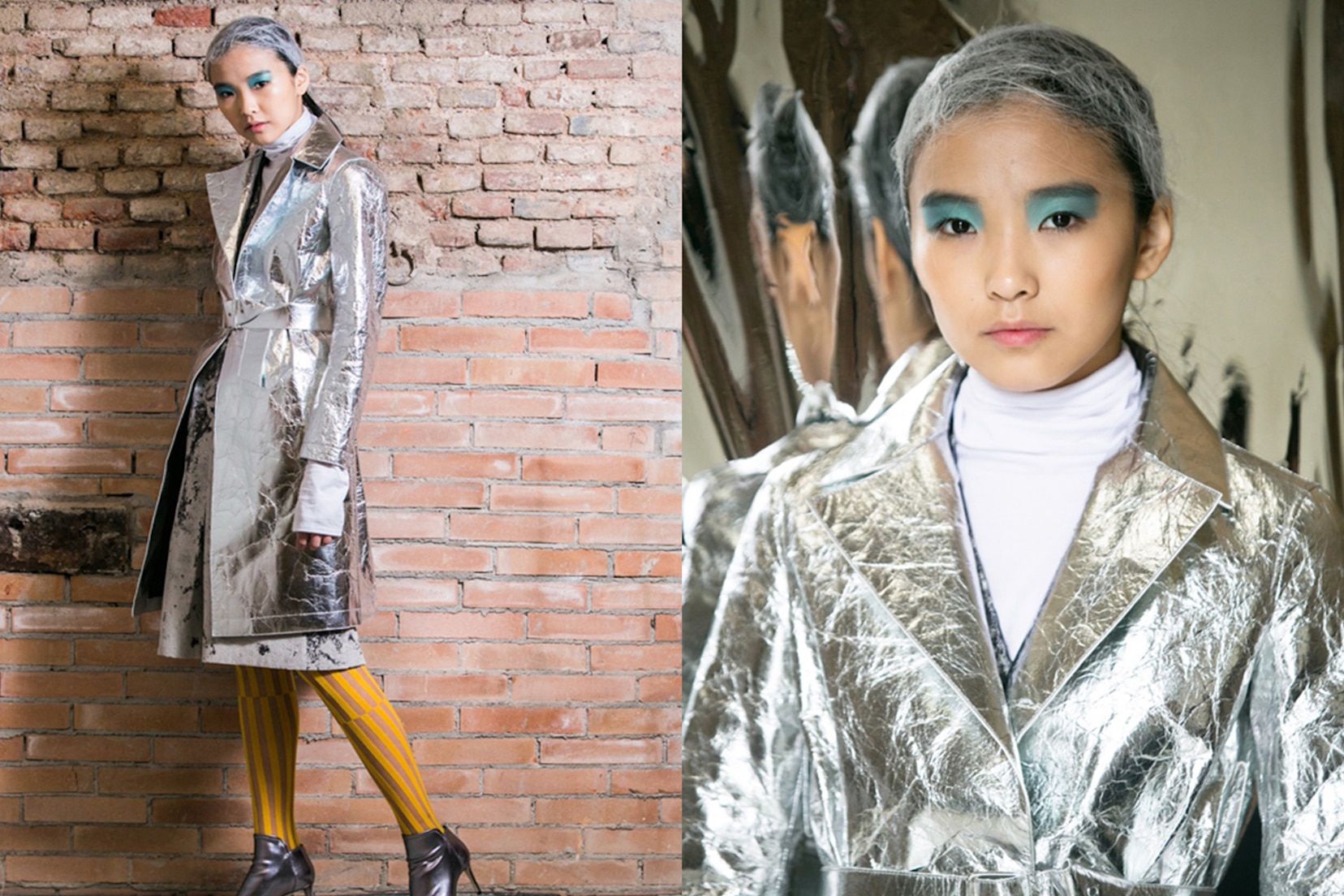 Larger brands including Hugo Boss and Puma have been using the product to create vegan leather in the hopes of reducing their environmental impact. Both Hugo Boss and Puma released their new trainer collection made with pineapple leather. DAN & MÉZ sell vegan leather watches Likewise, Altiir uses Piñatex for their leather jackets. The Spain Brand MARAVILLAS BAGS also featured a wide collection of Piñatex wallets.
Piñatex manufacturers
Currently, there are not many manufacturers offering pineapple leather. It requires international production, with most pineapples being grown in the Philippines and production then taking place in Spain. Earlier Ananas Anam was the only company to offer pineapple leather called Piñatex. Until now, they have been the leading company on the market. The company is based in central London but they operate and ship worldwide.
---
Microfibrillated cellulose from Spinnova

Spinnova is a Finnish company famous for developing a technology for transforming cellulosic fiber into fiber for the textile industry using a mechanical process. The Spinnova cellulose fiber claims to be the most sustainable fiber within the world, both from a staple and fiber-making process aspect. The fiber made by Spinnova is totally natural, using only FSC and/or PEFC certified wood or cellulosic waste streams. Spinnova has created a process, where wood fiber doesn't need dissolving with harmful chemicals. Instead, it's refined mechanically to make something called micro-fibrillated cellulose.
At the end of its material use, the Spinnova Cellulose fiber can degrade back to nature quickly just a couple of months to biodegrade in natural and marine environments, it's a quick end of life, leaving nothing harmful behind.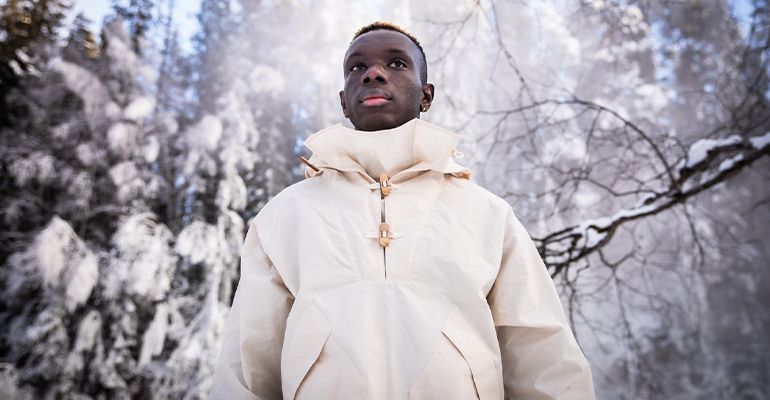 How it is made
The raw material used to create fiber is the same pulp that's used for making paper. The wood used for the pulp comes from FSC and/or PEFC certified tree farms.
Then the pulp is treated mechanically, to create a very fine, paste-like material called micro fibrillated cellulose (MFC). MFC may be a subsequent product of the pulping process. The finely ground pulp mass flows through a singular nozzle, where the fibers and fibrils rotate and align with the flow, creating a robust and elastic fiber network. The fiber is then spun and dried.
What it is used for
The fiber offers multiple sustainability benefits, including zero harmful chemicals, zero microplastics, it is 100% biodegradable, it is 100% natural.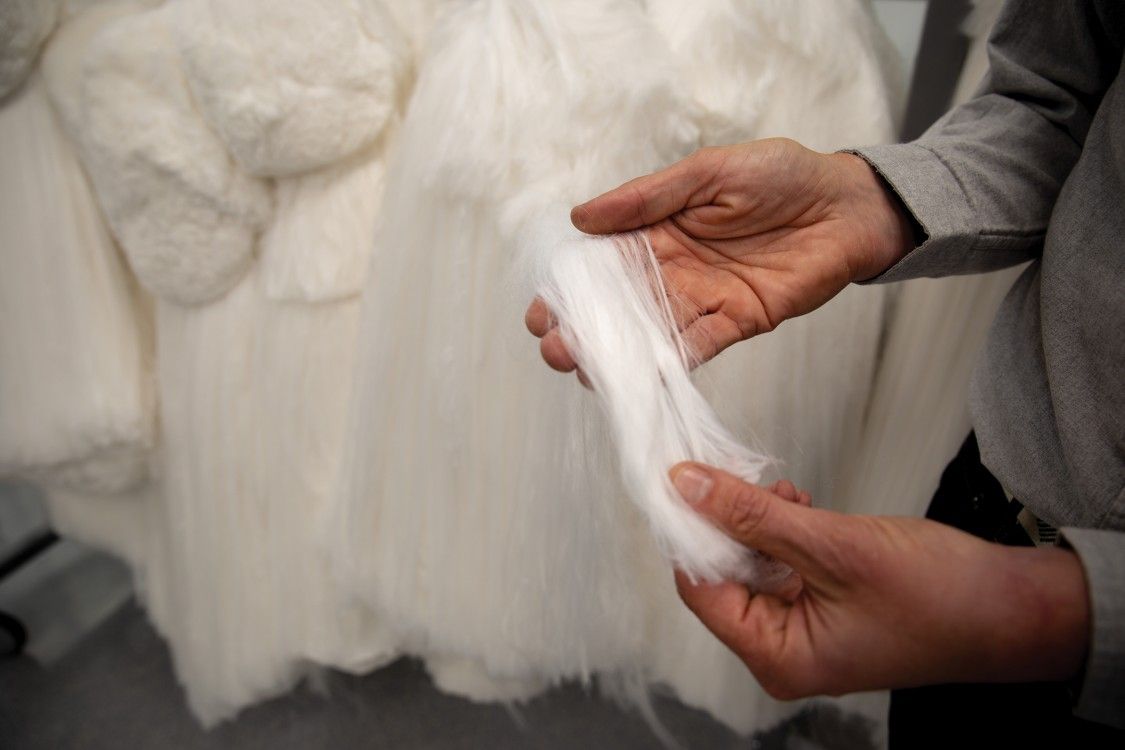 The resultant fibers are often spun into a yarn or knitted or weaved into a cloth allowing multiple uses. The fiber is fluffy but firm wool that's as warm as lamb wool. Its stretch and strength qualities are almost like cotton. Depending on how it is being used, it can also be made water repellent or absorbing. The fiber mass is often dyed before the wet spinning phase. It is suitable for spinning into yarn and knitting or weaving into fabric or non-woven derivative products.
Spinnova manufacturers
The company has now gained the proof of concept from the technology and is planning for its first commercial facility. They currently develop the fiber product in collaboration with several retail brands, to suit specific commercial apparel, shoes, and non-woven materials.
Their current partners include Marimekko, Bestseller, Fashion for Good, Fibria, and Lenzing.
---
Econyl
Another recycled fabric is Econyl. Launched in 2011, Econyl is made by Aquafil Global, which is the global leader in manufacturing Nylon 6, also known as Polyamide 6. Aquafil - an Italian firm, uses synthetic waste, such as industrial plastic, waste fabric, and fishing nets from the ocean, to recycle and regenerate into a new nylon yarn that is exactly the same quality as nylon.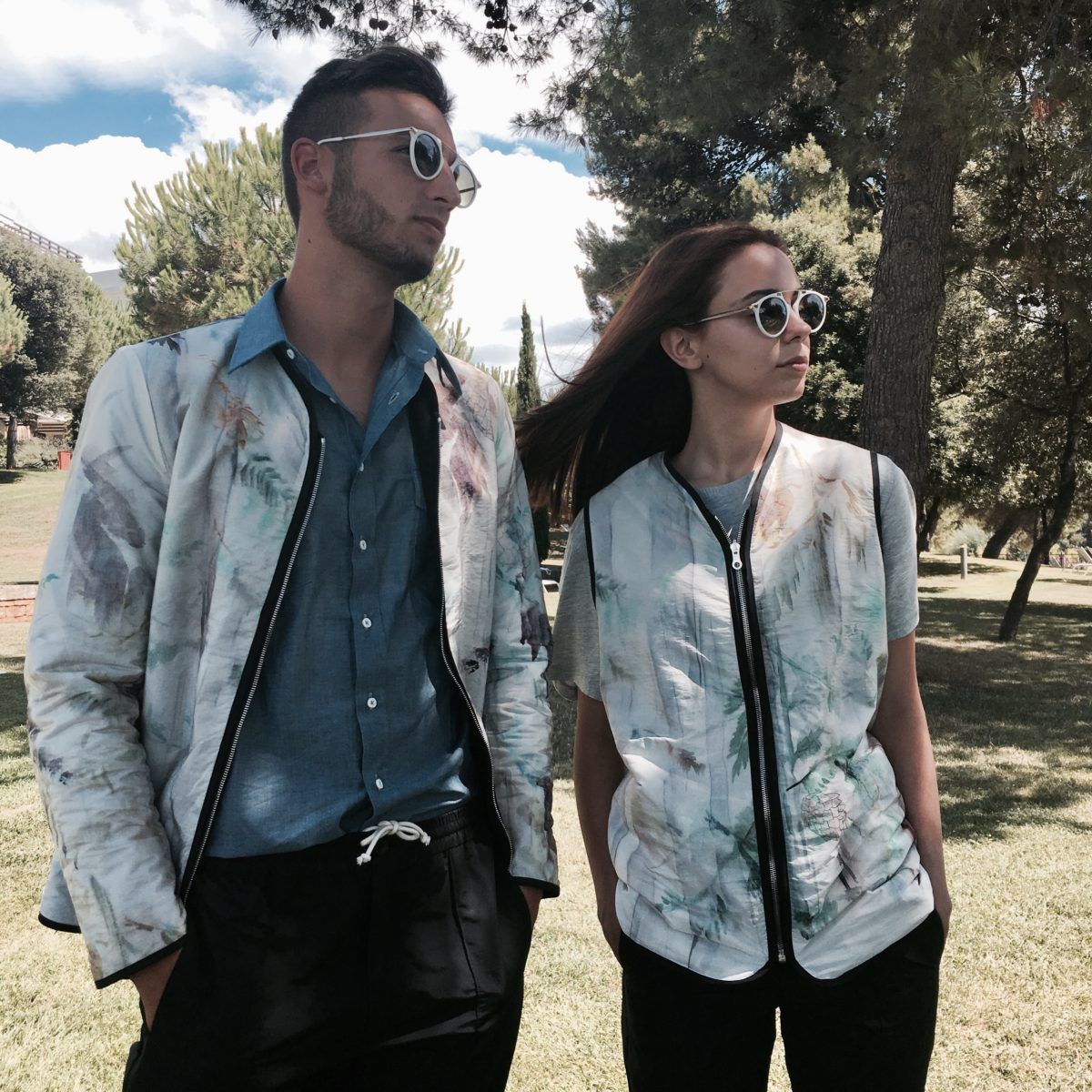 How it is made
Waste products such as fishing nets are first collected and taken to pretreatment facilities where they are sorted and shredded into pieces that are small enough to be put through the Econyl process.
The shredded material then goes through a regeneration plant where they are put into huge chemical reactors where the process of depolymerization takes place. Here, the nylon is repurposed into textiles. The nylon is extracted, polymerized, transformed into yarn, and then commercialized into textile products. The final product is then finally processed into yarn.
This eco-friendly regeneration process forms a closed-loop and uses less water which results in less waste compared to the traditional nylon production methods. Hence, Econyl stands as a promising fiber, far more sustainable than nylon.
Some numbers that prove Econyl as a material for the future:
For every 10,000 tonnes of raw materials that are recycled into Econyl, 70,000 barrels of crude oil are saved, and 57,000 tonnes of CO2 emissions are avoided compared to traditional production methods.  Econyl fabrics can be recycled infinitely without losing quality, thus supporting the vision of more circular fashion industry.
What it is used for
Econyl has all the properties of Nylon 6 so it can be used in a wide range of applications where Nylon 6 is used, like different types of apparel and accessories. It also has applications within the home.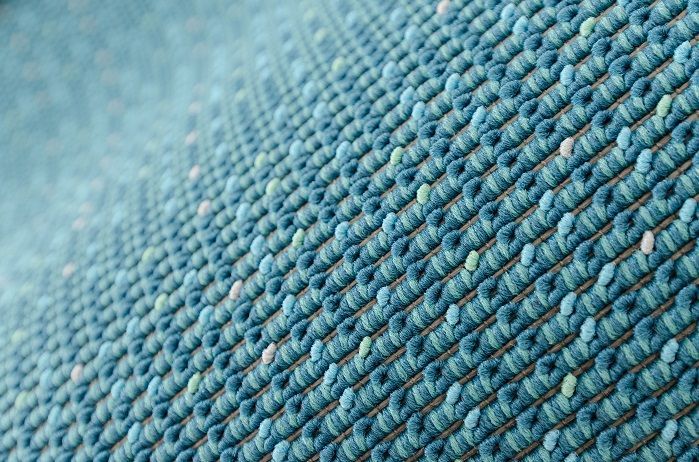 Econyl manufacturers
Huge clothing brands such as Adidas, La Perla and H&M, and many others have already started using Econyl in their clothing range including swimwear, underwear, and sportswear. Companies such as Forbo Flooring and carpet concept are using it in their product range.
We should be cautious that traditional washing of Econyl can still shed microplastics that can end up in the ocean. So with this product, it's best to go with items that need less washing like sneakers.
---
Qmonos
In today's world, the utilization of biotechnology to develop new materials is attracting great attention worldwide. This made headlines when a Japanese start-up called Spiber Inc. created man-made spider silk using synthesized genes.
Spider's natural creation, silk weaved intro webs, has been an excellent source of inspiration for sustainable fashion. Qmonos is synthetic spider silk modeled after the toughest fiber in nature. It is very lightweight, more flexible than nylon, and completely biodegradable.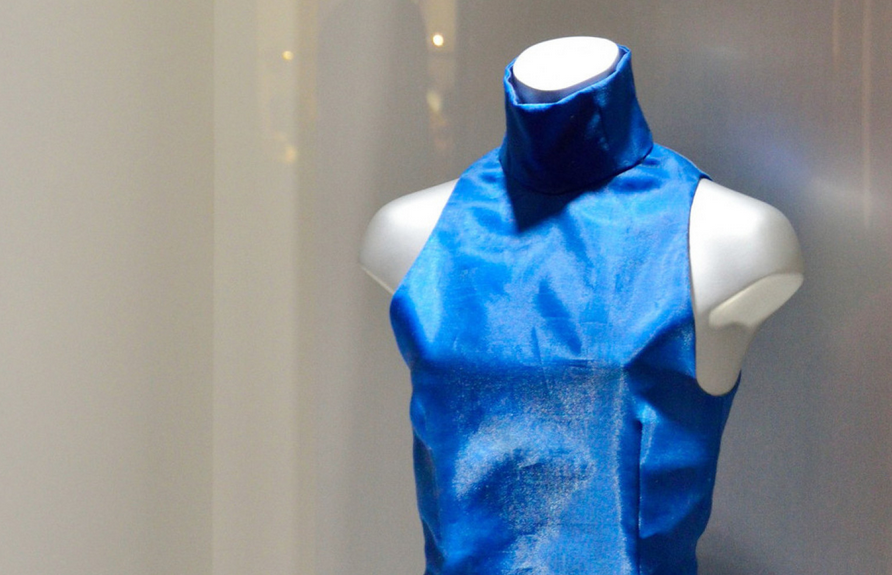 Note: No spiders are farmed or harmed in the manufacturing process of Qmonos.
How it is made
It is made through the fusion of spider silk genes and microbes. The synthesized genes persuade bacteria to produce fibroin. Fibroin is a structural protein found in spider silk. Technologies have been developed by researchers to cultivate this bacteria efficiently and weave the fibroin into the fabric. "QMONOS" is the name given to the protein derived from fibroin (from the Japanese phrase "kumo-no-su" meaning spider web).
The process of creating the Qmonos in four phases:
Design Stage: At this stage, spider DNA is taken to optimize silk production. Then the base design is taken and tweaked on a computer, optimizing it for the process and end applications.
DNA Synthesis Stage: Once a final design has been reached that looks good,  the DNA is synthesized in the lab and incorporated into microbes.
Microbial Fermentation Stage: Once these "host" microbes are prepared, they are fermented which is similar to the process of fermenting beer. Oxygen tanks are then used, along with nutrients and various natural fuels, then allow these microbes to create spider silk proteins.
Materialization Stage: Then the proteins are harvested and spun into fiber by a synthetic spinning process more likely the way polyester or nylon is spun. The proteins are the initially liquid solution that is pushed out of small pores, which later hardens into the fiber. This fiber can be turned into sponges and plastics. The firm has also created its own gene development technology, which synthesizes any silk spider gene within 3 working days; creating a library of 250 kinds of, fake, spider silk. However, they not only produce fiber but also have created films, sponges, plastics, and more. Hence, researchers at Spiber have managed to solve this problem by building their own system of Gene Synthesis; which is able to synthesize any fibroin gene, within 3 working days. They have developed a library of more than 250 types of artificial spider silk genes to date.
What it is used for
Qmonos, could be used to replace petroleum-based fabrics like polyester and nylon, which are used frequently in the fashion industry, especially in sportswear but come with a high environmental impact.
Qmonos materials also have a wide range of uses and are already used in sports, space exploration, the auto industry, and for an entirely new line of accessories. It is also 7 times stronger than aramid fiber, which is used for making bulletproof vests. It could also be used for material in space suits because of its strong resistance to UV.
Qmonos is currently being researched for its use as medical structures/stitches due to its overall fineness, strength, and natural protein content.
Qmonos manufacturers
Beating rivals globally, Spiber has achieved a world-first with its mass-produced artificial spider silk. This Japanese biotechnology company has established a process to make spider silk without spiders. After 11 years of research, Spiber Inc. is able to spin its own environmentally-friendly synthetic spider silk.
---
Sateri's Lyocell
Sateri's Lyocell is a natural and biodegradable fiber that is made from wood pulp sourced from sustainable plantations. This has been pioneered by Sateri, who have created their own lyocell fabric.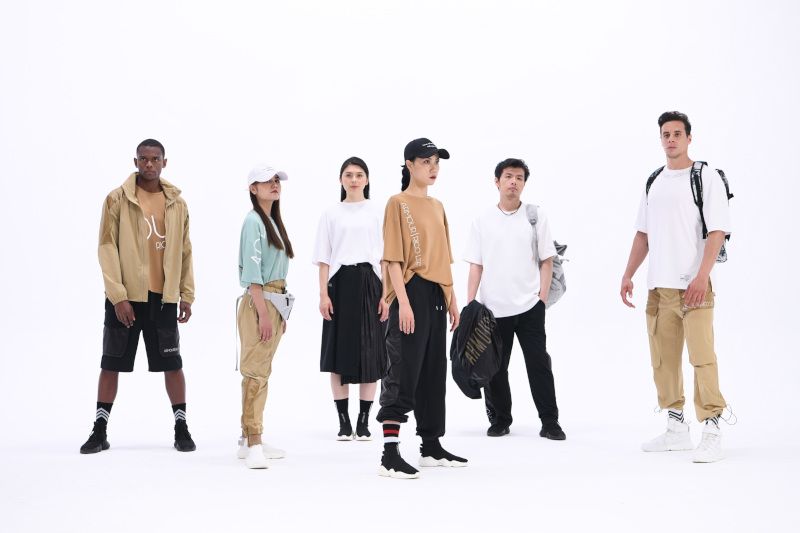 How it is made
Close-loop technology is used for the lyocell fabric's manufacturing to make sure that there is minimal chemical input during the production process. It also utilizes a non-toxic organic solvent that is 99.7% recoverable and recyclable. Sateri's Lyocell fiber is a superior quality fiber having outstanding dry and wet strength, high uniformity, and consistency.
What it is used for
Lyocell is used for the production of high-quality textiles and also personal hygiene materials. It can be blended well with various fibers to create different fabric styles for a wide variety of applications. Textiles made from lyocell possess include:
High tenacity;
Bright luster;
Outstanding dry and wet strength;
High uniformity and consistency;
They have similar qualities with textiles made from viscose – soft and silky with good drape, breathability, and absorption.
Sateri manufacturers
Sateri is currently the leading global manufacturer of fiber, with plans to expand in China, with up to 500,000 tonnes being produced each year by 2025.
---
Recyclable Cotton
Cotton can be recycled from pre-consumer and post-consumer cotton waste. Pre-consumer waste is the waste generated during the production of yarn, fabrics, and textile products. Post-consumer waste comes from discarded textile products after consumption.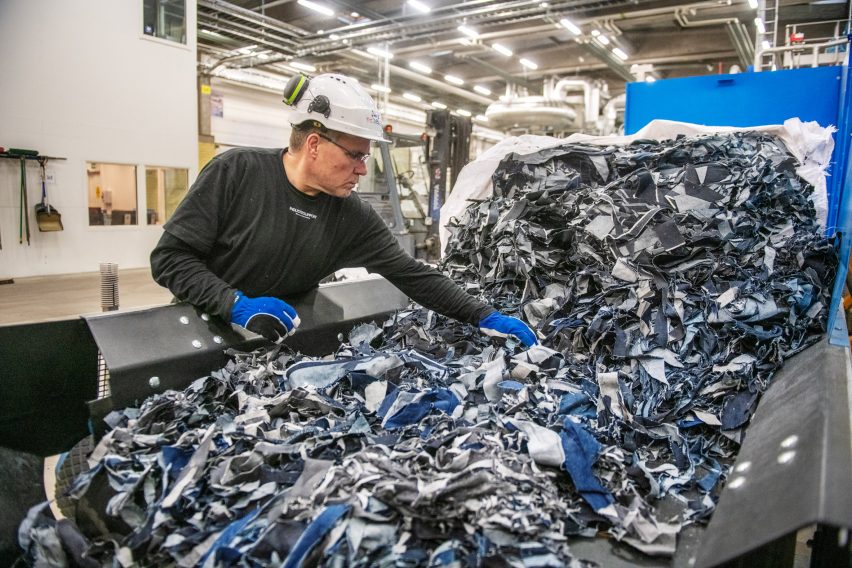 Cotton, as one of the most commonly used fabrics, plays an important role throughout the ecosystem. Growing cotton involves extensive resources such as water, pesticides, and insecticides. Current cotton production methods are environmentally unsustainable thus being a cause of severe droughts in some areas, as well as causing polluted water bodies. Hence, recycled cotton has become increasingly popular. Recycled cotton can be viewed as a more sustainable alternative to both conventional and organic cotton. Having the potential to help reduce water and energy consumption, recycled cotton will also reduce the amount of cotton clothing ending in landfills. Recycling cotton is a great way to reduce your ecological impact, with each ton of cotton that is recycled saving 202,000 gallons of water.
How it is made
The first process of recycling includes sorting the cotton by type and color. Then the sorted cotton goes through a grinding process, i.e: passing through stripping machines breaking the yarns and fabric into smaller pieces, before pulling them apart into the fiber. The mix is then carded several times to clean and mix the fibers before they are spun into new yarns.
The resultant staple fiber is usually shorter than the original fiber length, meaning it is more difficult to spin. Hence, recycled cotton is often blended with original cotton fibers to improve yarn strengths. Commonly, a maximum of 30% recycled cotton content is used in the finished yarn or fabric.
What it is used for
Recycled cotton is usually blended with new cotton due to the comparatively lower quality of the recycled one than the new cotton.
Recycled cotton is often combined with various fibers. Blended with recycled plastic bottles to make clothing and textiles, creating sustainable, earth-conscious products.
Recycled cotton can also be used in industrial settings such as polishing and wiper clothes and can even be made into high-quality new paper.
Fashion brands and designers use recycled cotton fabric to create sustainable products such as clothing, trims, accessories, shoes, bags, and many more. It can also be used within the home, including in the production of furnishings, seat stuffing, home insulation, etc. It's an immensely versatile and all-purpose fabric.
Recycled cotton manufacturers
Wawwa Recycled blanket - made from GRS (Global Recycle Standard) certified Recycled Cotton and Recycled Polyester. 100% recycled yarn.
HISPANO TEX has launched a new recycled fabric made of pre-consumer cotton and recycled polyester from plastic bottles. Its composition is 87% cotton & 13% PES (100% GRS) and weight: 210 gr/m2. This fabric is certified by GRS (Global Recycled Standard)
---
Linen a.k.a. Flax
Linen made up of Flax fiber are what many would describe as the original eco fabric, dating back all the way to 8000 BC.  Flax is one of the most widely used sustainable raw materials globally. Cellulose fibers are taken directly from the flax stem and are spun into linen threads. It's as simple as that. Rainwater is sufficient for irrigating the plant, which grows most successfully in northern France, Belgium, and therefore the Netherlands.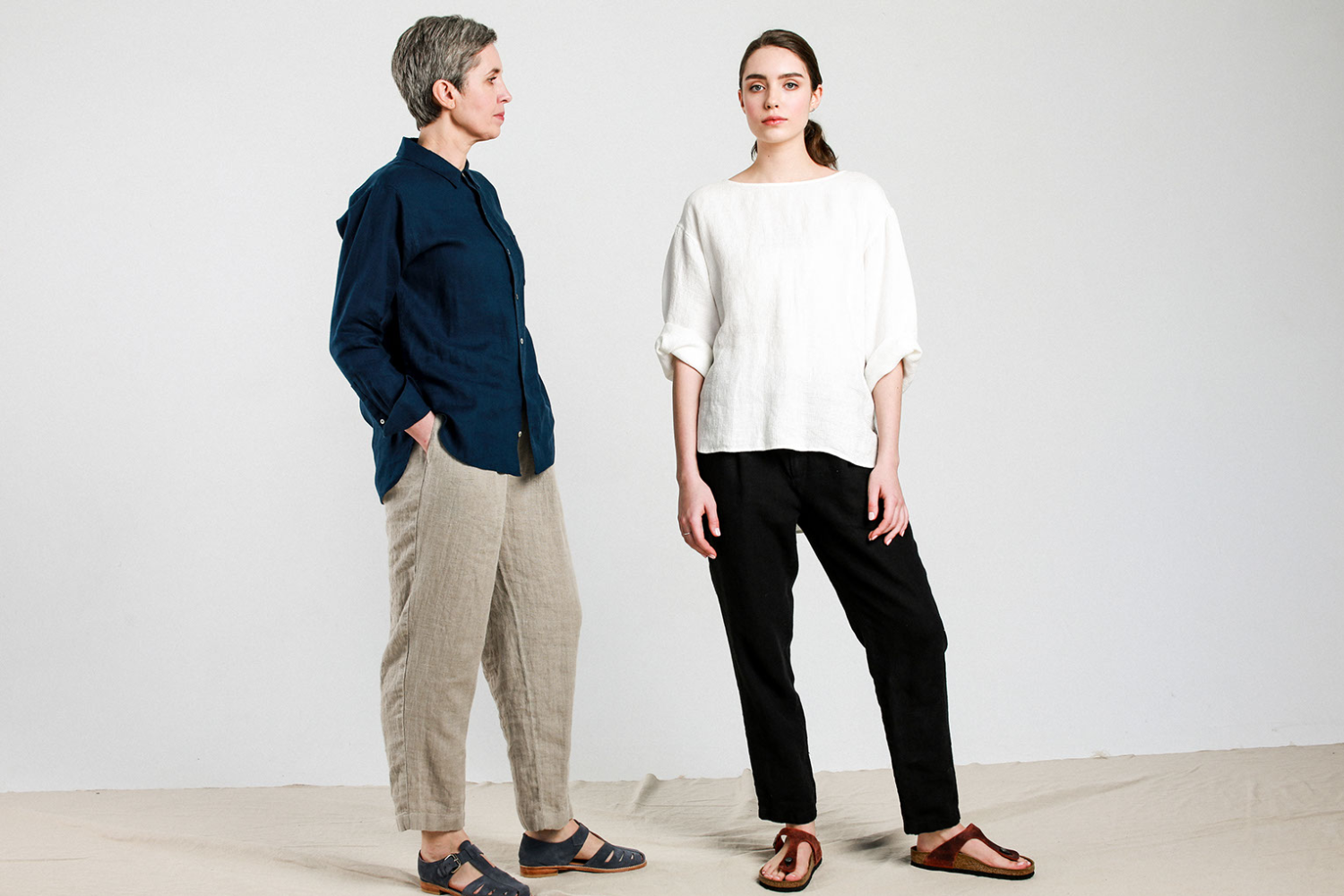 How it is made
Linen fabric is created from the cellulose fibers that grow within the stalks of the flax plant, or Linum Usitatissimum.
Flax is prepared to be harvested for its fibers when the stem begins to show yellow and seeds look brown. The stems of the flax plant are preferably pulled up with the root intact, instead of cut at the bottom. This maximizes the standard of the fiber in several ways.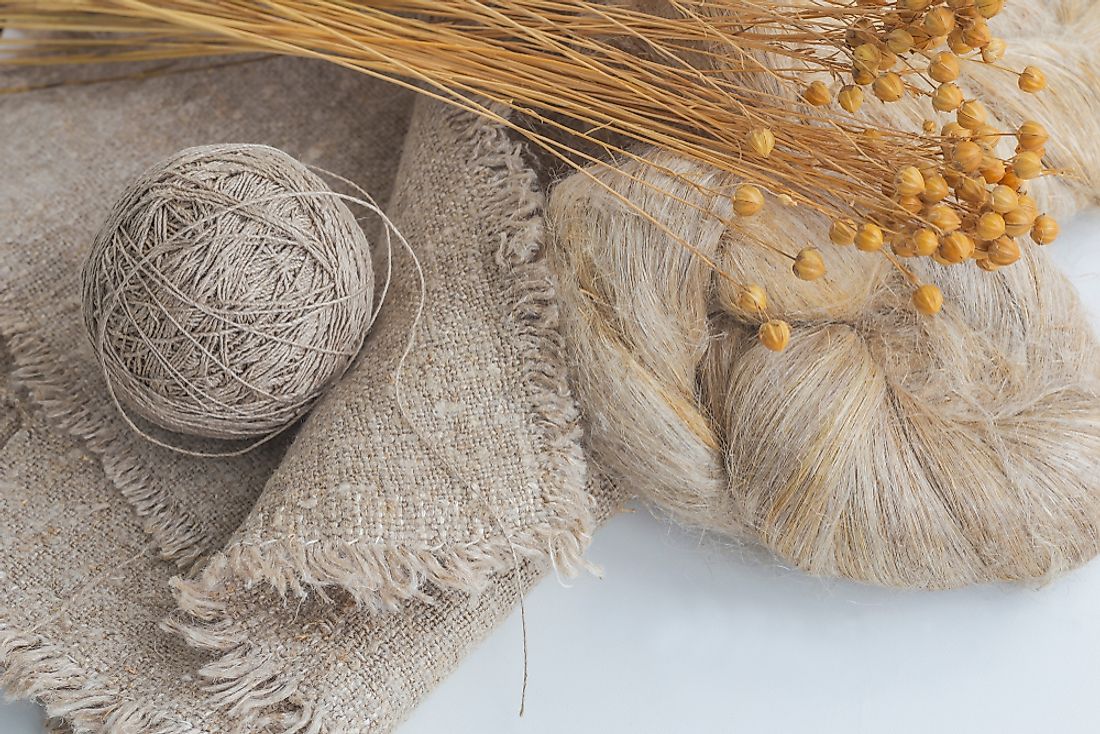 The process of making linen from flax includes several steps:
Drying and threshing: After harvest, flax stalks are allowed to dry out-of-doors for several weeks before they undergo threshing. Or seeds are removed from the stalk by crushing open the dried seed pods. Hand threshing is sometimes achieved by simply beating the dried stalks until all the seed pods are crushed, then shaking the seeds free.
Fiber Separation and Retting: After harvesting, the manufacturers pass the stalks through a machine to get rid of the seeds and leaves. Then, they separate the outer stalks from the woody interior. Finally, they immerse the stalks in water to bind the fibers together. Natural retting takes place in tanks, pools, or fields. Large-scale producers can use another chemical method to accelerate the binding process during retting. However, this alternative is harmful to the environment.
The retted stalks are then dried, either by air or processed through a machine. They are then stored for a long period of time, up to months at a time, in order to ensure that they are completely dry. The stalks are then broken again and cut into smaller pieces using machinery. This process, using industrial machinery, is called scutching.
Scutching: The small pieces are removed by scutching and the separated flax fibers are then combed through a bed of nails that leads to splitting and polishing of the fibers. This also removes the shorter fibers from the mix. These fibers can then be spun into a coarse yarn from which is used to make low-quality linen products.
The longer fibers (sometimes as long as three feet!) are then ready for spinning. Spinning - The (at long last) separated flax fibers, called stricks, are traditionally spun by hand using a distaff.
What it is used for
It is a very strong fiber with a high absorbency, making it ideal for kitchen textiles like tea towels as well as bedding fabric. Linen is a versatile fabric that brands use for fashion fabrics, home fabrics, and even canvas. Manufacturers use it to make clothes, curtains, tablecloths, bedsheets, towels, and upholstery. In addition to all of the above, linen is a popular fabric for clothing brands' summer collections because it is very lightweight and has a high absorbency of the body's mixture, allowing the body to stay cool.
Linen manufacturers
Eco-friendly brands are now using it as a sustainable alternative to traditional cotton. From outerwear and undies to bed, and household pieces, one can find this old fabric bought up to date in various leading clothing & textiles lines.
---
Tencel
Tencel is a light cellulose fabric, which suggests it is created by dissolving pulp. The fiber for which is produced by the Austrian company Lenzing AG. It's been growing in popularity recently, as it claims to be 50% more absorbent than cotton, and requires less energy and water to manufacture.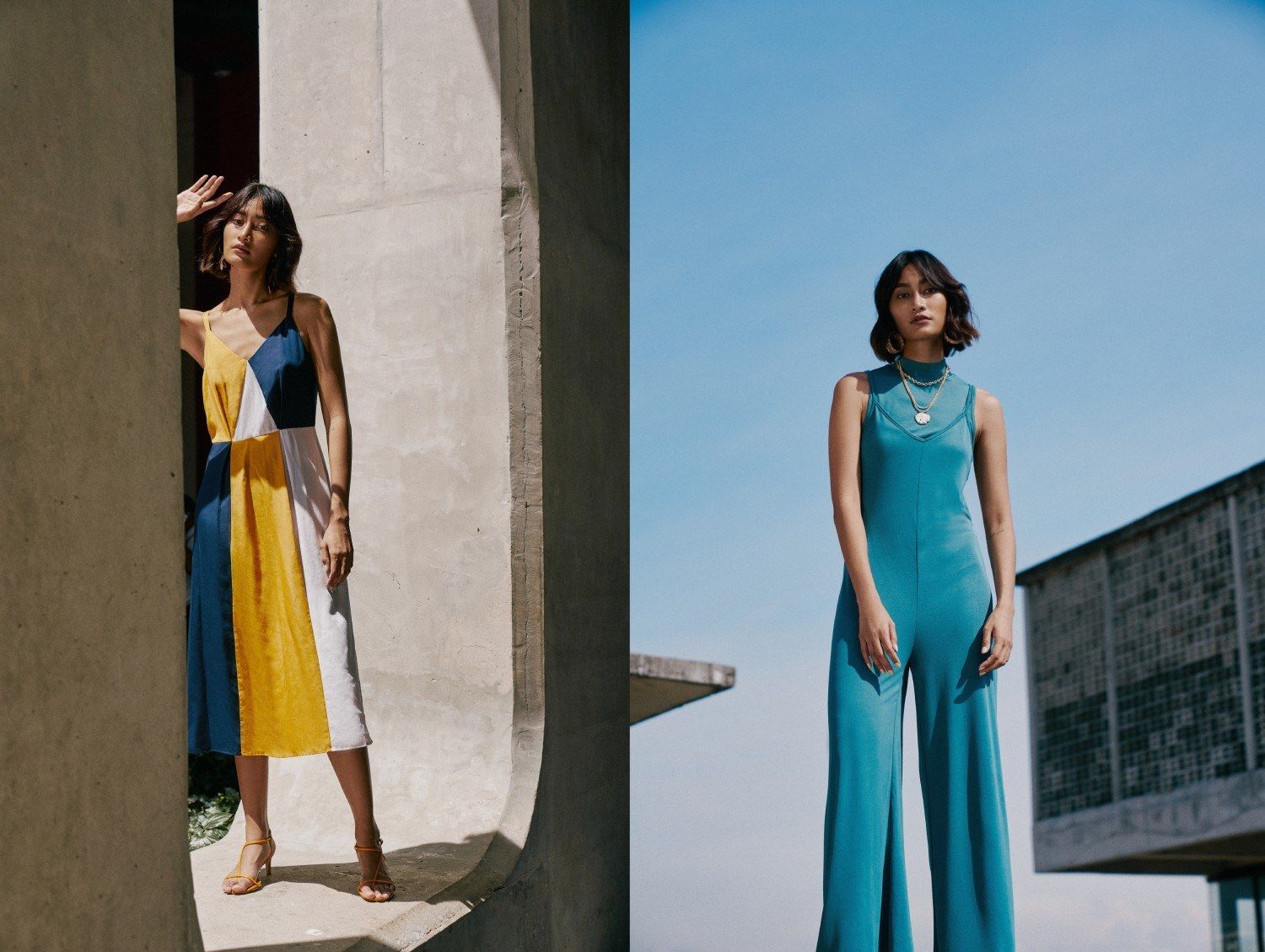 Plus, the chemicals required to produce the fiber are managed in a closed-loop meaning the solvent is recycled resulting in a reduction of dangerous waste.
How it is made
It is made through Refibra technology, which focuses on circularity and uses cotton waste from the garment industry, which is then recycled and blended with lyocell.
"The fiber made by them are 100% biodegradable and don't release any waste, like microfibres, into the environment, or into the water." - Avinash Mane, Lenzing AG
Tencel is similar to rayon, like viscose and modal. These cellulose fibers are all made by a similar process, i.e: by dissolving pulp and employing a special drying process called spinning. Before drying, the wood chips are mixed with a solvent to supply a wet mixture. The mixture is pushed through small holes which converts them into threads and is chemically treated later. After this, the lengths of fiber are spun into yarns and woven into cloth.
Tencel requires far less dye than cotton. It is also pure white when produced, so bleaching and dying can be avoided in most cases.
What it is used for
Tencel fabric is extremely versatile. Thickness and texture depend on the length of the fiber chosen for production. Ranging from a cottony feel to a silky one, the material has amazing adaptability to a good range of clothing types, from activewear to flowy dresses.
According to Lenzing, Tencel has incredible absorption characteristics: 50% more than cotton. This fabric is highly preferable for activewear as it is more breathable and less vulnerable to odorous bacteria growth like environmentally damaging synthetics. We can say that this can be perfect for a sweaty gym or Bikram yoga session!
Tencel manufacturers
Australian brand Tasi Travels uses it for comfortable travel wear.
Brands like Patagonia, Tamga designs, Tentree, Altar, Franc are already using it for different categories of apparel including loungewear, outdoor apparel, and for various activities like climbing, hiking, etc.