Contents
Whether you are a clothing manufacturer who is just getting started or a brand looking to manufacture their collection, our simple guide will help you determine the right strategy for a successful start.
First things first.
What is clothing manufacturing?
Clothing manufacturing includes numerous operations necessary to make a garment. It includes processes like cutting, sewing and finishing. The whole manufacturing process breaks down into a number of sub-operations needed for constructing a particular garment. Some of these operations vary depending on the type of equipment available, work methods used and workers' skills.
Garment manufacturers deal with converting raw materials into finished goods. This process involves quality checks, quantity, cost, evaluation of fit/ sizes, sizing standardization, and much more to produce a diverse product mix.
One of the key elements of apparel manufacturing is production planning. Production planning ensures that each operation is performed with maximum efficiency. It also helps foresee every step in a huge number of daily operations. As well as managing manpower, machines, materials, and payments.

The basic clothing manufacturing process includes these several stages: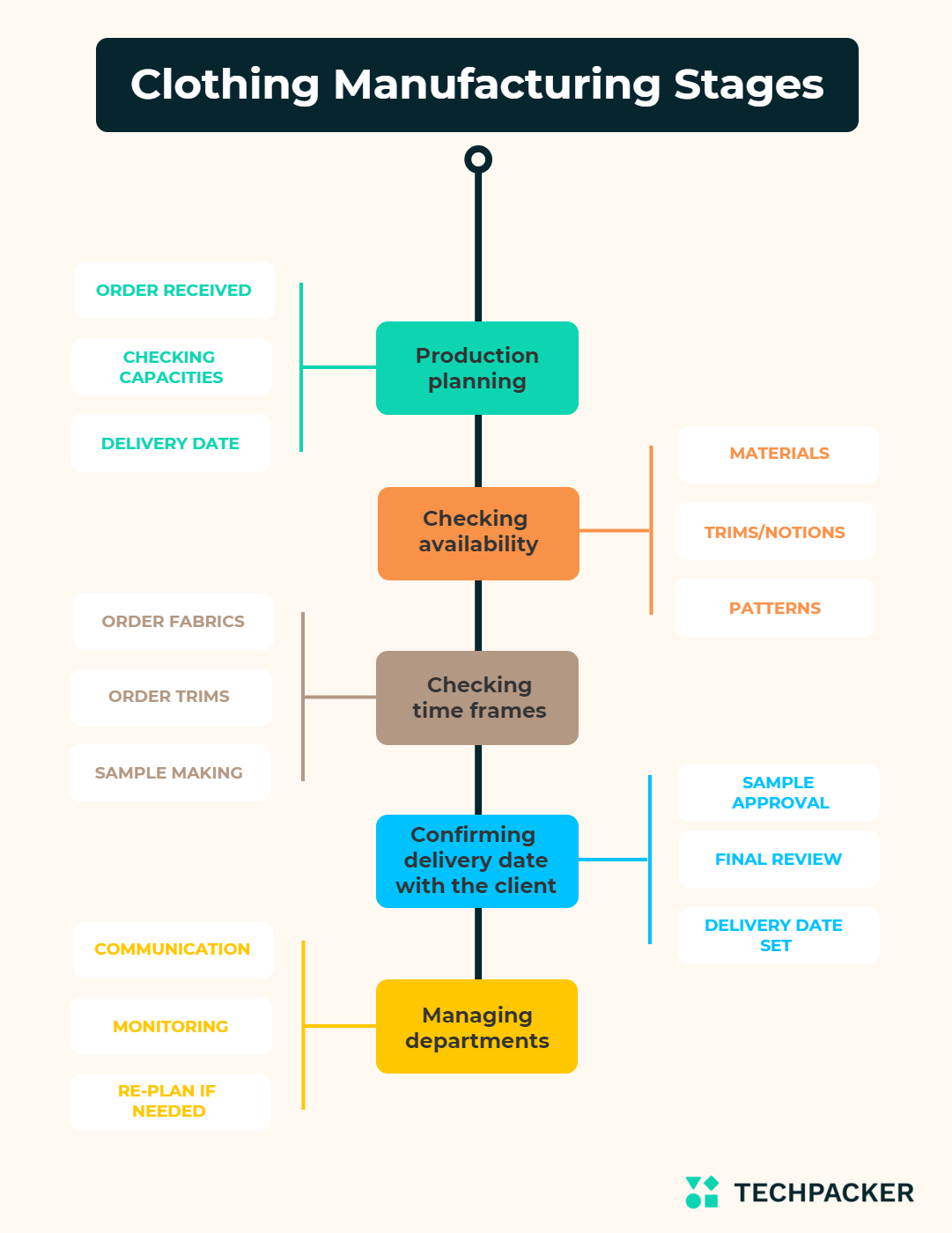 CMT (Cut, make, trim) clothing production
What is CMT?
CMT (Cut, make, trim) is one of the two main garment production types. It is a service that includes cutting, trimming and sewing the garment into a fully finished product.
If you are a brand and would like to use this type of manufacturing for your clothing business make sure to have these on hand:
After receiving the needed information, the factory will start producing the garment. Fabric will be cut according to the technical sketches and patterns. Pieces will be sewed together according to the construction requirements. Sizes will be adjusted according to the Grading Sheet provided. At the final stage, garment manufacturers will perform a quality check to make sure everything meets the client's expectations.

Benefits of CMT
In CMT production manufacturers often use the latest technology and machinery. These factors ensure the best quality possible for the final garment.

Since the CMT factories work with Specification Sheets that the brand provides they don't spend time and resources on things like pattern making. They can fully focus on providing the best quality of cutting and sewing.

In CMT production brands have full control over fabric selection, labels, trims, and packaging. This saves a ton of time and money for both parties.

Drawbacks of CMT
CMT is for brands who already have some experience in the production process and have a strong factory-ready tech pack. If you are a brand that is just getting started we would suggest learning more about the FPP (Full Production Package) that we will discuss below.

Since factories using the CMT production are working according to the brand's Tech Packs many errors might occur. Which can be very costly to the brand and the dispute will be time-consuming for the clothing manufacturer.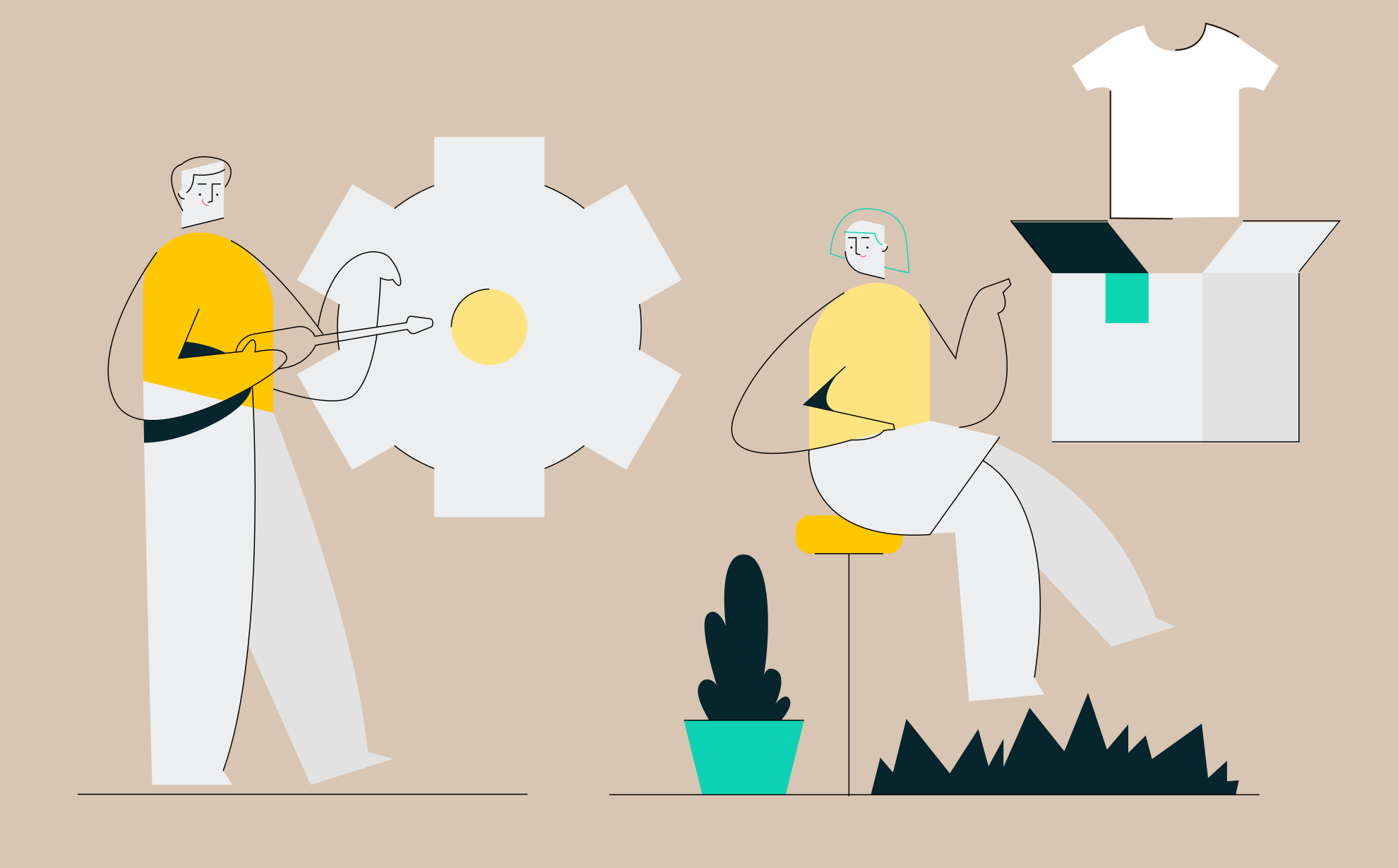 FPP (Full Production Package) clothing production
What is FPP?
FPP or Full Production Package is a clothing production type where a manufacturer provides all stages of garment building to the brand.
These stages include:
Pattern making.
Fabric and trims sourcing.
Sample Making.
Final garment production.
Basically, FPP includes both CMT and all other aspects of garment manufacturing.
To start the manufacturing process the factory:
Consults with the brand.
Using the initial sketches or mood boards the factory creates the technical designs.
Help with fabric sourcing.
Offer their expertise in current fashion trends.
Manufactures the final garment.
In short, factories that offer FPP can walk brands through the whole process of product development.
Benefits of FPP
For brands who are just getting started FPP is an excellent choice. Factories offering this type of clothing production will provide their help in all stages of product development, from initial designs and fabric sourcing to constructing a final product.

Factories providing FPP are very high on demand between emerging brands. This ensures consistent traffic of new clients for the manufacturers.
Drawbacks of FPP
Considering the fact that FPP clothing production provides service for a variety of stages of product development the amount of investment for the brand is higher.

At the same time manufacturers who want to offer FPP type of clothing production have to make sure they have the resources, capacities, and skills required. Including pattern makers, grading experts, fashion specialists.
Key differences between CMT and FPP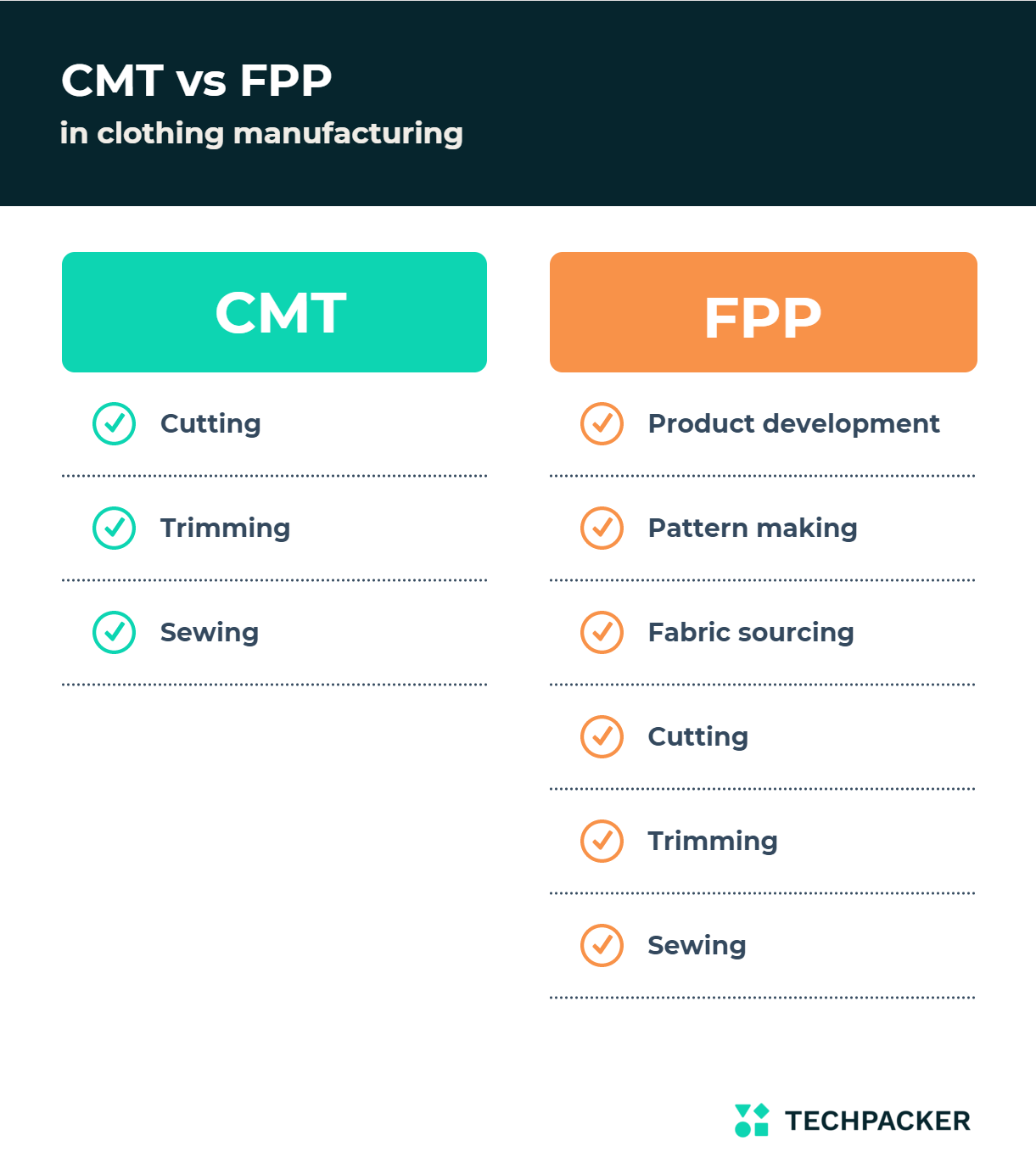 Low minimum clothing manufacturers vs Mass Production Clothing Manufacturers
New clothing businesses that are ready to start manufacturing their clothing are usually looking for MOQ (Minimum Order Quantity) clothing manufacturers. These smaller clothing manufacturers are interested in working with new talents and building strong long-lasting relationships. That benefits both parties.

Clothing manufacturers with low MOQ are usually harder to find online. They get hidden by the global giants with a huge capital behind them. However, there are still plenty of them mostly working with smaller brands. There is usually more "wiggle room" in low minimum MOQ garment manufacturing rather than in mass production. For example, better communication, but at the same time longer timeframes.

Mass production clothing manufacturers are those behind department stores and world-known brands. Speed is the key factor in mass production. These garment manufacturers make sure that collections are delivered in a timely manner. There is a serious production planning and logistics behind the process. The whole concept of mass production is to not disappoint. Mass production apparel manufacturers produce fast and affordable clothing that reaches the end customer in record time. However, this process at the same time creates new problems like a huge amount of poorly made clothing that ends in landfill.

Pro tips
If you are a clothing business that is just getting started, to select the right manufacturer ask yourself these questions:
1) Who is my customer?
2) What are the values of my business?
3) What is my budget?
Answers to these questions will help you define the right type of manufacturer to work with. Whether it's a low minimum CMT factory or a mass production FPP manufacturer.

Starting clothing manufacturing business? First, make a plan. Include your goals and budget. Research other manufacturers in your area. You can also do online research and find stories of how other manufacturers got started. Defining your values will help decide on who you want to work with.
Would you like to support new talents and smaller brands? Would you like to have shorter production runs and produce locally? Then a low minimum MOQ is for you. Accordingly, if you are willing to work for bigger companies and produce globally then mass production manufacturing is your kind of business.
Clothing Production Terminology
Knowing the right terms will help you communicate your needs clearly in the clothing manufacturing world. Expand your knowledge by diving deep into clothing production terminology with this term glossary.