Got All You Need? Mastering The Bill of Materials
---
Quite in a literal sense, acing your Bill of Materials (BOM) will aid you in never, ever missing a single thread, button, zipper, item or tiny detail when manufacturing your garments. Plus, it can be an amazing tool to asses quality and nail your product costing and pricing. Why? Read on!
Cover image by Nirmitk Kavaiya
First things first...
What is a Bill of Materials (BOM)?
It's a list containing all the components of a product with its corresponding cost and quantities, very simple! However, it can be much more than that if you know how to use it wisely. For example, it's great for communication between manufacturing partners and very useful to help you determine the real cost of your product and its fluctuations (but more on cost later, we promise;)
To further explain what a BOM is, imagine it as your list of ingredients as if you were following a recipe. If it's not on the list, it's won't end up in the dish or cake you make. If you're missing ingredients, it is very likely the quality of your final dish won't be good, or worse yet, inedible!
So back to fashion terms, if the flat sketch provides a broad overview of your design requirements to the manufacturers, the BOM will be specifically about the materials needed to manufacture that style.
Creating a BOM helps you and your factory stay organized for and during production. Remember that factories work with many different brands and clients so they have countless fabrics, trims and details they need track constantly. If the BOM is easy to read and understand the factory (will absolutely love you) can get a better sense of the space and time they will need prior to cutting and sewing.
Here's an example of a BOM list.
3 Reasons Why BOM's are Important
1) To Determine Costing and Pricing
They could be really helpful when it comes to determining the real cost of the product & help you set the right pricing strategy because:
As each component is listed and detailed with its respective quantities (with up-to-date prices), it should reflect the reality how much it costs to make in the current market. This can help you determine profit margins and come up with an adequate pricing strategy for your product.
Here you can start to calculate the raw-material cost for garments.
2) To Ensure Your Factory doesn't Miss Any Components
Listing materials and defining them in the same sequence used to manufacture assures the garment will be constructed as needed.
Imagine an engine in a car factory. If all of the components required and the correct order to build it are not specified, it won't ever run! With garments sometimes you can usually be less strict about the sequence, but experts assure it's better to establish an order to prevent production mistakes.
3) To Standardize Manufacturing
As you know, a garment can be run through several processes from its inception until receiving the final order. All of the steps it undergoes depends on the garment's purpose, design, target market, etc. The BOM helps present this process flow and aids in understanding how the raw materials are converted into the final product.
Once the BOM is defined, it can be used as part of the Standard Manufacturing Process to ensure quality and consistency in every batch.
What should be included in the BOM?
According to garment manufacturing expert Chris Walker's list
this is essential
Fabrics: The main or any additional fabric and describing their yarn, knit structure, weave structure, weight, the finish and it's width.

Color of the fabric: use pantone number. Individual pantone chips are bought by factories for color matching.

Additional Details: list any linings, piping, ribbons, shoulder pads, neck tape, thread, fusing etc.

Trims, Labels, Packaging: buttons, hang tags, care labels, size-labels, hang tag thread, pins, tissue, poly-bags and desiccant bags etc.

Supplier List: if you have a nominated supplier add a column and list the company name for each material.
How To Get Great Pricing From Your Supplier
Like most brands and designers, you 've often wondered whether the price quoted by your supplier is "reasonable" and if you could get a lower price from someone else. You've also probably considered other important factors against price, such as quality and existing supplier relationships. With all of this in mind, (and your BOM ready, of course) check out these tips on how to negotiate the best price from your factories from out friends at In-Touch Manufacturing.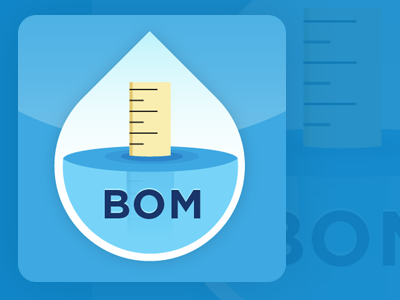 Image by Max Wheeler
Listen Up! This Podcast is all about how product development teams can use a Bill of Materials (BOM) to communicate the most up-to-date and accurate product information to stakeholders throughout the product lifecycle. Wow!
Look out! For this smart read about the future of BOM management in the age of digital manufacturing. Unlike a database-centric approach (PDM/PLM), it's now a network-centric approach that will make BOMs shareable with teams distributed worldwide in real time. Neat huh?
Let's Summarize
BOMs are an integral part of a design tech pack and it must be done correctly to help you stay organized, keep track of production costs and also help your factory stay organized (again they will love you for it ;)
Creating and managing BOMs on Techpacker is an easy and enjoyable collaborative process. This is because Techpacker allows you to add all of your materials as individual cards and "stack them up" in a table which is easy to visualize and edit by you and any member of your team. All of your material lists are saved and will be ready to print in PDF format when your tech pack is ready.
Yei! We <3 BOMs
This is our blog post version of our Techpacker binged newsletter, a compendium of top industry knowledge about the most important topics in garment product development.
There's no need to wait until we post it here, sign up to receive it directly in your inbox bi-weekly!
To get fresh industry updates and original content in your inbox every week, sign up for the Techpacker weekly newsletter! no spam, only carefully curated news!
Other reads to make you the ultimate apparel manufacturing master: