Contents
You've heard it before.
"Fast fashion"
"See now, buy now"
"Instant gratification"
All these buzzwords point to one thing:
The new paradigm in fashion pushes for faster development cycles and a critical need for speed-to-market.
"Speed is everything right now," said Karin Tracy, the head of fashion, luxury and beauty industries at Facebook.
Ok. Now let's look at this closer.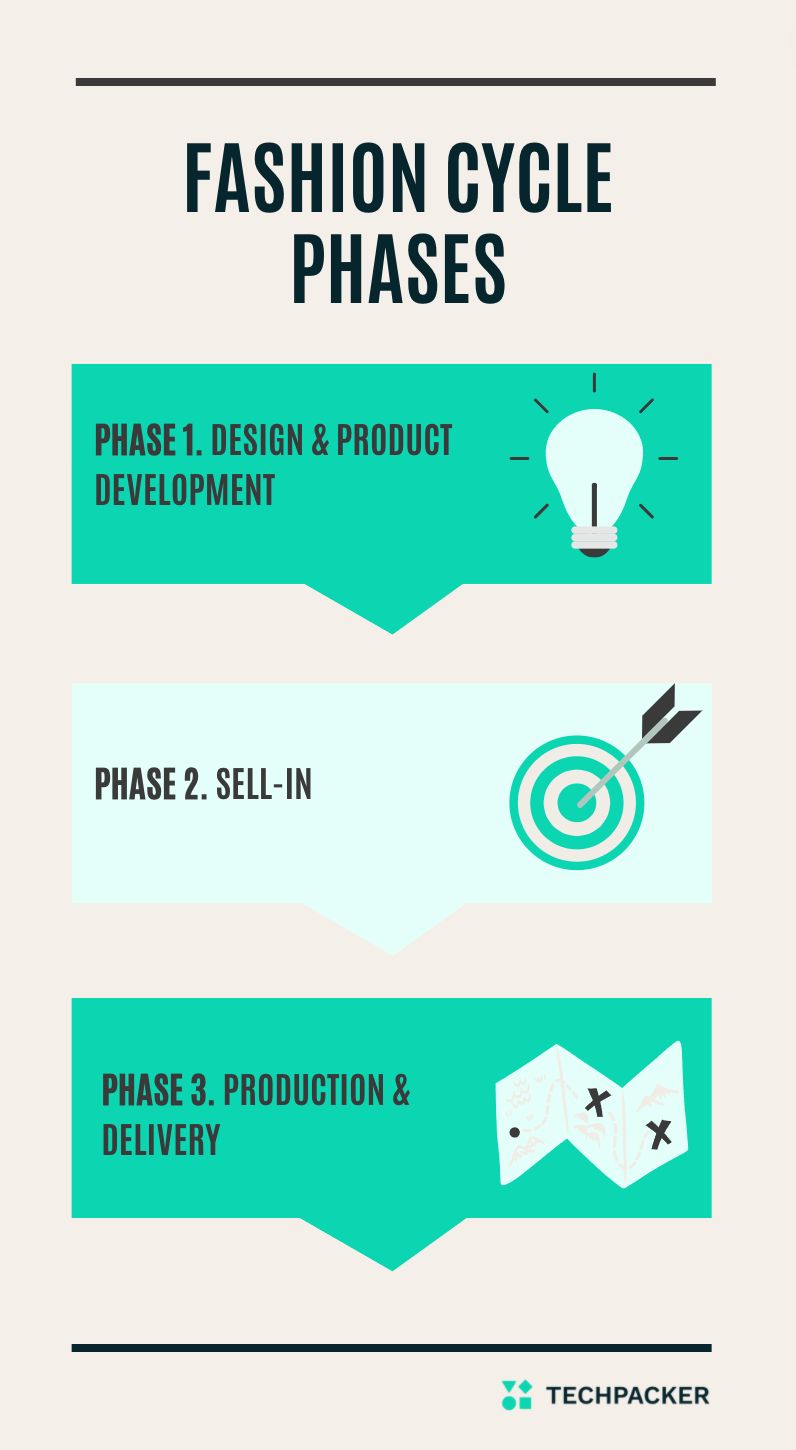 Broadly speaking, the fashion cycle consists of three phases:
1. Planning, design, and product development
2. Sell-in
3. Production and delivery
The length of each phase varies widely by company. A phase can be as short as 2 weeks or as long as 30.
The planning, design, and development phase is always the longest and has the widest variability.
Bottom line?
That's where the greatest potential to compress your apparel calendar lies.
And that's where Techpacker comes in.
Here are 7 ways fashion design teams can speed up product development using Techpacker
Reuse design elements from previous products
Let's start with low-hanging fruit.
To fast-track, your product development, simply includes what's worked well in the past into new products.
In other words: reuse your tried and tested design elements.
This is commonly done midseason with successful styles.
Fashion brands will revamp popular styles into new lines for quick production runs.
Bonus: this also reduces production costs and makes procurement easier to manage.
You'll find that reusing design details is completely effortless on Techpacker.
You're provided with a Card Library.
It's a vault where all your design elements are saved and displayed visually.
To reuse design details on different tech packs, all you have to do is click and drag.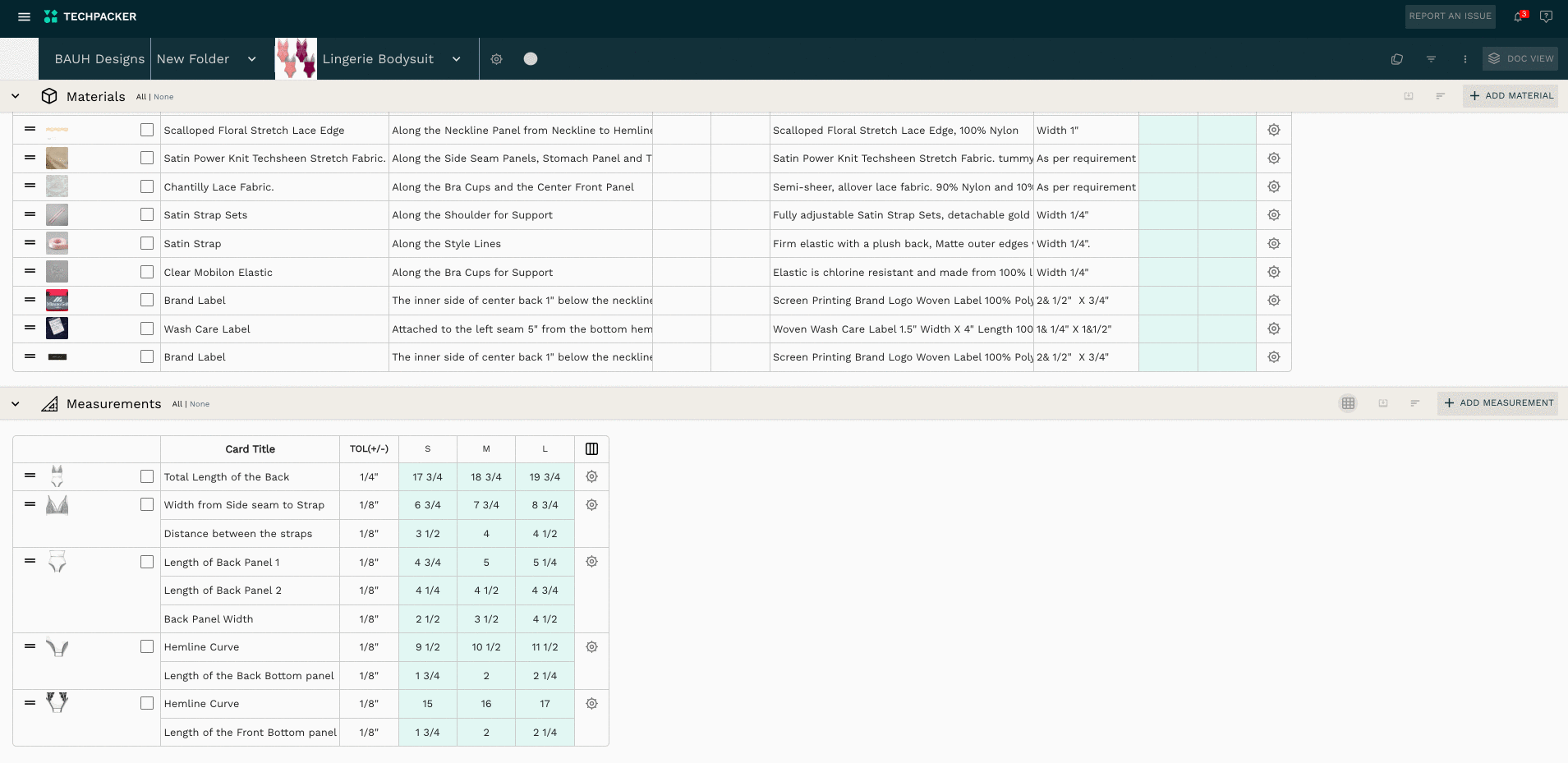 To learn more about the Card library and its benefits, check out the following blog post: Tired of retyping the same tech pack info repeatedly?
Makes it easy for your team to access product data
Inaccessible data is useless data.
Without a centralized place to store your product info, you'll find it scattered across email threads, shared drives, or hidden on someone's computer.
Best case scenario: locating and retrieving data will become a daily frustration and a huge time sink for your team.
Worst case scenario: this mess can cause a critical failure and greatly extend your time to market.
Here's how.
When data is all over the place, it's hard for your team to make sure the designs follow certain standards which represents the esthetics of your brand.
The result?
You risk incorrect designs being sent out to production.
Plus, without a unified view of your work, team members end up wondering which tasks have been completed, and which are still in progress.
Someone will end up doing the same work twice, unaware that someone else has already finished the job.
To bring order and clarity to your team, everyone must be able to access and reference product data at any given point.
Techpacker does this beautifully.
Product info for each part of your garment is organized inside Cards.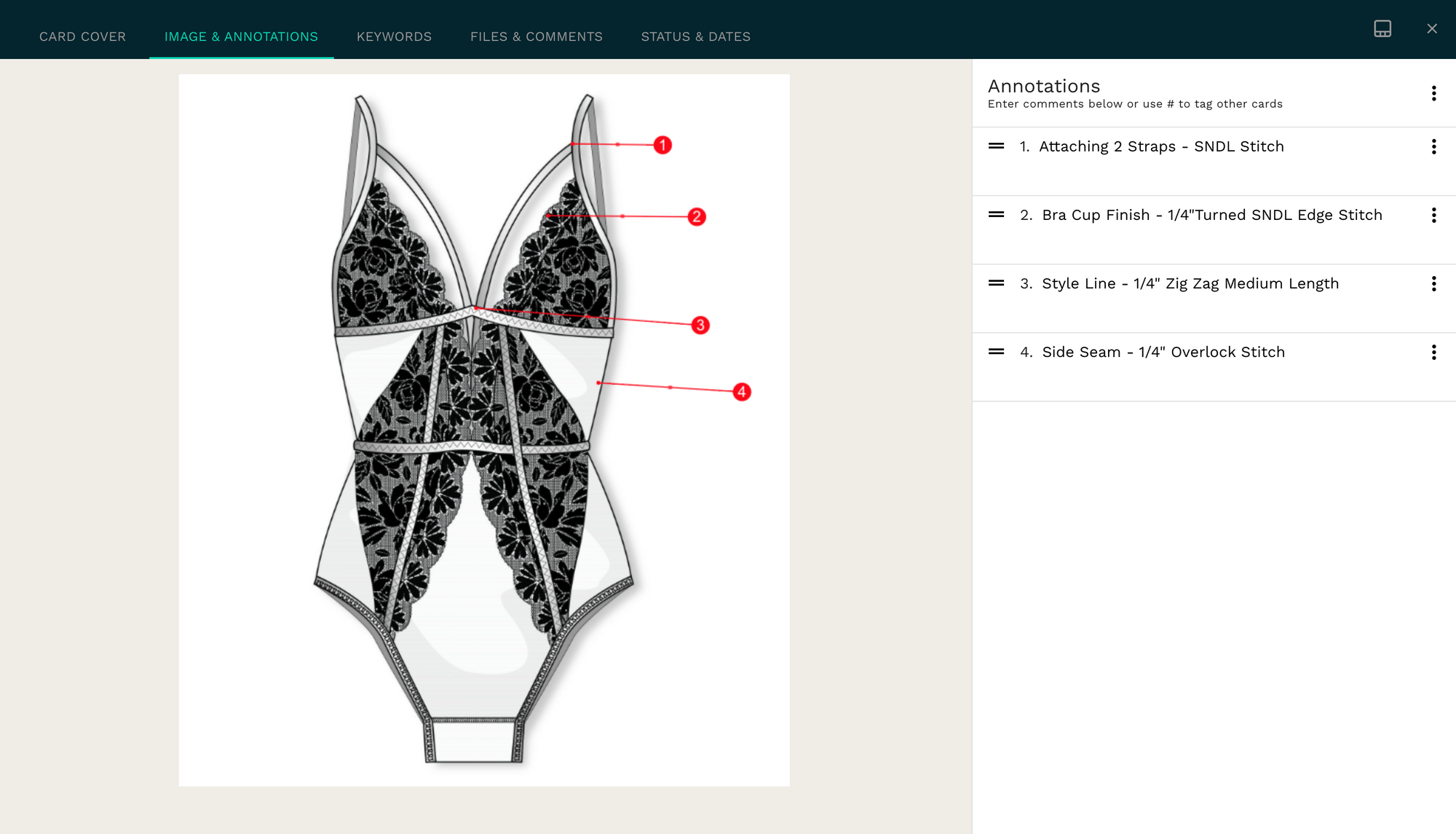 This includes comments, due dates, files, and images.
This makes it really easy for team members to locate and retrieve information.
If any update or comment is made, everyone is instantly notified.
With product data visible to all and safely stored in one place, it becomes easy for your team to know what needs to be done and get to it.
This means design changes are completed faster, and products hit the market sooner.
Prioritize collaboration throughout your supply chain
No fashion product is complete without the input of every role in your supply chain.
If you want things to get done fast and without mistakes, your team will need to collaborate across departments.
Designers, product developers, merchandisers, and QAs have to unite, stay nimble, and make quick decisions.
For that to happen, everyone needs to see what others are doing at all times.
Dumping your work on the next guy isn't enough.
And you can't sacrifice accuracy for speed.
One single design error can cause production to grind to a halt and extend the time to market by weeks.
So it's crucial for your team to work together to ensure design mistakes are prevented before they can cause havoc.
On Techpacker, you can unite your entire supply chain, from designers to products developers, from merchandisers all the way to quality control planners.
You can manage costings, Fit sheets, colorways, quantity breakdowns, and more - all in one place.
To learn more about Custom Sections and see examples, check out the following blog post: Massive update: Supercharge your tech packs with Custom Sections
Cut down on emails
"What portion of your day is spent communicating with factories and team members?"
We asked this question to fashion designers, product developers and technical designers around the world.
Guess what percentage came up.
35%
That's right.
The people we surveyed spent over a third of their day going back and forth with emails and attending boring meetings.
While regular meetings are a necessary evil...
You can do away with emails completely with Techpacker.
You and your team can chat directly on the platform and keep your manufacturer up to date.
Best part?
Your conversation history plus your shared files are saved next to your designs.
You can easily refer back to it at any time.
Make approvals fast and easy
Backlogs of approvals are a huge clog.
They're preventing your team from becoming a well-oiled product creation machine.
With designs and changes to review and approve piling up on product developers' desks, who could blame them for making it hastily.
Result?
Rework and errors. Which slows down your projects.
There's another way.
Techpacker streamlines the approval process.
You can assign an approval status and due dates to any part of your garment using Cards.
Get on the cloud
To wrap up, these are a few things fashion design teams need to do to improve time to market:
Make product data easily accessible to everyone
Break down the walls separating departments and collaborate across their supply chain
Enable real-time chat to avoid unnecessary emails
Streamline their approval process
Cloud-based platforms like Techpacker make it all possible.
Techpacker is particularly useful for teams because it streamlines the revision process and serves as a central repository for product data.
Better collaboration and better visibility over product info lead to fewer mistakes and faster development.
Which all boils down to products going out the door sooner.
On-demand manufacturing
On-Demand manufacturing is a production model when goods are only made when or as they are required. In the fashion industry this is also called made-to-order.
Here, brands will not send the quantities they need to their manufacturers until their customers have directly ordered the product. This also usually involve paying for the item up-front. This often leads to longer wait times for the customers, as the product has not yet been made by the manufacturer at the point of order.
On-demand manufacturing has become even more influential in recent years, as designers look to refocus their business models and put both ethics and economy at the top of their priorities list.
Create a Purchase Order Sheet and add it to your Tech Pack to start on-demand manufacturing.

---