Contents
Once your design is approved and your tech pack is complete, your brand is ready to start the production order. At this stage, designers have to make decisions about quantities, size, and color breakdowns. This is in addition to getting a quote and estimated shipping date for their order. To document the production agreement in garment manufacturing, a Purchase Order is used. In general, this document includes all the information required to manufacture the whole production run. Let's dive into the details below.
What is a purchase order sheet in the garment industry
A purchase order sheet (or PO sheet) is an important document commonly used in garment manufacturing to handle garment export orders and shipments. A PO sheet is generated by the brand for their manufacturer with all the information about production goals for the garment, including quantity, size breakdown and color combos.
In general, the PO sheet includes all necessary information on a specific order lot and is followed by the merchandiser from raw materials booking to packing and preparing for export.
Some important aspects of a PO sheet in garment manufacturing include:
It is a great tracking tool. Brands use the PO number to track the process, receive the order and pay for it. Factories use it as a guide to produce the order and receive payments for it.
The sheet organizes size breakdowns and order quantities. This is the most important document for merchandisers, warehouse, cutting/sewing and packing departments.
It also arranged lot-wise or color-wise orders. Some buyers order different color combinations. The PO sheet is a great tool to specify breakdowns by colors or prints.
Very often a PO sheet includes packing specifications. According to them the factory can provide a solid pack or assort specific quantity per carton order.
The shipment date can be also included in a PO sheet, to ensure the order is packed and shipped on time. If the factory delays the order, the buyer can choose to request a penalty as per the PO sheet, so they do not lose out.
Garment manufacturers use the PO sheet to plan the cutting and sewing process. For large orders, the fabric is cut in bulk for each size. Weight, width and fabric type are taken into consideration before the cutting begins. The factory then creates a lay plan to determine how much fabric is needed to avoid excess waste. After the lay plan is finalized, the cutting of the fabric finally begins. Depending on the factory's capacities either a manual or computerized method of fabric cutting is used.

How to add a purchase order sheet into a tech pack
A purchase order sheet is included in a tech pack after the design and materials are approved. So first, make sure your tech pack includes flat sketches, the bill of materials, sizing, and color information.
In this example, we are making a purchase order sheet for a wrap dress: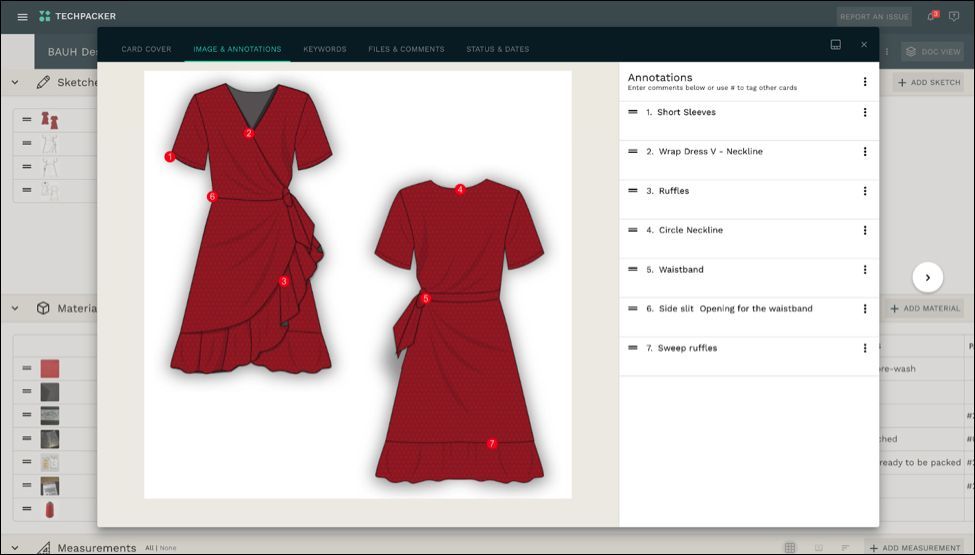 We have our technical sketches and points of measurements for the sample size M in place. This also included grading for sizes S and L, as well as  tolerances: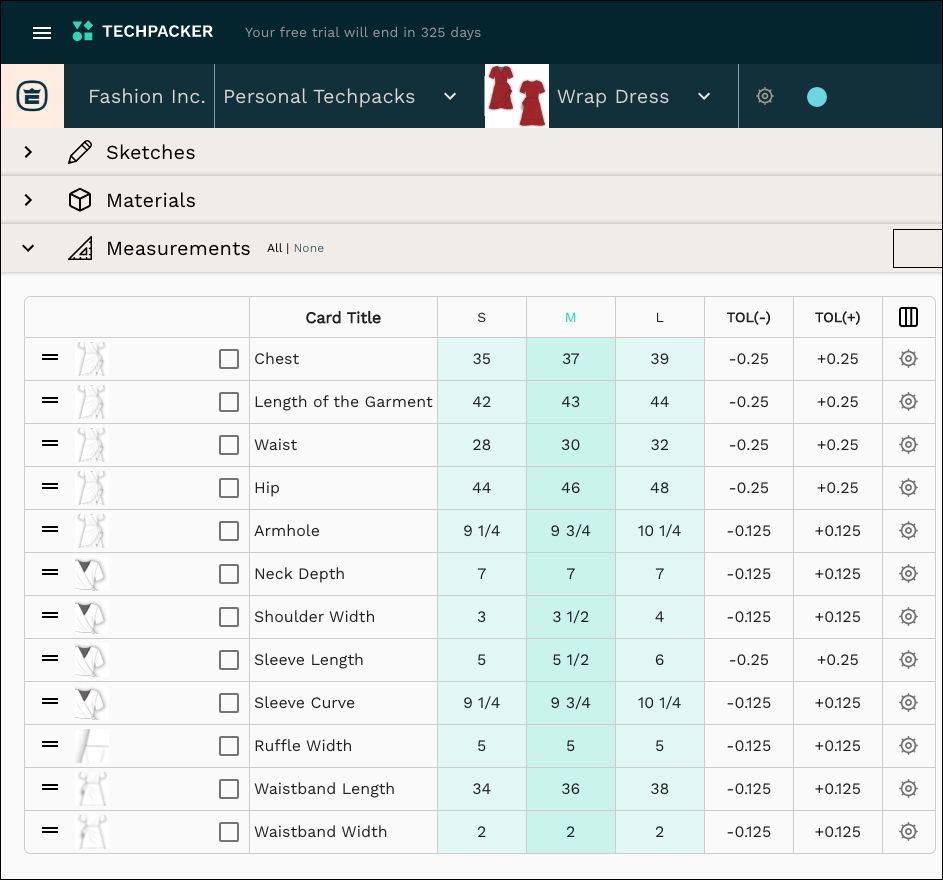 We also specified which colorways we would like to produce. We will manufacture our wrap dress in black, red, black & white polka dot print, as well as in a red & white polka dot print.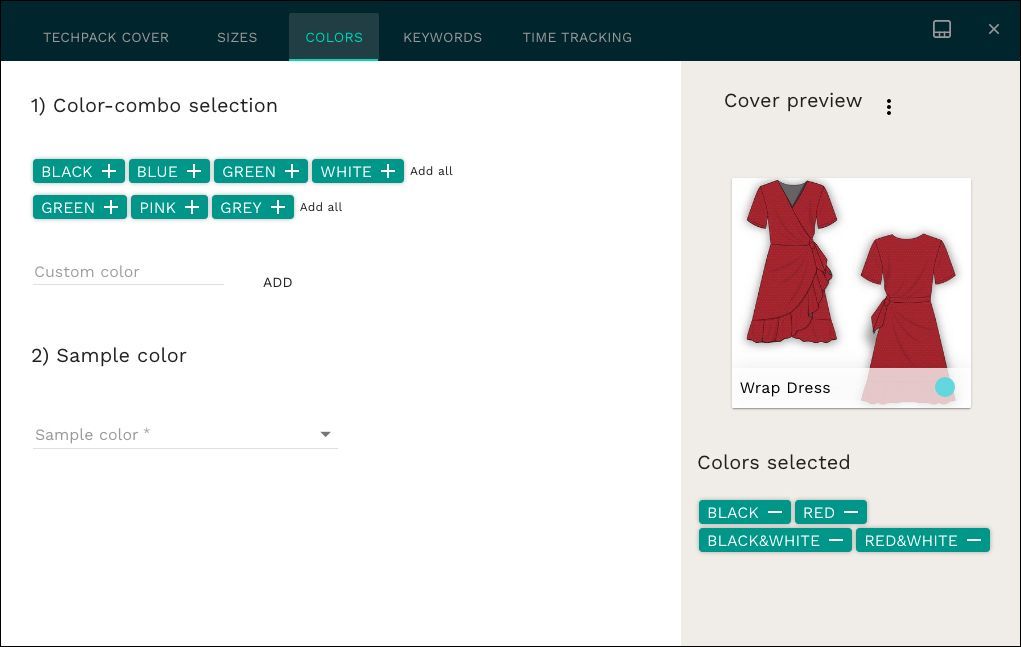 The next step is to create a new table for a purchase order sheet and break down each color combo, sizing it into the required quantities. It also helps to add PANTONE numbers for each color of your choice. If you are making a printed garment it is important to provide a high-resolution file with your artwork.

Learn how to create a quantity breakdown table by using our step-by-step guide here.
Once your purchase order sheet is complete, you will have a complete tech pack to share with your manufacturer. This will allow you to start a production run. By adding a preferred shipment date to your order sheet, you will also ensure your order ships on time.
That covers everything you need to know about purchase order sheets and adding them into your tech pack. For more information about how to build the best tech pack possible, and how Techpacker can help you, follow this link below to find out more.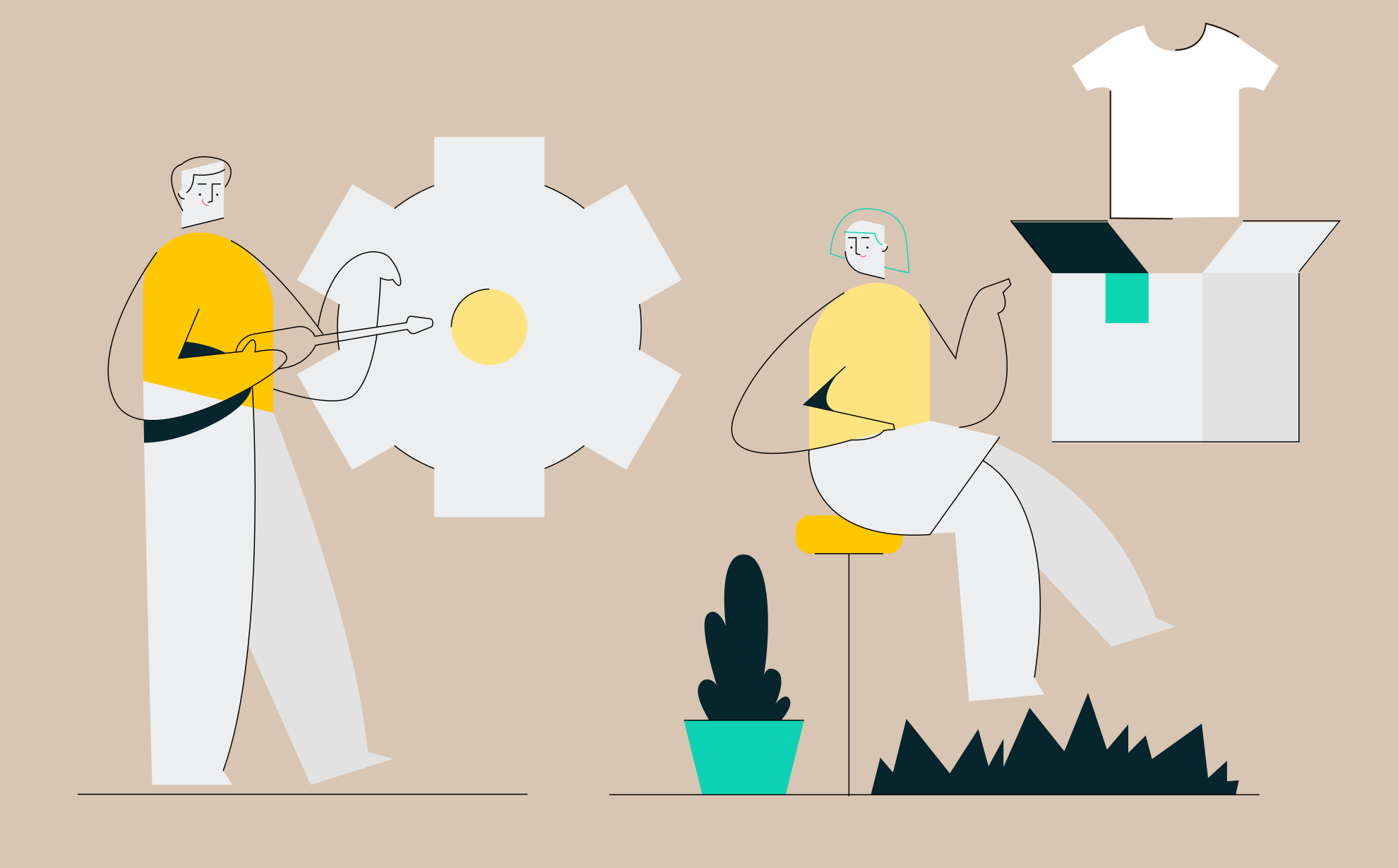 ---
Start creating your garment PO sheets now!
OR
Request a demo
Manage your product development to production workflow with factories hassle-free. Try Techpacker.