Contents

Techpacker Pro-Series brings you value fashion content from our list of fashion industry experts to enrich your know-how on fashion production, technology and retailing.
---
What does it take for a fashion designer to be successful in New York City? A grand arena filled with some of the world's most powerful fashion houses, glamorous fashion weeks, daring fashion consumers; a city filled with opportunities. Yet why is it so hard to make it big in fashion, especially as a designer?
To better understand the issue we interviewed Bob Bland, CEO and founder of Manufacture New York, who is revolutionizing the city's fashion supply chain by creating a comprehensive support structure for small scale designers and local apparel manufacturers. Manufacture NY is an innovative center for apparel, textile and wearable tech located at Liberty View Industry Plaza in Sunset Park, Brooklyn.


Bob, how did you end up in New York's fashion industry?
I grew up in Virginia, right out side of Washington DC which is one of the most boring places ever, when it comes to dressing. I initially got interested in fashion at an early age- my mother taught me to sew when I was 8 and it started like anyone else with doll clothes and basic styling. But I eventually made my way to New York and the industry here is extremely diverse so it was a great place to work.
First, I made the rounds in the corporate world with brands like Tommy Hilfiger, Banana Republic, Ralph Lauren, Marc Jacobs- and then I started my own brand, Brooklyn Royalty, in 2006. I did my line for 6 years before I started Manufacture New York. Actually, next year will be the 10th anniversary of Brooklyn Royalty so hopefully I'll be able to bring out a little collection.


In your successful journey as a fashion designer, from working with big fashion corporates to establishing your own line, what were the major challenges you faced?
The major problems in the industry haven't changed a whole lot. There's a lot of stagnation in commercial fashion; and a lot of these big brands aren't willing to take risks with their merchandising. So it makes corporate fashion very stagnant in terms of both styling and creative opportunities for a designer. You have to be extremely specialized as if you're a rocket scientist or a microbiologist. While on the hand you'll see a partitioning in a corporate's structure. From technical designers to product developers to production managers etc., where no one gets to see the full product life cycle. And it ends up where a simple design flaws becomes really big problems on both the technical and fiscal end. I think corporate industry needs to take a more holistic view towards design and allow fashion designers a little more ownership of the entire product cycle
The biggest problem as an independent designer is that we're not taught the basics of running a business in school. What you learn in a design school is, at times, not enough to apply to your own apparel business. How to do costing, markups, making techpacks, qualifying quotes from the suppliers etc., all these important things are sidelined. If you have a fashion degree, apart from learning basic designs, pattern making, draping, you've really not learned anything more than how to be a good employee. And the truth is, there are not enough jobs out there for the amount of designers currently graduating colleges. And since the recession, designers have no choice but to leave the industry or start their own businesses. So I think that there are a lot of designers that could use more support and knowledge in the production management area. Most designers, in the corporate world, learn how to make a tech pack, they can source beautiful collections, and very coherently describe the merchandising decisions they make. But when it comes to independent designers, they haven't been given a lot of this experience in school.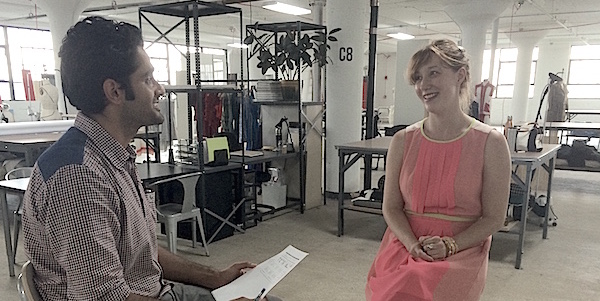 Our CMO & Co-founder, Sayam Kochar with Bob Bland at Manufacture NY's new flagship in Brooklyn


So how does Manufacture NY address these problems young independent designers face?
So at ManufactureNY, we address this by co-locating designers on site together with manufacturers. Just being around the production facilities really does help a lot and it's a very practical way for them to get more acclimated. So that's something we're providing increasingly. We also have our own production and product development facilities specially to help these early stage designers. We initiate thorough consultation rounds to understand their strengths and weaknesses to offer them a boot camp program with all the knowledge they need to go through the production process. It is a very communicative, carefully managed process that involves them in a more educational way, from more of a mentorship capacity, as opposed to just a business exchange. This helps prepare them professionally to go out to any manufacturer and do business with them as they grow.
So it's a duel learning program with a classroom component in it and we've found that this really effective; we have launched over 90 lines so far, in this manner, and we get a lot of repeated business from these designers.


Currently how big of a role is technology playing at Manufacture NY?
We do have a Chief of Technology and research who's dedicated to help designers in the wearable technology space. We have worked with startups in the nano technology hydrophobic areas, functional fibers, and creating fiber batteries. We think it's important for traditional designers, and these new technologists, to get together and collaborate with each other from the beginning. For e.g. we partnered with a sustainable technology start up called Source Map. Their system helps visualizing the sustainable and operational efficiency of a designer's supply chain. It monitors all the energy savings possibilities and material consumption to help them save time, money and resources. We think this is very important to the future of fashion and also feasible for producing domestic products.
In terms of technology from an app, e-commerce and that sort of perspective, social media and the internet has changed all our lives in the last 30 years and that's definitely not going away. We want to make sure that we're aware and engaging our designers with all the options out there when it comes to technology and especially as pertains to accessibility.


And what facilities will Manufacture NY provide to designers and tech companies in the long run?
The biggest part of what we're doing is having a vertically integrated 21st century supply chain onsite. There will be development facilities for wearables where we'll offer a small run factory next to our wearable technology R&D center. It will include facilities for additive manufacturing and fabrication. We're also incredibly excited to have an electronics lab where we'll be working with fully-fashioned knitting machines and spinning.
Whereas, From a cloud and Internet perspective we're going to be using software, hardware and cloud based solutions for tracking people's supply chains in real time onsite. Any designer, whether they're working in wearable tech or not, like any startup period in the space, will have access to that collaboration and to the onsite manufacturing options.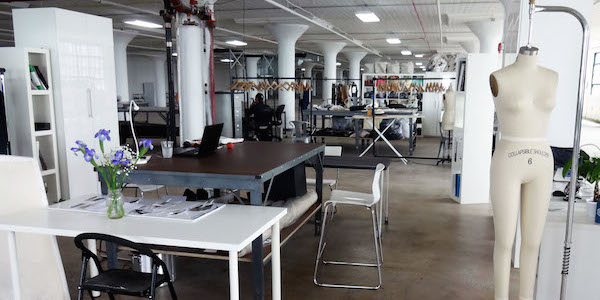 Studio co-working spaces for designers and manufacturers at MNY
So, how functional is Manufacture NY for designers at the moment? How can they reach out to you and what are your selection criteria?
We have a grant of 3.5 million dollars from the NYC economic development corporation to build up a space of 160,000 square feet per floor. It is a huge space and will take us time to build. But meanwhile we have studio co-working space for designers who wish to co-locate on site. And then also for manufacturers who are looking for long term, high quality, affordable space. We're also currently establishing a non-profit foundation to bring a more formalized incubator program on line for early stage designers.
The best way to engage with us is through our website and to contact one of our team members. There's an intake form for anyone who want's our help bringing their product to life. We are looking for designers who already have a clear concept of what they're doing. So folks that have created an idea for a collection that is aesthetically pleasing and interesting, and also feasible, something that can be produced in the US. We are primarily focusing on and looking for apparel labels. We also recommend that designers have a basic idea of how much money they're willing to spend on a line. It's not realistic to come in with $10 grand and just start an entire line. So we do suggest that people come in with some money saved up to start their line.


How important do you think tech packs are for fashion designers and what do you think about our Techpacker app?
Tech packs are very important to keep your design information intact in a single organized document. It's basically good housekeeping to have an archive of tech packs of all your previous styles. And that's something that a lot of independent designers, in particular, don't do. It can be a problem when it comes to doing your next season. If you already have all of that information in one place it's extremely beneficial.
Your company Techpacker is providing accessible PDM solutions for designers and that appealed to me because I certainly remember as a designer I couldn't pay $8K for a PDM license-I couldn't afford that, you know? And I would have never even learned the program if I hadn't been at a talent agency that allowed me to have access to learn it. Once that was on my resume I could go to Ralph Lauren, I could go anywhere I wanted. So it appeals to me the idea of having cloud based software that helps designers to create tech packs.


---
The author is the CMO of Techpacker. He currently resides in New York and is in love with that city. Music and video making is very dear to him and he thinks he can count beat drops. He graduated with Merchandising degree from Fashion Institute of Technology and has previously worked with Tory Burch and Perry Ellis. (//techpacker.com).
---