Contents
---
How inefficiency affects the design room and how technology saves the day
When I moved to New York to assess the potential for digital innovation, I took a position at a design house and worked in the design room as an assistant to the production team. I was on the lookout for areas that would need improvement. A couple of days in, it was not hard to see that there were many inefficiencies in the design room.
My job was to create spec sheets/tech packs, line sheets, sit in on fittings, send samples to factories and sit in on the buying meetings for the samples. These tasks are often interdependent on each other however, they were all worked on and updated separately. Problems often caused brief moments of frustration because of the inability to connect all the tasks seamlessly (luckily there was no table flipping!). Here is a brief understanding of each task and some of the problems associated with them: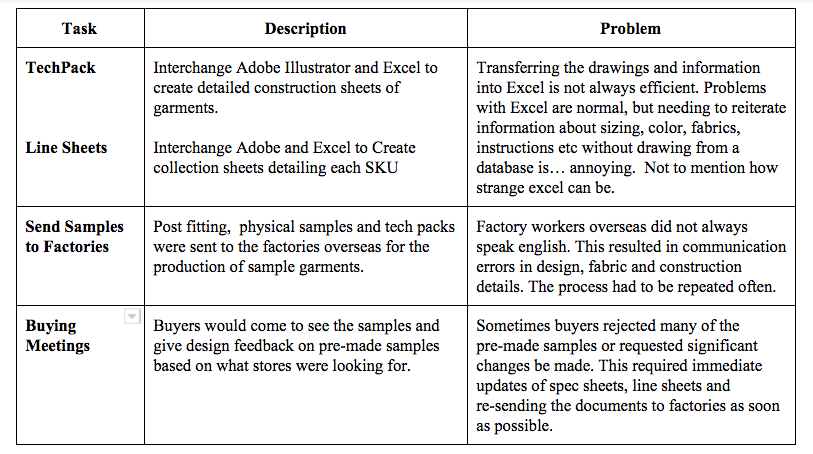 The most challenging activity was the creation of tech packs.  Tech packs are super detail-oriented and take a long time to generate as a result. A tech pack contains:
● A technical sketch of a garment, front, and back, with close-ups of unusual details.
● All construction and sewing details.
● A list of fabrics, materials, and trims, including suppliers if available.
● Artwork for prints, embroideries, patterns, labels,  and various details.
● Packaging instructions.
Tech packs allow for line sheet creation and garment creation. It's no wonder tech packs take so long to generate, they are most important for the production process. Even if all the time needed is spent on making sure tech packs are accurate, sometimes factories can still misinterpret information and problems occur. This can be frustrating for everyone.
---
Tech packs made simple
How are Tech Packs Made?
Traditionally, tech packs can be generated through Excel, Adobe, or with a talented technical designer. Every company does it differently and there are plenty of ways tech packs can be communicated. This could be difficult for factories that work with multiple brands and have to monitor different variations of tech packs.
Consider a tech pack to be similar to a construction contractor. The contractor has the blueprint for how a building will be built, the information on the vendors and they are responsible for managing the timeline of the process. The construction workers represent the factories. They are told what to do and how to do it but have no authority on design or execution.
The workers' main communication is with the contractor, in the same way, the factories have to rely on the tech packs to dictate directions and now the designer. You wouldn't want construction workers in charge of interpreting the architect's ideas, hiring vendors, or making last-minute design changes.  In the same way, you wouldn't want factory workers in charge of (mis)interpreting designs. Clear communication is key! Hence why it's super important that the tech pack contains and communicates all of the right information.
---
How technology can enhance tech packs?
The interdependent relationships of processes in the design room require comprehensive technology.  Luckily, such technology exists and provides solutions making tech pack generation less timely and super shareable. Tech packs are a very vital part of the production and manufacturing stage.
Here's how tech pack software makes a difference
●    Accurate design communication. Tech packs provide factories with a blueprint of what is going to be made. In the past, inaccurate information has slowed down the production process and wasted both resources and time. Factories overseas often employ workers who do not speak English. This language barrier is the cause of many miscommunications. However, with tech pack software, these communication barriers no longer exist.
●  Efficiency. Storing and sharing information contained in tech packs is usually a disconnected process. Using programs like Excel to create tech packs and line sheets are outdated methods and email exchanges between parties ( designer, tech designer, factory worker) can be overlooked.  New tech pack software allows for seamless communication of documents and designs as well as a faster generation of tech packs.
It is imperative for design rooms to catch up and implement technically advanced practices to ensure efficiency and sustainability.  Advanced tech pack generation is the future of product development. Incorporating technology into the various stages of product development will enhance the production process, contribute to the bottom line but most importantly it makes the design process a little more sustainable and help to reduce the monumental impact fashion has on our world.
Techpacker: generating tech packs easily

The company Techpacker offers a comprehensive tech pack solution. The free resource allows users to upload CAD designs and then generate and roll out every detail of the garment within minutes. The result is share quality spec sheets.
●    The program reduces data entry by 70%.
●    Communication features allow for advanced collaborations through documents, images, and comments.
●    Most importantly the program generates PDFs without the hassle of using primitive programs (yes you Excel).
---
Deemed as "The World's Fastest Techpack Tool" I can fully understand the value of having such a resource in a design room. It takes out the complication of generating, modifying, and sharing tech packs.
---
Best of all, Techpacker is totally FREE! So if that isn't an incentive to make our design room a little better, I'm not sure what will be.
---
The author of this post is Jessica V. Couch. She's a fashion and technology consultant and user experience, enthusiast. She specializes in digital innovation for retail and the commercialization of fit technology. Learn more about her at Luxor + Finch
---