Contents
You know what they say, size matters! Well, in apparel and shoe manufacturing it certainly does. This is why we're increasing our size (in regards to knowledge, of course) in the matter.
These essential measuring numbers not only constitute a key component of your tech pack but also will be something that could define your brand. Why, you ask? Let's find out!
---
The Vitruvian Man
We highly suspect you've seen this image before. Well, a similar one where the man is not wearing, a shirt, jeans, or flip-flops (in fact, he's naked). And no, he's not really waving at anyone or doing jumping jacks (although it looks like it;). It was legendary artist Leonardo da Vinci who took interest in the subject of human measurements and drew what is known as The Vitruvian Man. Da Vinci took notes from an architect named Vitruvius and his ideas of proportion, hence the name.
A very interesting fact from da Vinci's "Vitruvian" observations is that your height basically equals the span of your arms when you stretch them out to the sides. Also that your height is also roughly 10 times the length from your wrist to the tip of your middle finger. Neat right? Go on, try it.
These are only a few of the many fascinating facts he helped determine. Ok, Leonardo da Vinci also painted the Mona Lisa, The Last Supper, and is one of the greatest artists of all time. But you can always look for more info about that.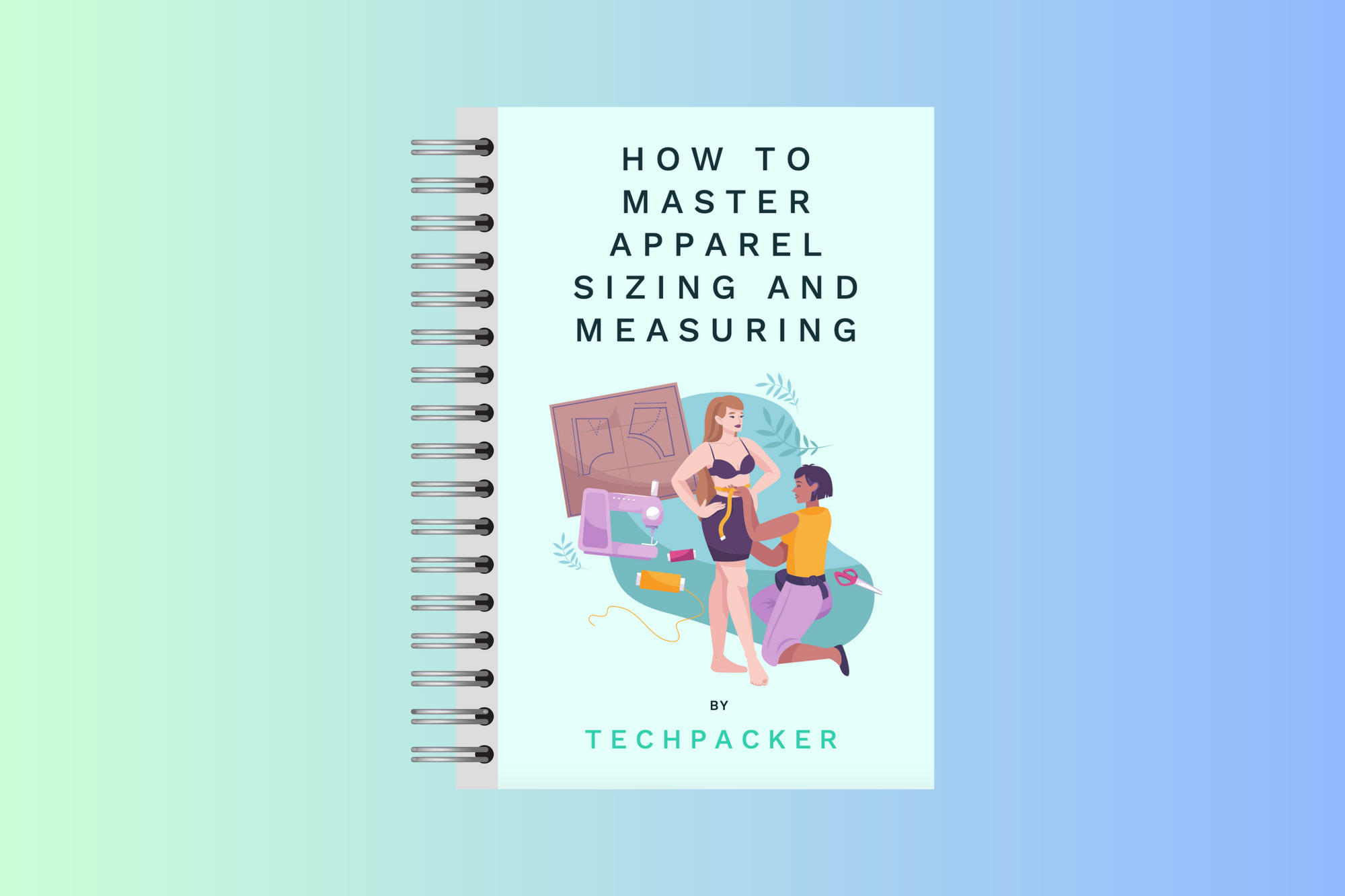 ---
How Did Measuring Start?
Da Vinci's explorations were more about art and beauty rather than finding clothes that fit. And although ready-made garments have existed for centuries, before the industrial revolution, clothes were mostly made to measure, either by tailors or at home.
Then with machines everywhere, mass ready-to-wear production boomed in the 1800s with military uniforms for men. But true sizing standards didn't develop until the middle of the 20th century.
The history of sizing is long and fascinating and has gone through many changes over time. In fact, today it has become a kind of confusing! Something called "vanity sizing" is very common, which is reducing the perceived (or labeled) size so people believe they are buying a smaller size or the same as they always have. For example, a size 8 dress today is nearly the equivalent of a size 16 dress in 1958!

In fact, look at the absurdity of women's clothing sizes in one chart.
---
Why Measurements Matter When Manufacturing
Measurements are an essential component of your design spec sheets, a.k.a Tech packs. You need to provide one with accurate measurements for each of your garments' sizes so they can be constructed correctly with an adequate fit. Also, this way manufacturers and suppliers can assess how much fabric and materials you will need, among other things.
Make sure you introduce all of the Points of Measurement (POM) in your sizes table. If you're on Techpacker creating a spec sheet is super simple. Here's our post on what is a garment spec sheet and how to add one in a tech pack.
---
How To Determine Measurements
There are several ways to measure and determine sizing, but being consistent is key. Each style in its respective size should be as homogenous as possible. The last thing you want is two sizes of "M" shirts of the same style to have different measurements in reality — something that often happens with fast-fashion retailers as you may have noticed.
There might be small discrepancies in the way each person measures the body. But pick a method and stick to it, then, with some testing, you can always make small adjustments in time to better suit your brand.
Here are a couple of resources that could help you get started: this guideline for women could serve as a base and later adapted to your needs. While the Tailor Store has a great guide for men.
---
What is Grading?
It's used to increase or decrease the size of a pattern proportionally. This means maintaining the shape, fit, balance, and scale of style details (dress, original design) as sizes change. As Threads magazine suggests it doesn't have to be complicated, and you can see the proof in their how-to guide.
If you happen to use Techpacker, you can use the grading feature in the measurement tables and it will automatically scale your sizes. Yei!
---
Why Measurements Matter In Retail
According to Shopify, 80% of returns are due to fit issues. Your customers don't want to guess if your size M or 6 will fit, and at the same time, you don't want those costly returns if they guess incorrectly.

If your clothing comes in small, medium, and large, for example, provide comparable numerical sizes, such as sizes 8 to 10 for medium. And add the measurements for each size so the customers have an idea. You can also include common measurements, such as length, in inches, or centimeters.
---
Numeric and Alpha Sizing, Which Works Best?
Now that we've touched upon the subject of number and letters to indicate size, be sure to look into these great tips in one of our blog posts that explains the difference between these two sizing systems and how to choose the best one for your brand.
This can greatly vary depending on whether you cater to men, produce formal wear or casual wear, and a host of other factors.
---
Sizing the Future
The future ahead is promising and exciting. Maybe sooner than we imagine, we'll be throwing those measuring tapes away thanks to Artificial Intelligence machine learning. For example, Bold Metrics Inc
is using an AI-Powered Engine to match apparel fit to actual customers.
Meanwhile, others like House of House of Holland and Tesco's F&F clothing range have worked with a 3D technology system that allows shoppers to create a 'MeModel' avatar, which can digitally 'try on' clothes.
In the meantime, for users, there is an online tool created by Anna Powell Smith to help you determine your size in some of the most popular American and British high street brands. This could be a reference for your label too!
---