Contents
Fashion designers spend hours creating design concepts by building mood boards, drawing sketches and visualizing ideas. When it comes to translating those ideas into actual garments, clothing manufacturers require much more than these initial creative stages.
The Tech Pack is the most important instrument you can use to express your design concepts, particularly when approaching manufacturers to produce your design. A Tech Pack is a design specification document that details all technical aspects of a garment in an easy-to-read format. Manufacturers use Tech Packs to calculate production costs, minimum order quantities (MOQs) and the amount of time and labor needed to produce each piece.
Advantages and Drawbacks of Illustrator

Adobe Illustrator is one of the most popular design software programs on the market. It is undoubtedly the most widely used design program in the world from fashion to architecture, and designers often use it as a starting point for their Tech Packs. There are obviously many other design programs out there like Colour Matters, Ned Graphics, Corel Draw, and Freehand, etc. So what makes Illustrator the best of the bunch?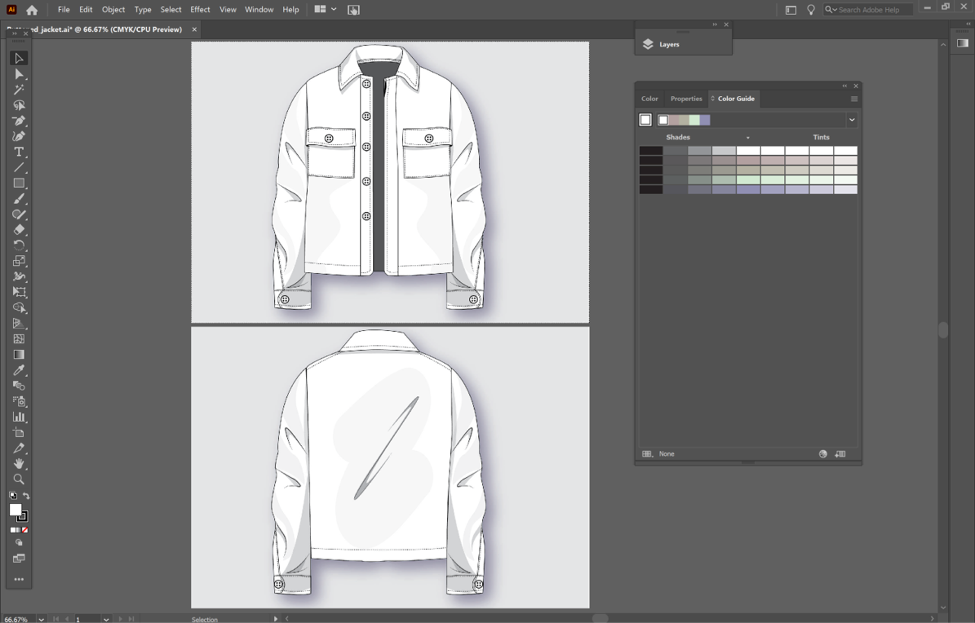 Advantages of Illustrator
Firstly, Illustrator is affordable, and you can get access to the whole Adobe Suite for a relatively cheap monthly fee.
Adobe Illustrator is also very flexible. Designers can make as many edits as they choose, at their leisure. The software also has great customer support and a huge range of tutorials. Thus, learning and working in Adobe Illustrator is very straightforward and manageable.
Limitations of Illustrator
As with all software products, there are also some limitations to the illustrator software. Arguably, Adobe Illustrator is very limited when it comes to creating factory-ready Tech Packs.
Illustrator is great for technical sketches, style variations and colorways. However, a Tech Pack requires far more data than just sketches alone. A complete Tech Pack should generally include: A Materials Sheet, A Measurements Table, comments and specifications.This is important data that is not realistic to input through Illustrator;  a tool that is built predominantly to  handle graphic designs..
So, very often, design teams use Excel or a PLM software (if a larger brand), along with Illustrator, to keep their Tech Pack data organized. However, this wastes plenty of time formatting and downloading/uploading artworks from Illustrator to other programs. And when changes need to be made, even more time is spent going back and forth between Illustrator to Tech Pack programs, leading to a frustrating and convoluted design experience.
Luckily, Techpacker has the perfect solution …
We are delighted to unveil our latest plugin for Adobe Illustrator, which allows you to share Illustrator designs to Techpacker instantly. Through Techpacker's extension for Illustrator, designers can build Tech Packs in minutes and also keep their product development teams up to-date without leaving the platform.
Follow our step-by-step guide on how to make a Tech Pack in Illustrator below.

How to make Tech Packs in Illustrator
Technical Sketches
Visual images are essential when creating your Tech Packs. These are included in the form of detailed drawing of your designs/ technical sketches or, also sometimes called flats. They show how a piece of clothing or an accessory will look on a flat surface, along with added descriptions. Your manufacturers will refer to these sketches to shape your design into an actual garment.
To start creating a Tech Pack, download Techpacker's extension plugin in your Illustrator and connect it with Techpacker's online platform account. Here's our step-by-step guide on how to install this extension.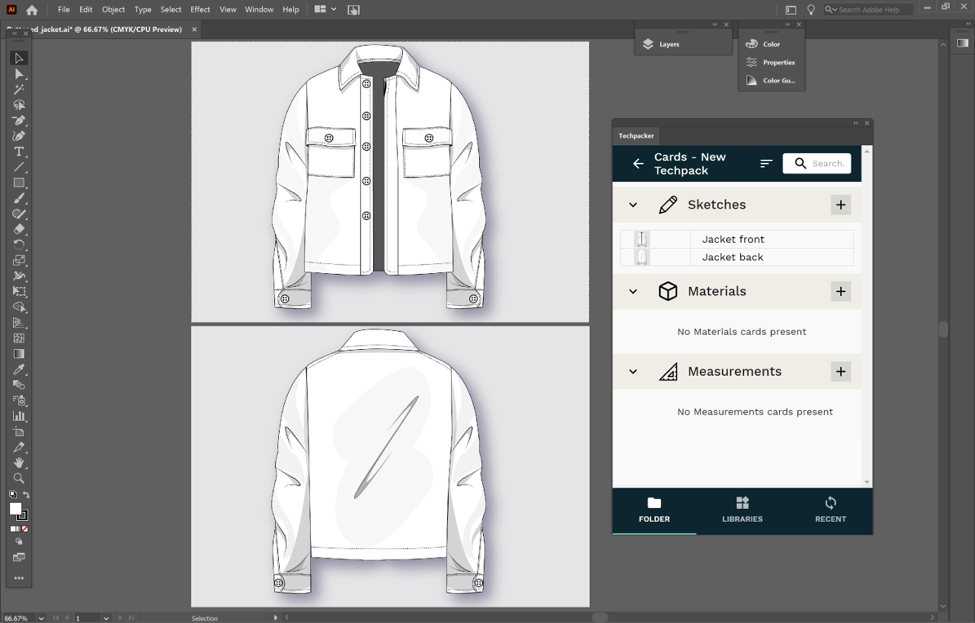 When working with Illustrator before you would need to export the files first in different formats and then re-upload them again on Tech Pack documents., Now, using the plugin, you will be able to create a Tech Pack, and can start uploading technical flats directly from Illustrator onto your Techpacker account. You can also transfer all your prints, patterns and construction details.
Another bonus feature of the Techpacker's plugin is that your image quality will remain the same when your export it. This means no more worrying over formatting design files to make sure the quality of the image doesn't become distorted. Techpacker maintains the quality of your images when moving between the platform so your factories or other team-members can clearly understand your design requirements.
You can also finish your technical drawings with annotation callouts on Techpacker itself. This saves wasting time by making call outs and drawing text boxes over sketches on Adobe illustrator. Techpacker's annotation feature makes it all simple by allowing you to drag straight/curved lines directly onto your sketch cards. Even non-designers can use this tool efficiently.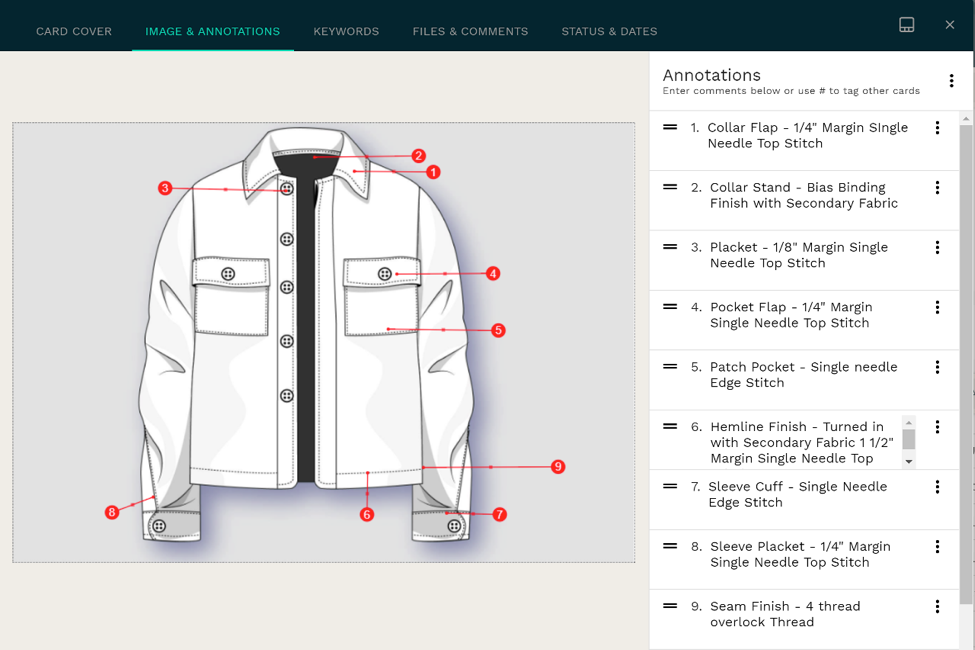 Material Sheets
No Tech Pack is complete without a Bill of Materials (BOM). Having a well-defined materials sheet ensures you never miss a single button or zipper. It also helps your manufacturers produce your garments efficiently and cost-effectively.
Making Material Tables on Illustrator can be quite time-consuming. Illustrator doesn't provide any set templates for tables, so creating one from scratch can be a lot of work and manual data-entry.
To create a BOM Table, first add some material cards and upload material images in them. For example, labels, hang tags, packaging, trims, buttons or zippers.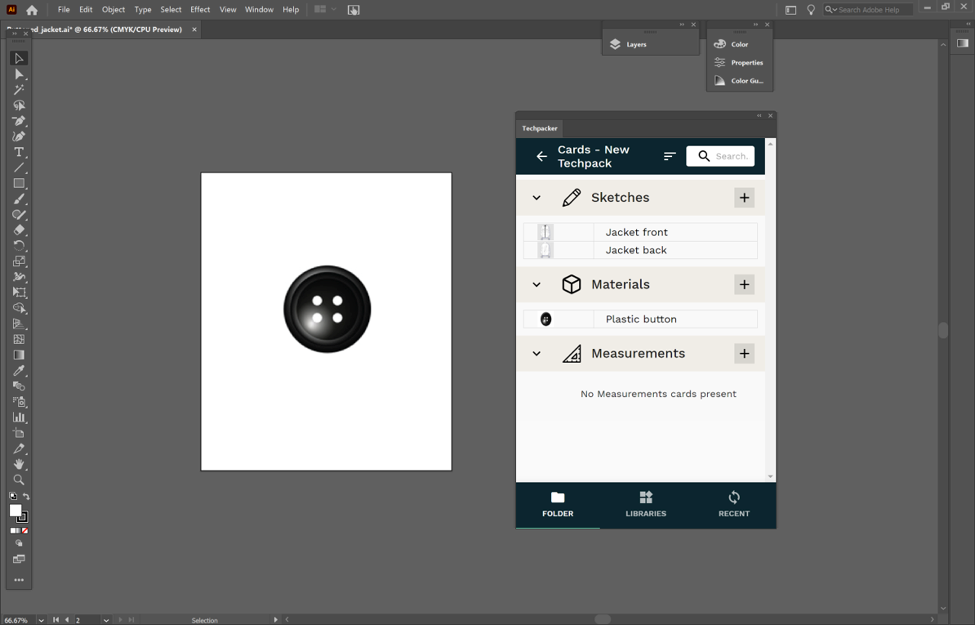 Once created, through the plugin, a Materials Table is automatically set-up on your Techpacker account with the associated images you have already uploaded.
Next, go to the Techpacker app and add the rest of the BOM details. Now you'll have a professional BOM table that is easy to navigate, edit and re-order. It will also be  accessible to the rest of your  team in real-time.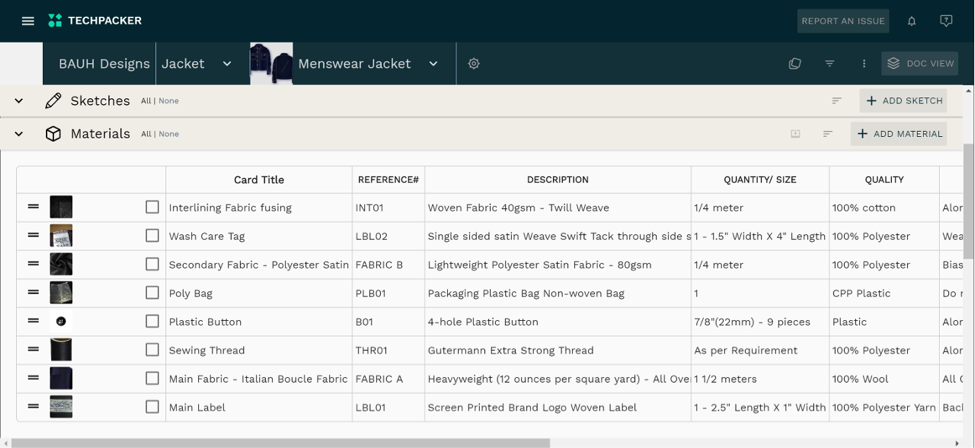 Another important task that designers undertake during product development is building and maintaining material libraries. Often they use additional storage platforms like Google drive, Dropbox or other DAS (Digital assets management) systems to store their material artwork.

Now, using our plugin, design teams can easily build and manage BOM related assets without leaving Illustrator. Using Techpacker Libraries, now designers can upload as many design assets directly on their account and make it accessible and easy-to-use for other team member at any time.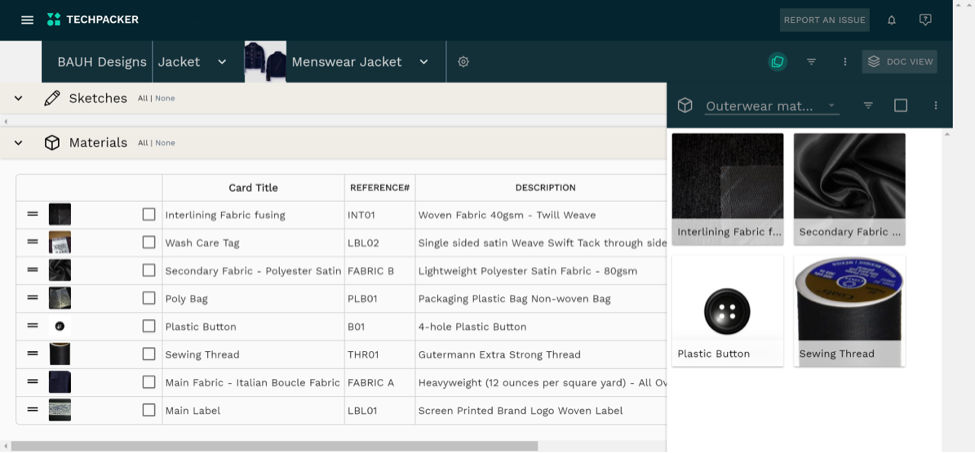 Measurements table
To get the desired fit, every Tech Pack must include a Measurements Table. They are sometimes also called Size Specs.
To create Size Specs make sure you have all your needed measurements and start by uploading the basic point of measurement (POM)  images like chest, waist, hips and length.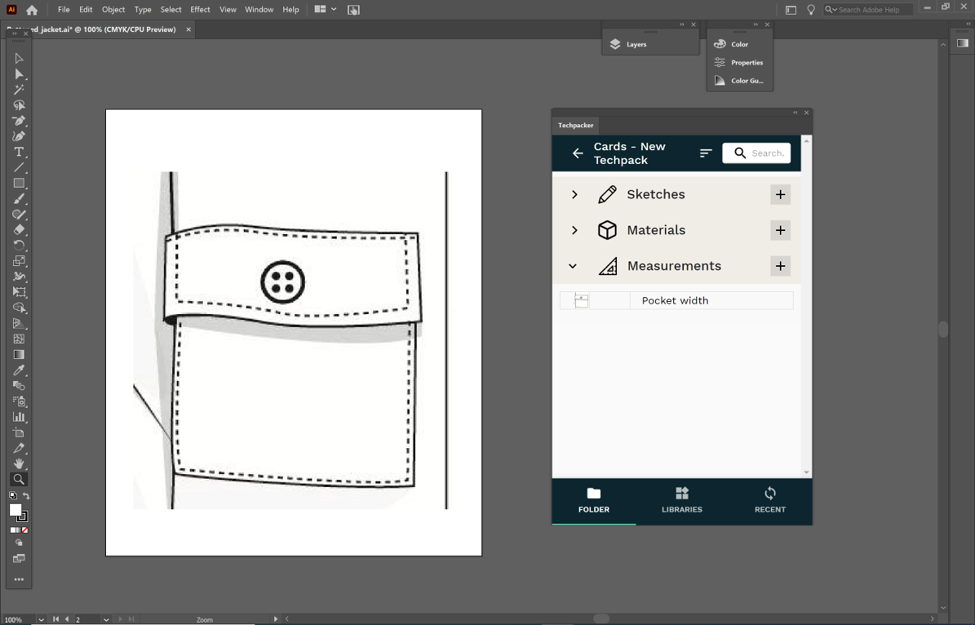 A Measurement Table will be automatically set up on your Techpacker account with these POM images.
Next, go to the Techpacker app and add the specs or formulas in the table. Previously, design teams would use additional programs to calculate size specs and grading. Techpacker allows you to do it all in one place. Take a look at the auto-grading feature below: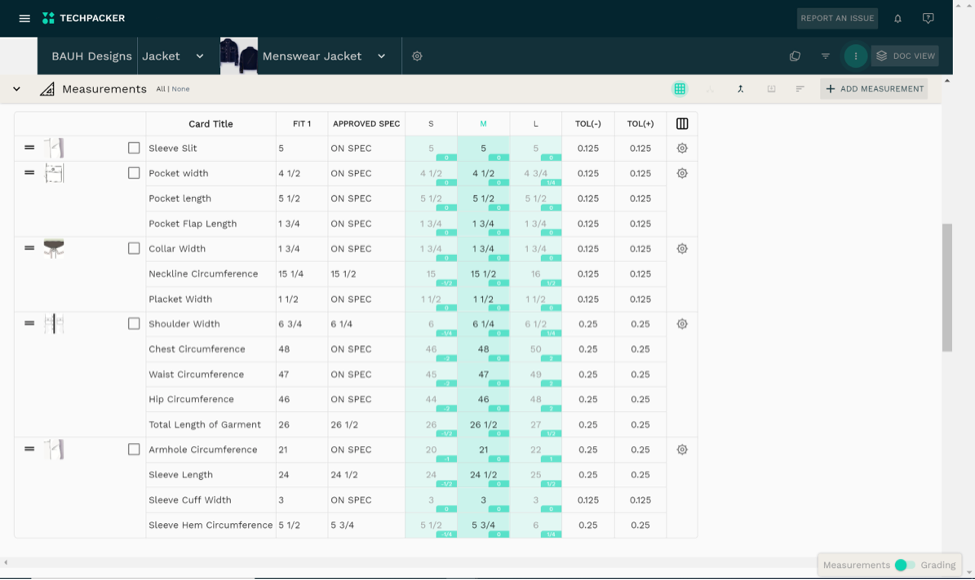 For bigger projects, or seasonal Tech Packs, build 'how-to-measure' sketch libraries for different products that teams can use as templates when starting a new tech pack. All they have to do is drag and drop those images on the measurements section of their Tech Packs, with no need for any technical design experience or prior knowledge.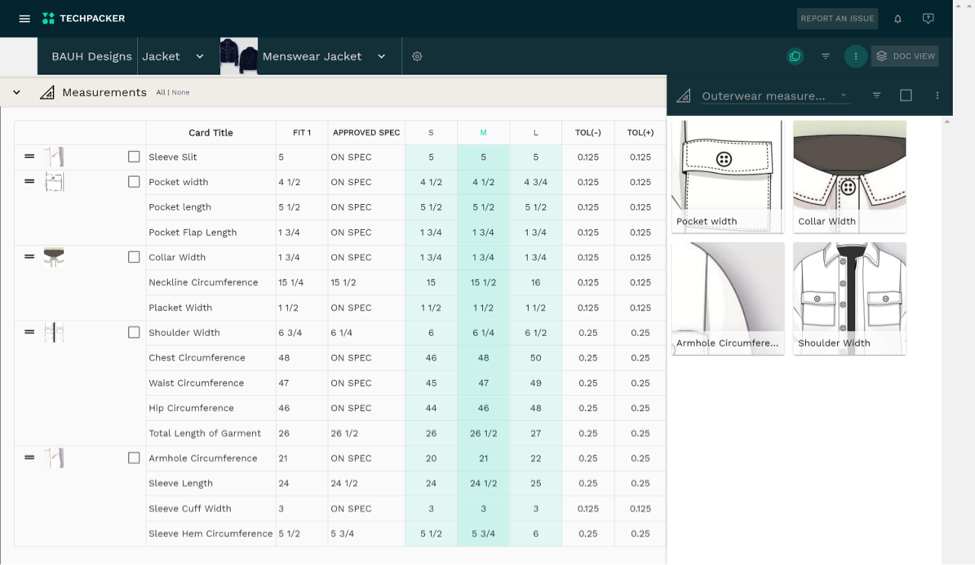 Share with manufacturers
When a Tech Pack is complete, all that's left to do is to share it with the manufacturer. Managing Tech Pack pages on Illustrator or formatting them into a printable PDF format is very time-consuming. On Techpacker, you can do this in just one click; this will  generate a factory ready Tech Pack document.
There is also no need to use your email service to send multiple PDFs. You can save space in your Google Drive by sending Tech Packs directly from the Techpacker platform, complete with comments and read-receipt confirmation to make sure your factories have received and opened your Tech Pack.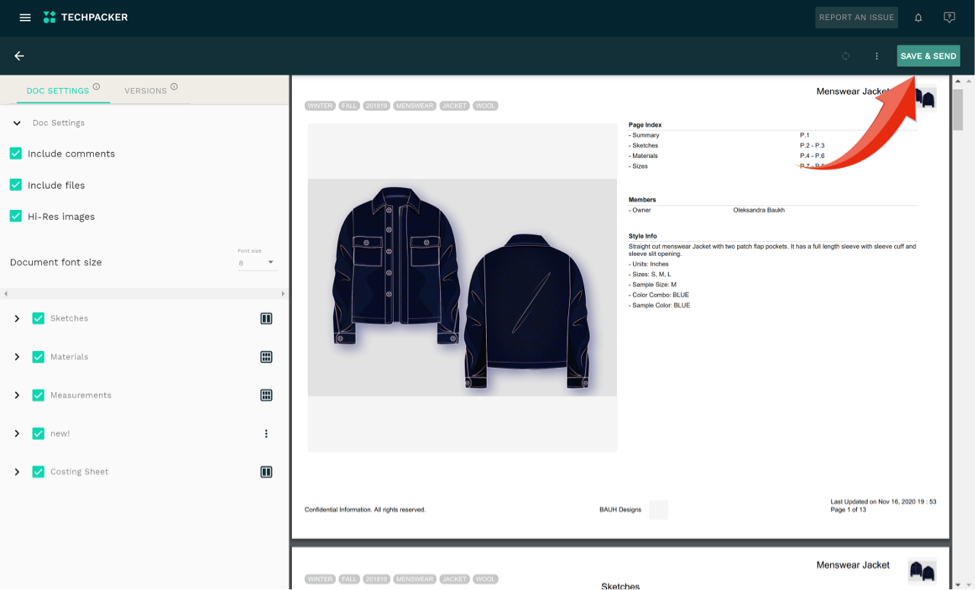 All historic versions of the Tech Pack sent to your manufacturers are automatically stored on Techpacker. A user can restore any of those previous versions at any time.  Additionally, the Illustrator  files that were synced with any particular version are also accessible within Techpacker.
To make sure not a single comment or note from the manufacturer is missed, here's how to communicate effectively on Techpacker platforms. You can also compare Tech pack versions to highlight any changes and skip numerous hours of revisiting your previous Tech Pack documents again and again. .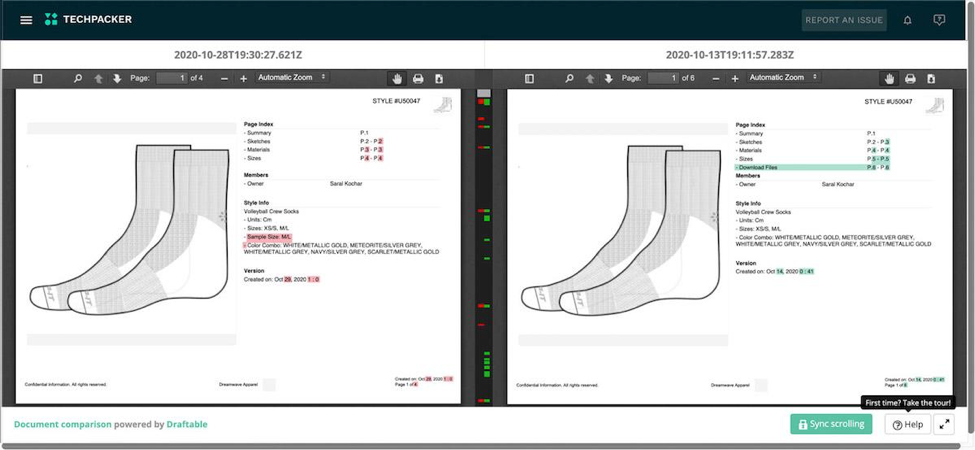 Bonus: A video demo of Techpacker's plugin for the Adobe Illustrator