Contents
March 2nd, 2016 (New York, NY)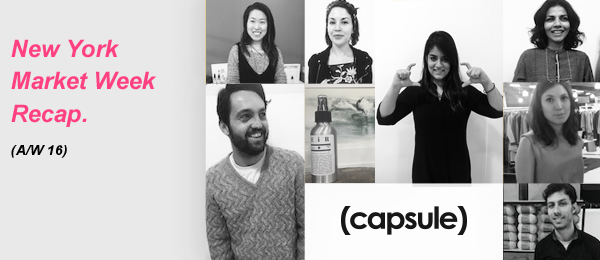 A Jewelry designer who uses powder coating finishing (a spray paint process usually used for modern furniture), or a textile designer who transforms her paintings into digitally printed silk scarves, and even a fashion designer who manipulates each silhouette of her garments around the energy points of the body, Team Techpacker logged some crazy hours carefully sifting around the recently held capsule show from NYC market week A/W 16 and picked up these interesting products and talents behind them. Here's our list of Top 7 picks just for you -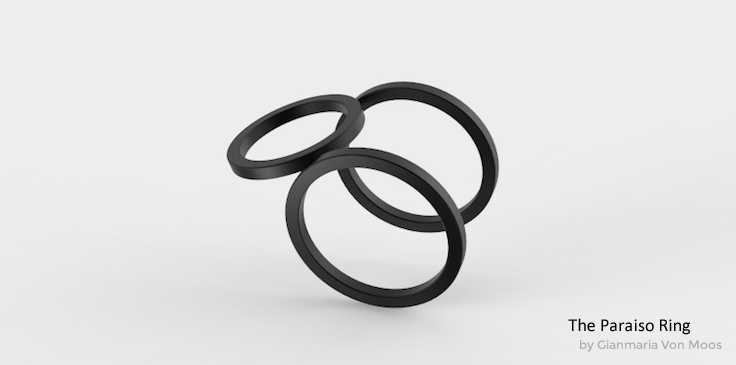 Jewelry with a raw industrial aesthetic. This piece is called paraiso ring is sure one of a kind. Designer Gianmaria Von Moos used a unique finishing process of powder coating which is a spray paint process that is usually used for modern furniture. Besides, it is a 3D printed piece crafted in the New York City and its geometric shape pattern is inspired from the famous architecture of the National Museum Honestino Guimaraes in Brazil.
Check out the rest of his collection here.


---
Garments with a purpose. This beautifully draped wrap skirt made with 100% Himalayan wool is not only flattering, but there is a meaningful intention behind its clever construction. The knot that ties this skirt is intentionally placed over an energy point of our body (The solar plexus) which symbolizes the center of your self esteem. Designer Daniella Samper has also incorporated a hidden therapeutic magnet inside this knot as a self-reminder to its wearer to boost their self esteem.
Take a look at her collection designed around the rest of our 6 energy points here.


---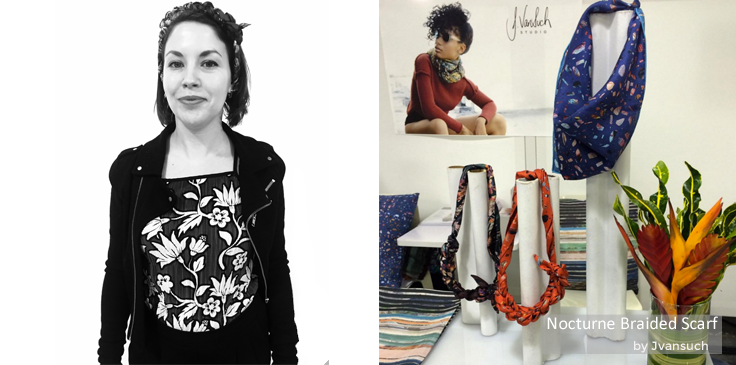 Her Scarves are modern twist on classic accessories. Walking around the aisles of accessories section of Capsule, we spotted this Nocturne Braided Scarf. Textile designer Julie VanSuch created its original artwork through a unique process of mixing hand painting and photography which through the digital printing process she transformed this silk scarf in Como, Italy. Her design is inspired by nature scenes and geometry.
Besides scarves she also designs cashmere oversized wraps, silk kerchiefs and the trending silk skinny tie scarves. See here.


---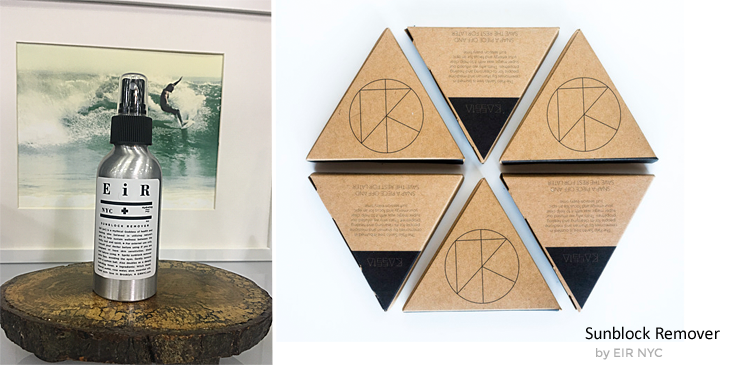 For once it's organic and not expensive. Sunblocks- despite their usefulness, these sunscreens can leave behind a white, chalky residue that stubbornly refuses to come off. Brooklyn based body care line EIR NYC was showcasing this Sunblock Removal that we thought was really cool. They use a list of natural ingredients like witch hazel, aloe and rose water to make the recipe that actually works well to remove that tough zinc from our faces. But that wasn't the best part yet. The fact that they retail all this goodness for just USD $22 was our queue to register them in this list.
Check out EIR NYC, they have other cool affordable stuff here.


---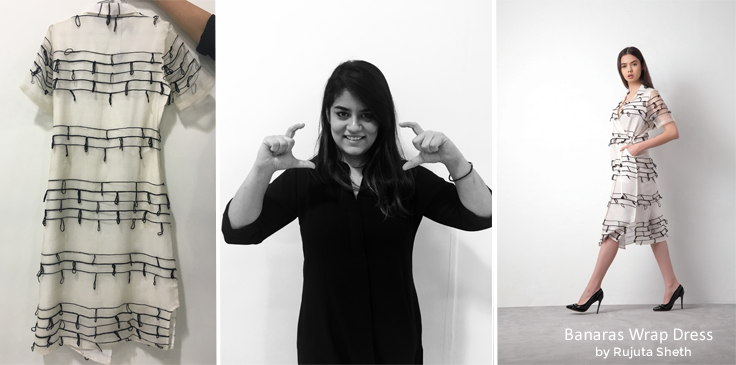 Musical notes dress. This piece caught our attention for its musical notes like pattern details. Designer Rujuta Sheth explains that the textile in which this wrap dress is crafted gives it its name and uniqueness. Hand loomed organza with a fine silk yarn along with looped stripes woven in with a thicker yarn creating musical notes! The dress has two side pockets and rounded side slits.
Check out the rest of her collection here.


---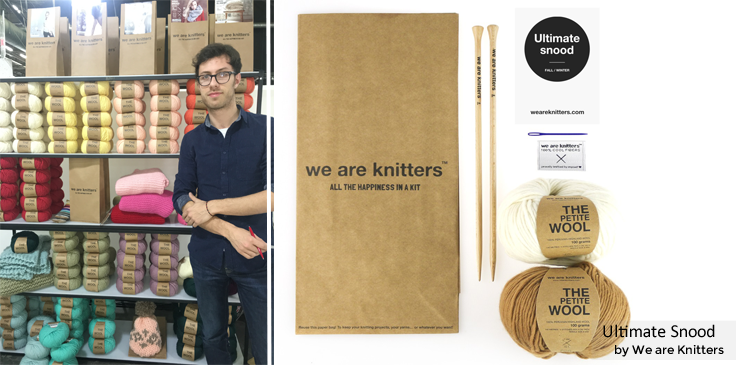 This might just be the best holiday gift of 2016 "Slow Down you move too fast! We are committed to a greener world. Join the movement by knitting your own clothing." As how this Madrid based organization We are Knitters explained the companies' vision to us, they were at the Capsule to launch their cool new product - Ultimate Snood in the US market. Basically it's a complete kit of all the essentials you will need to prepare a hand knit piece yourself. Inside an eco-friendly bag comes the wool, the knitting needles, little sewing needle and even a pattern. Plus you can pick the type of wool, color and even the level of complexity of knitting your own clothing.
Learn more about them or perhaps order one here.
---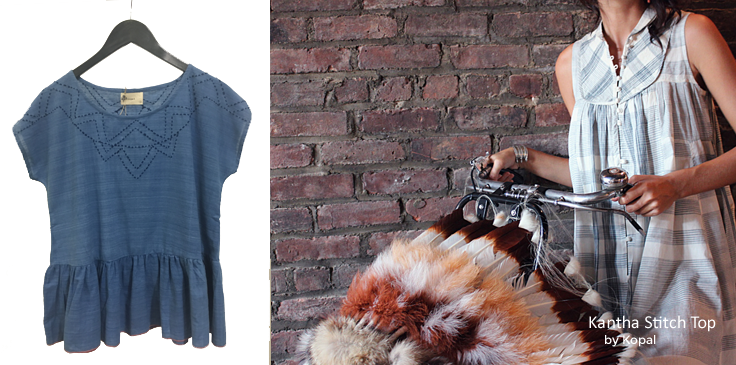 Blending a generations old techniques to Beachwear. Our eyes and ears perked up when we spotted this gorgeous piece from Kopal . Produced in India of an entirely custom made indigo fabric and handwork of traditional kantha stitch around the neckline, this feather weight tunic strikes the balance of easy wearability and pure bohemian bliss.
To see her Spring Summer 2016 lookbook click here.
---
We'd love to hear from you with bug reports, questions, and general feedback. Please leave your comments below on the comments section.
---
The author is the CMO & Co-Founder at Techpacker. He currently resides in New York and is in love with that city. Music and video making is very dear to him and he thinks he can count beat drops. He graduated with Merchandising degree from Fashion Institute of Technology and has previously worked with Tory Burch and Perry Ellis.
---
Related Posts:
14th Feb 2016 : 5 Points to Outshine your Booths at Fashion Events
21st Sep 2015 : Our Top 7 Designers & Looks from NYC Capsule Show