Contents
Fashion sketches are an essential part of product development. They are the first and one of the most important steps in bringing your fashion products to reality. In this post, we will explain what CAD fashion sketches are and how to draw them, even if you don't have extensive technical design experience.
---
What is a CAD sketch in fashion?
In the fashion industry, a Computer-aided design sketch (CAD sketch), also known as a flat sketch or technical flat, is a technical drawing of a garment that is laid flat to show design details such as seams and stitching.
A CAD drawing is a black-and-white flat sketch, that is created at the start of the product development stage. It serves as a guide for drafting the pattern of the garment. It is drawn without any stylized illustrative elements to represent the garment laid flat.
A technical sketch that shows how the garment fits on the body is called a float.
---
What is a float in fashion?
A float is a version of a technical flat that represents a garment's silhouette and movement. Unlike a technical sketch, a float is characterized by shading and movement lines. The purpose of a float is to show how the garment should fit on the body.
---
What is the purpose of a CAD sketch in fashion?
A technical sketch is included in the Tech Pack to communicate to the factory the design, construction, and stitch details of your garment.
They can also be used as a placeholder for styles that are still in development during adoption presentations. They can also be used on a website, hangtag, or in product catalog.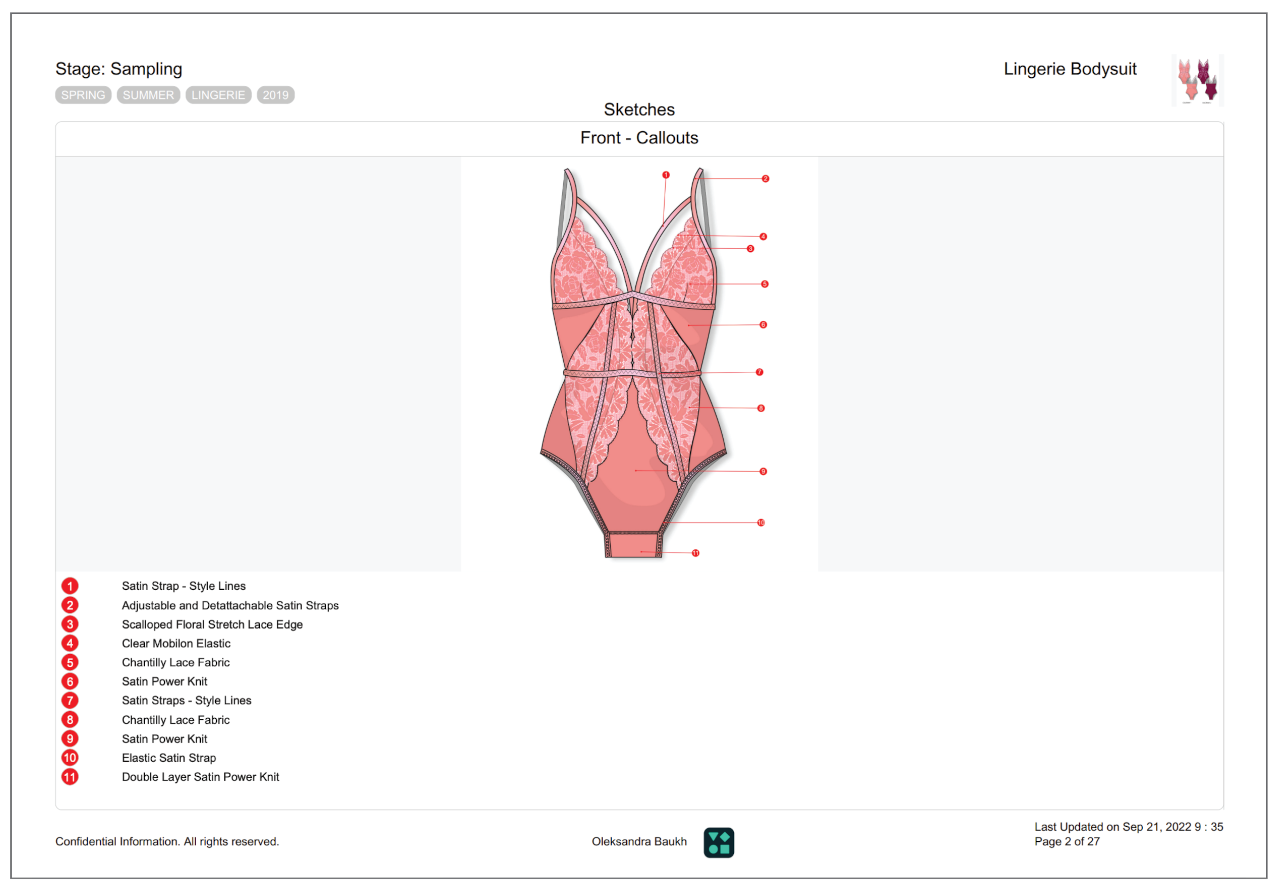 ---
Difference between fashion flat sketches and fashion illustration
A fashion illustration is an interpretation of your idea that captures the mood, proportion, and color of your design. The technical sketch, on the other hand, aids in translating the garment into something "universal" that a whole team of people can understand and work on.
Fashion flats must include technical design details like stitching, while fashion illustration doesn't have to include any. Very often, the fashion illustration is drawn by a fashion designer. Then, a technical designer draws a technical fashion flat based on the illustration.
---
3 main rules of a CAD fashion flat
There are three essential rules that you need to follow to nail the technical flat sketches.
Be very detailed
Draw every last detail for your factory to follow. It is preferable to invest the time now rather than receive a sample that you cannot use and waste even more time. Create detailed templates (for example, the inside lining, pocket stitching or label placement of your garment) that you can reuse in subsequent tech packs.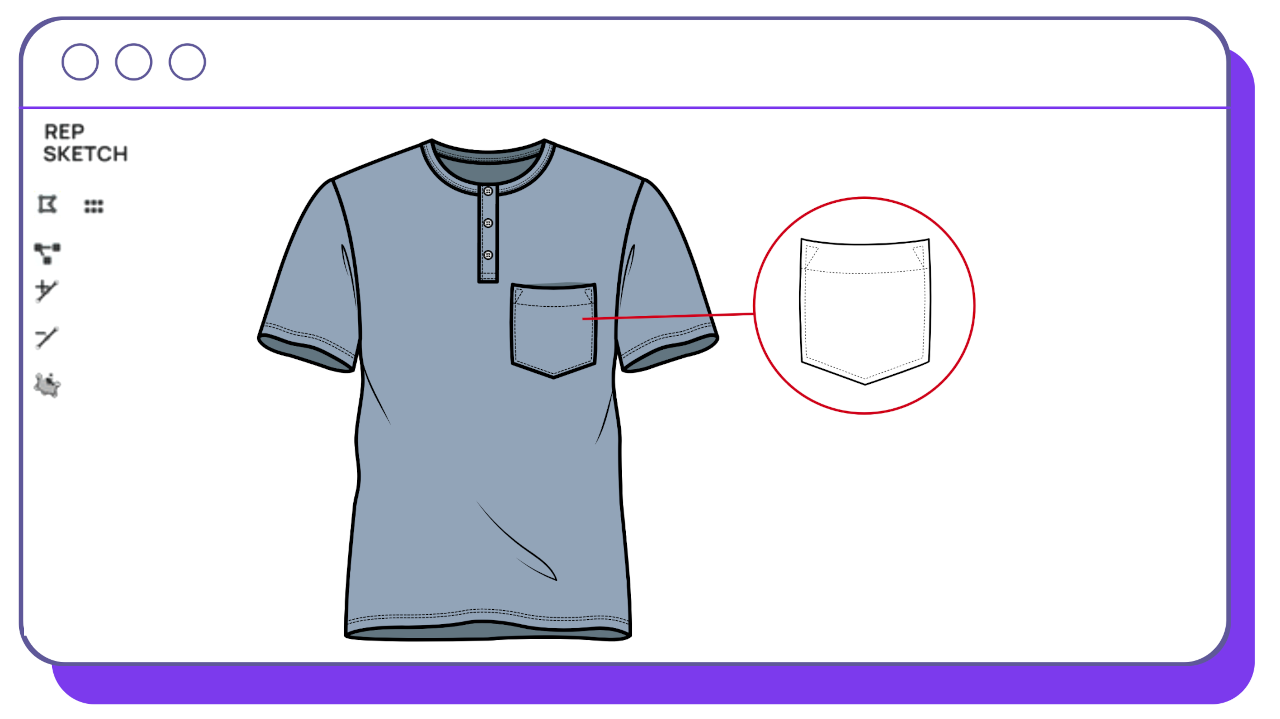 Include multiple views
It is common for garment sketches to include only a front and back view. However, keep in mind that you may need to add additional sketches to show the inside of the garment and/or how different parts of the garment function. Multiple views of accessories are important because they provide a better understanding of the design.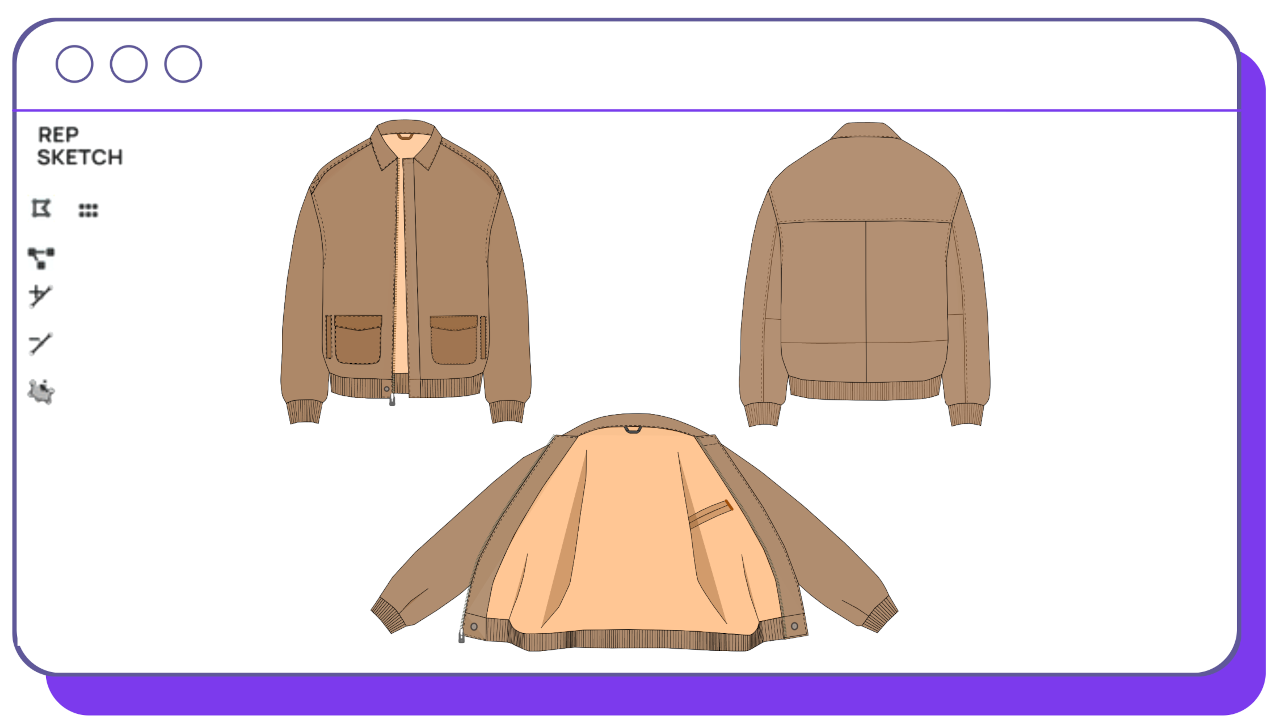 Keep it simple
Creating a sketch for a tech pack is not the same as creating a fashion illustration. Because movement and shading can be distracting in tech pack sketches, they are not required. Sketches in black and white can be easier to understand and provide a clear representation of your design.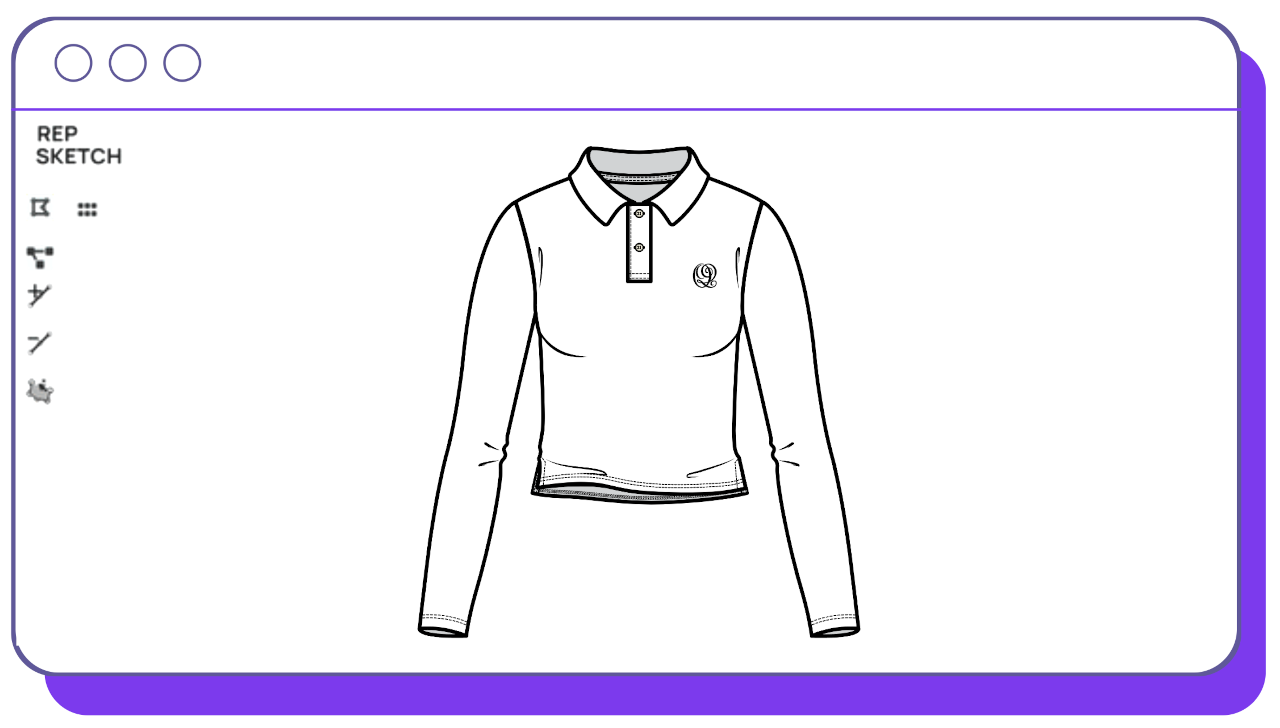 ---
How to draw a technical flat sketch?
What software to use to create fashion CAD sketches?
Very often, fashion designers use software like Adobe Illustrator to draw CAD sketches. It is a great tool to create a fashion flat from start to finish with many details incorporated in it, for example, colors and prints. If you are new to the fashion field, it will take some time to learn the basics of using this software. Luckily, there is a variety of online tutorials to learn from.
A great alternative to this are online vector editing tools. Which are great for fashion designers that want to save time on building CAD sketches. For example, Repsketch offers an immense library of fashion flats and fashion illustrations that you can repurpose. You can find a great variety of styles there, from footwear and accessories to swimwear and baby clothing.
Repsketch is a great tool for fashion designers who want to:
Save a ton of time on drawing fashion CAD sketches.
Try themselves in a new fashion field for example footwear, kidswear, or accessories.
Build mood boards and draw inspiration for new collections.
You can also brainstorm on new collections on Repsketch. The platform provides a variety of body templates (also called croquis) to choose from. Simply select a body type, like woman, man, or child, and start designing directly on it. Simplify the job by reusing the vector templates that Repsketch offers.
---
How to create a flat sketch step-by-step tutorial
Let's create a flat sketch step-by-step together. We will make a button-up men's shirt. Let's start by looking up a men's shirt template on Repsketch:
Once we select the template that works for us, we click on the "Repurpose this sketch" button to start working with it.

From there, we can edit the template as we want. We can change colors, and delete elements like buttons, collars, or sleeves. We can also add new elements like a new sleeve, pocket, or collar type. Repsketch also provides graphics that you can place on your garments.
We will start by changing the color of the shirt to white and changing the pocket type.
You can also create a short sleeve version in a similar way, by selecting a long sleeve element from the components page.
Once the standard blank and white version of the sketch is finalized, save it for future use in the tech pack. We suggest having a basic flat sketch along with colored sketches in your tech pack for manufacturing purposes.

Once the fashion sketch is complete, you can easily save it or download it in SVG format.
In addition to that, you can enhance your tech pack with other templates available on Repsketch. For example, collar construction details:
Or brand label placement:
And even create your own care label!
As you can see creating a fashion CAD sketch in Repsketch is easy as one, two, three. Are you ready to give it a try? Sign up here.

---
Video Tutorial on how to draw CAD sketches