Contents
Product development is a complex step-by-step process. Where the starting point is developing your fashion flat sketches, the final result is, of course, a finished product. In this blog post, we will discuss one of the stages that happen in between - developing a garment spec sheet in particular.

A garment spec sheet or a measurement table is part of a tech pack where a designer communicates technical guidelines and requirements to the manufacturer on how to construct the garment. So what does a garment spec sheet contain and how to prepare it right? Let's dive deep into the details.
What is a garment spec sheet
A garment specification (spec) sheet, or measurement table, is a technical document that contains all construction details of the garment. It looks like a technical diagram or a sketch of a garment, including all of its measurements. Spec sheets are used by designers to communicate design concepts to manufacturers.
Garment specification sheets include:
Garment sketches. Usually front and back views. For complex garments additional detailed images may be needed
Measurement sheet for all sizes
Construction guidelines
Stitching details and seam types
Additional comments if needed
Let's take a look at the example of a garment spec sheet.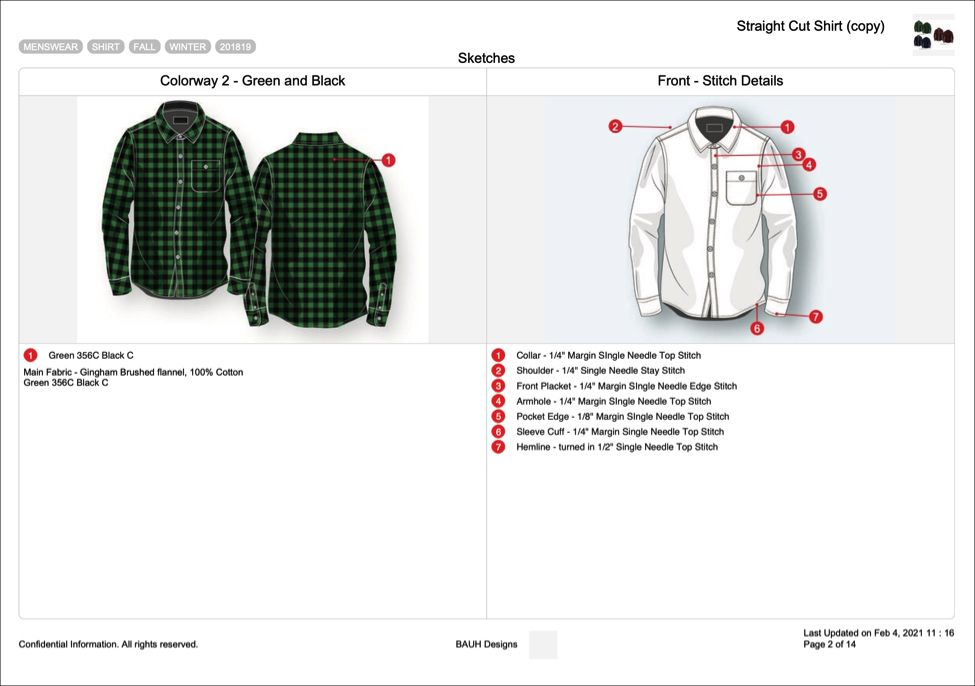 Added measurements and specifications will help us achieve the desired fit of the manufactured product.
The manufacturer then uses the spec sheet to develop the pattern for the garment, grade it for different sizes, and finally construct a sample.
After developing the first sample, the specification sheet may be revised. If any edits are needed the changes will be reflected in the initial spec sheet. Then all the edits and comments are incorporated to modify the sample. Once the final sample is approved, bulk production begins.
How to determine points of measurements and their specs
Once the design is approved, and we have the measurements on hand, we can start to determine garment measurements or specs. Some of these measurements will come directly from the body data, while we'll add to the garment to determine the ease amount.
To explain how to come up with the garment measurements let's take a look at this example of a Bell Sleeve Top.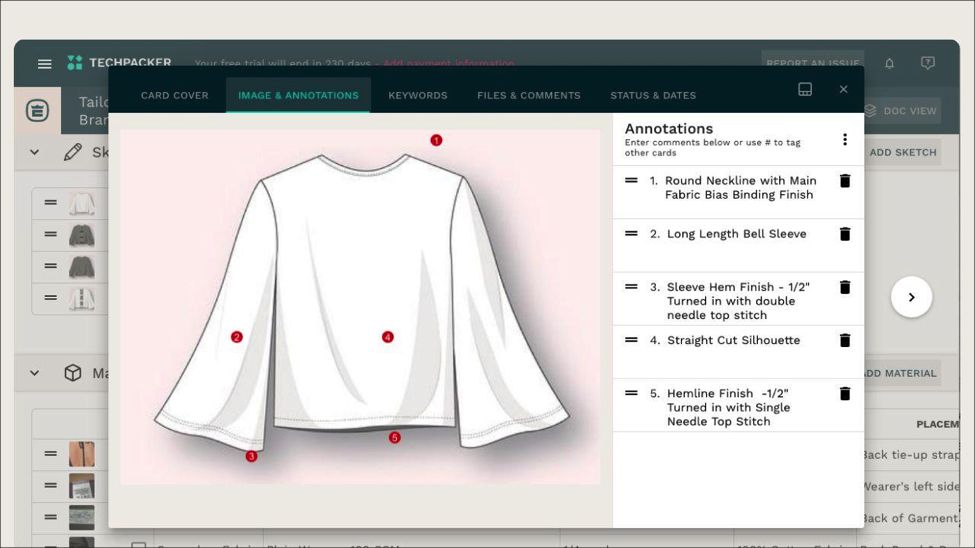 Our sketch shows that it's a looser-fitting garment, which means it will have a fair amount of ease. Especially at the sleeve openings where it bells out. When you are working on a spec sheet for a top make sure you include measurements like chest, waist, hem, across the shoulder, and how closely the armhole fits the underarm.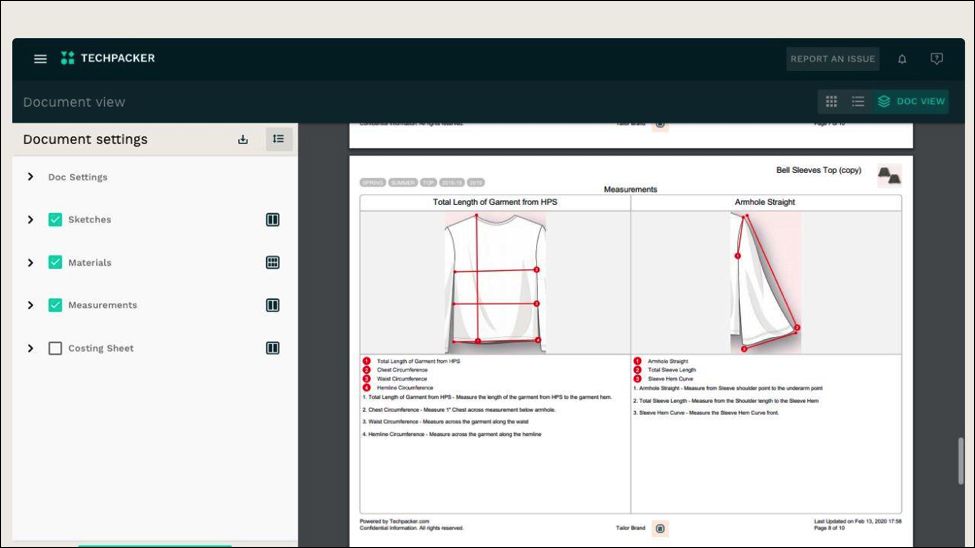 For the purposes of this tutorial, we will use woven fabric for our garment. Woven fabrics require more ease than knits due to their lack of stretch. For a loose-fitting woven garment, we need 6-8" of ease at the bust. Our base size body has a chest measurement of 34", so let's use a 40" full chest width, or 20" half chest.
We would then go through all of the needed points of measure (POM) to create our full garment specs.
One thing to keep in mind when creating your specs is the tolerance needed in production. Tolerance is the amount over or under (often expressed as +/-) the spec that is acceptable for a garment to pass quality control.
There are several things in the sewing and construction process that can cause small variances in the final garment measurements, so these need to be considered in the specs. Typically, the larger body measurements like chest or hip areas have a tolerance of +/- ½" while the smaller areas like a sleeve width or neck drop will have much smaller tolerance amounts.
One thing to watch for in determining your tolerance amounts is to make them large enough to account for necessary variation in production, but small enough that you won't get any overlap between sizes. For example, if your size S has an 18" half chest and your size M has a 19.5" half chest, you wouldn't want a 1" tolerance because that means that in production you could have a size S with a 19" half chest and a size M with an 18.5" half chest. This causes confusion and inconsistency for your consumer. By limiting the tolerance to +/- ½" you ensure that your largest S is 18.5" and your smallest M is 19", ensuring there is no crossover.
How to create a measurements table
Garment spec sheets (or a measurement table) are developed by using a template in Excel or tech pack developing software. The file is then formatted in PDF and sent to the manufacturer along with the full factory-ready tech pack.
To create a measurement table you will need to measure your sample garment. To understand measurements and how to take them more successfully, follow our guide on how to master sizing and measuring in apparel.
For a men's jacket, for example, the measurements that you'll need to include are:
Total length of a garment;
Hips, waist and chest circumference;
Shoulder width;
Sleeve length, cuff width and armhole circumference;
Pocket width and length.

Take a look at the example below.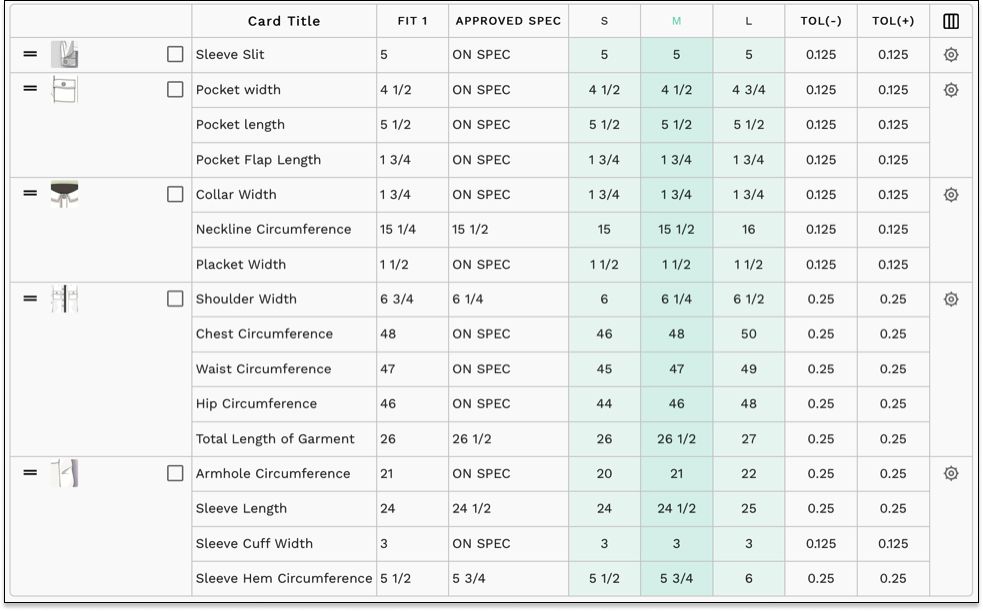 After adding measurements of the sample size (in our example it's M) we provide the tolerance range. The tolerance range is added for each point of measurement to check them against each sample size, so you can request changes if they don't fit in.
Next,  we grade the garment for different sizes. Software that develops Tech packs, like Techpacker, completes this auto-grading for you based on the rule you provide. This helps speed up the process and avoid mistakes.
Point of measurement diagrams forms the visual representation of your measurements. Use sketch diagrams and labeled arrows to show exactly where each measurement is on your garment. These are usually drawn in Adobe Illustrator along with the technical sketch of the garment. Techpacker lets you add callout annotations simply in one click while building your tech pack without jumping back and forth between the platforms.
Here is an example of the diagram for the pocket. We specify points of measurement like pocket width, length, and flap length.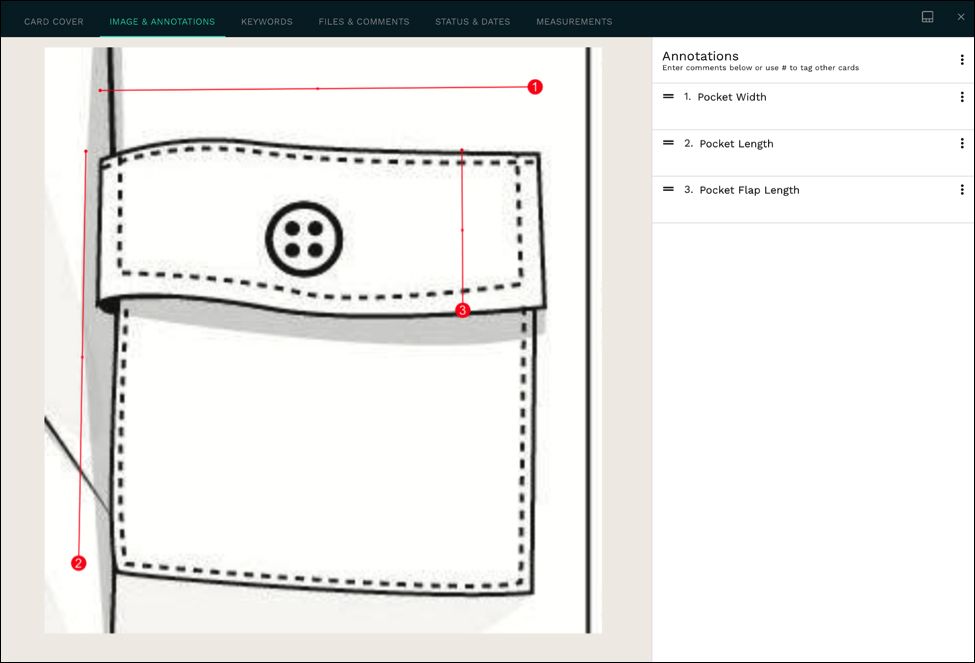 As you can see, callout annotations help us illustrate how the measurements should be taken by the manufacturer to avoid mistakes and confusion.
View the full spec sheet for the men's Shirt here.
How to reuse measurements table as templates
Creating a measurement table might seem like a lot of work. However, many points of measurement can be reused across multiple tech packs. Without any need to draft them from scratch all over again.
Measurements like collar width, neck drop, sleeve length, cuff width, pocket measurements, etc. can be easily repeated and re-used in seasonal collections, as well as utilized in new projects. Having those on hand and ready to use will save you a ton of time when building new tech packs.
With Techpacker you can create templates for future re-use in your measurement tables. At any time, you and your team can reuse these saved templates on any tech pack in just a few clicks. This feature will save you time and keep your measurements consistent across all your tech packs.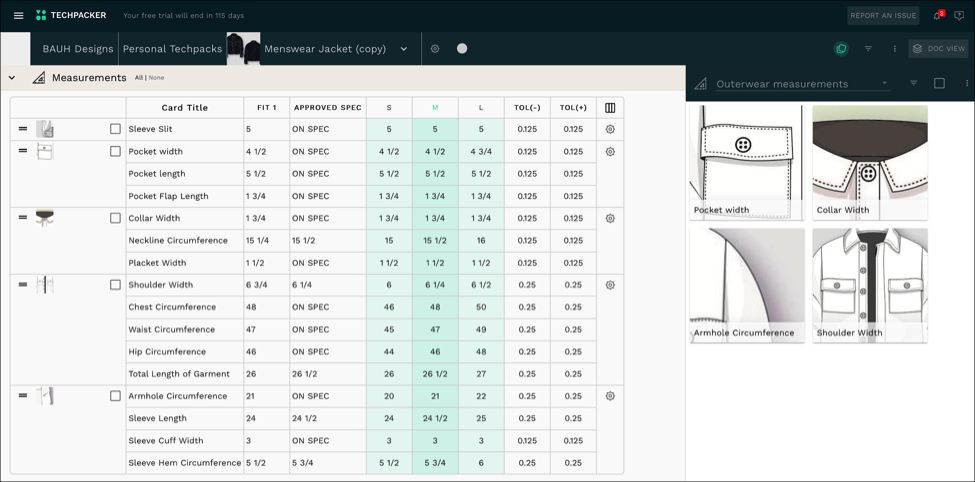 ---
Ready to create your own spec sheet?
OR
Request a demo
Manage your product development to production workflow with factories hastlefree. Try Techpacker.