Contents
Studies have shown that high quality produces a higher return on investment (ROI) for any given market share as fewer defects or field failures mean lower manufacturing and service costs and increased profitability. This is why on Techpacker we're digging into everything about garment QA/QC.
Prioritizing quality, not price
Did you think most people are out there hunting for a bargain? Think again. Quality is becoming more important than price to most consumers.
51% rated quality as the most important factor when making purchases compared to 30% who think the price is more important according to an article on First Insight.
Quality basics
Quality in garment manufacturing is a very broad subject as it encompasses both process and product as you will learn later.  But it basically constitutes the characteristics of a salable good that determine its desirability and which can be controlled by a manufacturer to meet certain basic requirements.
Most businesses that produce goods for sale have a product quality or assurance department that monitors outgoing products for consumer acceptability.
Quality assurance and quality control
Quality assurance and quality control may seem the same thing, but they're not. Apparel garments, accessories, and other textile products are assessed for quality in the preproduction phase, during production, and with a final inspection after the product has been completed.
Quality Assurance (QA) is focused on the process. It builds quality into each step of the manufacturing process including designing, production, and beyond.
Quality Control (QC) is focused on the product. It is generally understood as assessing the quality of products upon completing manufacturing and after being classified into acceptable and unacceptable categories where checking of the actual results is done to ensure that things are as expected.
How to use tech pack for Quality Control
If your QC team or inspector finds a significant discrepancy with production quality,  evidently it will need to be recorded and adjusted by the manufacturer. To record each QC session on Techpacker you can use comments. You can add your comments on any corresponding Card.
For example, if your QA team has found that the manufacturer has used a wrong fabric or thread, you can comment on the card to record this. And send the updated tech pack to the manufacturer.  

This is also a great way of keeping the history of changes for the future references.
In-line production inspection
In-line product inspection or DUPRO (During Production Inspection) is an effective way for customers to know about the status of the manufacturing of an order, gain important information about the shipment schedule and identify defects early on before they affect the entire production.
This type of inspection generally takes more time than the more common Final Random Inspection (FRI) and should be completed by inspectors with several years of experience in production monitoring.
A thorough DUPRO inspection should report on the following:
•   The percentage of packing materials, raw materials, and finished goods already in stock or produced, and the expected date of receipt or production for goods and components which not ready.
• A review of the quality of those goods and components already completed. QC inspectors should draw samples from what is already completed and check for defects. Full review on what type of samples were drawn and what defects were found in those samples.
• Summary of the production status and schedule.
• Photo review of the current production line, products, and observed defects.
Even when including a DUPRO in your supply chain does not eliminate the need to inspect the final product, it is a relatively low-cost way of getting the ground knowledge about the production process and correcting defects early in the process before they potentially ruin an entire shipment.
It's a lot more complex, but these steps sum up the areas you would normally need to inspect for quality during the production cycle:
Sample making.
Marker making.
Fabric spreading.
Fabric cutting.
Construction.
Process and finishing.
But this is just the beginning of quality control in garment manufacturing.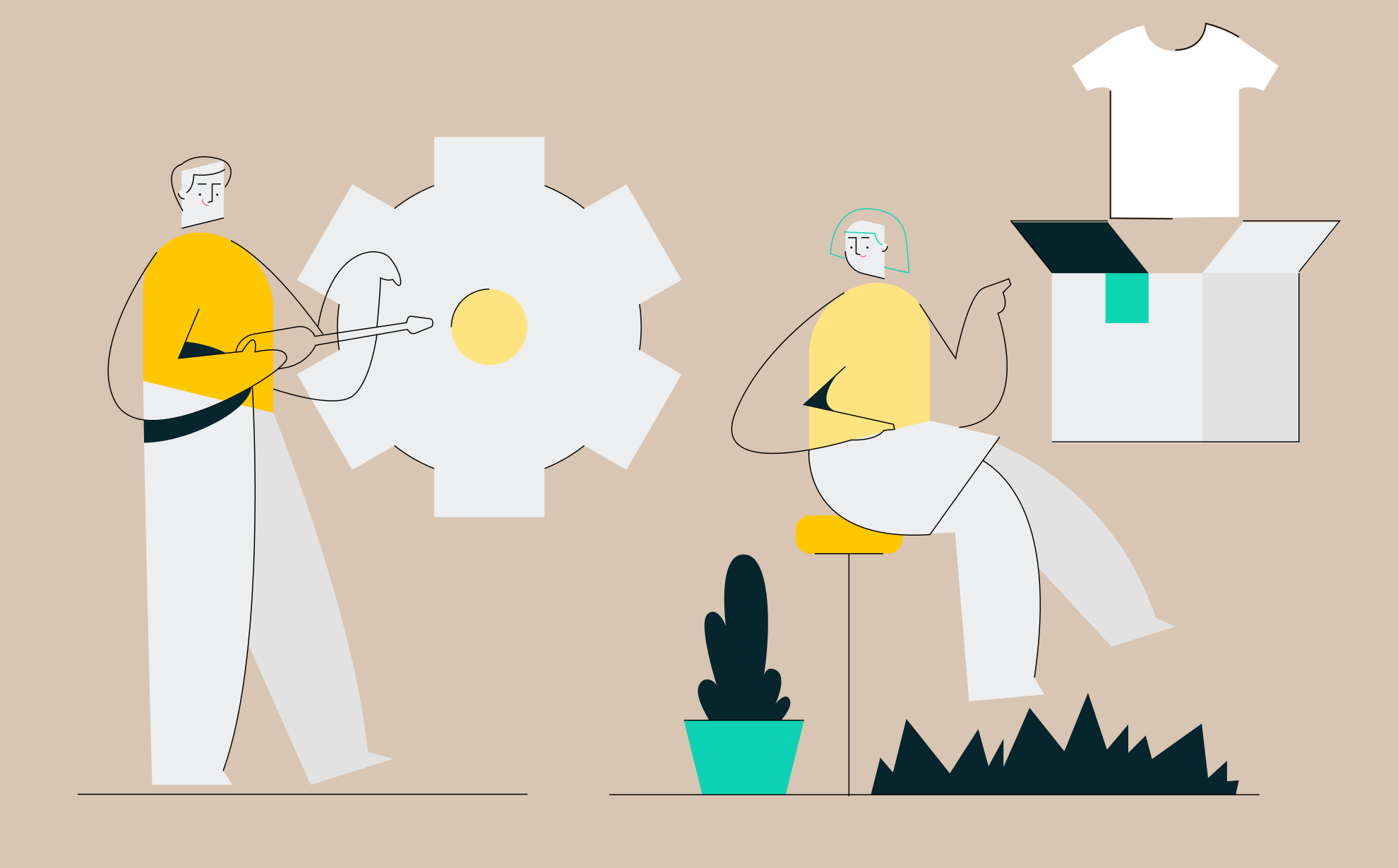 AQL (Acceptable Quality Limit)
Acceptable Quality Limit is the quality level that is the worst tolerable. It describes the maximum number of acceptable defects during the random sampling of an inspection.
The Batch Number is also important. It's a sequence number associated with a specific batch or production run of products. It is used to track a product In the event of a quality and compliance problem. You can read more about it here.
3 things to know about fabric quality

There are three basic aspects to take into account when it comes to fabric quality control:
Comfort is studied by looking at fabric in terms of elongation and elasticity, heat retention and conduction, moisture absorbency, water repellency, waterproofing, hand and skin contact, drape, and air permeability.
Colorfastness is how well a fabric can preserve its appearance in time. Its testing includes exposing the fabric to different conditions like acids and alkalis, crocking, and several environmental conditions.
Durability evaluates "how various materials used in a product perform when subjected to different conditions". The fabric is tested until it fails, for both warp and weft yarns.
Watch out for quality fade

Quality fade is a gradual decline in product quality over time. This happens when the supplier deliberately uses a lower quality material or component than initially agreed upon. The overall product might look generally the same, but suddenly you start noticing issues with a particular aspect of the product.
As in any business, suppliers are always looking for ways to grow margins. As many suppliers would rather cut internal costs than raise their prices and risk losing customers, using lower-cost materials in production is common to economize. Unsurprisingly, trading premium components for cheaper ones often come with an equal tradeoff in quality.
Fortunately, there are measures you can take to prevent this. from happening and to keep offering products with top-notch quality.
The importance of grading & fit
Fit is a determining factor in garment quality and it can make the difference whether customers get hooked on your products or not.
Top Tips
⇾ Provide Measurements Tolerances to manufacturers or QA (Quality Assurance) professionals through measurement tables in the style tech packs.
⇾ To make it easier for the QA inspector, add a "fit" column in your measurement tables to inspect samples.
⇾ If your QC team or inspector finds a significant discrepancy with tolerances, evidently the measurements will need to be adjusted.
How to improve fit quality
The Fit Sheet is an additional table in a tech pack where designers document each point of measurement of each physical sample. The main purpose of a Fit Sheet is to make sure each measurement is within provided tolerances.
When a fit sample is received from the manufacturer you can add a custom column in Techpacker called "difference". In this custom column you can register the actual measurements of the received sample and the system will automatically calculate if they are within the tolerances.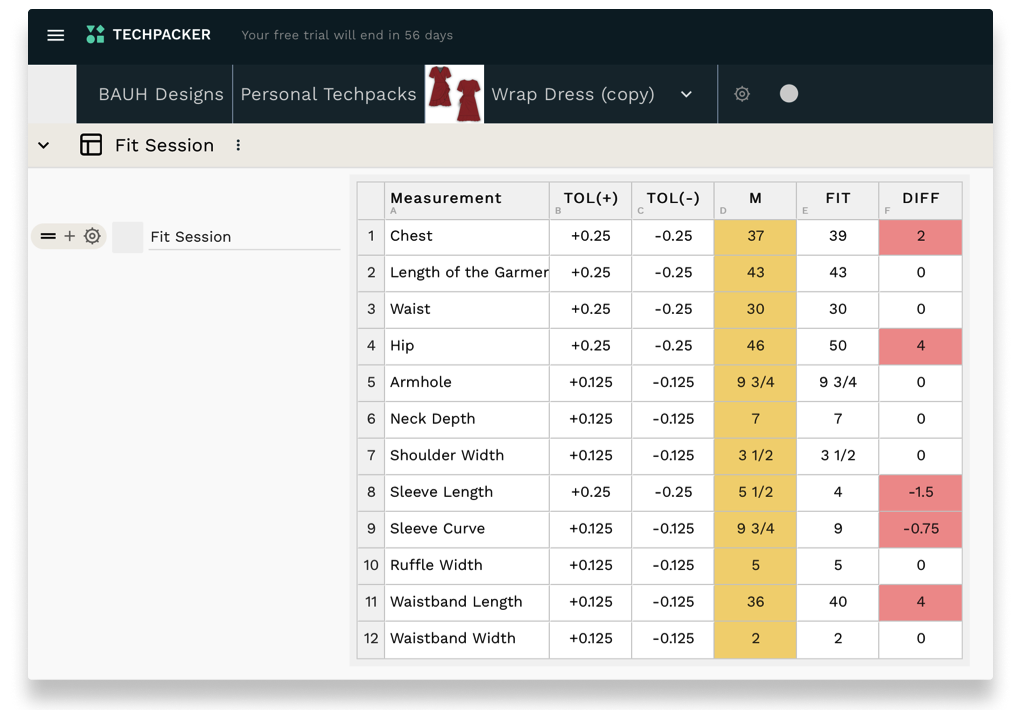 ---