Contents
So you've come up with a new design collection and you need to get an estimate of how much it is going to cost to produce it. Tech pack in hand, and with a list of potential suppliers, now you need to request pricing quotations to see which factory can work with your budget and timings, while still meeting your quality needs.
Follow this price quotation strategy to get accurate quotes from suppliers. This way you can make the right decision when it's time to produce your collection.
---
Step 1. Ensure your tech pack is complete
First thing first, make sure all of your product details are clearly laid out in a tech pack. Include your design's flat sketches, bill of materials, colorway specs, POMs (Points of Measure) for your product in all sizes, plus the list of embellishments and branding artwork if it applies.
Here's an in-depth post by our CEO on what goes into a quality tech pack.
Lastly, remember to add the desired quantity you are looking to produce. This will help your manufacturer determine the cost per unit for producing the item. For this, you can add a quantity breakdown table to your tech pack.
Step 2. Make a list of potential suppliers
Try to gather at least three, but ideally, you should have ten or more, if possible. The more choices you have, the better as it's not usually wise to accept the first price you obtain. This will allow you to compare and shortlist the best suppliers and you'll gain a better understanding of the overall market cost for certain items. What's more, you will also have backup options if there is an issue with your first choice.
Make notes on the pros and cons of each, at least your top ones, so you remember why you chose them. Perhaps later on a different supplier might be more convenient for a different type of garment.
Here's our blog post about tips on vetting a garment manufacturer.
Step 3. Get in touch
Now it's time to reach out to your shortlisted manufacturers. Send over your complete tech pack and request suppliers to provide the following information:
MOQ
MOQ is an acronym that stands for minimum order quantity and refers to the minimum amount that can be ordered from a manufacturer. It doesn't make sense for a manufacturer to produce items for you unless they can make a decent profit on the transaction. And that's only possible if you are able to give them a minimum quantity order.
Ask your manufacturer if they have any MOQ's per order. This means the total minimum quantity of garments you would need to be able to issue an order.
Also, ask-
✔️ Is there a MOQ per fabric? This means the minimum quantity per fabric they would need you to order.
✔️ Is there a MOQ per color? This means the minimum quantity per color of the style they would need you to order.
✔️ Is there a MOQ per size? This means the minimum quantity per size of the style they would need you to order.
Terms of the Order
✔️ Payment terms
Discuss the payment terms beforehand. How much percentage of the payment for the cost of the total production do you need to give in advance? Most manufacturers ask for 30% upfront and the rest upon delivery of the order.
Discuss payment options like cash or credit. If you can pay in cash ask your manufacturer for a cash discount (or penalty) or any other allowances. You also have the option to work with a LOC Letter of Credit. This tool can protect you from possible scams by adhering to clear payment terms. These should state that the supplier does not get paid until the job is complete.

✔️ Price breakdown
Once your manufacturer reviews the tech pack, they should provide you with the total cost for all of the items (the total quantity of the garments you ordered). You should also get the cost per unit for each product design.
It's also recommended to get their price breakdown by Bill of Materials. The price breakdown is the list of raw materials like primary and secondary fabrics and any sub-components or additional parts like trims, cost of labeling, tags and packing details with quantities per item which are needed to create the final garment.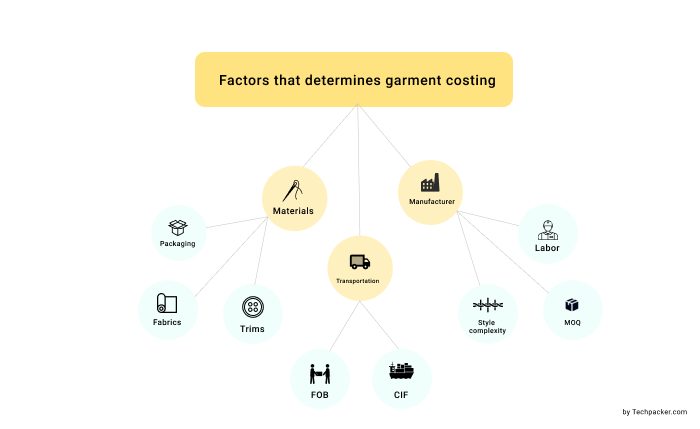 This is useful in the case your supplier is providing the materials. This information can reveal why an item is priced a certain way and if you can make edits or money-saving changes to your design.
Here's an example of a price breakdown by Bill of materials of basic denim jeans.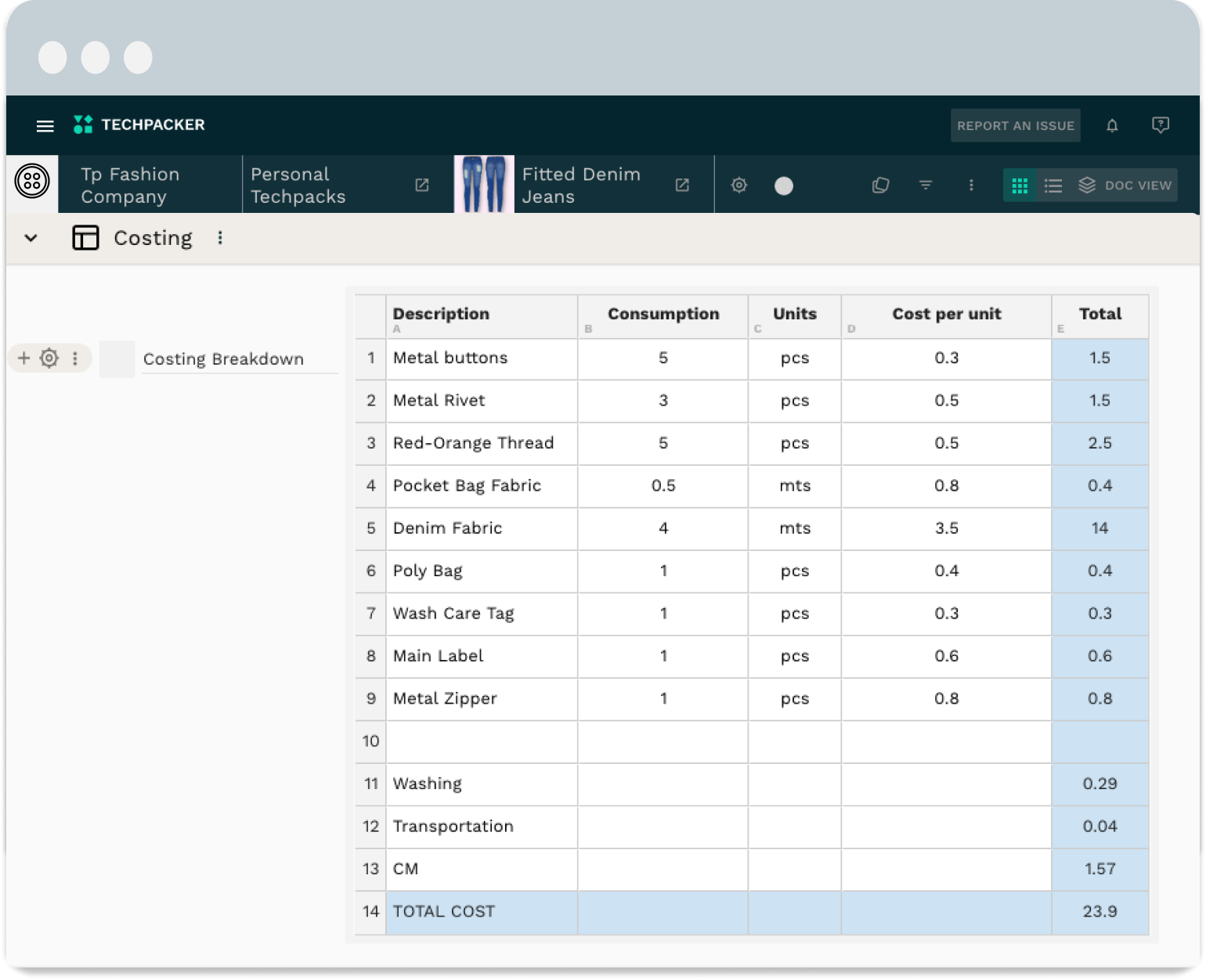 ✔️ Quality checks:
This includes a lab test of your preference, for example, or any other type of quality assurance protocol you need to ensure the garments meet your needs in this regard.
✔️ Insurance:
Ask if they offer insurance. If they do, enquire about what they cover and any further details.
✔️ Shipping:
How will you receive your order? By sea, air, land?
✔️ Timings:
What are the times of delivery and where do they ship.
✔️ Destination(s):
You might need a list with country destinations and documentation details needed depending on where you are receiving the merchandise and where it's being shipped.
Step 4: Keep track of your requests
Be sure to follow up! Some manufacturers might be handling a lot of orders and requests and perhaps yours got lost in the crowd. Calling is a good idea to ensure they've received your quote request.
If you haven't received a response, follow up every 1 - 3 days via telephone, email, or their customer message center if they have one.
Make sure you've received a full quotation, covering everything above.
Step 5: Review Quotations
After you have gathered a few quotation files, take the time to study each one and compare them to see what works best for you. Look at the following checklist:
✔️ How does the pricing of a manufacturer compare to that of other suppliers?
✔️ Were all of the materials listed in the quotations confirmed?
✔️ Did they list the MOQs as you requested?
✔️ Did they include the cost of the sample?
✔️ Is the quote complete and does it answer all of my questions and requests?
If you requested a detailed itemized pricing (like the BOM example explained above), you should be receiving a breakdown of different parts and items, materials, and sub-components that are needed to complete the garment.
This should have the quantity for each and the price per unit price. This is a great way to know if you're getting a competitive price.
Step 6: Shortlist the best candidates
Now that you've carefully reviewed your options, set apart a handful of suppliers to begin placing your sample orders.
It's always a good idea to request samples from more than one supplier. It's a good way to test the manufacturer before you ask for the full order and spend your production budget. It also gives you an initial idea of how they work and communicate, and this is key.
The last thing you want is a factory that is not responsive or communicates poorly, especially if you run into any issues during production.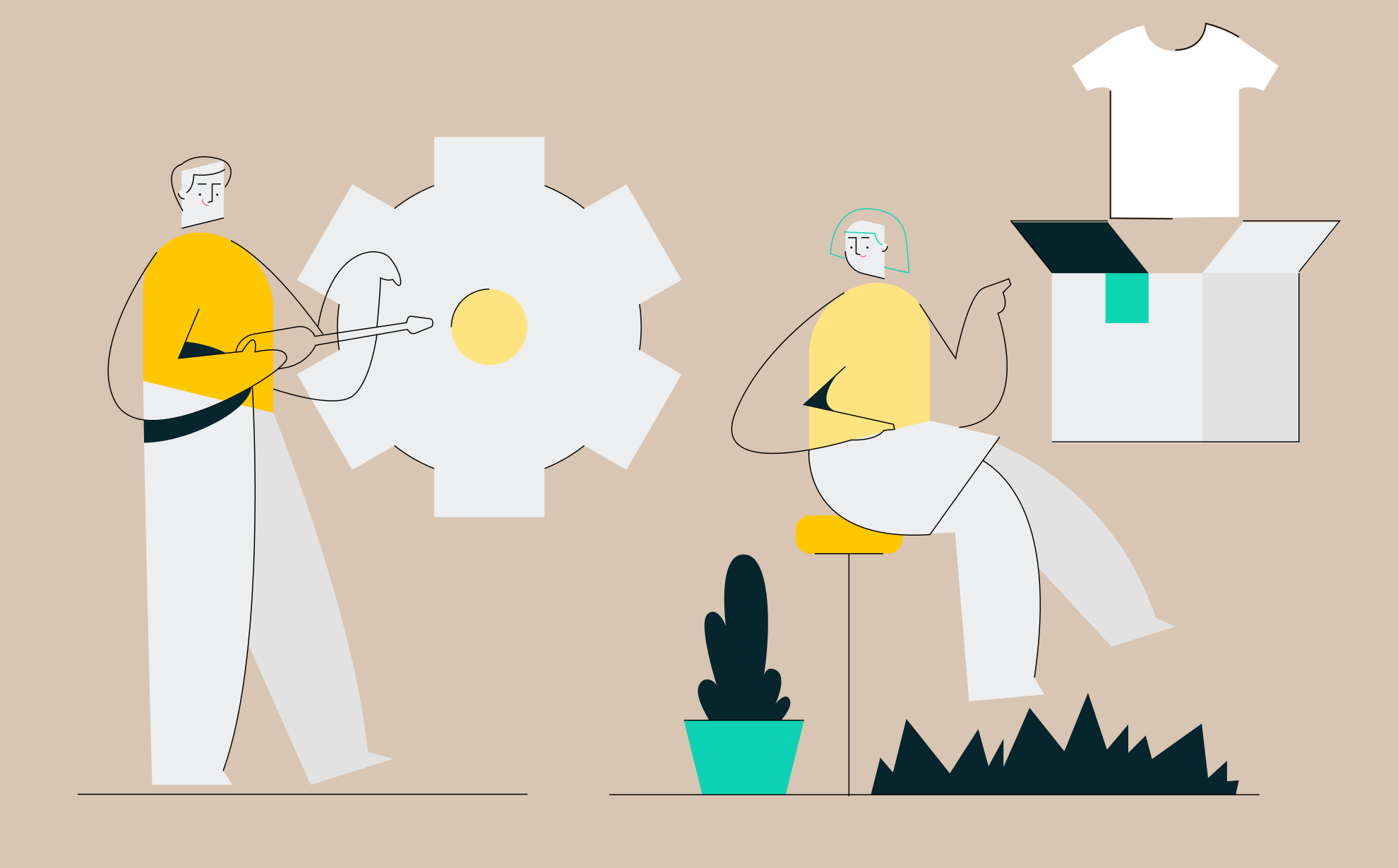 How to effectively communicate with your selected suppliers
Be succinct, clear, and to the point. Whether it's a phone call, email, or in person. Remember suppliers are dealing with many orders and clients and you don't want to overwhelm them with too much information.
Your emails should clearly state your intentions and needs, and what specific action you need from the supplier.
Follow our guide on how to create a garment manufacturing agreement.
BONUS
Here's an example of how to write an e-mail to request a quotation from Manufacturers also known as RFQ - Request for Quotation.