Contents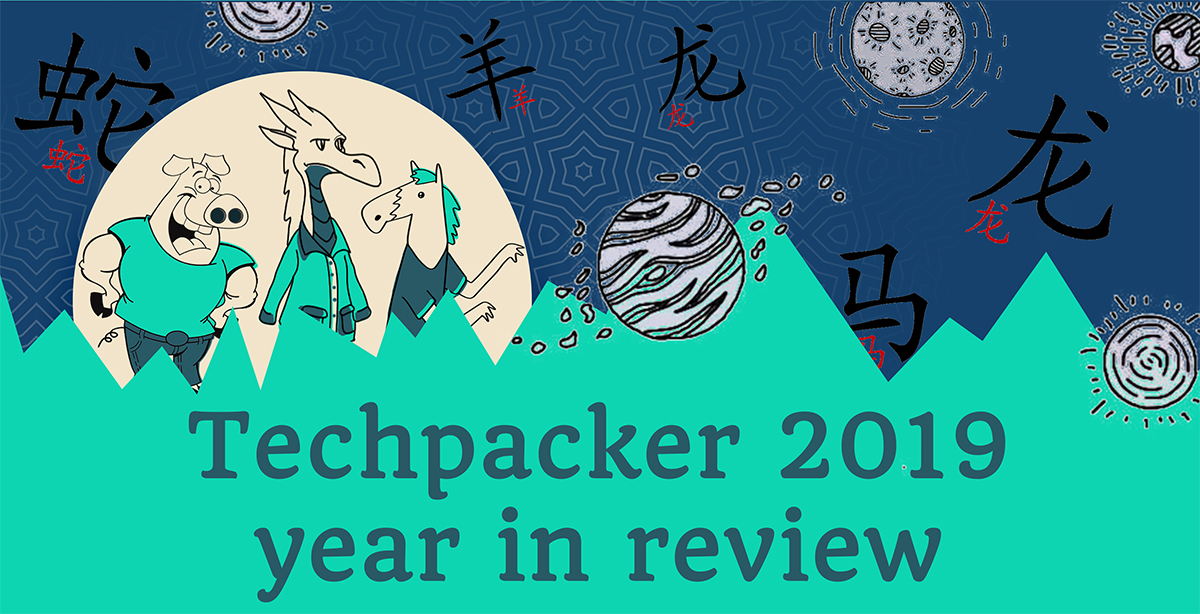 2019 was a year of many changes and innovations in fashion and tech. But cosmically massive for us here at Techpacker and we're even more excited for the year to come.
To celebrate our accomplishments of the year, we decided to have some fun by exploring the fascinating animals for Chinese Zodiac. While you learn about our 2019 journey you can also discover more about your sign and how it relates to some fashion's most interesting designers.
For those who don't know, the Chinese zodiac has 12-year cycles, with each year being represented by an animal and its characteristics. These animals are: Rat, Ox, Tiger, Rabbit, Dragon, Snake, Horse, Goat, Monkey, Rooster, Dog, Pig.
2019 was a Pig year, and 2020 will be the year of the Rat.
Pig
Recent birth years: 1935, 1947, 1959, 1971, 1983, 1995, 2007, 2019 and 2031
Pigs love to contribute by offering a helping hand, and they will devote all of their energy to achieving their goals. It's no surprise a determined designer like Michael Kors (1959), was born under this sign. Techpacker's new templates for Costing, Quantity breakdown, FIT and QA Size-set, will help you achieve your clothing fit goals and make it easier to collaborate in case you do need help.
---
OX
Recent birth years: 1925, 1937, 1949, 1961, 1973, 1985, 1997, 2009, 2021
The Ox is known for being diligent, reliable and determined. Vera Wang, born in 1949, was turned down for the editor-in-chief position at Vogue, yet ended up building arguably the most prominent bridal wear label in the US. This year we released the new reporting and time tracking features, to help brands keep their teams accountable, dependable and more efficient.
---
Tiger
Recent birth years: 1926, 1938, 1950, 1962, 1974, 1986, 1998, 2010 and 2022
Born in 1938, Issey Miyake, is an innovative and courageous Tiger; he has never been afraid to combine ancient traditions with new technologies to keep his brand at the forefront of fashion. At Techpacker we kept the essence of smart PLM techniques and rebranded ourselves with a new UI and the latest technologies to make it the most agile PLM for modern brands.
---
Rabbit
Recent birth years: 1927, 1939, 1951, 1963, 1975, 1987, 1999, 2011 and 2023
Rabbits are earnest with everything they do, they have good reasoning skills and attention to detail. This is evident in how Marc Jacobs (born in 1963) has built a successful brand. Now at Techpacker we have new dedicated account manager for Connect plans to ensure swift onboarding and the success of our customers.
---
Dragon
Recent birth years: 1928, 1940, 1952, 1964, 1976, 1988, 2000, 2012, 2024
Dragons like Jean Paul Gaultier (born in 1952) are steadfast in their beliefs; that's how he captivated the fashion world by never giving up on his disruptive vision of beauty. Our vision and mission of improving product development goes beyond Techpacker. This is why we've also released special material like the How to Achieve Speed to Market handbook.
---
Snake
Recent birth years: 1917, 1929, 1941, 1953, 1965, 1977, 1989, 2001, 2013, and 2025
Snakes are enigmatic and wise. In 1989, Martin Margiela —who is indeed one the most enigmatic fashion designers out there— set a new paradigm for the fashion show as a public spectacle. Reviews were mixed, but the runway was never the same. Techpacker established a new paradigm for PLM and product development. We've also been tested and reviewed, but PLM has changed for good.
---
Horse
Recent birth years: 1930, 1942, 1954, 1966, 1978, 1990, 2002, 2014, and 2026
Horses are full of energy and big dreamers. Raf Simons (born in 1968) says that more than showing clothes, he wants to place past and future visions in today's world. At Techpacker we keep dreaming and growing every day: from 4, we're now a team of 10, we moved to a new HQ in Brooklyn and added a satellite office in New Delhi, India.
---
Goat
Recent birth years: 1931, 1943, 1955, 1967, 1979, 1991, 2003, 2015 and 2027
Goats like Coco Chanel are known to persevere through any difficulty. Despite her critics, Chanel built a world-famous fashion house. In this spirit, Techpacker strives on helping designers overcome the difficulties of product development; now with our PDF public links, sharing tech packs with manufacturers is practically hassle-free as there is no need to download or send them via email.
---
Monkey
Recent birth years: 1932, 1944, 1956, 1968, 1980, 1992, 2004, 2012 and 2028
1980 marked the beginning of a decade that birthed more fashion icons than any other. From Madonna's looks to Princess Diana's dresses, Boy George's eccentric style and Michael Jackson's Thriller video, the emblematic visual references that disrupted fashion forever are too many to count. This year we were so proud this to be featured by SASStock as one of the top growing SaaS startups disrupting Asian business.
---
Rooster
Recent birth years: 1933, 1945, 1957, 1969, 1981, 1993, 2005, 2017, and 2029
The controversial designer behind Balenciaga and Vetements, Demna Gvasalia (1981), is a bright, communicative and ambitious Rooster. Indeed, he makes his collections for both labels go viral as soon as they hit the catwalks. Our most shared blog post of the year was 2019 was Everything You need to know about garment Costing and pricing, shared 550 times.
---
Dog
Recent birth years: 1934, 1946, 1958, 1970, 1982, 1994, 2006, 2018
Designer Pierre Cardin (born in 1922) came from obscurity but very quickly became a top fashion designer and popular in social circles, as dogs usually are. This honest and loyal sign is good at helping others identify and change their bad habits. In that spirit, two amazing brands, 2XU & AIIZ decided to ditch their traditional PLM habits and embrace Techpacker to thrive in their businesses.
---
Rat
Recent birth years: 1948, 1960, 1972, 1984, 1996, 2008, and 2020
Rats are curious, skillful and they love to explore new ideas. The controversial John Galliano (born in 1960) is a great example of this. 2020 is going to be a Rat year full of new exciting developments and ideas. In the lead up to that, we hosted a panel about the Integration of Tech Pack Data with other Supply Chain Technologies.
---