Contents
To keep the product relevant in the market for as long as possible, design teams are adopting PLM solutions to track, control, and manage the growth of their product. Although many companies face multiple issues with PLM software, the thing is, PLM software is mostly used by large companies because many smaller brands find those systems expensive and complex. They require special training, and most importantly, it's quite an investment for smaller design teams. Since having a standardized PLM system is beneficial for teams of all sizes, we created a revolutionary PLM solution that can be specifically tailored to a company's needs, and it's free!
But first, let's dive into the details.
What is a Fashion PLM software?
Product Lifecycle Management (PLM) is an information management system that manages data during the development of the product from concept to manufacturing. The main purpose of the PLM solution is to provide a central place for managing the product lifecycle efficiently and cost-effectively. PLM tools are centered around the design, planning, testing, manufacturing, and marketing of the product. It also ensures good communication between departments and keeps everyone updated.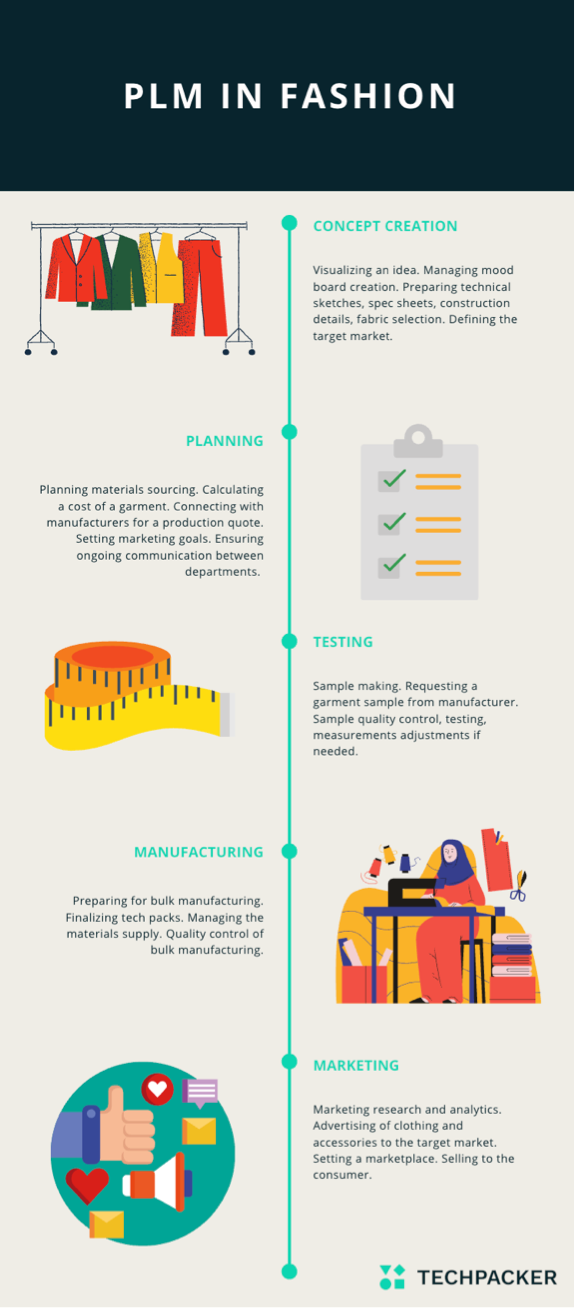 Why PLMs are important
In the fast-growing fashion business, PLMs are a must-have for small and large teams alike. Here are 4 reasons why growing fashion teams should now embrace cloud PLM:
1) The need for speed in fashion demands it.
Fashion brands are expected to continuously reinvent products and speed up time-to-market. To thrive in today's retail landscape, a faster and more agile production method is needed. PLM shows brands a holistic view of the entire product development process in one snapshot. It also provides brands granular control over every part of product design and supplies real-life uniform data across the entire supply chain.
2) Some cloud PLM work like regular apps now.
Successfully implementing new tech in the team has a lot to do with the day-to-day feel.
3) Mistakes cost too much for brands.
Issues in product design due to manual errors are all too common. It often happens often when the team is sticking to the old-fashioned way of managing and communicating product data: Excel + Email. Every time someone enters data into a spreadsheet, there is a possibility of a typo, overwriting key data, miscopying something, or putting data in the wrong place. Especially for small fashion brands - where resources are tight, this kind of inefficiency can make a business go broke. A cloud PLM drastically reduces the number of human errors. Not only does it make product data accessible, but it also automates the process of communicating, sharing, and organizing data.
4) Implementing a PLM now lays the groundwork for future growth
Every fashion brand needs to keep track of many details in the development phase including design and sketches, measurements, materials, costing, comments, and approvals. And when the brand is growing? That means more collections, more suppliers, more team members...more data. Keeping track of everything in a spreadsheet can quickly become a nightmare. Design teams will eventually hit a point where it's no longer possible to manage everything with Excel and Email. A cloud PLM like Techpacker lays the foundation for future growth by giving your team: real-time communication, a shared version of the project across the entire supply chain, and the power to automate manual tasks to increase efficiency and reduce errors.
Drawbacks of the current PLM systems
PLM is extremely important, especially for bigger teams where multiple team members are managing the product development ecosystem. Therefore it is important for it to be simple to learn and affordable.
Historically, PLMs were created for engineers to manage revisions of CAD. But as the entire organization started to adopt the PLM systems, the user base became more diverse. Professionals in non-engineer fields found these systems harder to understand and utilize.
Another drawback is cost. Fashion brands spend thousands of dollars to buy PLM software licenses. That's not even including implementation fees, integration fees, data migration costs, etc. At the same time, companies that adopted new software were not only embracing changing processes but organizational structures as well, which they were not ready for.
Without a doubt, fashion product development has been in need of a better PLM solution.
Integrate industry-leading software right into Techpacker
Our mission is to make product lifecycle management easy and affordable for you. Instead of creating brand-new complex software, we are bringing industry-leading software right into your Techpacker workspace. The result is your own PLM system tailored specifically to your company's needs.
The major points that make it so great are: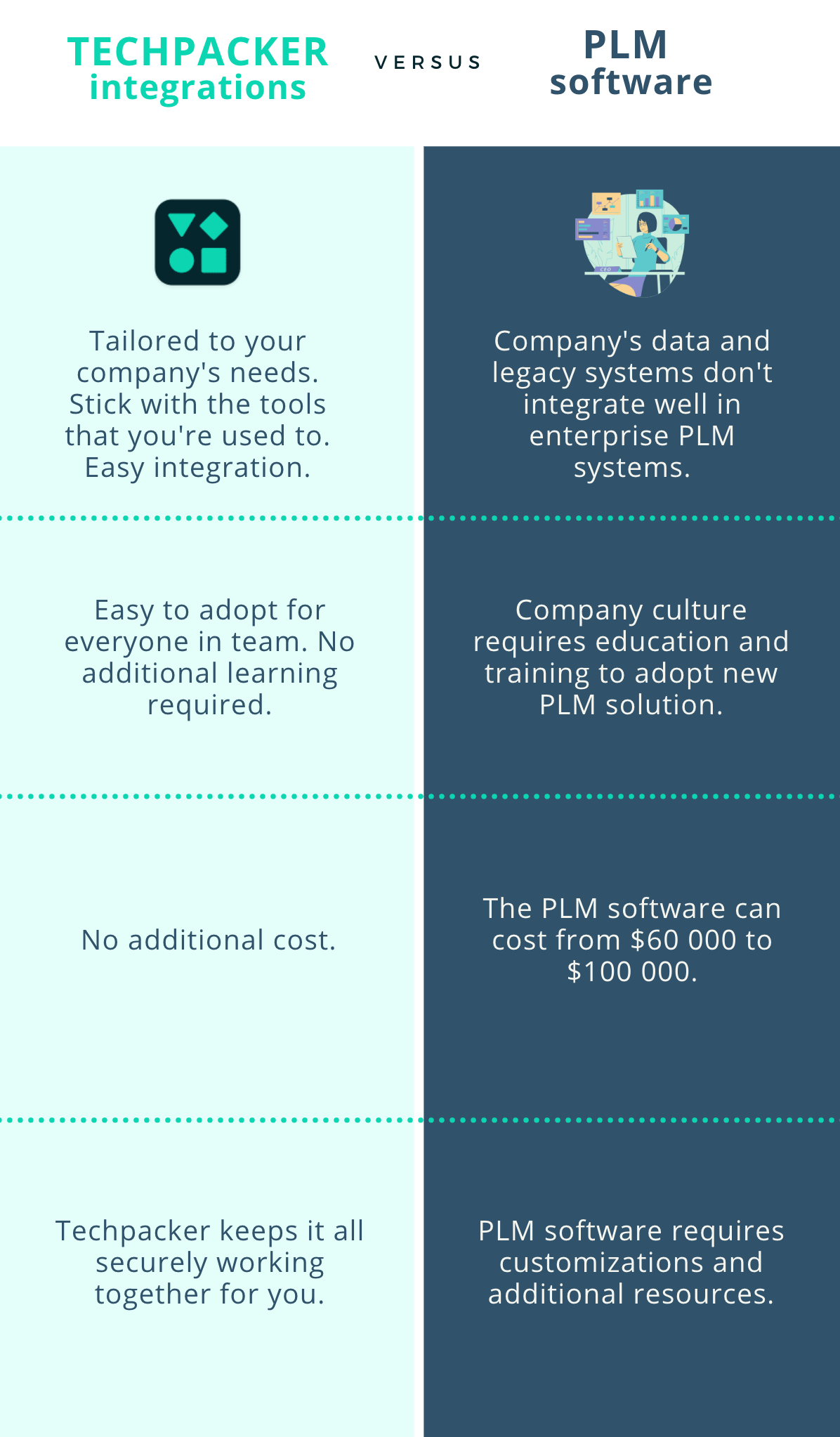 By using our new integrations tool your design elements will be displayed visually, integrating existing technical data will be effortless, you will be able to perform lightning-fast updates on your tech packs, and finally, communication between departments will be laser-focused.

Let us walk you through some examples.
Excel Spreadsheets
Seamlessly integrate Excel Spreadsheets
There was a time when every designer used Excel to create tech packs. And many design teams are still using them. There is no doubt that your Excel spreadsheets can carry a lot of important technical data. In other words, you've got a lot invested in Excel. Grading sheets, costing tables, bills of materials, you name it. A lot of that data can be reused to build new tech packs. Making the switch to a PLM solution can be daunting and time-consuming if you have to learn how to use the new system.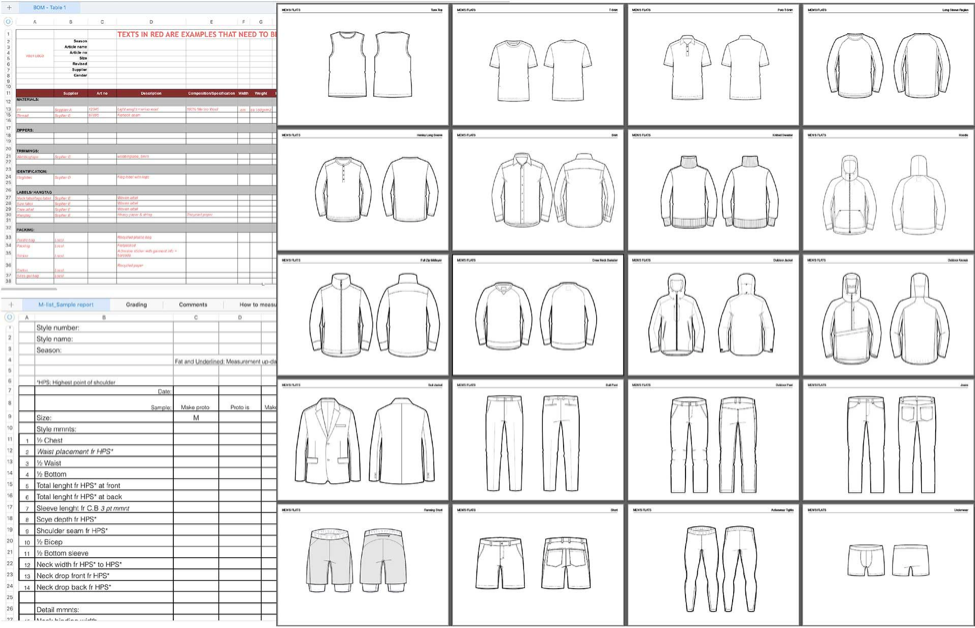 With Techpacker's Excel integration, you can easily transfer your design files and edit them from there. It's especially helpful when working with the costing department. Simply transfer your Excel costing info to your tech pack, edit, and reuse it at any time when needed.
Excel spreadsheets work great for many things but they are static. Tech packs in Excel are spread out across different files and folders. Communication and comments are buried deep in emails and multiple spreadsheets, and a lot of time is spent copy-pasting.
Techpacker takes a different approach. You can view your entire product development at a glance. It has a similar tabular structure as Excel, where data is laid out in rows and columns but is far more flexible and visual. You don't have to switch between tabs to double-check or edit different sections in your tech pack.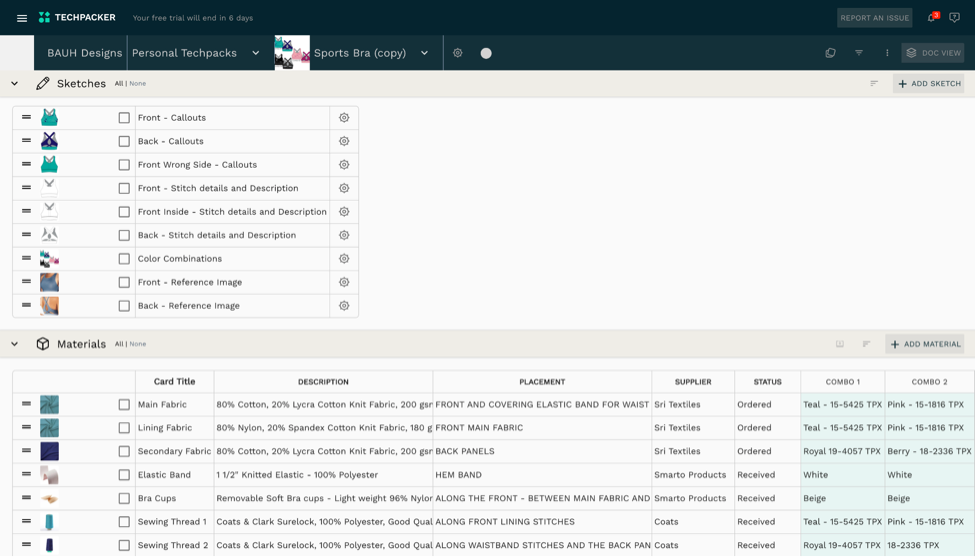 And the best thing is, you can collaborate with your team directly by adding comments and tagging each other: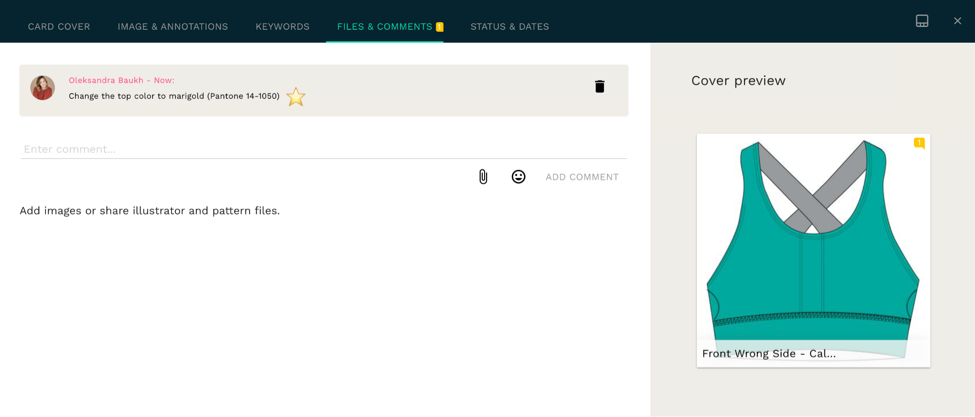 Adobe Illustrator
Create tech packs in Adobe Illustrator
Fashion designers use Adobe Illustrator primarily to draw technical sketches. After the drawings are complete, designers download them in a specific format and add them to their tech pack. And if any edit is needed? They go back to Illustrator, edit the sketches, download them again, and upload them to the tech pack...again. Lots of back and forth!
Can you imagine how much time can be saved if there was no need to switch between the platforms for a single edit?
With our Adobe Illustrator integration, you will not only sync every edit without the need to transfer files every time. You will also be able to build tech packs right in Illustrator!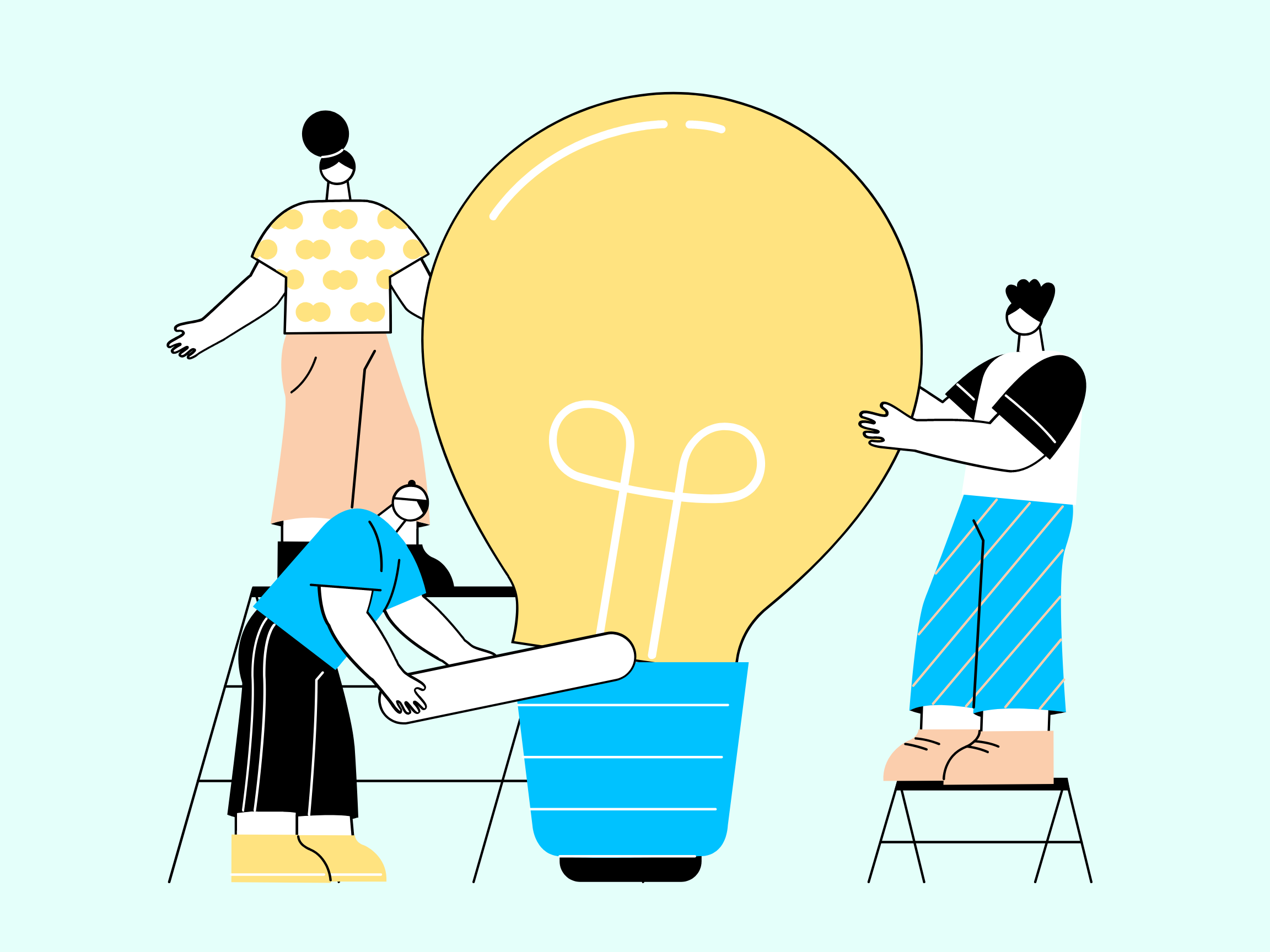 Shopify
Bring products to market faster
If you are already selling your products through Shopify you definitely know how long it takes to create product listings with photos, sizing info, and description. With Techpacker's Shopify integration, you can transfer all the essential info to your online store straight from Techpacker.
In a few easy steps, you can integrate your design sketches or photos, sizing options, and descriptions of the garment from your tech packs to your Shopify marketplace. This is especially helpful for brands with bigger inventories. You won't need to manually export and format files between platforms anymore. And the best thing - Techpacker will synchronize all edits for you. If anything changes in your tech pack, your Shopify listings will automatically reflect that.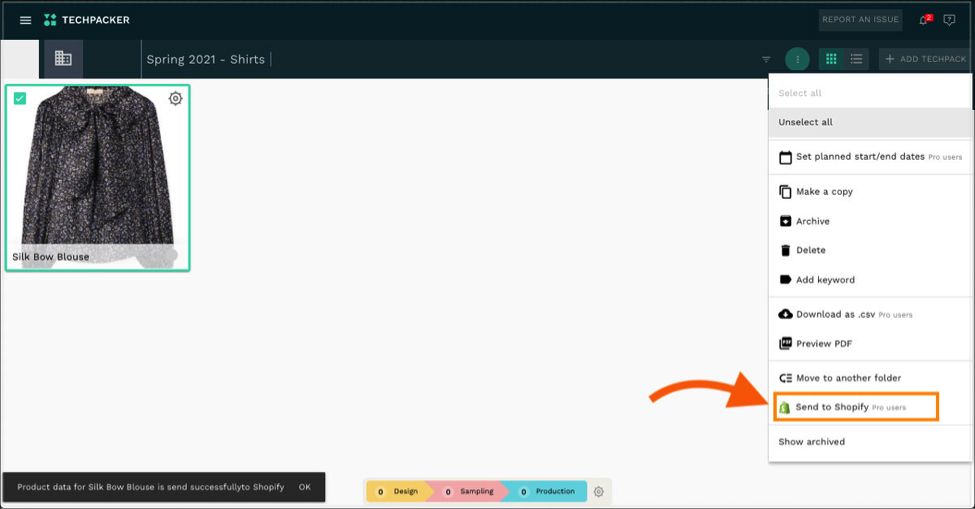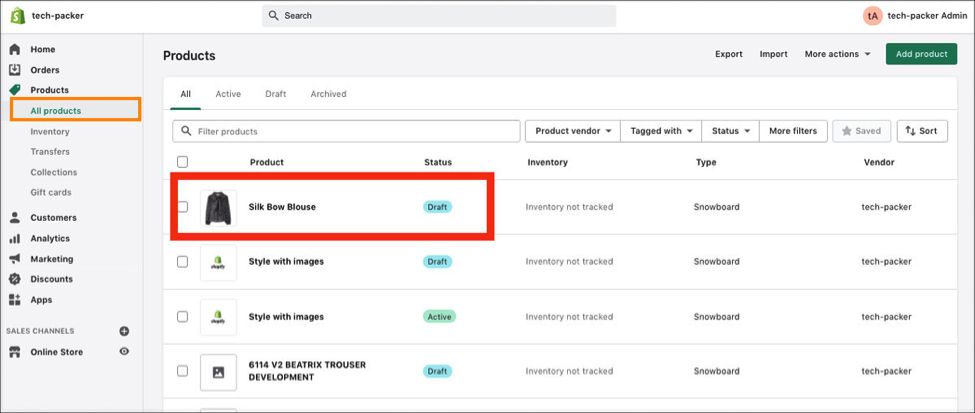 Other perks to enjoy using Techpacker's extension for Shopify are:

Conducting presales. If you are a brand that is testing the waters in the retail marketplace this one's for you. You can conduct pre-sales for your customers before investing in bulk production. This feature can also be valuable for sustainable brands whose goal is to reduce waste. By providing the pre-sale option for their customers, businesses can produce on demand. Using the Shopify integration, easily transfer your product info to your online store and start selling instantly.

Create line sheets for your stockists. Selling wholesale? You will definitely benefit from this extension. There is no longer a need to create line sheets from scratch. Simply transfer your product's info to your Shopify website. And share with your stockist.
Dropbox
Keep your files secure with Dropbox
Looking for a solution to centralize your work data and make sure you never lose a single file? Take advantage of our Dropbox extension. In a few clicks transfer your tech packs to your Dropbox folders. Safely store your design assets in a single place, and organize and recover the needed files at any time.

Once your project is completed, securely share it. Complete it with password protection and an expiration date. Make sure your manufacturer receives them with delivery confirmation.
And much more
Connect your Techpacker to 40+ professional apps in your field. Select only the ones you need. Build your own PLM solution tailored to your company's needs. Be the first to try our integration tool by subscribing here.
---
Interested in building a PLM solution tailored to your company's needs?
Leave us your info below and someone from our team will reach out for a free consultation call.