Contents
Amanda Rango is an accomplished fashion designer and owner of ARD, a fashion consulting firm that helps its clients optimize and streamline product development.
"I went to Columbus College of Art & Design. I have done a myriad of things within design and product development before I started my fashion design consulting business. We provide our services to brands of all sizes, from large corporate clients to small startups. I have a team of amazing women who do design, product development, and fit. "-says Amanda.
ARD offers end-to-end product development to its clients. They do design development, competitive and aspirational research, trend and color, AI sketching, collection building, technical design services, and fabric development. ARD also helps its clients with vendor communication and onboarding.
"We look for clients that shares our core values. Those values are to delight the customer, nurture creativity, and foster community. In Columbus and throughout Ohio, we have direct access to quite a few educational institutions, and we love to give back to the community and nurture the up and coming creatives," says Amanda.
---
Increasing productivity and accuracy in communicating with vendors
Before switching to Techpacker, the ARD team asked by clients to usin Illustrator to make tech packs and Excel to build spec sheets. Once created, they were uploaded to the server and shared with the vendors.
Having to upload each of those documents for the same style separately and expecting the vendor to find the product development specs and tech pack with all the design essentials, sketches, and Bill of Materials was a very challenging situation.
"Efficiency was the biggest obstacle for us," says Amanda.
On Techpacker, ARD is now able to create one easy-to-read tech pack document that hosts all the essential information, including sketches, spec sheets, bills of materials, and costings. With the click of a button, it can be shared with the vendors. The tech pack goes to their email and also includes a PDF. It gives the vendor the flexibility to open it in the system or save the PDF for their record.

"It just really has increased our team's productivity and accuracy in communicating with vendors. I simply setup each sourcing partner or factory with their email addresses into our Techpacker manufacturer database. Once we're ready to nominate the factory for each style, it's very easy to "save & send" the tech pack to each factory with their pre-saved contacts. You simply add them as a recipient and it sends the email and PDF directly to their inbox. And our vendors receive a cohesive package with all the design info. We've also just worked with the Techpacker team to develop the ability to send multiple tech packs at one time, which has helped increase efficiency when batching out multiple tech packs to a factory. " -says Amanda.
---
Helping clients establish fit consistency in their collections
Many brands reach out to fashion consulting firms like ARD to help them establish fit consistency in their collections. That involves storing a great amount of design data for each client and reusing the measurement specifications as needed.
"It is very important to have our spec sheets organized and available at our fingertips," says Amanda.
Having two separate platforms for building tech packs made the process tedious and prone to mistakes. On Excel, the ARD design team had to copy the entire spec sheets into new tech packs, then delete what they didn't need and add new measurements for a new garment, format again, and upload to the server to share with vendors. Too many steps caused many mistakes.
"On Techpacker we have the ability to quickly build libraries for fabrics, trims, and size ranges and literally be able to drag those into a tech pack. Housing specs in one spot and easily copying them helps us with the elimination of human error. "-says Amanda.
Techpacker's libraries are flexible, as you don't need to copy the entire spec sheets. You can select only the measurements you need and simply drag and drop them into a new tech pack.
---
Streamlining the sample-making process
Once the tech pack is created and shared with the vendor, the sample-making process begins. On average, it takes about 3-5 sample-making rounds before the final prototype is approved. Every sample-making round involves continuous communication between the designer and the factory. The designer receives the sample, provides their comments and expected changes to the factory, and the factory produces another sample.
Usually, all this correspondence is done via email. Keeping track of sample comments for multiple clients and having them spread out between numerous emails is challenging. It takes too long to locate each comment and to keep each correspondence organized.
"On Techpacker, we communicate all of our design comments for each fit in addition to the fit comments. So on the card in the tech pack, we are able to record the design comments for fit. That actually saves us a ton of time on back and forth emails with vendors. And it also keeps a very accurate record per style. That is actually a new item that we added to how we utilize tech packs. And it has been fantastic because as soon as we get a second or a third fit or a PP sample, we can go into the tech pack, we can read our comments from the last fit, and then we can comment on the new sample, "says Amanda.
Based on the measurements of the received samples, ARD keeps track of the fit changes by utilizing Techpacker's Fit section.
---
Maintaining security and confidentiality for each client
Often, fashion consulting firms will sign an NDA agreement with their clients in order to offer protection for their design ideas. ARD is working with multiple brands of all sizes, from startups to large corporations. So they manage a huge amount of design data on a daily basis. This design data needs to be well organized and easily accessible to their clients.
Before, ARD used a third-party server to download their tech packs or shared them directly with their clients. Formatting a new tech pack each time they wanted to share it or upload it to the server was a waste of precious time.
"Utilizing Techpacker for multiple clients is seamless. I setup folders for each client per season. Between each client folder you can manage who has accessibility in order to protect brand integrity and confidentiality." - says Amanda.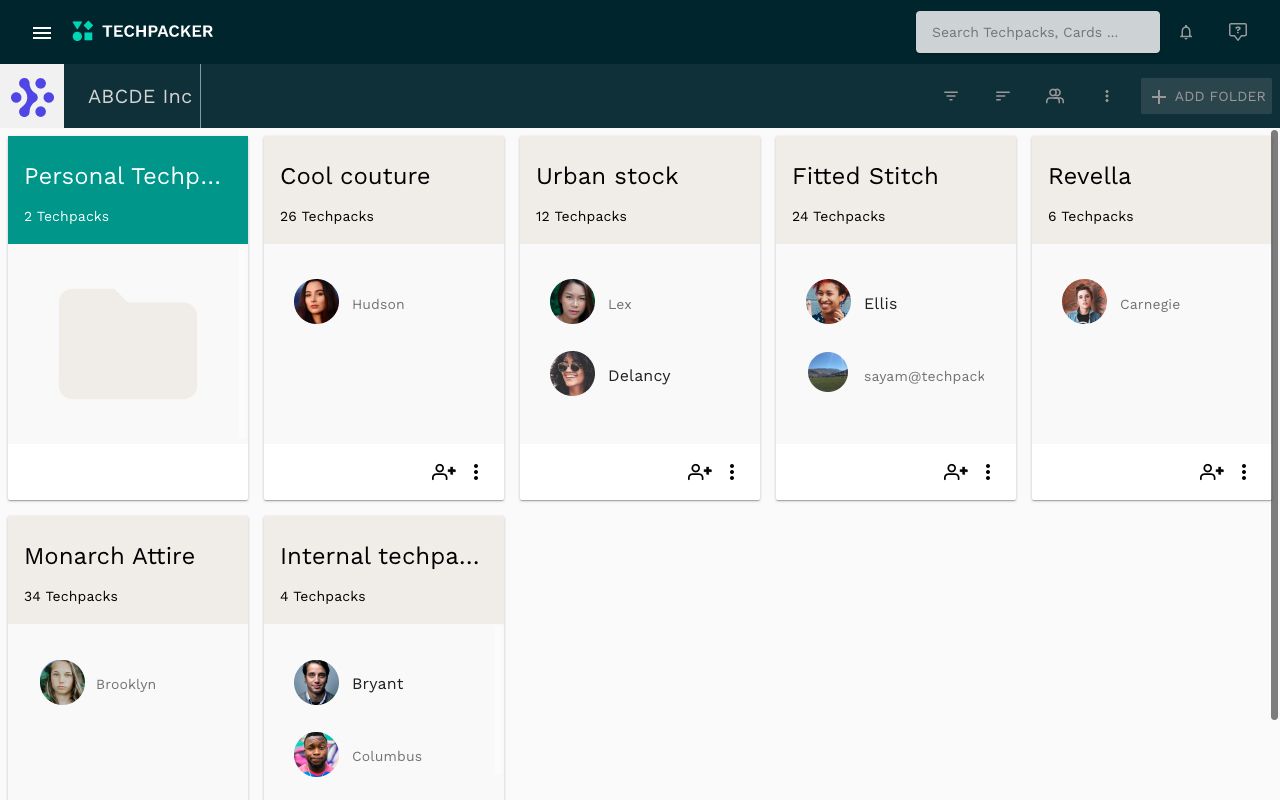 ---
Improving the team's efficiency
Before, the ARD design team didn't have a common place to brainstorm and collaborate. Teamwork was disorganized and spread out across multiple platforms. There was a lack of effective collaboration between team members. For example, if the technical design team needed to create a close-up technical sketch, they had to request an AI file from the design team and do that manually.
With Techpacker, ARD now has a place to collaborate, create, and store their design assets. They can communicate in real time on Techpacker and easily keep track of each other's progress. And by utilizing the Techpacker's Adobe Illustrator extension, a technical designer can easily access the artwork files when needed without requesting and waiting for them.
"We can now edit sketches right from Techpacker and update it live using the Adobe Illustrator extension. Now if the technical designer needs a more zoomed-in technical sketch, they have access to the Illustrator file straight from Techpacker. "-says Amanda.
With the help of Techpacker, design teams can store all their data on a single platform and easily collaborate together as well as track each other's progress. Unlike larger PLM systems, Techpacker is easy to use and doesn't require any special training.
"Techpacker was suggested to me by a friend who is also in the industry on the tech design side. And as soon as I started looking into it, I knew it was going to be a benefit for us. I have a lot of experience with PLM systems. The larger product development systems. And I would say that Techpacker has been a breath of fresh air. It is very user-friendly, doesn't have a lot of learning curve, and it has been a God-send for us to save all of our information and to share it with vendors in one cohesive package."-says Amanda.
---
---
Learn how Techpacker can optimize your product development workflow?
Manage your product development to production workflow with factories hassle-free. Try Techpacker.