Contents
The right PLM solution will provide your team with a central place for managing the product lifecycle efficiently and cost-effectively. Choosing from a variety of PLM systems entails a careful decision-making process and includes many aspects like ease of use, features, pricing, and your own business goals. The ultimate goal in this journey is not necessarily to choose the most advanced PLM, but a solution that best suits your fashion business needs and your budget.
---
7 factors to consider when choosing the right fashion PLM system
There are many different PLM software solutions to choose from. Some are more affordable than others, some work better for growing businesses while others focus on small teams, some are easier to use while others require special training, etc.
As the fashion market grows and evolves fast, even small fashion brands are now embracing PLM solutions to make their product development more efficient.
Based on our product development expertise, we came up with seven key factors to consider when choosing the right PLM for your small fashion business.
Ease of use
If you are shopping for your first PLM solution, you are most likely looking for an easy switch from Excel. Chances are you are a brand that wants to avoid the pain of using multiple platforms to manage your product development. You just need a central place for the entire team to design, develop, and brainstorm, an easy data management system. Ideally, a platform that is visual and allows a user to log in and get a sense of how the basics work. You just need a basic set of features like pre-set tech pack templates, a measurements table with built-in grading, and the ability to format the tech pack into a PDF and easily share it with the manufacturers.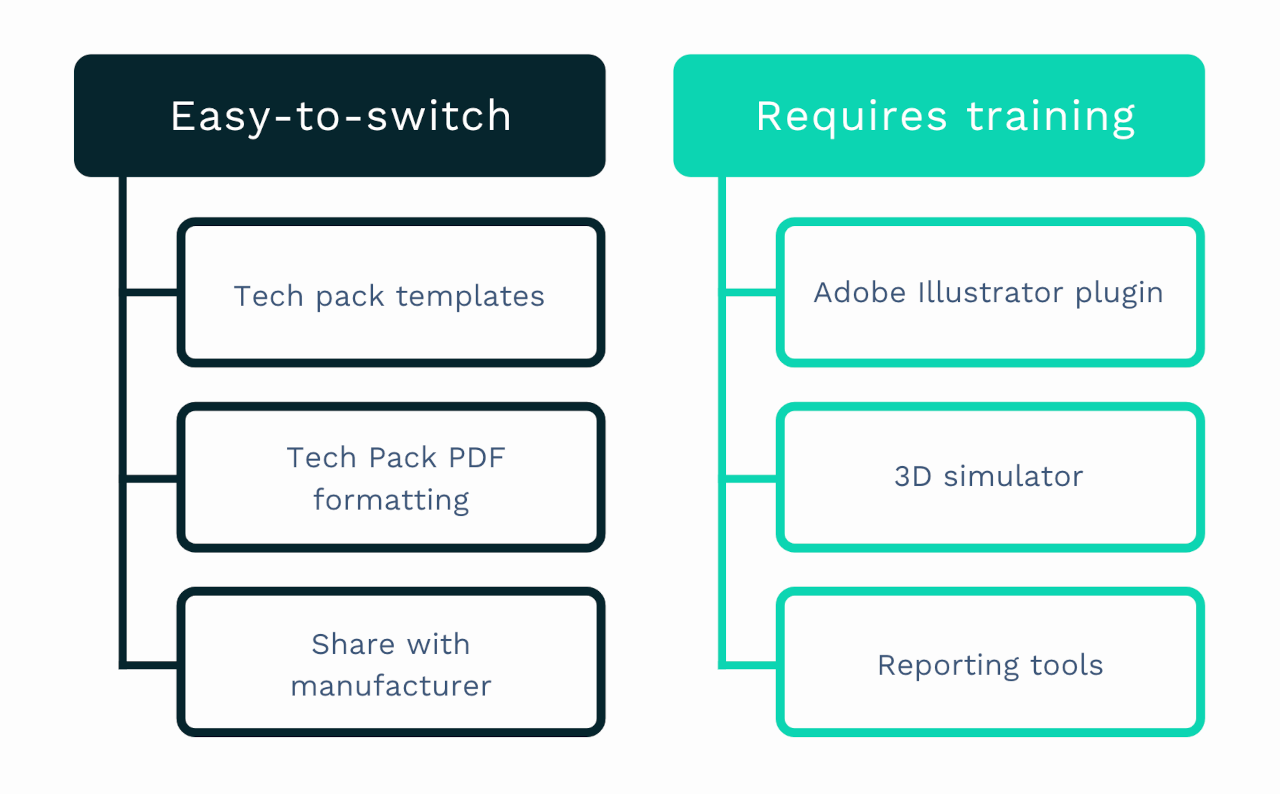 If you have experience with PLM solutions and are looking for more advanced features, your team might require some special training and extra time to adjust. For example, a  PLM platform that has integration with 3D tools requires knowledge of 3D prototyping or hiring a 3D designer.
Before you begin your selection process, identify how much time you have to adopt a new solution and onboard the entire team. Ask yourself the following questions:
Are you looking for a quick switch or do you have the resources to invest in training?
Are you looking for a simple data management tool or for an advanced PLM platform?
The cost of implementation
Before, only large corporations could afford to adopt PLM solutions. Now, there are plenty of options available for small to medium-sized teams. Some of them offer a free trial or a starter pack for "essentials".
You definitely want to get a taste of the new PLM software before investing in it. So, doing a trial is a great option.
The cost of a fashion PLM depends on what features it offers. The basic PLM for fashion should include tools needed to create factory-ready tech packs and have integration options so you can use platforms like Adobe Illustrator in a bundle. Having a communication channel within a platform is a plus, so you can keep all product development and sample-making comments well organized and the team's communication can stay up-to-date.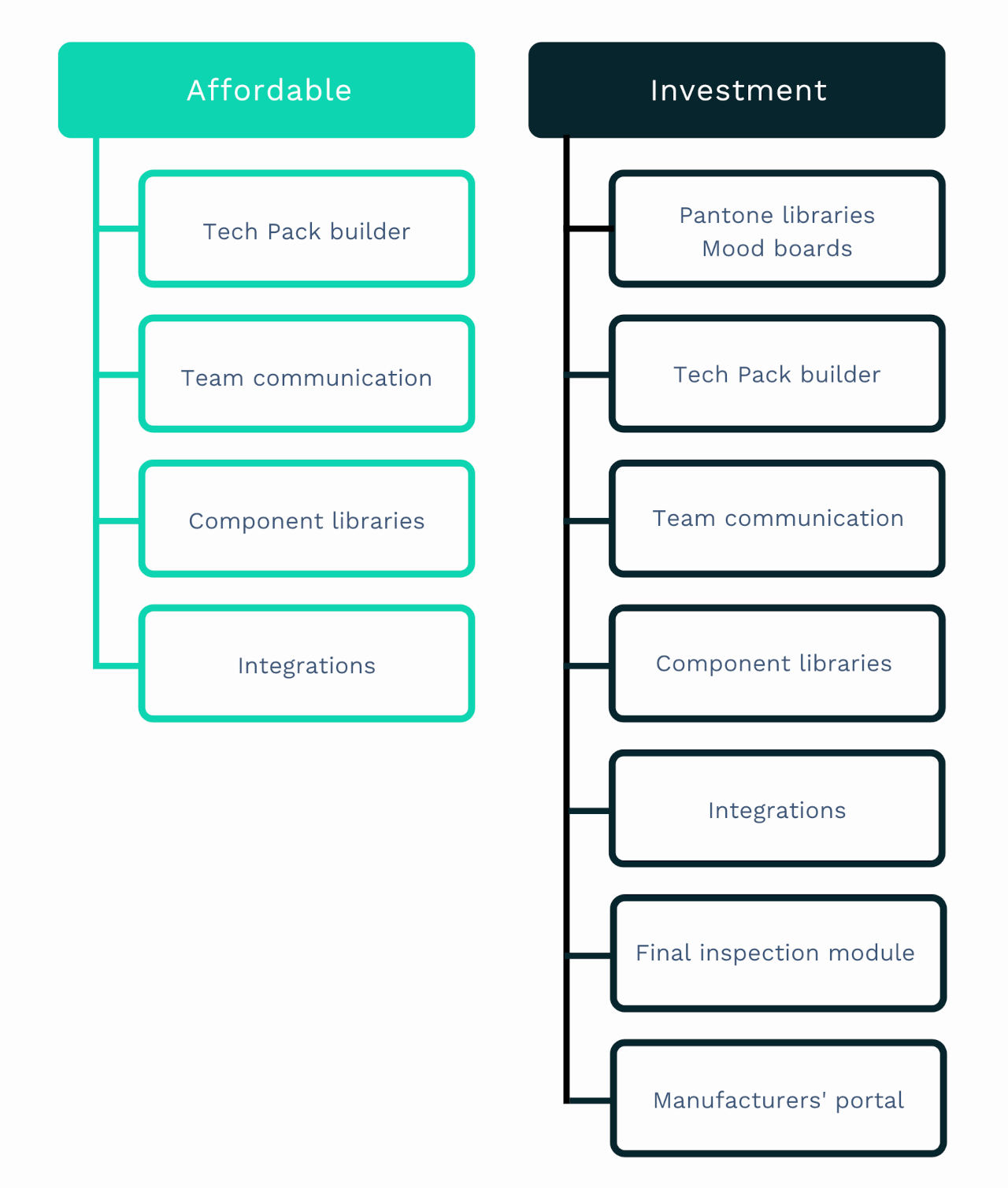 Some PLM systems offer extras like Pantone libraries, tools to create inspirational mood boards, flexible calendars to manage deadlines and meet market windows, Final Inspection Modules to set acceptable quality levels and evaluation points for suppliers, etc. Obviously, such PLM systems are higher in price.
Tip: decide on the budget for the new platform and make a list of what features you would like your PLM to have.
Tech packs
Tech pack is a blueprint of every fashion product. And the ultimate goal of every fashion PLM is to make the process of building tech packs fast and easy. A great PLM has to also act as organized storage for all your design assets. A technical designer should be able to easily locate a measurement table from the past season, for example, and reuse it in future collections.
Some PLMs make it simple by providing the ability to build component libraries that can be easily re-used to build new tech packs. That also helps to keep the sizing consistent throughout collections and avoid fluctuations between measurements.
In-built product annotation tools also come in handy when you need to quickly annotate your sketches to clarify product construction, without the need to waste time switching to Illustrator.
PLMs with in-built formulas and automated grading help build measurement tables fast and avoid unnecessary mistakes.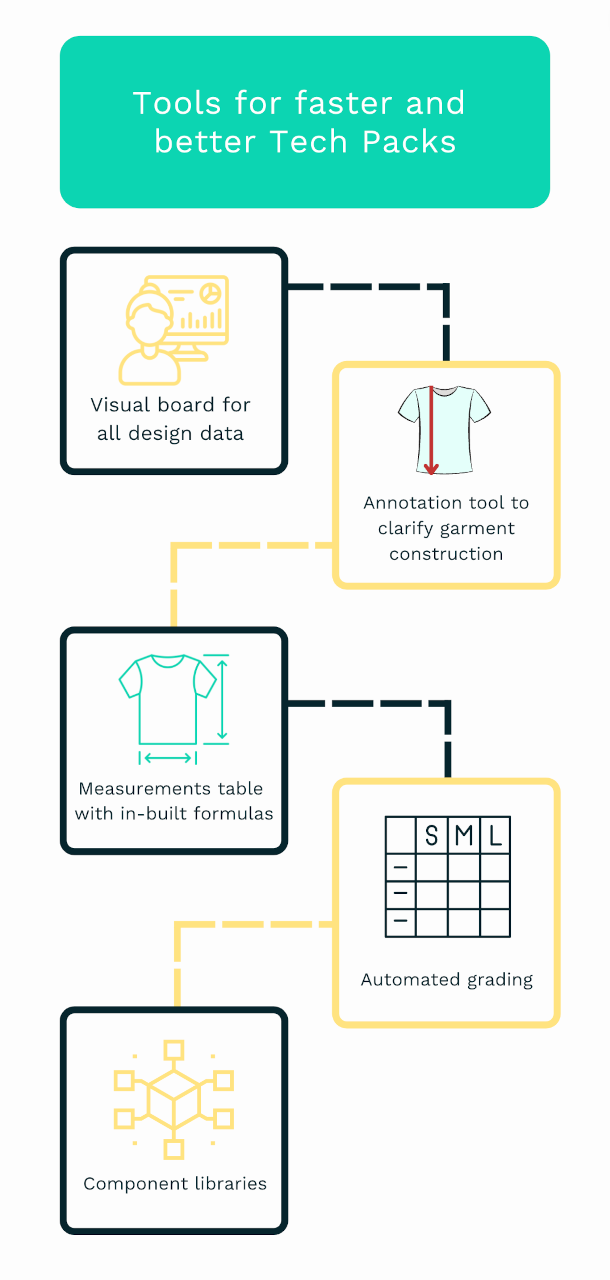 Reporting
In the fashion business, reporting tools are very important. For example, a brand needs to know the material consumption and how much needs to be ordered. Or how many items per style are sold each season and what needs to be restocked. Ideally, the PLM system has to be able to report on any data point that you want to collect.
For brands with larger inventories, the whole reporting process becomes even more complicated. The ability to quickly update the status of every material, without going into each tech pack file is a must. Otherwise, it takes too long and causes many mistakes.
Make a list of reporting features that your brand needs. For example:
Materials consumption per garment
In-stock and out-of-stock materials
Sales reports for demand planning
Some PLM systems also offer tools to track the progress of your product development. For every stage of your tech pack, you can set start and end dates. And track the completion progress in percentages to keep your team members up to date on the state of the tech packs.
Such PLM systems also offer a trackable log of each change made to these planned start and end dates. The activity log will record which team member added or amended the planned dates, the time, and the date the change was made.
Tip: make a list of things that you would like to monitor while your team is working on the product.
For example:
Planned start and end dates for each stage of product development
Progress of each stage in percentage
Activity log
Manufacturer's onboarding
Sample-making and production are two important stages of every product development process. While many PLMs offer an option to share tech packs directly with the manufacturers, some provide a channel to directly communicate with factories or even an option to onboard them.
While not many manufacturers are ready to invest in adopting PLM solutions for their business, PLMs that provide an opportunity to keep correspondence with the factory in one place is gaining popularity. We can all agree that having production comments spread out throughout emails is a mess. While managing multiple tech packs and having hundreds of garments in production, it is almost impossible to locate a specific comment or status update about each sample in the email thread.
So many businesses who are shopping for PLM software, are looking for a solution that keeps correspondence with manufacturers organized and in one designated place.
Tip: if you are looking for a solution that provides an option to onboard manufacturers, look for a PLM system that has a centralized vendor portal.
Automation and integration
Automation and integration have been proven to increase a team's efficiency. A good selection of third-party integrations helps the design team be more productive as well as cover the functions that many PLMs don't have, like communication channels, graphic design plugins, or point-of-sale systems.
Integrations can make the onboarding process a lot easier. For example, with Google Sheets integration, you can transfer all your existing data from your spreadsheets to your new PLM system, without the need to copy and paste it.
If you are using Adobe Illustrator to draw flat sketches, a PLM that has integration with this platform will save you a ton of time. You will be able to easily transfer and edit technical sketches without leaving your Illustrator workspace. Not even mentioning how much time you will save on formatting!
There are other essential integrations for fashion businesses, like Shopify for e-commerce. You will be able to create listings right from your PLM platform. Slack integration for team communication, Repsketch for fashion flat templates, Dropbox for secure data storage, and many more.
The great thing about integrations is that you get to build your own custom PLM solution. You only choose the ones you need, tailored to your business needs.
Security
PLM systems are often adopted by fashion consulting firms that manage multiple clients on a daily basis. These consulting firms work with a great amount of fashion data. And they need it to be not just well-organized, but also securely accessible for their clients.
As a solution to this, some PLM platforms allow design teams to create separate folders for each client. These folders can be accessed only by those you give permission to. Some PLM systems also offer view-only options. So your clients can preview the tech pack without having the ability to edit anything in it. Similarly, you can give certain permissions to each team member. For example, you can select to grant different types of roles and permissions. Like setting an admin, editor, or a person who manages the costings or sourcing only.
When switching to a new PLM platform, you want to make sure that all your design data will be safe. Check what security standards the new system sticks to. You also need to be able to access your work files from anywhere, anytime. A PLM system should offer data backup and recovery, and data encryption for security.
---
Top-rated PLMs to consider for your business
The fashion market offers many PLM options to choose from, and we understand that it can be challenging to decide where to start. Below are three PLM solutions that represent a variety of price points and features. For the full list of fashion PLM systems, check out our post about the best PLM software for fashion in 2023.
Techpacker
Techpacker is a powerful fashion project management tool built around tech pack development, which serves as a single source of truth for designers and manufacturers alike. It empowers modern design teams, particularly those operating remotely, with a versatile PLM solution.
Techpacker includes all key PLM capabilities such as quick design tools, integrations, component libraries, reports, communication, and custom sections. Its dedicated manufacturers' hub, embraced by factories worldwide, provides a platform for brands to effortlessly onboard their preferred vendors.
Instead of creating brand-new complex software, Techpacker is bringing industry-leading software right into your Techpacker workspace. The result is your own PLM system tailored specifically to your company's needs. Connect Techpacker to your Adobe Illustrator to easily adjust sketches, seamlessly integrate Excel Spreadsheets, instantly create Shopify listings using your tech packs or securely keep your files with Dropbox.
Techpacker is very affordable for small teams, the basic plan starts at $45 per user per month.
WFX PLM software
WFX PLM software is an end-to-end product lifecycle software. It enables easy collaboration among internal teams and vendors. WFX PLM allows companies to centralize all product development information and provides inbuilt tools to share tech packs, costings, RQFs, Sample Requests, and Purchase Orders.
WFX offers integrations with industry-leading software, reporting tools for collection planning and a centralized vendor portal.
Centric
Centric Software is a PLM solution created for a variety of industries. Centric PLM covers the whole product lifecycle process and helps brands increase speed to market, drive margin improvement, enhance global collaboration, and ensure compliance across a global supply chain.
Centric software provides tools for merchandise planning, tech packs, materials libraries, flexible calendars, and the final inspection module. This system is great for large inventories and multiple product styles.
---
To sum up
Before selecting a PLM solution, make a list of the essential features you'll need. It will vary for every business and will depend on your team's size and your goals.
Sign up for a free trial to get a taste of a new platform before investing in it. To maximize the effectiveness of a free trial, ask one or two team members from each department to participate in the free trial. Gather feedback from your end-users.
Once the new platform is selected, start the implementation process. It is essential to have a designated person or team whose job it is to ensure the PLM is working as expected and is adopted across the team. Apart from that, getting constant feedback from all users is important. It will help determine what features they use most, how much additional training they will need, and other essential data points.