Contents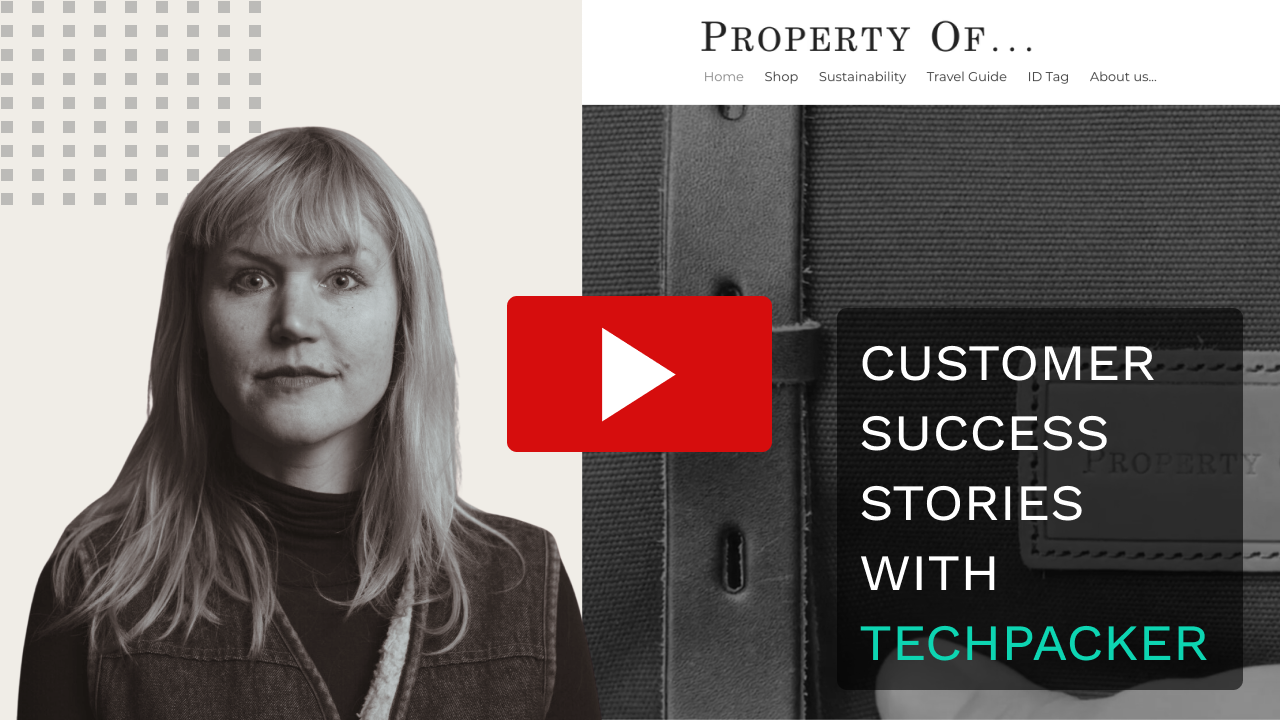 Mahra works as a designer and production coordinator for the Dutch company ThePropertyOf, which sells luggage. Mahra has almost 20 years of experience working in the fashion industry. She loves working in the fashion sector because of the global connections she makes and the satisfaction she gets from creating luxury goods for happy clients.
Mahra is thrilled to be working at ThePropertyOf because they have similar ideals. The focus of the travel gear company is on customer service; they want to be as environmentally friendly as they can while building a worldwide community.
During her career as a fashion designer and product coordinator, Mahra has experienced a variety of difficulties in developing new items and interacting with suppliers. We asked Mara to elaborate on these issues and how Techpacker assisted in finding solutions.
---
Materials management
Travel gear companies like ThePropertyOf manage a wide range of materials and interact with multiple suppliers on a regular basis. It is critical that they have all sourcing information structured, easily modifiable, and at their fingertips.
Mahra's use of Illustrator and Dropbox to organize design data did not provide her with a clear picture of materials management. There was no efficient method to keep track of all material details such as linings, hardware, and trims. It became far more difficult to share them with a manufacturer, or to change material selections as needed.
Mahra is now utilizing Techpacker's libraries to create a materials overview. She first produces a Bill of Materials for each product for herself as a visual reference, and then she distributes various BOM tables with suppliers to discuss different materials, textiles, and requirements.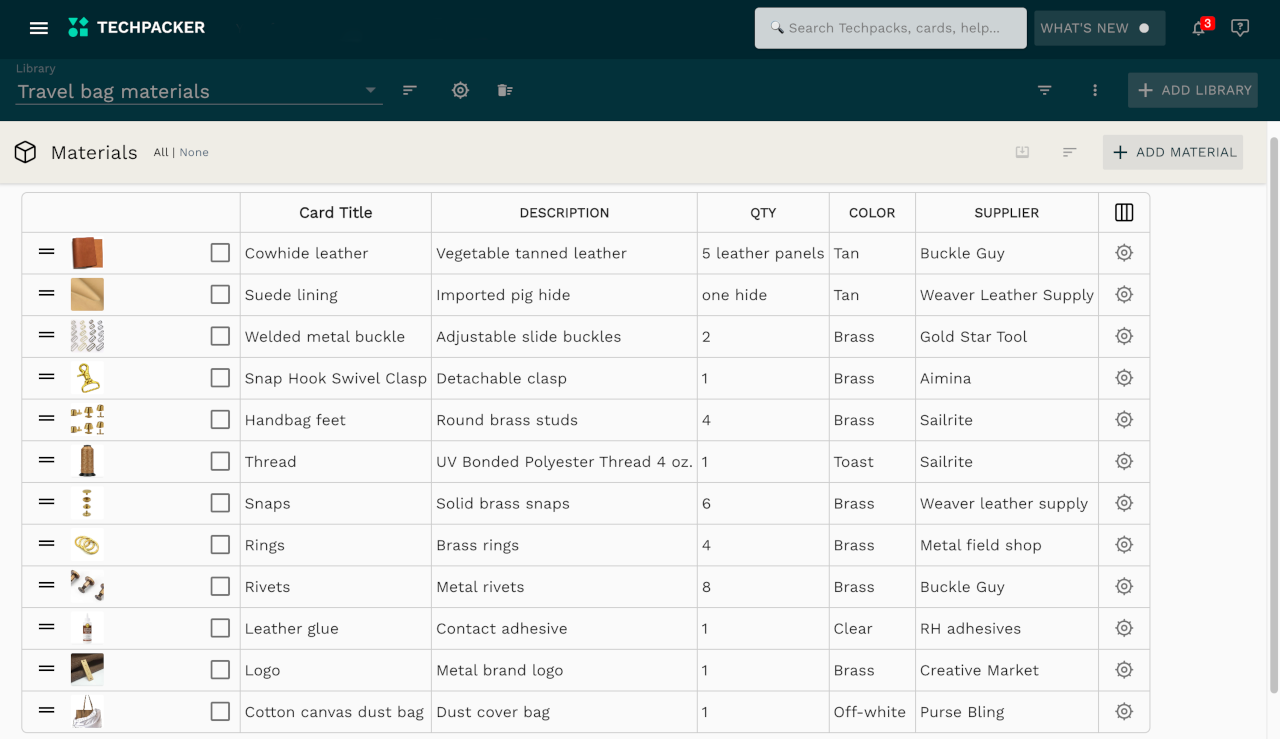 This is especially useful when the brand begins working with a new factory and all of the data must be properly communicated. Techpacker's libraries are visual and simple to customize. Mahra can swiftly interchange cards to upgrade or downgrade materials, as well as delete or archive those that are no longer needed.
"Techpacker's libraries really improve our efficiency! They can be easily created, altered as necessary, and immediately shared in PDF format with our vendors. For our suppliers, they assist in developing a complete grasp of all the materials contained in a bag or a product. So that each of us may decide whether to upgrade or downgrade specific materials based on price and availability." - says Mahra.
💡
Learn how to create and use Techpacker libraries
here
.
---
Clear communication with suppliers
ThePropertyOf works with a variety of international providers. Global sourcing is used to get the many components of a bag, including leather, cotton canvas, hardware, and trims.
The process of manufacture and design is overseen by Mahra. Therefore, it is crucial for Mahra to have control over a variety of suppliers that offer materials of different quality. There were no effective ways to arrange the information by manufacturers and then share the list of components with particular suppliers when she used Dropbox for all of her data storage.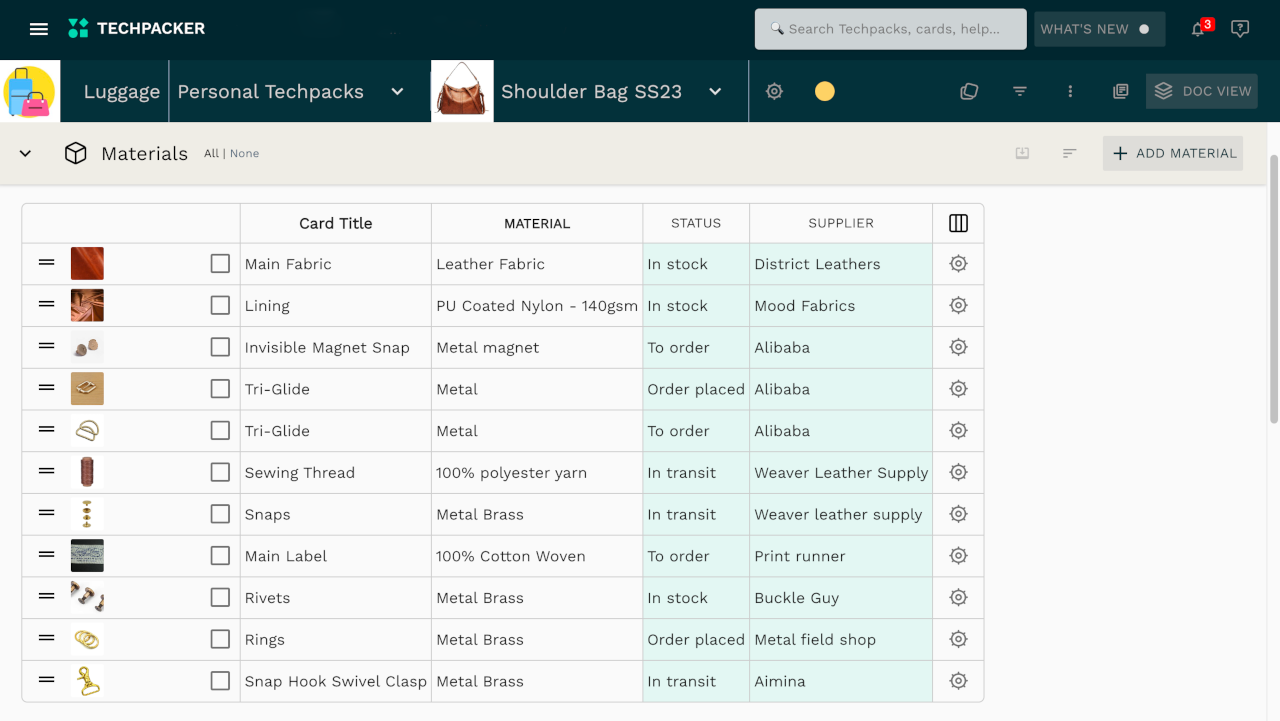 "In Techpacker, I can see a list of both suppliers as well as the specs for the materials used in the design. Techpacker's Materials Tables are my go-to method for organizing files before sharing them with manufacturers. It enables me to own the process and manage it in-house to ensure that the quality meets our expectations." - shares Mahra.
💡
Learn how to create Bill of Materials
here
.
---
Design optimization and quick updates
Mahra, like many other fashion designers, creates technical flat sketches in Adobe Illustrator. Mahra had to save her sketches in Dropbox folders before moving to Techpacker. Very often, design sketches in the fashion industry go through numerous variations before the product is finished. Mahra had to go back to Illustrator every time a single modification was made, revise the sketch, format it, and save a new version in Dropbox. When it came time to create a tech pack, Mahra had to find and compile all of the required sketches from two platforms.
Mahra took use of Techpacker's Adobe Illustrator plugin when her brand transitioned to the new platform.
"Using the Illustrator plugin and Techpacker together is the best of both worlds! A tech pack may be easily customized. It's fairly simple to make adjustments to the tech pack itself in Illustrator. As a result, the workflow is greatly increased. And it's providing me with a nice overview of new designs as well as altering existing designs. It's a really efficient manner of working!" - says Mahra.
💡
Try Techpacker's Adobe Illustrator plugin
here
.
---
The challenges of data management and sharing

In the design process, a lot of information has to come together, like Bill of Materials, specification sheets with design pictures and measurements. All of that needs to be combined and sent to the factory.
Previously, we used Illustrator and Dropbox for all of our data storage, and it required a significant amount of time and effort to compile all of this design data into an easy-to-read manner.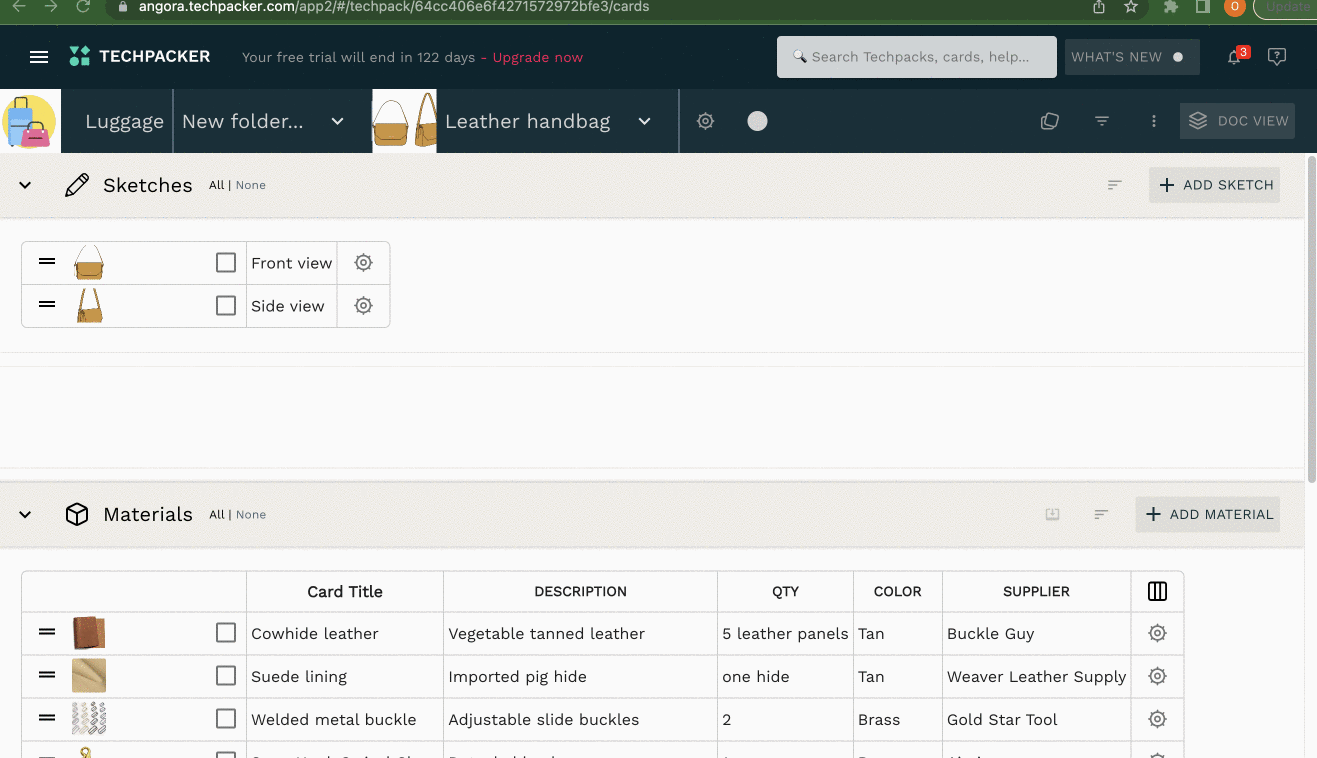 "Now, I can easily compile all the design information with Techpacker and deliver it to the factory in PDF format. In this manner, it is obvious what is expected of each party. Now that we can create tech pack papers and save all of our design data on a single platform. It is a huge time saver!" - says Mahra.