Contents
Sustainability isn't just a new buzzword in the fashion industry.
Customers are becoming increasingly aware of the environmental impact of the fashion industry. For this reason, they are now are preferring brands that commit to sustainable practices and show transparency in their supply chain.
Fast fashion, especially, has been criticized for water pollution, the use of toxic chemicals and increasing levels of textile waste. Indeed, It's no secret that the fashion industry is one of the most polluting in the world.
235 million items of clothing are sent to landfills every year and 1.2 billion carbon emissions were produced by the global fashion industry in 2015.
According to the Enviro Audit Committee submissions, as it was reported by the BBC in 2018
But there is one alternative that can allow you to prevent further landfill waste. Instead of purchasing an entirely new set of textiles, getting a little creative and finding ways to work with deadstock fabric could be a money-saving and sustainable alternative.
---
What is deadstock fabric?
Deadstock fabrics are textiles which are sitting around as leftovers and are not part of a plan for immediate or future use. For example, it could be the leftover fabric of a fashion brand's collection or it could also refer to unused textiles from movie sets or fabric mills.
Deadstock fabric is also known as overstock, surplus or jobber fabric. They all mean the same thing.
These excess fabrics result from several reasons. Let's say, for example, that an apparel company discontinued the production of certain t-shirt design and now has hundreds of yards of jersey fabric leftover.
It could also happen that a fabric mill may have overproduced a specific textile that they can no longer sell to their customers. In other cases, fashion houses or brands overestimate their needs and end up with materials and a surplus of textiles.
Sometimes this excess fabric is sold to a jobber. These are fabric suppliers who sell over runs, odd lots and seconds. Think of it as an outlet for fabrics. But in the most unfortunate cases, excess fabric goes straight to the landfills even when it's new and untouched.
This is why finding a way to give a new life to these textiles could contribute to the environment by turning them into beautiful new products and avoiding further, unnecessary, waste.
It is important to note however, that sustainability and using deadstock fabrics are not the same thing. While it's certainly smarter and more environmentally friendly to reuse materials and fabric in a way that (hopefully nothing or) as little as possible is thrown away, to be considered truly sustainable as a brand, a much broader and complex set of practices have to be factored into the equation.
Ideally any new or deadstock material should be produced with materials that are eco-friendly to begin with. For example, materials like Lenzing™ Modal and Tencel have sustainably harvested wood pulp as their main component and have a low-impact production method.
While it's unlikely that the deadstock fabrics we find will have recyclable and earth-friendly properties, it's better to give them another life rather than sending them straight to the landfill. Hopefully by the time wearers are ready to throw them away there will be new recycling alternatives for the materials in those garments. In any case, anything that prevents the generation of more new (especially non-recyclable) materials is a step in the right direction.
---
Why it's so awesome to use deadstock fabrics
It's kinder to the planet
As we've said before, It not only reduces textile waste, but it saves precious energy by reducing the carbon footprint that would have been expended to produce new material.
It saves you money
Overruns are a fraction of the cost compared to made-to-order fabrics. You can still find amazing quality textiles that may not have been "recently produced" so to speak, but they're completely unused and in a perfect state. In fact, don't underestimate the quality you can find. Sometimes there's deadstock from big-name designers which could add to the quality of your product.
In addition, most fabric mills and jobbers are eager to free up the space these piles of deadstock are occupying and they will be happy to sell it for incredible prices.
It's great for smaller brands
As these fabrics are already in existence and in a limited amount, so there are no minimum order quantity (MOQ's) required by the jobber or mills. This is great for smaller fashion businesses which cannot invest in massive quantities of fabric in advance and are still assessing their customers' demands.
It motivates customers to purchase something unique
Using deadstock is also a great way to get creative and offer an exclusive range of limited edition products. This could not only set you apart from the competition but motivate your customers to own something unique and incentivize purchases. It's a creative challenge to come up with beautiful designs using the fabric as inspiration.
---
Important considerations about using deadstock fabric
It's not scalable
Since deadstock fabrics are limited in quantity, you have to plan the number of pieces and the collection according to the availability of the fabric. For larger brands, —or those looking to scale— this might not be convenient as they require a determined, and most likely ample, supply of certain materials to be able to produce their collections.
There is a quality risk
Unlike newly fabricated textiles, you don't always know what you're getting when you buy leftover fabric. For example, you may not know how it shrinks or behaves.
This makes sourcing deadstock a more complicated process since you have to take extra time to search for discrepancies in the materials and conduct rigorous quality control.
But there's proof that deadstock fabric can be a great option for small and big brands alike. Take for example, these three companies which have been setting the standard for years:
It's known for being one of the first to embrace new sustainable practices in the fashion industry. Not only do they use and reuse many of their materials and products, but they keep their operations transparent by providing information about their environmental impact and supply chain on their website.
The Los Angeles-based brand utilizes fabrics which are made from eco-friendly materials, including rescued deadstock fabrics and repurposed vintage clothing. Reformation states that 15 percent of their materials come from deadstock and vintage clothing.
This is another great example of a brand utilizing excess materials destined for the landfills and transforming them into new, eco-friendly, limited edition products. The Portland, Oregon- based company is a B-Corp accredited social enterprise which specializes in cases and sleeves for laptops and tablets. They've recently added backpacks and apparel to their range.
---
How the sourcing of deadstock fabric will soon be available on Techpacker
Techpacker will soon let suppliers advertise their deadstock fabric via its public Explore Marketplace.
Here's how it will work:
In the Explore section these fabrics (also trims) uploaded by the suppliers will be displayed as Material Cards.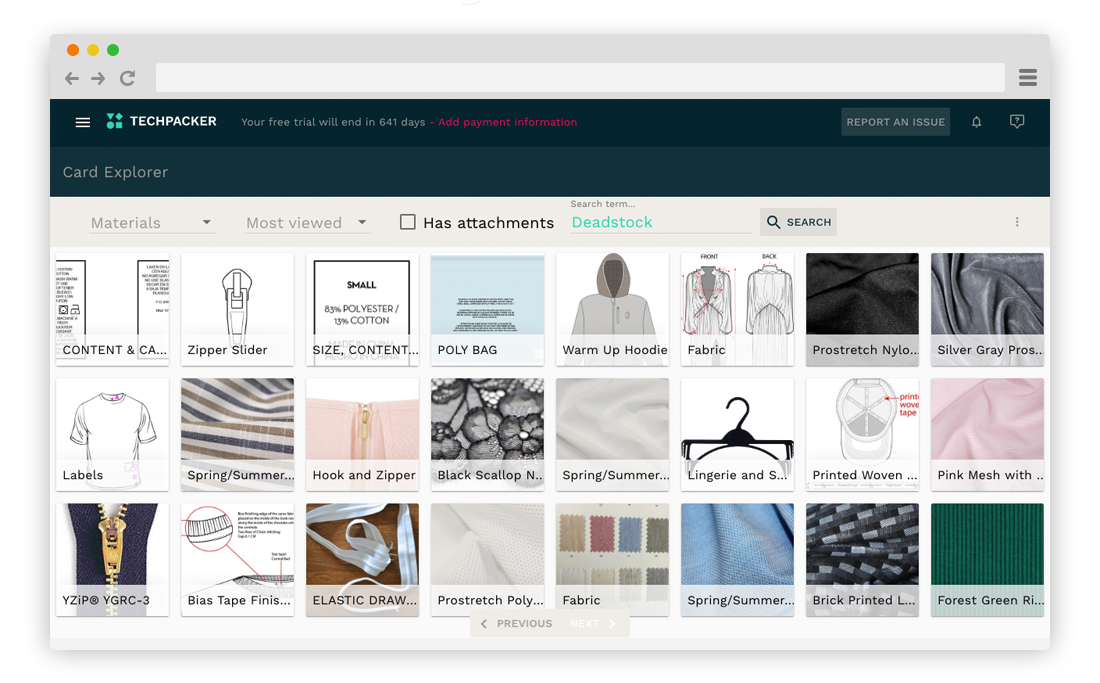 Each Material Card will have live information including the fabric's description, quantity, color and the supplier's name, address and phone number.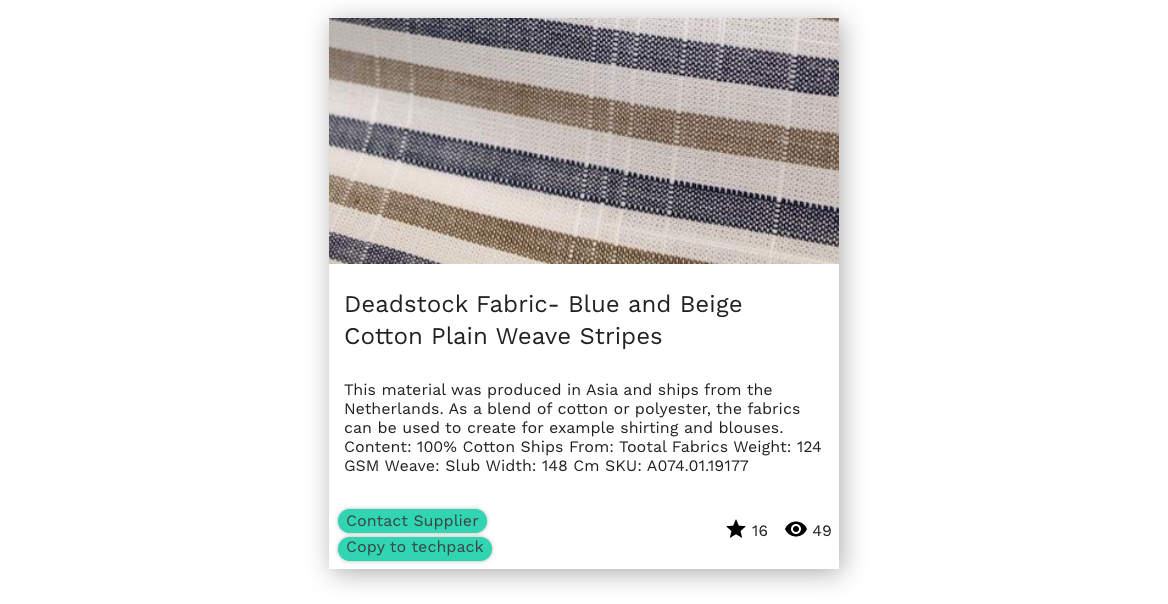 Once you've spotted the right fabric, you can simply copy that Material Card directly into your personal or organization libraries and assemble your tech pack and sourcing materials in one go.
Not only you will design efficiently and create new products with less waste, but you will also speed up your product development in the process.
Here's how brands will be able to import the fabrics directly from the libraries shared by the vendors: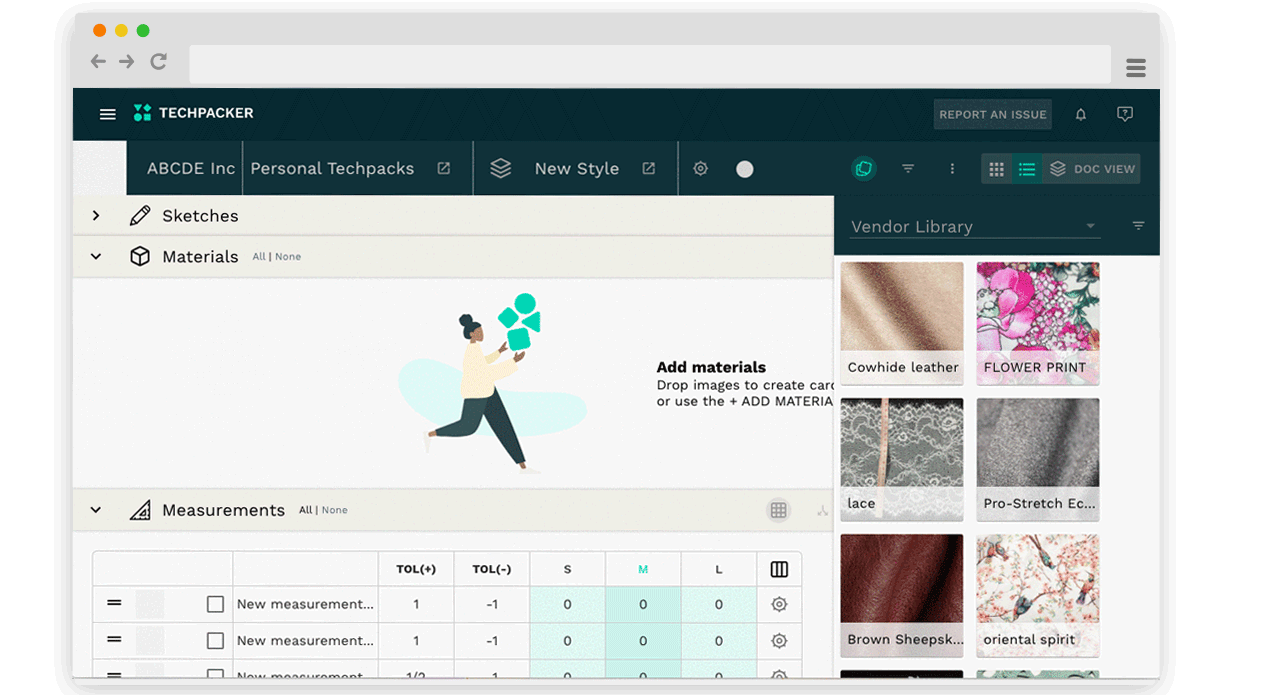 ---