Contents
When a fashion company achieves a certain level of stability and success in its current operations, it should consider scaling its business to satisfy future demand and stay competitive. Scaling the company allows it to continue meeting customer needs, expand into new markets, and increase revenue and profits.
Unfortunately, when it comes to scaling, many fashion companies face certain constraints. By anticipating and addressing these challenges, fashion businesses can successfully scale while maintaining quality, profitability, and customer satisfaction. In this post, we have compiled a list of Techpacker features that will assist fashion brands to scale their business by establishing clear product development processes.
---
What limits fashion teams from scaling product development?
There are several factors that can limit fashion teams from scaling product development. Some of the most common ones include:
Slow Processes: Fashion teams may have slow and inefficient processes in place for product development, such as lengthy approval processes or manual tasks that could be automated. These slow processes can slow down product development and make it difficult to scale.
Limited Access to Data: Fashion teams may not have access to the data they need to make informed decisions about product development. This can make it challenging to identify trends and make data-driven decisions that can help them scale product development.
Lack of Collaboration: In some cases, fashion teams may not have a culture of collaboration or may not have the necessary tools and technologies to collaborate effectively. This can hinder their ability to scale product development as it requires coordination and communication across different teams and departments.
Inventory Management: As production scales up, fashion teams need to manage larger inventories of raw materials, work-in-progress items, and finished products. This requires effective inventory management practices to ensure that inventory levels are optimized and costs are controlled.
Time Constraints: Scaling product development can put pressure on fashion teams to meet tight deadlines. Teams need to prioritize tasks, manage their time effectively, and ensure they are not compromising on quality to meet deadlines.
Based on these common issues that many fashion teams face when scaling, we compiled a list of Techpacker tools and features. By using these, fashion teams can improve their ability to scale product development and bring new products to market more quickly and efficiently.
---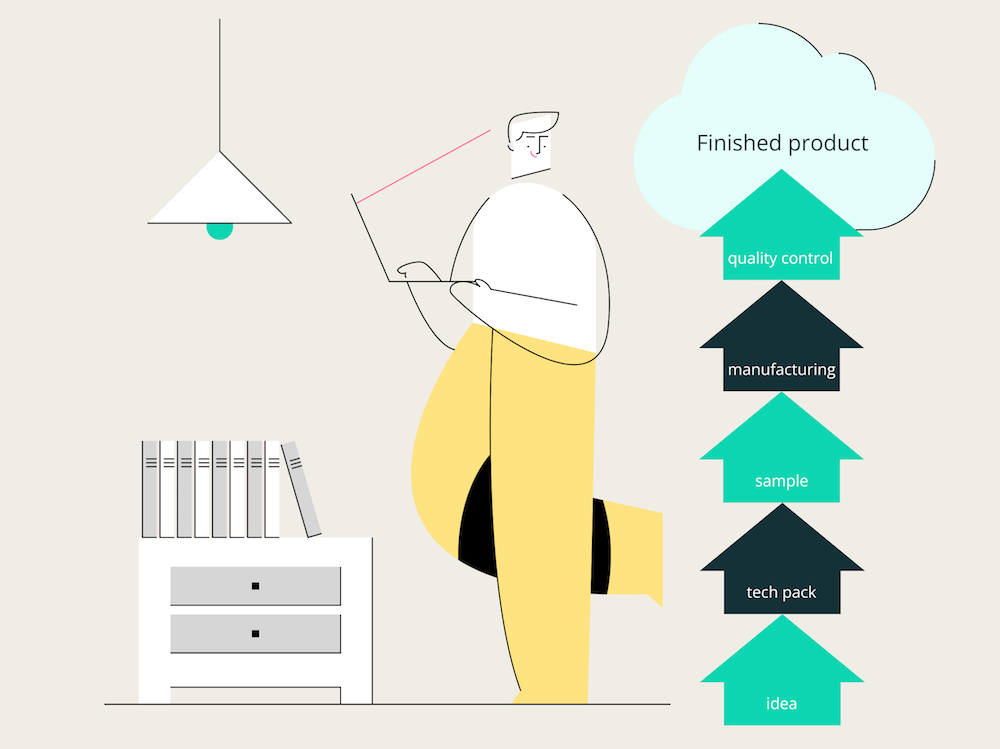 ---
Secure assets management
In product development, secure asset management is critical to safeguarding a company's investments in research and development, and to ensure that the company maintains a competitive advantage.
This involves implementing security measures to prevent theft or unauthorized access to prototypes, technical data, or other design assets. As well as having a unified system for all members of the design team to collaborate in real-time.
Product development at a glance
Excel has long been the industry standard for creating tech packs. And with good reason. It's adaptable and packed with capabilities, but it's not built to hold a lot of design data. On spreadsheets, your product information is organized into tabs. Your tech packs are dispersed over multiple files and folders. Your communications and feedback are dispersed throughout numerous spreadsheets and emails.
When the product information is spread out across multiple spreadsheets and folders, it is simply hard to have a full view of the full product development progress.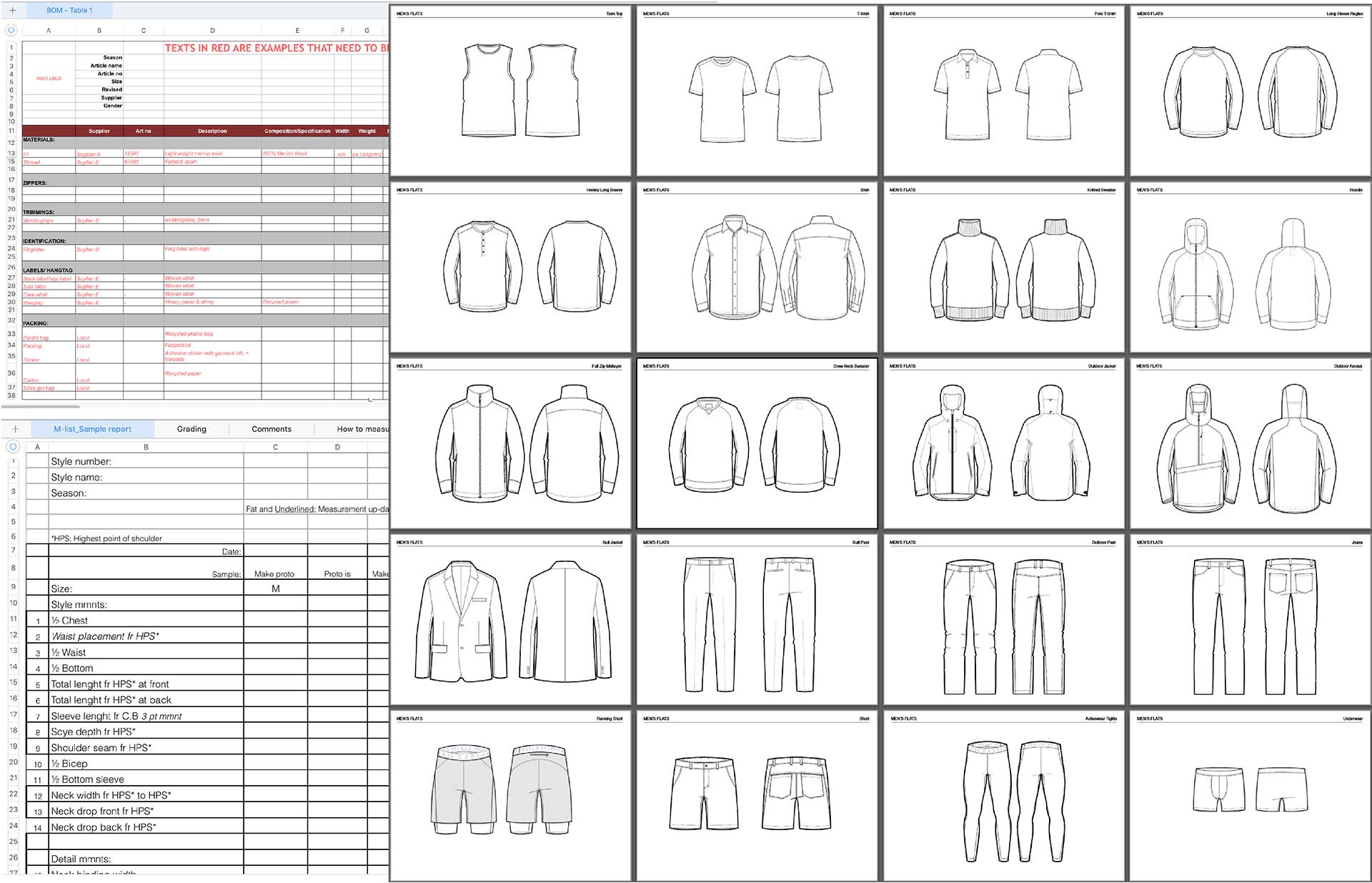 Techpacker takes a different approach. It still has a tabular form with data set out in rows and columns, but it is significantly more flexible.
Each row, which might be a sketch, material, or measurement of your design, is a Card, which has all of the photos, comments, and files associated with it.

Unlike Excel, this visual approach provides a high-level overview of your complete product development process at a single glance. When double-checking or modifying different areas of your tech pack, you don't have to switch between tabs.
Sketches, bills of materials, measurement specs, costing tables, and so on are all visible on a single page. That is not all. Cards allow you to focus on and alter each design aspect independently.
Organization folders
As the brand grows, so does the amount of data it saves and maintains on a daily basis. A fashion brand, for example, releases at least four new collections each year. On a daily basis, a consulting fashion brand maintains dozens of clients. All design data must be efficiently kept and accessible at all times.
When using Excel or Ai, there is no secure storage for the design data to keep organized and ready to re-use. Copying and pasting from Excel takes a long time.
Techpacker enables design teams to manage numerous clients at the same time. They can have multiple folders for different clients and collections. When fabrics, trims, or a factory are chosen, they can be uploaded to a library created exclusively for that client.
Learn how consulting firm ARD is using Techpacker to maintain security and confidentiality for each client.
Secure data storage and recovery
Fashion businesses invest a significant amount of time and resources into creating unique designs that can give them a competitive edge in the market. Therefore, securing their design assets is crucial to protecting their intellectual property rights. Whereas in case of any unforeseen events like hardware failure, data corruption, or natural disasters, they need to make sure their design assets are backed up and can be easily recovered.
Here are the three most important software security features that Techpacker adheres to ensure that every fashion business work is secure and accessible at all times:
Data Security: Fashion businesses need to ensure that their design assets are protected from cyber threats like hacking, malware, and ransomware attacks. Techpacker data storage servers and recovery systems are designed with robust security measures like AES 256-bit encryption, firewalls, and access controls to protect against unauthorized access.
Access Control: Fashion businesses need to ensure that only authorized personnel have access to their design assets at any time. On Techpacker, along with a 99/9% uptime guarantee,  the organization's access controls feature enables access to design assets based on user roles and permissions.
Data Privacy: Fashion businesses need to ensure that their design assets are stored in compliance with data privacy regulations like GDPR and CCPA. Techpacker's data storage and recovery systems are designed with privacy controls that allow fashion businesses to manage their data privacy obligations effectively.
---
Repeated data entry
In Excel, product information is not only static but also unconnected. In other words, your tech packs are fragmented, making it difficult to reuse design elements across tech packs. As a result, there is a lot of data entering.
How, for example, would you repurpose your design data using Excel spreadsheets? You would begin by duplicating complete tech packs. Then, one by one, alter them to recover what's needed. The monotonous repetition does not end there.
You must copy and paste design specs for each tech pack, across numerous styles, season after season. And you must ensure that all of your measurements are consistent. You also need to double-check for typos, formatting, calculations, and so on.
Every designer knows that working on seasonal tech packs can be a grind. Lots of time gets wasted on repetitive tasks. Like building Bills of Materials, Measurement Tables, and Costing Sheets from scratch again and again. Imagine how much time could be saved if there was a secure place to store design assets and reuse them across seasonal tech packs!
BOM libraries
Throughout the collections, branding elements such as labels, tags, and packaging are consistent. Fabrics and notions are frequently reproducible. On Techpacker, these assets can all be organized and stored in libraries for later use. When the time comes, they can be used to create new Bills of Materials in minutes with a drag of a mouse on Techpacker.
Each card or tech pack in your libraries can be tagged with keywords. This makes it easy to find at any time, whenever needed. Every style, collection, or piece can also be archived and then recovered at any time, whenever you need it.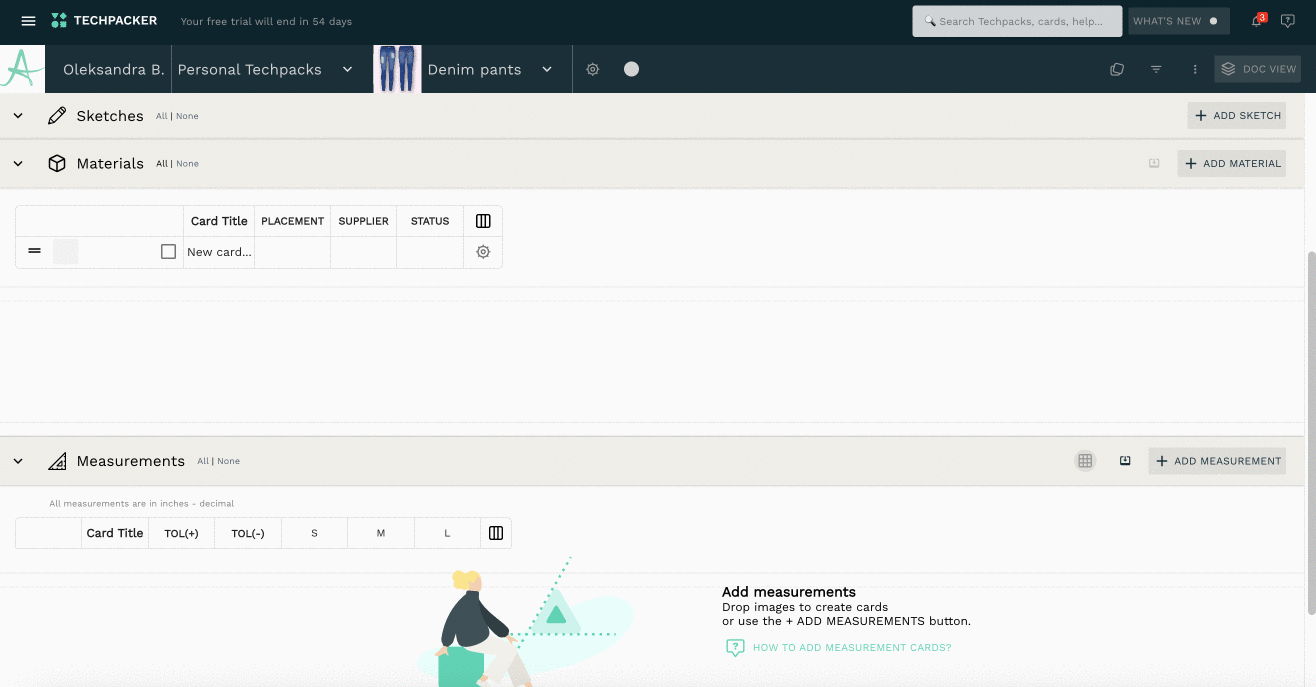 Measurements libraries
To maintain consistency in fit quality, design teams should use measurement libraries to record basic garment measurements that can be reused season after season. Remaking a wrap dress from last season but only wanting to add a new design detail? Repurpose saved measurements in your collection to create a new measurement table in minutes!
Custom libraries: costing, fit, QA size sets, etc.
Custom libraries can be created in the same way. For example, costing libraries that you can utilize in the future to create new costing tables quickly. Check how to use Techpacker costing template here.
You can use the sample fit template to monitor spec differences during sample fit rounds. When you use a template it automatically extracts the essential information from your Measurements Table.
Another custom library that you can create is QA size-set. You can use our size set template to make your quality analysis/Control (QA/QC) table and add the QA/QC measurements directly on the Techpacker in the same tech pack.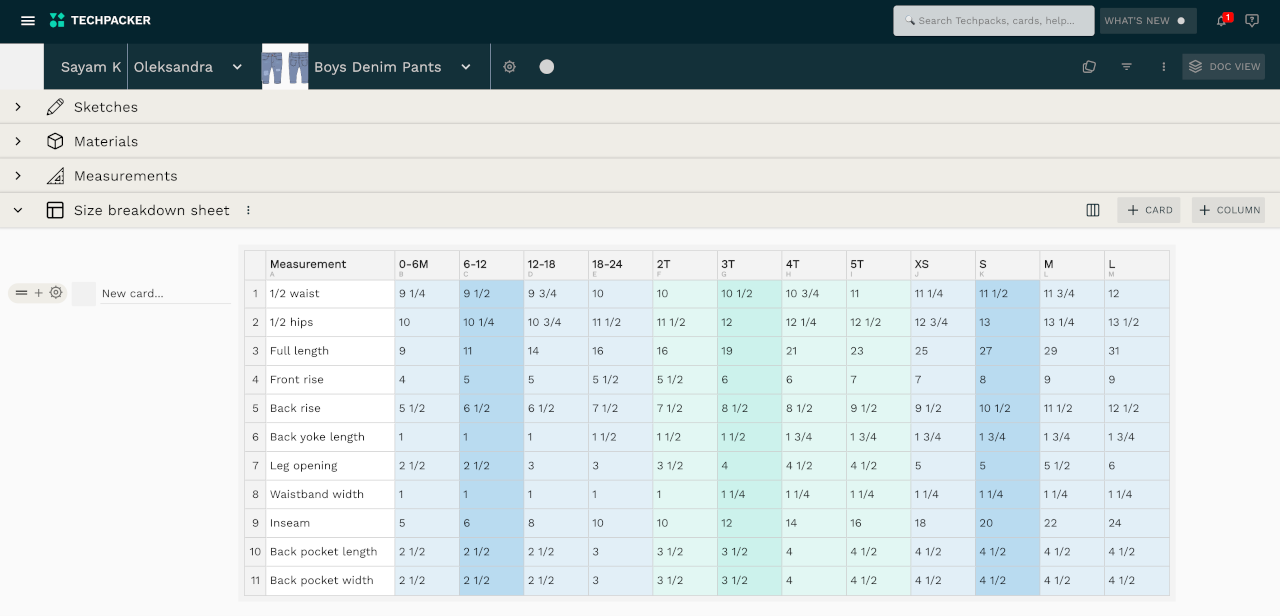 It contains all sizes, and POM (which will automatically copy from your measurement table ) and will provide space for you to enter the QA/QC measurements.
Another idea for custom libraries is a quantity breakdown template, that you can use to place an order with your factory. In this template, you can specify and the quantity of the garments to manufacture per size.
---
Quick design tools
Fashion designers frequently utilize software such as Adobe Illustrator to create CAD designs. It is an excellent tool for creating a fashion flat from start to finish with numerous elements, such as colors and designs. However, using a third-party platform only contributes to the additional time spent on formatting, especially when numerous rounds of changes can happen in the product development process.
There are some faster ways to update your designs that can significantly help in cutting down time spent on such operations and help scale your business. One of them is Ai integration that we will talk more about later in this post. Another way is using quick design tools like annotation tools and in-app vector editors.
Annotation tools
If you want your samples to be error-free, you must exhibit and clarify the exact design requirements to your manufacturer. Each stitch, seam, and label location must be precisely stated and shown.
To do so in Excel or Adobe Illustrator you would need to go through multiple steps:
Draw a technical flat sketch;
Draw callouts and add them to the sketch;
Add a number or letter for each row in the construction table;
Label each callout to show where each number/letter is designated on your sketch.
Format the sketch and upload it manually every time you add it to your tech pack.
Isn't it tedious?
On Techpacker, you simply drag your technical sketches on your tech pack board. Open the image and begin sketching lines, making notes on the exact features of your design that you wish to emphasize.
Each line is labeled with a callout number to help you find the appropriate comment on the right. Don't be concerned about formatting; all of your annotations will be nicely structured and presented in your Techpack PDF. So much simpler!
In-app vector editors
Online vector editing tools are an excellent alternative to Adobe Illustrator. These are ideal for fashion designers who want to save time when creating CAD sketches. Repsketch, for example, has a massive library of fashion flats and fashion images that you may repurpose. There is a wide range of styles available, from footwear and accessories to swimwear and baby items.
Repsketch is an excellent resource for fashion designers that want to:
Spend less time drawing fashion CAD designs.
Try out a new fashion industry, such as footwear, children's wear, or accessories.
Create mood boards to get ideas for new collections.
---
Rapid data updates
On a daily basis, a growing company stores and manages a massive amount of data. While it is critical to organize it efficiently, it is also critical to be able to immediately update any details. Manually updating a big amount of data is not an option. A tool that makes the entire data agile and easy to update in bulk is essential for a growing company.
Connect cards
Many things for example the choice of materials can change after you finalized the entire collection. What if you need to change a single setting in dozens of tech packs? Change the metal buckle to brass, for example, or adjust one of the measurements on the spec sheet. In Excel or Adobe Illustrator, you would have to go into each and every tech pack and manually edit every detail. That is a significant amount of labor, not to mention the possibility of several errors!
On Techpacker, design teams can use the connect cards feature to update information across numerous cards with a single entry. All you need to do is update a single card and the system will automatically update it across all tech packs where you used it. This saves a significant amount of time, particularly for cards that are used repeatedly in various tech packs.
---
Auto-calculations
Automation can play a significant role in product development by streamlining processes, reducing errors, and improving efficiency. With automation tools, developers can create new products quickly, reducing the time it takes to get a product to market.
Auto grading
Spreadsheets have been the most popular tool for creating Spec Sheets. On spreadsheets, designers must manually include formulas and grade rules to calculate sizes based on sample size. That takes time, but the problems multiply when designers have to reproduce these spec sheets for various tech packs. Formulas and grade sheets do not transfer properly, resulting in even more errors.
On Techpacker, the measurements table includes the built-in formulas that don't require any manual edits. And the Techpacker auto-grading tool will help you develop a full measurement table for a variety of sizes. All you need to do is enter your sample size measurements and grading rules.
Auto units measurement conversion
Depending on the manufacturing country, tech packs can include measurements in inches or centimeters. If your original tech pack was created in inches, you would need to construct a new measures table and re-calculate all measurements in centimeters on spreadsheets. It will take the same amount of time as creating a completely new tech pack!
On Techpacker, to re-calculate the tech pack in centimeters, all you need to do is swap between units, in one click!
Custom tables with formulas
Auto-calculation also makes it easy to assess fabric consumption for each garment or the full cost to make a garment.
If you use spreadsheets to generate a costing table, you must first develop a custom template and then manually add columns with formulas to it.
On Techpacker, the costing table template is already set up for you. Simply enter your consumption and cost per unit, and the table will calculate the total cost for you. Another cool feature is the ability to add custom columns to the costing table, such as supplier name and status. Making it easy to manage all relevant sourcing information on a single page.
---
Product timeline
Keeping track of product development involves monitoring and managing the progress of a product from ideation to launch. This process typically involves several stages, including ideation, research, prototyping, testing, and launch. With the help of product timeline monitoring tools, product development teams can stay on track and ensure that they are meeting project goals and deadlines.
Spreadsheets and Adobe Illustrator are not intended for the development of fashion products. They lack the tools required to keep track of each stage. When a fashion brand grows, it is physically hard for design teams to track the progress of the massive amount of design data stored in various files and communications dispersed among spreadsheets, Illustrator, emails, and computer folders.
A product development platform can help in this situation. It includes all of the necessary capabilities, such as stage views, time and action reports, and Gantt charts. With its assistance, you may get a birds-eye perspective of all of your items in the works.
Stage view
Stages provide you and your team with an overview of how product development is going. You can designate stages to your tech packs and view them at a glance at any time, from design to approvals or sample rounds to production. This allows you to rapidly identify bottlenecks and maintains your entire team on track. Learn more about how to use stages on Techpacker.  
Time & action
The critical path or TNA is a proper collaboration of time and action. It's a popular tool used in the apparel industry for tracking/monitoring planned milestones to ensure timely deliveries of a product.
A time and action (TNA or T&A) plan defines the ideal date/time period within which all major product development and production activities should occur to meet a scheduled delivery window.

Gantt chart report
Gantt chart provides a graphical overview of the current state of your product development. This report beautifully illustrates the progress of your product development stages through the horizontal timeline bars representing your set planned dates vs the actual dates.
---
Generating and managing documents
Excel sheets can be somewhat disorganized. It's a pain to format images, adjust tables, and align graphics with text. Also, remain watchful. Any errors in your spreadsheet print area will cut vital information out of your PDF. Excel will not be of much assistance.
Have you ever looked through their help and support? This is how the instructions for inserting page numbers on your worksheet look. It has 5 pages!
One-click PDF
It only takes one click using Techpacker to create a clear, thorough, and professionally formatted Techpack PDF.
Simply drag your sketch photos into the program, input your material and measurement cards, and then click one button to finish.
Images, font sizes, and alignments are all automatically modified for you. You may relax knowing that each and every one of your gadget packs will be faultless.
Your style information is instantaneously shown on each page of your Techpack PDF, as well as a cover sheet with your most recent style information.
Fast updates
Formatting is a fashion designer's nightmare! It takes a long time and adds little value; instead of brainstorming on a new product, you wasted your valuable work hours on changes, formatting, and submitting again.
On Techpacker, if you have to make a product update, you just edit it and click one button to generate a new PDF document. You can also send it to a specific recipient, such as a team member, client, or manufacturer right through the platform.
Compare versions and versions history
Tech packs are generally big documents that include multiple pages. Very often between 10-15 pages. What if you just made a little update and shared the tech pack again with the manufacturer? They would need to go through those ten pages again to locate that update, or you have to make an additional file where you point them to these updates. This is just unacceptable!
With Techpacker's compare versions feature, you can share a tech pack where all the changes are already highlighted. And the system has already highlighted them for you because it stores the version's history. So much easier!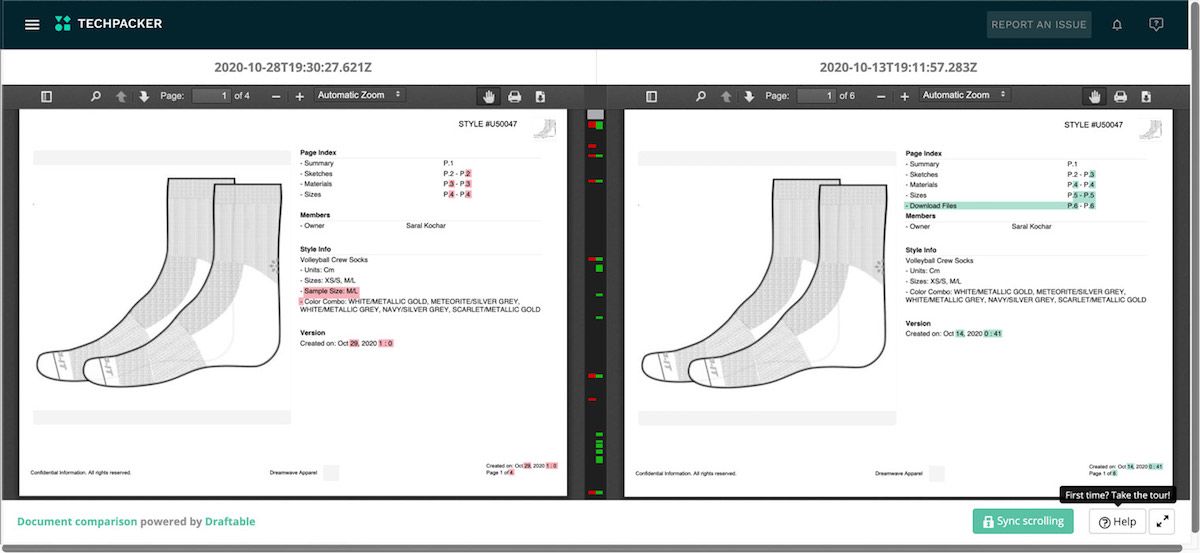 ---
Decision-making and resource planning
Resource planning in fashion product development involves identifying and allocating the necessary resources, such as time, money, personnel, and materials, needed to successfully develop a new fashion product.
By effectively planning and allocating resources in fashion product development, teams can improve their efficiency, reduce costs, and deliver high-quality products on time and on budget. Very important points for a scaling business!
Spreadsheets or Illustrator do not provide tools that can help scaling brands in resource planning. It involves the manual labor of extracting the needed information from files and organizing them in a third-party system. Again, tedious work that we simply don't have time for!
Even big fashion brands complain that there is a massive gap in reporting in the fashion product development business.
Materials reports
A material report on Techpacker is a summary of all materials mentioned in your product development tech packs. This keeps track of material lists and vendors, as well as milestone dates and phases of sourcing.

Custom section reports
In a custom section report, you pick the custom metrics and dimensions and decide how they should be viewed at a time. You can create, for example, a purchase order sheet.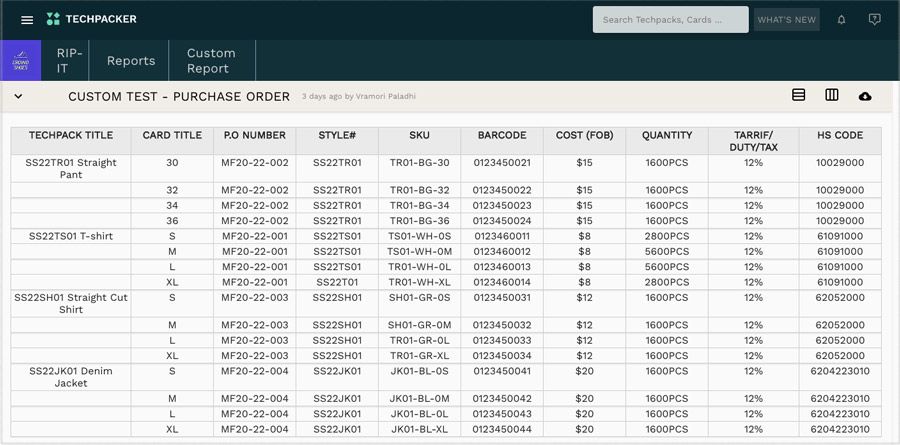 ---
Lack of collaboration
Team communication is crucial in product development, as it allows team members to collaborate effectively, share information and ideas, and ensure that everyone is on the same page. Effective team communication is essential for successful product development. It promotes collaboration, transparency, feedback, risk management, and motivation, all of which contribute to a successful project outcome.
Many design teams do not have an established communication channel. They communicate via email or over the phone. Both of which are not very efficient. Emails get lost and it is hard to track them, phone calls have no history at all. With the amount of design data growing, it becomes impossible to gather all information and feedback before sharing it with the factory.
Real-time updates
Techpacker enables teams to establish a uniform procedure for effective communication. Designers, technical designers, and merchandisers may all connect and cooperate on the same digital platform in real time.
Files sharing
On Techpacker, all edits, suggestions, and modifications get instantly updated. All teams are informed at the moment and no need to wait for emails or manually marked documents for feedback or changes in the product. No need for the head product developer, to be overwhelmed with gathering everything to send to the factories and collect feedback.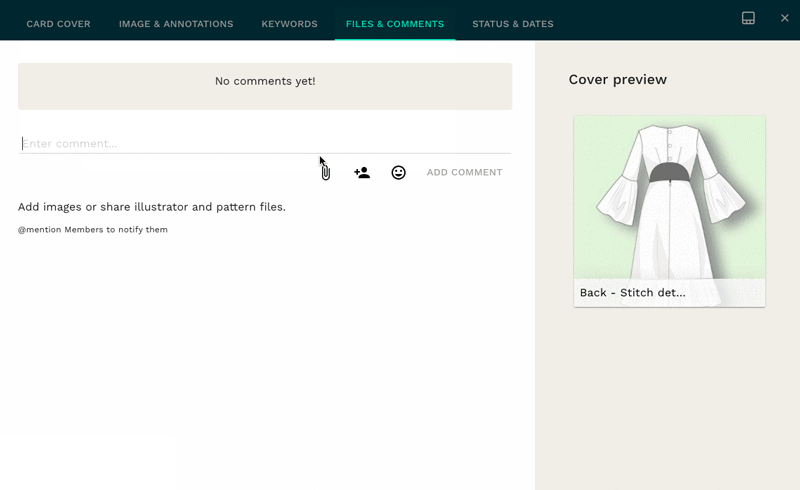 ---
Sample making and production
Communicating effectively with manufacturers is critical in fashion product development because it ensures that the product is manufactured to the desired quality and specifications, and delivered on time and on budget.
Many fashion brands do not have a fixed procedure or agreement in place about who will share the tech pack with the manufacturers for fit samples. It is frequently fixed by the product developer, who then gathers feedback from the manufacturer and creates additional Excel tabs. Lots of unnecessary data entry and lots to remember!
Manufacturers hub
If design teams use Excel or Illustrator to produce tech packs, they must upload them to the server and share them with suppliers after they are completed.
It is challenging to upload each of those documents for the same style separately and expect the vendor to find the product development specs and tech pack with all of the design essentials, sketches, and Bill of Materials.
On Techpacker, design teams have a designated space to keep all communication with the manufacturer. It is neatly organized and can be recovered at any time. All notes, updates, and feedback are available at your fingertips.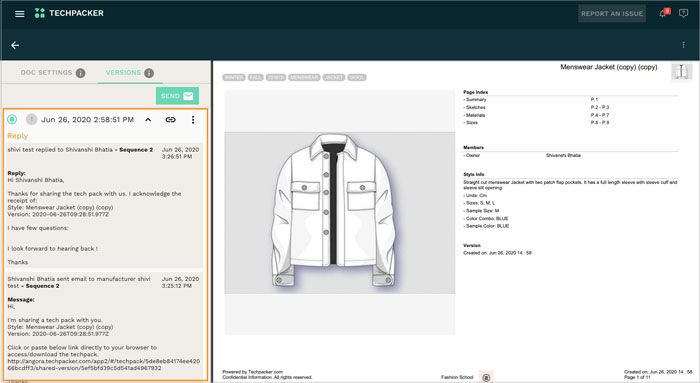 Fit sheets
Spreadsheets do not have designated tables for fit sheets. They have to be manually created and managed on a daily basis during the sample-making process. All changes have to be manually highlighted, notes added and shared with the vendor again and again.
On Techpacker, once the sample is received, design teams can add the measurements to the Fit Sheets and request any changes if needed. It makes keeping track of each fit sample much easier and more efficient. This is also a great way to make sure that each measurement is within the tolerances:

In addition to that, design teams can also create a custom table called fit evaluation, where they can add their comments:
Fit comments
With every round of sample making your factory expects you to provide them with fit comments and updates if needed. Without a data management system, providing a clear list of fit comments is challenging. You would need to create a separate doc, attach it to the tech pack and share it via email.
On Techpacker, you can attach your fit comments to cards. As an example, here is how consulting firm ARD is handling sampling rounds using cards:
"On Techpacker, we communicate all of our design comments for each fit in addition to the fit comments. So on the card in the tech pack, we are able to record the design comments for fit. That actually saves us a ton of time on back-and-forth emails with vendors. And it also keeps a very accurate record per style. That is actually a new item that we added to how we utilize tech packs. And it has been fantastic because as soon as we get a second or a third fit or a PP sample, we can go into the tech pack, we can read our comments from the last fit, and then we can comment on the new sample, "says Amanda from ARD.
---
Integrations
By bringing industry-leading software right into your workspace you get your own PLM system tailored specifically to your company's needs. Integrations are simple to implement for your entire staff, and no additional training is necessary. They will assist you in seamlessly integrating your existing data and performing updates at a lightning-fast speed.
Ai integration
Adobe Illustrator is primarily used by fashion designers to create technical sketches. When the designs are finished, designers save them in a certain format and include them in their tech pack. And what if any changes are required? They return to Illustrator, modify the sketches, download them once more, and upload them to the tech pack...one more. There was a lot of back and forth!
Can you imagine how much time you'd save if you didn't have to switch between platforms for a single edit?
You will not only be able to sync every edit without the need to upload data every time you use our Adobe Illustrator integration. You'll also be able to create tech packs directly in Illustrator!
Excel integration
With Techpacker's Excel integration, you can easily transfer your design files to your Techpacker workspace and edit them from there. Data can be directly copied and pasted from Excel to Techpacker in all tech pack sections including measurements, materials, sketches, and even custom sections. Simply transfer your Excel info to your tech pack, edit, and reuse it at any time when needed.
Shopify integration
If you already sell your products on Shopify, you know how time-consuming it is to generate product listings with photographs, sizing information, and descriptions. You may send all of the necessary information to your online store directly from Techpacker using the Shopify interface.
You may link your design sketches or images, sizing options, and garment descriptions from your tech packs to your Shopify marketplace in a few simple steps. This is especially beneficial for larger brands with larger inventories. You will no longer need to manually export and format files between platforms. The nice part is that Techpacker will synchronize all edits for you. If anything changes in your tech pack, your Shopify listings will be updated automatically.
Dropbox integration
Are you looking for a way to organize your business data and ensure you never lose a single file? Make use of our Dropbox extension. Transfer your tech packs to your Dropbox folders with a few clicks. Keep all of your design assets in one location, organize them, and recover them at any moment.
When your project is finished, securely share it. Finish it off with password protection and an expiration date. Ascertain that your manufacturer receives them via delivery confirmation.
And much more.
Connect your Techpacker to more than 40 professional apps in your industry. Choose only the ones you require. Create your own PLM system that is specific to your company's requirements.
---
Summary
Overall, scaling a fashion business with clear product development processes requires a combination of process optimization, technology and tools, data and analytics, a strong team, and ongoing monitoring and optimization. By implementing these steps, fashion businesses can scale their operations while maintaining high-quality product development processes.
---
Bonus: Free ebook