Contents
Many fashion brands around the world are implementing PLM software to improve visibility and data flow throughout their organization and the entire supply chain. PLM software, according to fashion industry experts, is a solution that makes the industry more relevant, smarter, and adaptable. As the fashion market grows and evolves fast, now even small fashion teams should embrace PLM solutions.
To assist you in selecting the best fashion PLM system for your specific needs, we compiled a list of the best PLM solutions and highlighted their features.
---
What makes a great PLM?
Product lifecycle management software is an information management system that manages data during the development of the product from concept to manufacturing. Any information around the design, planning, testing, manufacturing, and marketing of the product- your PLM should capture it. Why? Because the main purpose of the PLM solution is to provide a central place for managing the product lifecycle efficiently and cost-effectively.
Every business has different requirements when it comes to PLM software. So we selected the elements we felt most universally represent those requirements:
Ease of use - It takes some time to learn how to use any new system. When you onboard your entire team, you don't want to spend too much time training them on how to use a PLM platform. A user should be able to log in and get a sense of how the basics work. For more advanced features the in-app directions and help articles are a must. And, of course, the regularly available support.
Cost of implementation - Before only large corporations could afford to adopt PLM solutions. Now, there are plenty of options available even for small to medium-sized teams. Some of them offer a free trial or a starter pack for "essentials".
Reporting - Ideally, the PLM system has to be able to report on any data point that you want to collect. For example, materials consumption is especially important for fashion data management.
Automation and integrations - A good selection of third-party integrations help the design team be more efficient. As well as cover the functions that many PLMs don't have, like communication channels, graphic design plugins, or point-of-sale systems.
Learn more from our blog post about how to choose a PLM for your fashion business.
---
The best PLM software
---
Best affordable PLM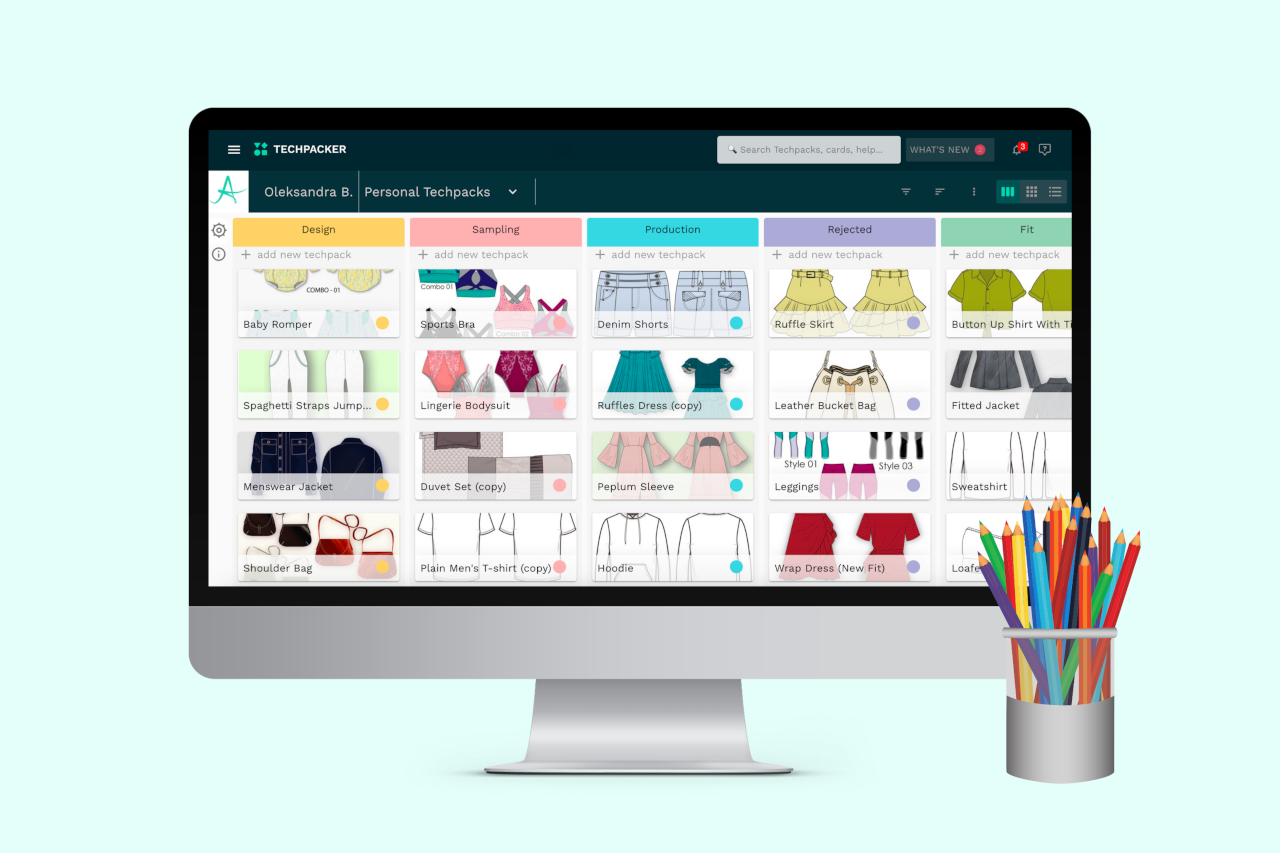 Techpacker is a powerful cloud-based data management tool for fashion brands and manufacturers. It helps both sides to collaborate effectively through all stages of product development.
Techpacker helps design teams create comprehensive tech packs. It provides pre-set tables for Bill of Materials, Costing Sheets, Measurement Sheets, and re-usable libraries - secure storage for all your technical data that can be utilized across multiple tech packs. With a click of a button, all the design data and sketches can be transformed into a PDF document that can be directly shared with the manufacturer.
Instead of creating brand-new complex software, Techpacker is bringing industry-leading software right into your Techpacker workspace. The result is your own PLM system tailored specifically to your company's needs. Connect Techpacker to your Adobe Illustrator to easily adjust sketches, seamlessly integrate Excel Spreadsheets, instantly create Shopify listings using your tech packs or securely keep your files with Dropbox.  
Features

Easily transfer your data from Excel to Techpacker.
Transfer technical sketches using Techpacker's Adobe Illustrator plugin.
Add callouts to your technical sketches directly on Techpacker.
Develop comprehensive tech packs including Measurement Specs, Grading Sheets, Bill of Materials, Costing Sheets, Fit Sheets, etc.
Build reusable component libraries for future collections.
Communicate with the entire team in real time.
Share tech packs directly with the manufacturer, and receive comments and updates from them. Compare tech pack versions during the sample-making.
Track product development stages and get status updates on each product.
Easy integrations with other software.
Pricing
The basic plan starts at $45 per user per month. Learn more.
Summary
Although Techpacker is not entirely an end-to-end PLM solution, its powerful integration setup lets you customize your own by connecting your current apps and services. That's why it's an affordable option for many modern fashion businesses. Plus their user interface is extremely designer-friendly so it's a perfect solution to avoid the headache of implementation.
---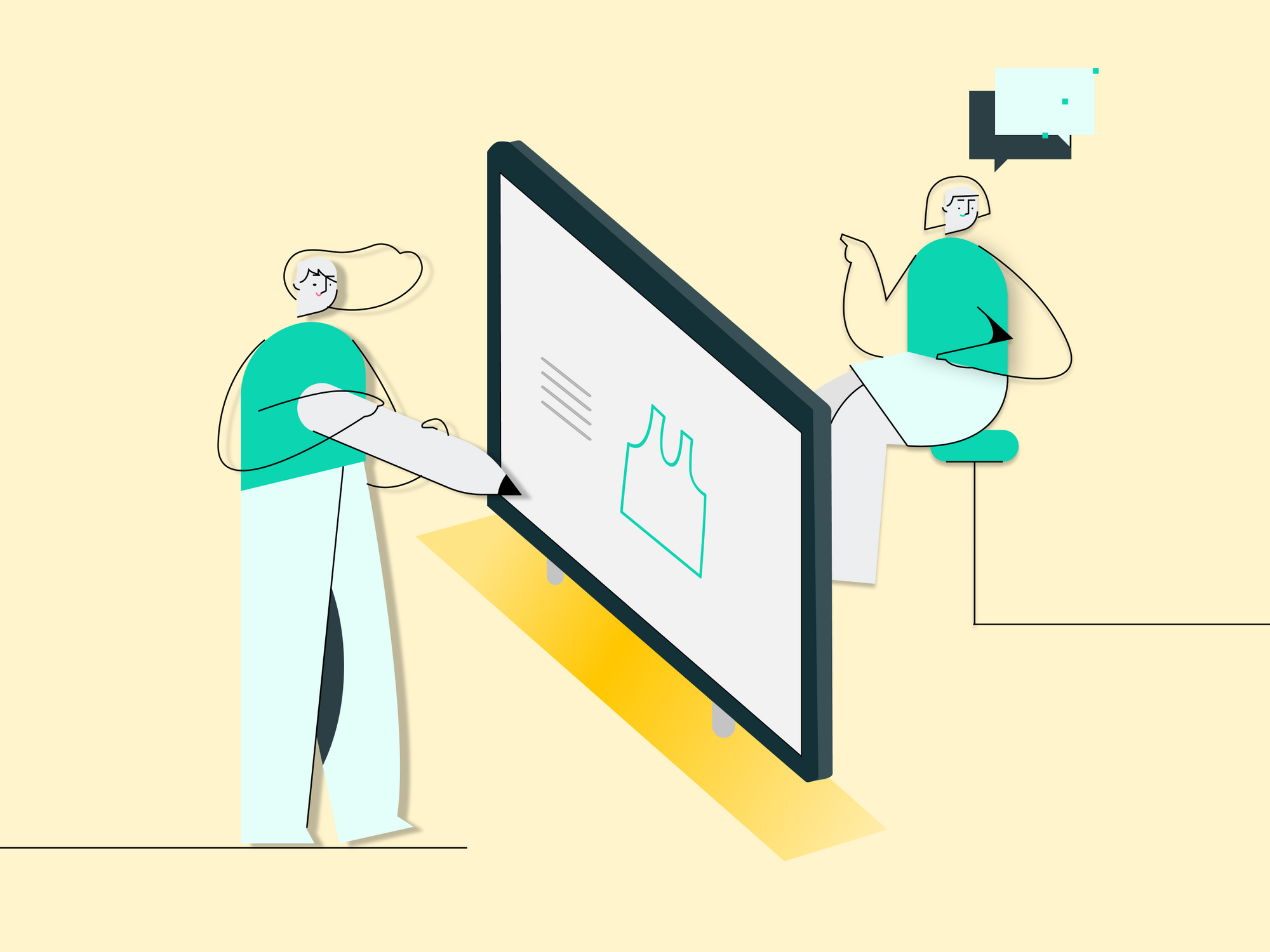 Best PLM for scaling a business
Backbone is a digital workspace that helps product creators create, collaborate, and scale. Backbone PLM was created to meet the needs of emerging modern DTC brands.
Backbone PLM provides design teams with all tools needed to develop and share flexible tech packs. Including Measurement Spec Sheets, Bill of Materials, and component libraries that can be reused in future tech packs. The system also provides you with powerful reporting tools for line sheets and utilization data.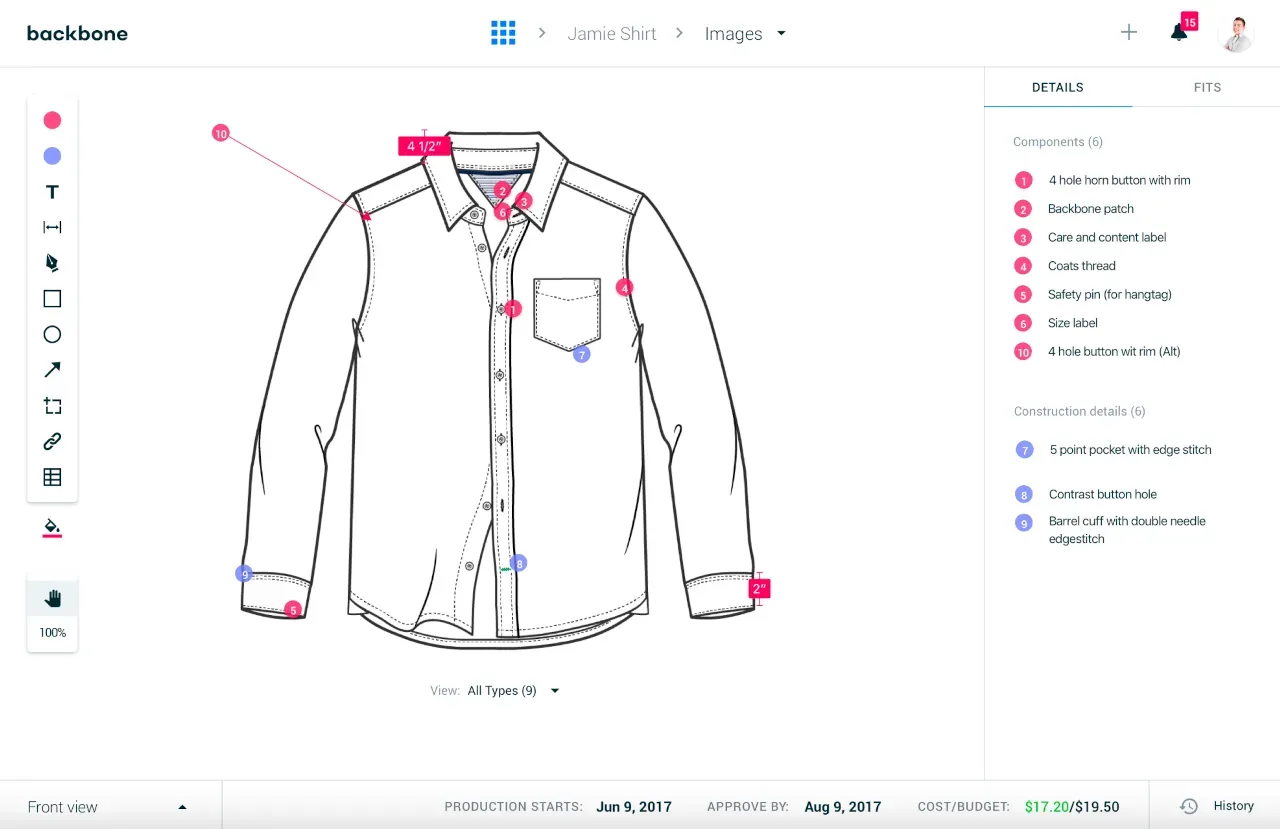 Backbone simplifies the process of bringing the product from design to production. It is cloud-based and easy to use for fashion designers.
Features
Transfer technical sketches using Backbone's Adobe Illustrator plugin.
Build component libraries that can be reused, edited, or updated with ease.
Manage product and component colorways using Pantone libraries.
Draw callouts and add annotations to the technical sketches.
Backbone provides you with the tools needed to develop Measurement Specs and a Bill of Materials.
Use reporting tools for line sheet reports and component utilization reports.
Integrations with top fashion industry software.
Pricing
The basic plan starts at $99 per user per month.
Summary
Backbone is a great solution for growing teams. They allow businesses to easily scale while using the same system.
---
Best PLM for multi-channel communication
WFX PLM software is an end-to-end product lifecycle software for the apparel, footwear, accessories, and consumer goods industries. It enables easy collaboration among internal teams and vendors. WFX PLM allows companies to centralize all product development information and provides inbuilt tools to share tech packs, costings, RQFs, Sample Requests, and Purchase Orders.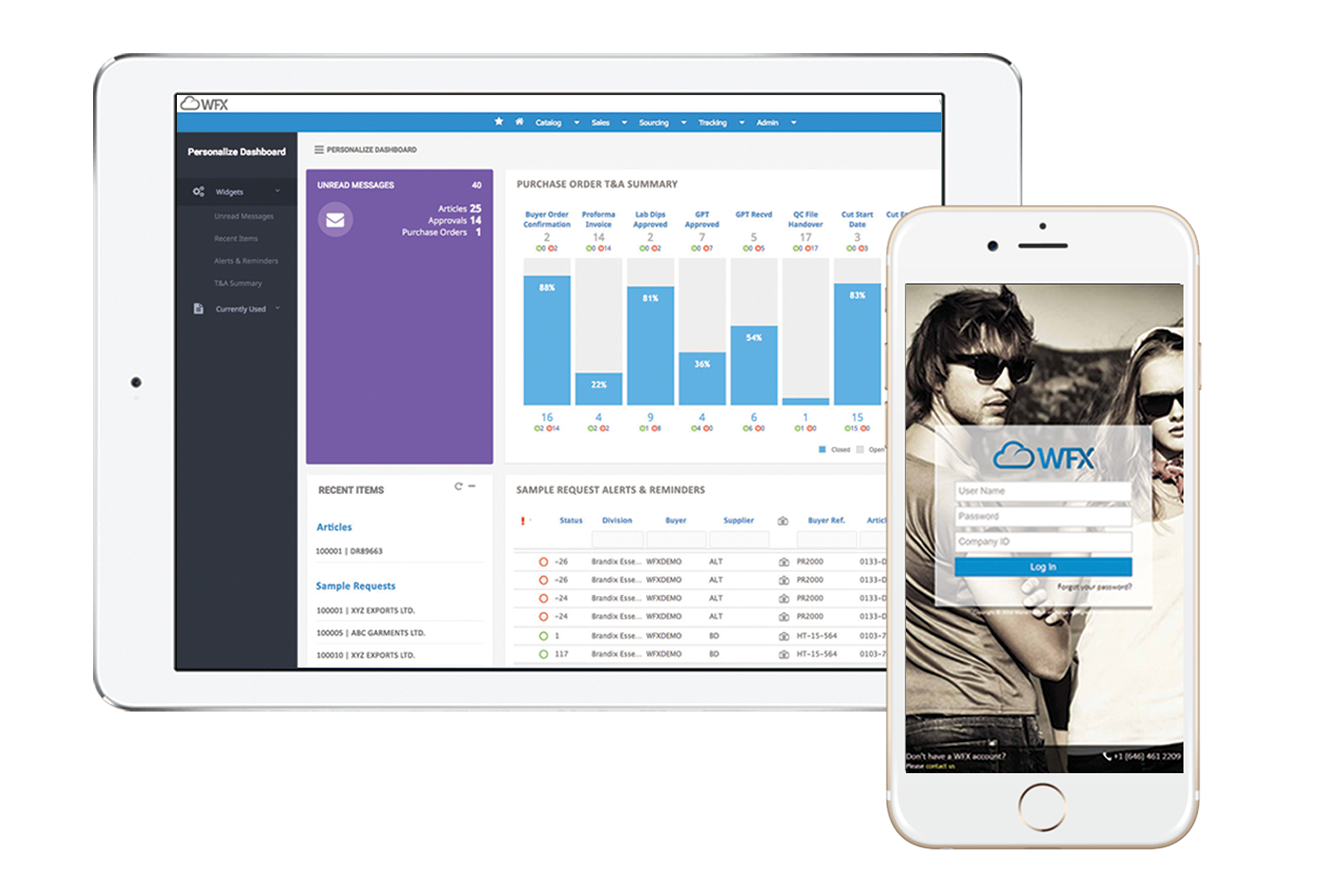 WFX is end-to-end and covers the entire life cycle from concept to production. Its platform, mobile apps, and analytics provide a 360-degree view of product data across your company.
Features
Connect to Adobe Illustrator to push product information & artwork automatically to WFX.
Capture photos of style ideas and product inspiration while on buying trips and trade shows.
Collection planning: view margins, costs, and revenue for an entire collection or range.
Create tech packs with comprehensive product and material attributes, images, Bill of Materials, graded measurements, specs, and multilingual care instructions.
Clarify product construction with an in-app annotation tool.
Capture comments and approvals. Easily notify vendors of revisions.
Build product costs. Manage all cost types - Cut Make, FOB, Landed & Delivered.
Create sample and purchase orders. Track stages of products in development and their timelines.
Improve communication flow with a centralized vendor portal.
Track each product's status and identify delays.
WFX PLM can be used alongside any custom-built application or other tools.

Pricing
Reach out directly for pricing.
Summary

WFX is a great PLM solution for brands, that want to manage the entire product lifecycle and communication on a single platform.
---
Best easy-to-use PLM
Supply Compass is Product Lifecycle Management (PLM) technology for fashion and apparel. Supply Compass focuses on enabling quick and easy collaboration between fashion brands and their whole manufacturer network.
Supply Compass provides design teams with a shared workspace for product development, communication, and order details. This PLM solution can be used as a full production system or use features of it alongside other business systems.

Features
Create component libraries with Supply Compass Style Builder.
Develop digital tech packs and share them with manufacturers.
Collaborate directly with manufacturers through the sample-making process.
Manage collections and orders.
Create inspirational mood boards with the annotations feature.
Track product stages, and set key dates and milestones.
Manage purchase orders.
Pricing
Starts at $350 per user per month.
Summary
Supply Compass is easy to use for teams of all sizes. It is a great solution for fashion brands that want to build a close relationship with manufacturers.
---
Best PLM for brands with multiple product styles
Centric Software is a PLM solution created for a variety of industries. Centric PLM covers the whole product lifecycle process and helps brands increase speed to market, drive margin improvement, enhance global collaboration, and ensure compliance across a global supply chain.
Features
Merchandise planning: manage seasons, departments, and collections.
Create technical documentation for multiple product styles.
Easily-managed materials library.
Supply chain visibility and control with Centric Product Sourcing.
Dynamic electronic collection of books for presentations.
Flexible calendars to manage deadlines, resolve bottlenecks and meet market windows.
Set acceptable quality levels and evaluation points for suppliers with the Final Inspection Module.
Pricing
Reach out directly for pricing.
Summary
Centric PLM is great for brands with large inventories and multiple product styles. If you are looking for a solution that will help manage production and quality control, this one is for you.
---
Best PLM for easy implementation
Gerber Yunique is product lifecycle management software for the apparel and retail industries. The cloud-based solution provides a single, reliable source for all product information that can easily be integrated into multiple design programs.

Gerber Yunique PLM Fast Start is the perfect choice for small to mid-sized fashion companies looking to implement a product development platform easily and quickly.
Features
Get started immediately with pre-populated templates and industry-standard data using the Gerber Yunique PLM Fast Start.
Create and modify styles, color palettes, images, and more without ever leaving Adobe Illustrator.
Snap photos for inspiration, while merchants and sales professionals can communicate easily using visuals.
Manage and track samples from prototype request to final approval.
Integration with design tools like AccuMark 2D/3D.
Stay on top of key milestones with real-time data.
Build new designs based on past sales reports.
Pricing
Reach out directly for pricing.
Summary
Gerber Yunique PLM is a great option for companies that are looking for easy implementation of a new data management system.
---
Bonus: Free download our Ebook on PLM for Fashion
Download our Free "Ultimate Guide to PLM for Fashion" Ebook to get in-depth insights on how PLM systems work in the fashion industry and how to choose the right PLM solution for your business.