Contents
Simply put, a Technical Pack (Tech Pack for short) is a blueprint of a final garment. It contains all the technical specifications and design details that make your product unique. Essentially, it is a tool used by designers and manufacturers to communicate. The quality of a finished product completely depends on the 'quality' of this communication.
In this post, we'll go over the fundamentals of creating a professional Tech Pack and demonstrate how to make Tech Packs faster using cutting-edge fashion technology. We also included a bonus video in which we make a factory-ready Tech Pack in under five minutes!
But first, let's cover the basics.
What is a Tech Pack?
A Tech Pack, also known as specification sheets, is a set of documents created by designers to explain their design to a manufacturer so that they can turn this information into a finished garment. It serves as a blueprint of a final garment that includes information like detailed flat sketches of the design, materials to be used like trims and labels, measurement specs, size gradings, colorways, etc.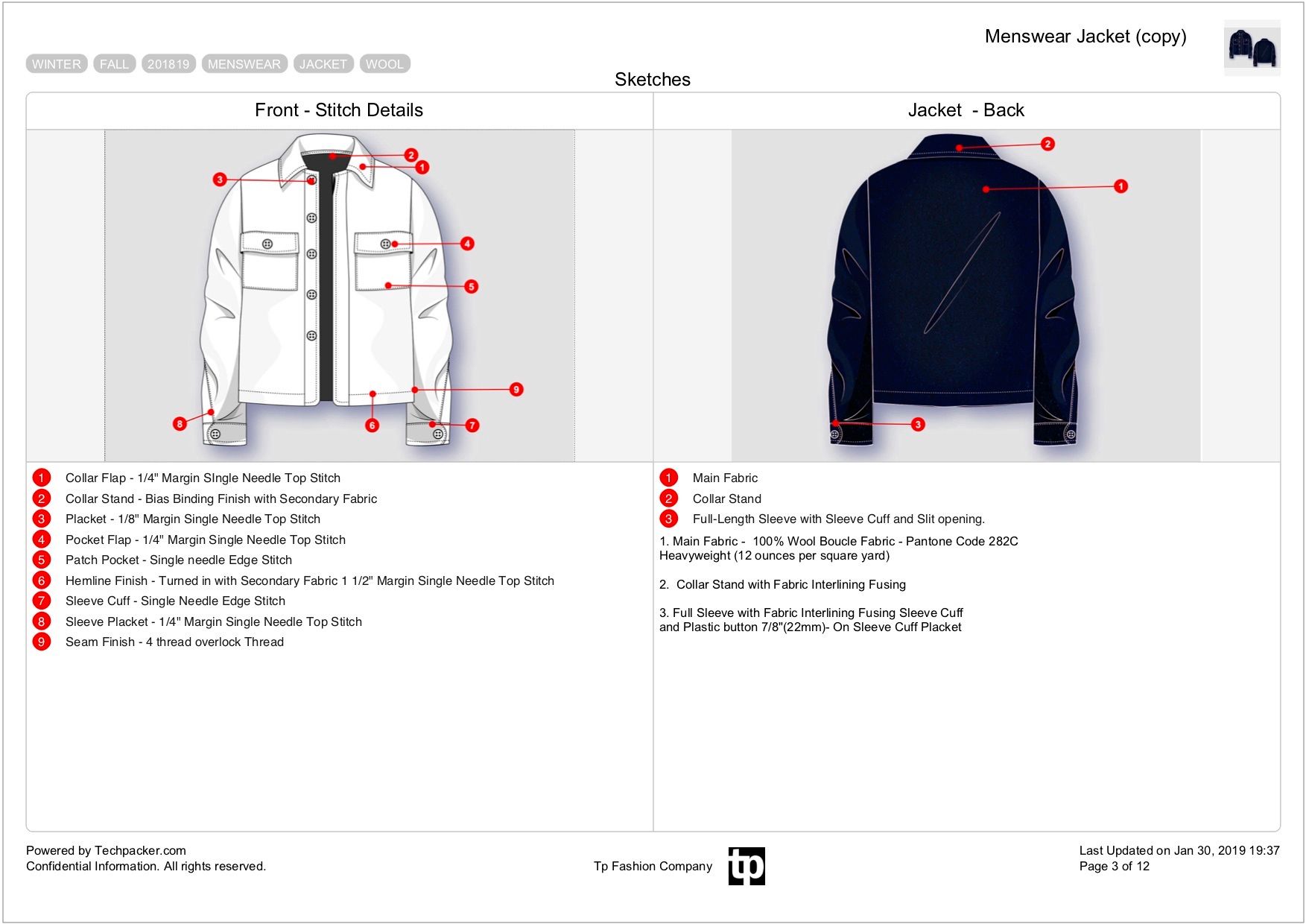 When it comes to outsourcing garment production, most contractors and factories will not take your orders unless you provide a clear and detailed Tech Pack. A Tech Pack minimizes risk for both the manufacturer and the designer, by clearly setting out what the desired specifications are for the future product. The ultimate goal of a Tech Pack is to minimize the number of samples made and bring a product to market faster. The Tech Pack also serves as a master document to track product development including comments, revisions, and any last-minute changes.
Why is a Tech Pack important?
Here are some of the reasons why Tech Packs are a must-have when creating any fashion product:
It saves you time and money
A comprehensive and easy-to-read Tech Pack helps you get error-free samples that match your original vision.
It helps with an accurate price quotation
The more detailed your Tech Pack is, the easier it will be for your factory to gauge how much time it will take to make your product and, thus, how much it will cost.
Tech Packs help improve fit quality
When a fit sample is received from the manufacturer you can add a custom column, called Fit Sheet, and register the actual measurements. You can compare these actual measurements to the initial measurements in the table and check whether the particular dimensions are within tolerance. This gives you room to adjust accordingly and significantly improves fit quality.
It's a reference point for quality control
For every round of samples, you'll have to check its points of measurements, materials, and construction details. If any of those deviate away from your specifications you can tell your manufacturer and they can make the necessary changes.
It helps you collaborate in teams
A Tech Pack can be transformed from a mere document to a collaborative environment where designers, product developers, buyers, and quality control planners work together to create better products faster.
Subscribe to our blog and get FREE access to
---
What does a Tech Pack include?

The information included in a Tech Pack is subjective to the type of product and its design. But here's a list of the most common information included in a typical garment Tech Pack.
Fashion flat sketches
Technical sketches (also called fashion flats) illustrate every design detail from different angles (front, back, side, and yes, even inside). They help your factory and pattern maker visualize how to make the first sample look as close as possible to your desired look. That's why they are done in black and white and are typically created on Adobe Illustrator.
Making sure you have a complete garment or accessory sketch before starting your Tech Pack is essential. Here are some tips to create professional flat sketches for your Tech Pack:
Include multiple views of your garment.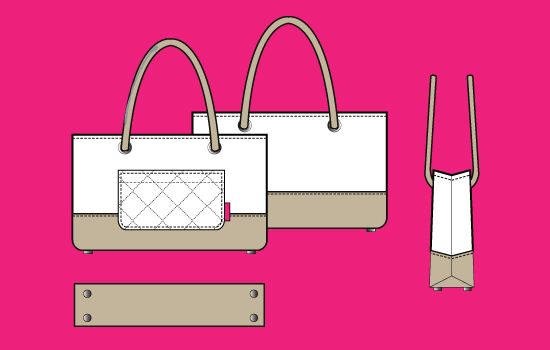 Including many vantage points such as side views, inside labels and other details makes it easier for your manufacturer to see how the garment should be constructed. It's important to write down any details about the garment which are not obvious in these sketches. These usually include diagrams with labeled arrows pointing out collars, plackets, cuffs, fastenings, bar tacks, and artwork placement.
Be as detailed as possible.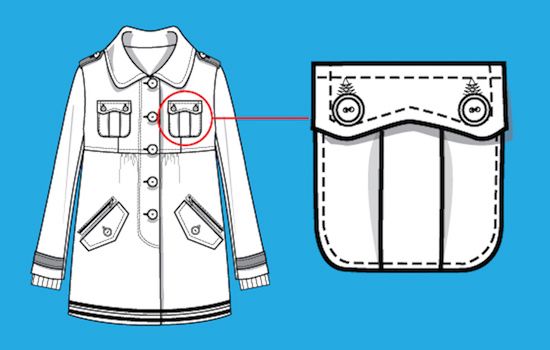 Be thorough and pay close attention to detail. Omitting parts of your sketch will only make it more difficult to explain your design to the factory. This requires that every seam, dart, stitch, and button be in place. A solid line on a garment typically represents a seam line, while a dashed line represents stitching. Don't point out a detail in your Tech Pack that isn't visible on your sketch!
Keep it simple.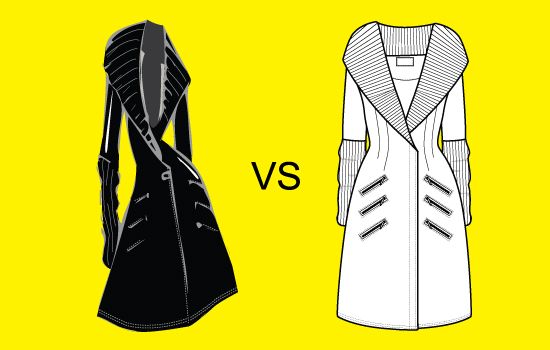 Add details to your sketches but don't overcomplicate things. Avoid shading and use plain black and white sketches to clearly represent your design.
Bill of materials
The Bill of Materials (BOM) is a list of raw materials to produce a garment and prepare it for shipment. When your business makes a physical product, you need to source the materials to make it. Sourcing materials is an essential part of the production process. The materials you choose make a huge difference to the quality of your product.

A typical BOM table includes main fabric, secondary fabric (lining), thread, trims, closures, labels, and packaging.
In the apparel industry, a Bill of Materials is often created by a technical designer and product developers. These designers work closely together, sending comments to factories who can then adjust the Tech Pack accordingly. A technical designer usually creates a Bill of Materials based on a CAD (Computer-Aided Design) drawing.
Here are three main reasons why a well-defined BOM table is important:
To determine costing and pricing of the garment.
To ensure your factory doesn't miss any components.
To standardize manufacturing and ensure quality and consistency in every batch.
Garment measurement specs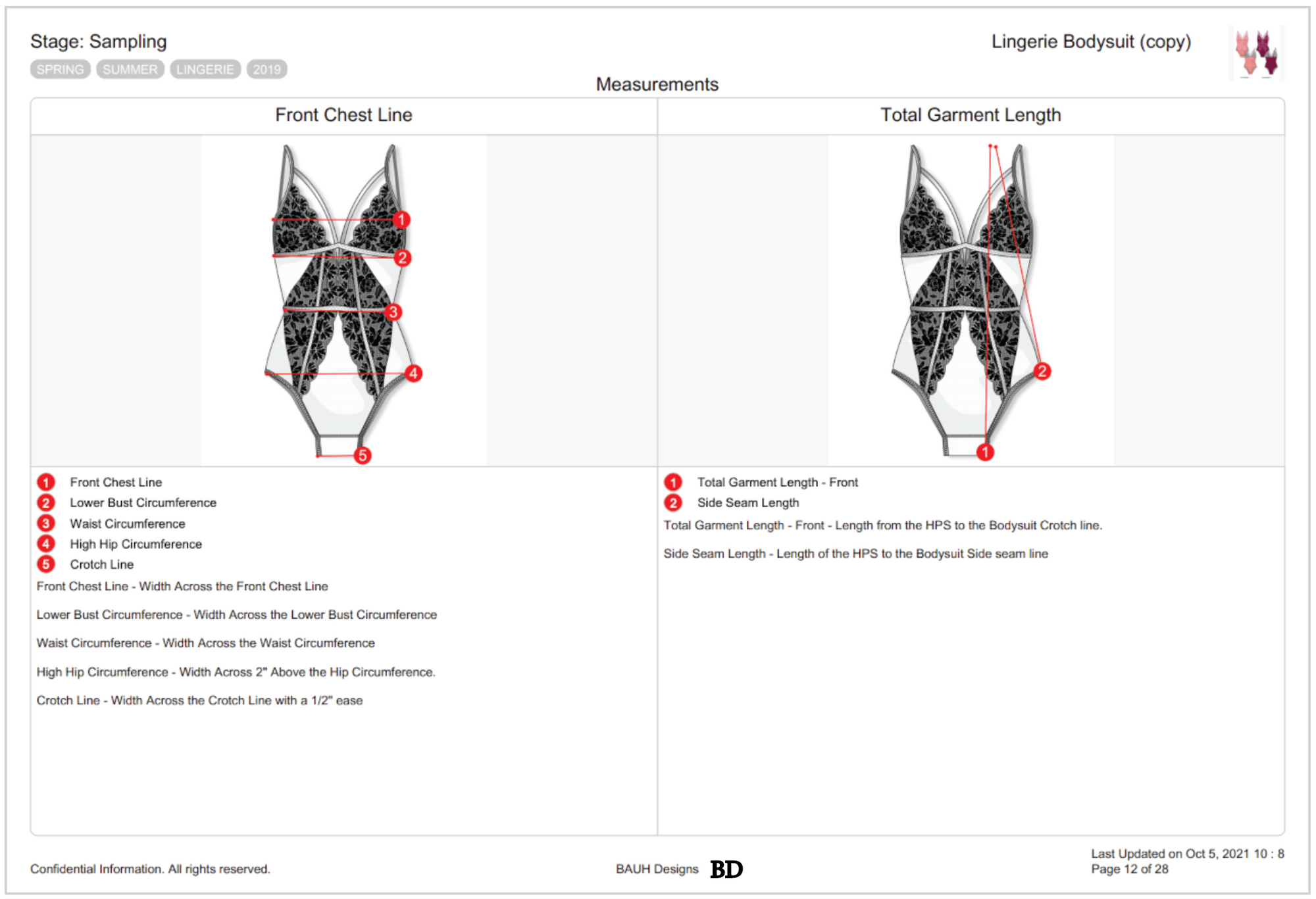 Assuming you have defined the style, set up the sketches and materials page, the next step to creating your Tech Pack is to include measurements. The Measurements specification sheet (or measurement specs) is an elaborate detailing of the measurements of different components in a particular garment.
There are general measurement terms that are typically used in every Measurement Sheet, such as body length, chest, waist, hips, armhole, shoulder drop, and neck opening. However, depending on how complex the garment is, more points of measurement will need to be included. For example: collar length/width, cuff length/width, pockets measurements, etc.
The garment measurement sheet is one of the most important documents used to produce a piece of clothing. Any mistakes in the spec sheet may result in a loss of time and money for designers, as well as clothes that don't fit the way they were intended to.
Measurement spec sheets can be created based on standard sizing charts or according to custom body measurements.
Garment cost sheet

A garment cost sheet is made to calculate the cost of a piece of garment. The typical garment cost sheet includes the material cost, labor, and cost of processing.
Each type of product has different specifications and therefore a different costing table. Each one has essential elements that you don't want to miss. The number of details in the garment cost sheet always depends on the complexity of the garments.
To calculate the final cost of the garment, you must clearly specify each component that goes into its manufacture. Main fabric, lining, interfacing, trims, buttons, zippers, embellishments, appliques, and so on. The costing table must include all of these details. Quantities of each item must be listed, preferably in a separate column to facilitate visualization and calculation.
There are parts that are commonly used for all products. Things like tags, labels, sewing thread, packaging materials will be a part of any costing table no matter what type of product you are creating. So be sure to add those too.
---
How to create a Tech Pack
Microsoft Excel has been the de facto tool to create tech packs for the fashion industry. It's versatile, jam-packed with features, and based on something very familiar: spreadsheets. But this is the crux of the problem.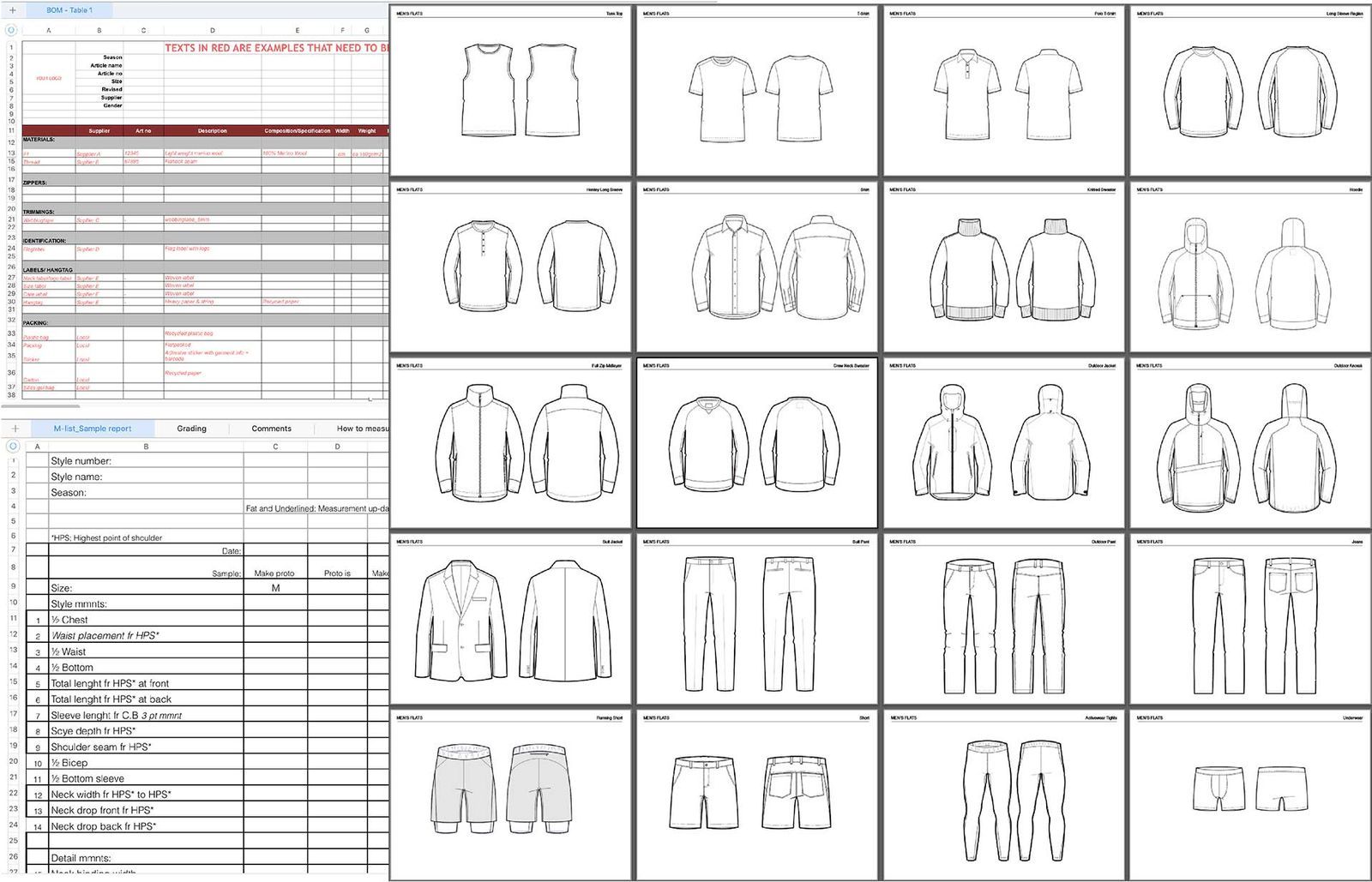 The main drawbacks of spreadsheets are:
Lack of communication between team members. Tech Packs are usually created by the design teams. Using spreadsheets team members cannot collaborate in real-time. Tech Pack versions are shared back and forth via emails, which causes delays in product development.
Spreadsheets are static. Product info is divided into tabs. And Tech Packs are spread out inside different files and folders. Which makes product development not visual and prone to mistakes.
Creating seasonal tech packs is slow and inefficient. Product information on Excel is not only static - but also disconnected. Tech Packs are fragmented, making design details hard to reuse. The result is a lot of data entry. To repurpose your design info using Excel spreadsheets you would copy the entire Tech Pack, make sure all your measurements are consistent and the formulas are working properly.
Luckily, using up-to-date technologies you can streamline your product development and avoid production delays. This is where cloud-based software like Techpacker steps in.
Unlike Excel, this visual approach of Techpacker gives you a big-picture snapshot of your entire product development process in one glance. You don't have to switch between tabs when double-checking or editing different sections in your Tech Pack.
Sketches, Bill of Materials, Point of measurements, Costing Tables, etc. - everything is visible on a single page. And at any time in just one click, you can turn this visual board into a PDF-ready Tech Pack and share it directly with your manufacturer.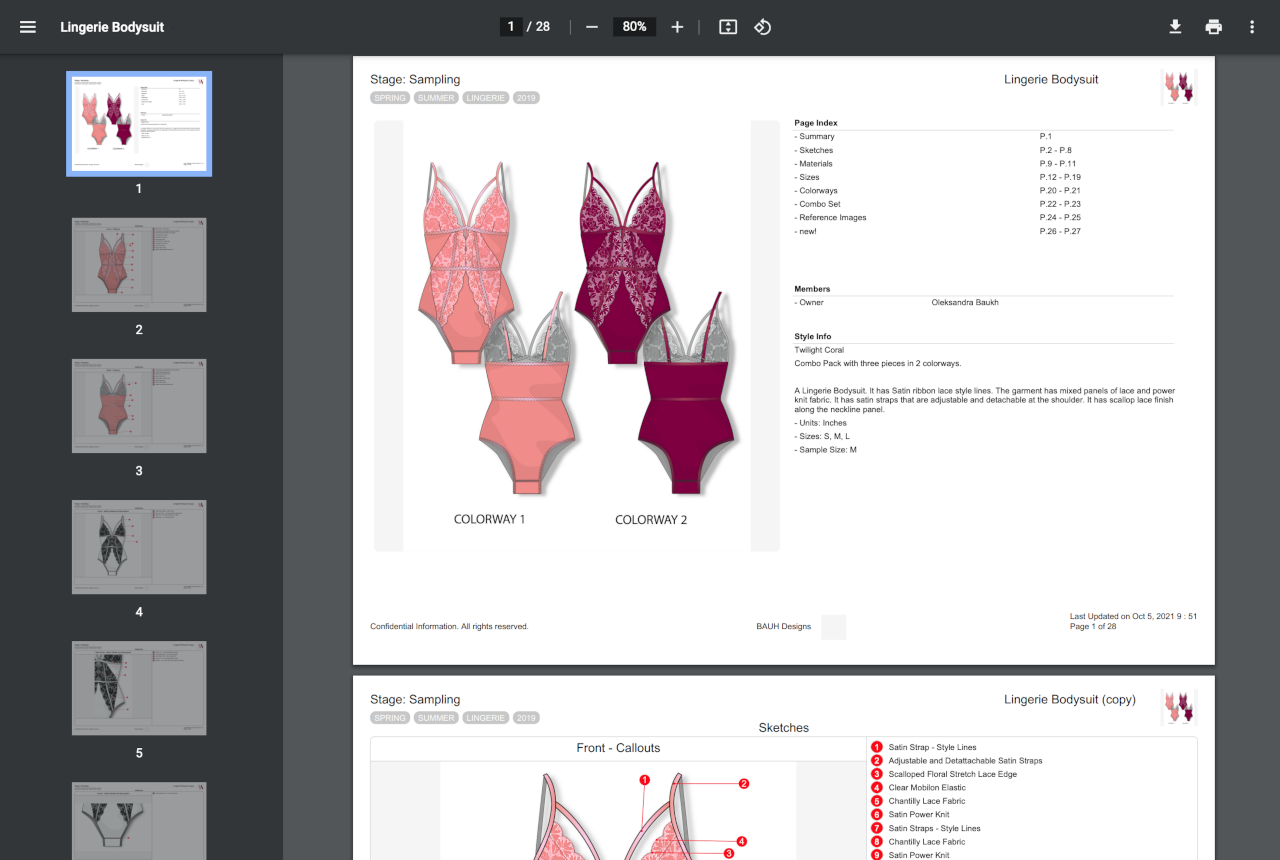 And the best thing is that you can simply re-use your design specs for future collections by utilizing Techpacker card libraries. Where each card securely stores design info like sketches, measurements, or materials.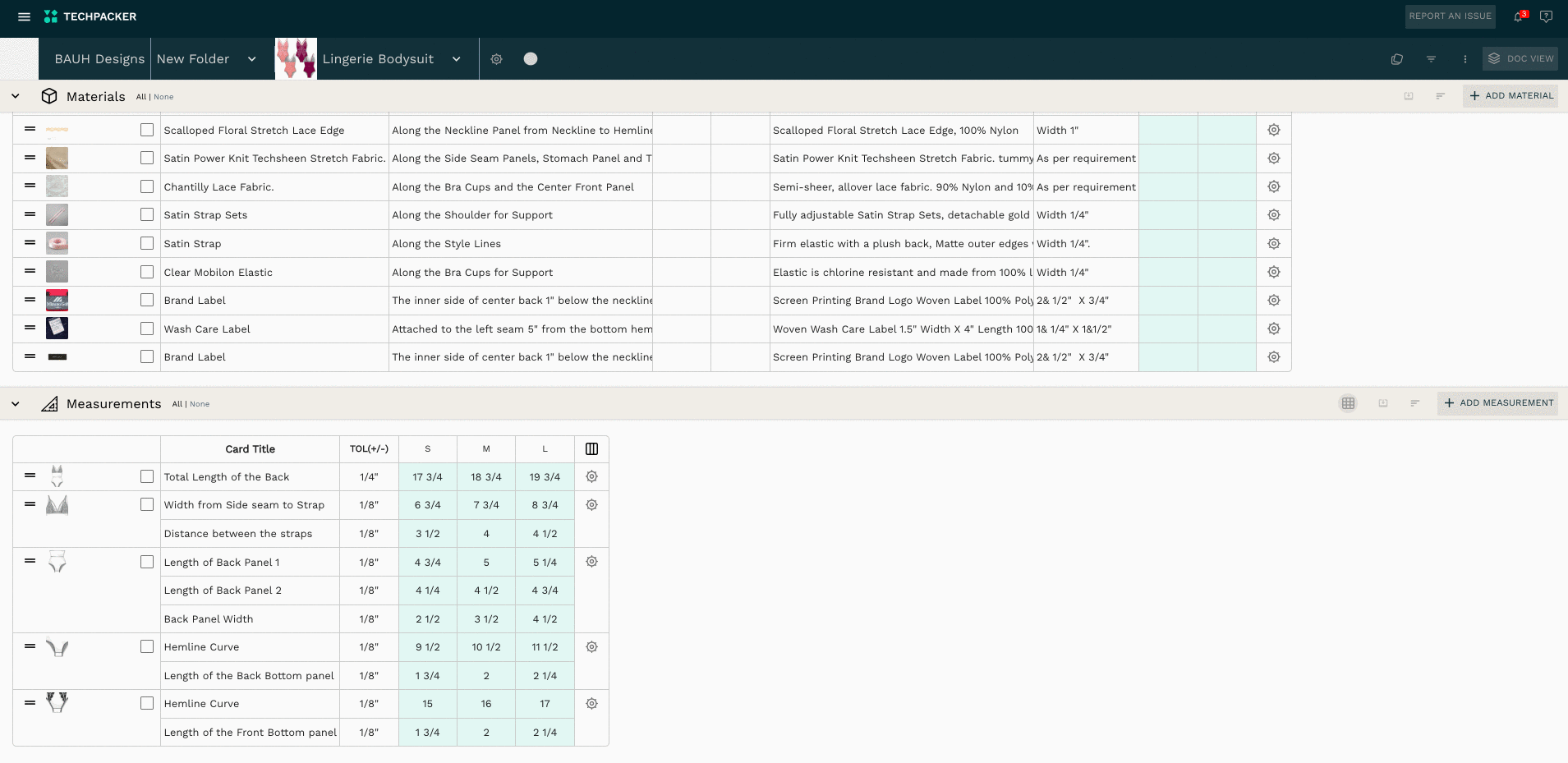 You can collaborate with your team directly on these Cards by adding comments and tagging each other. Communicating in real-time speeds up the product development process significantly.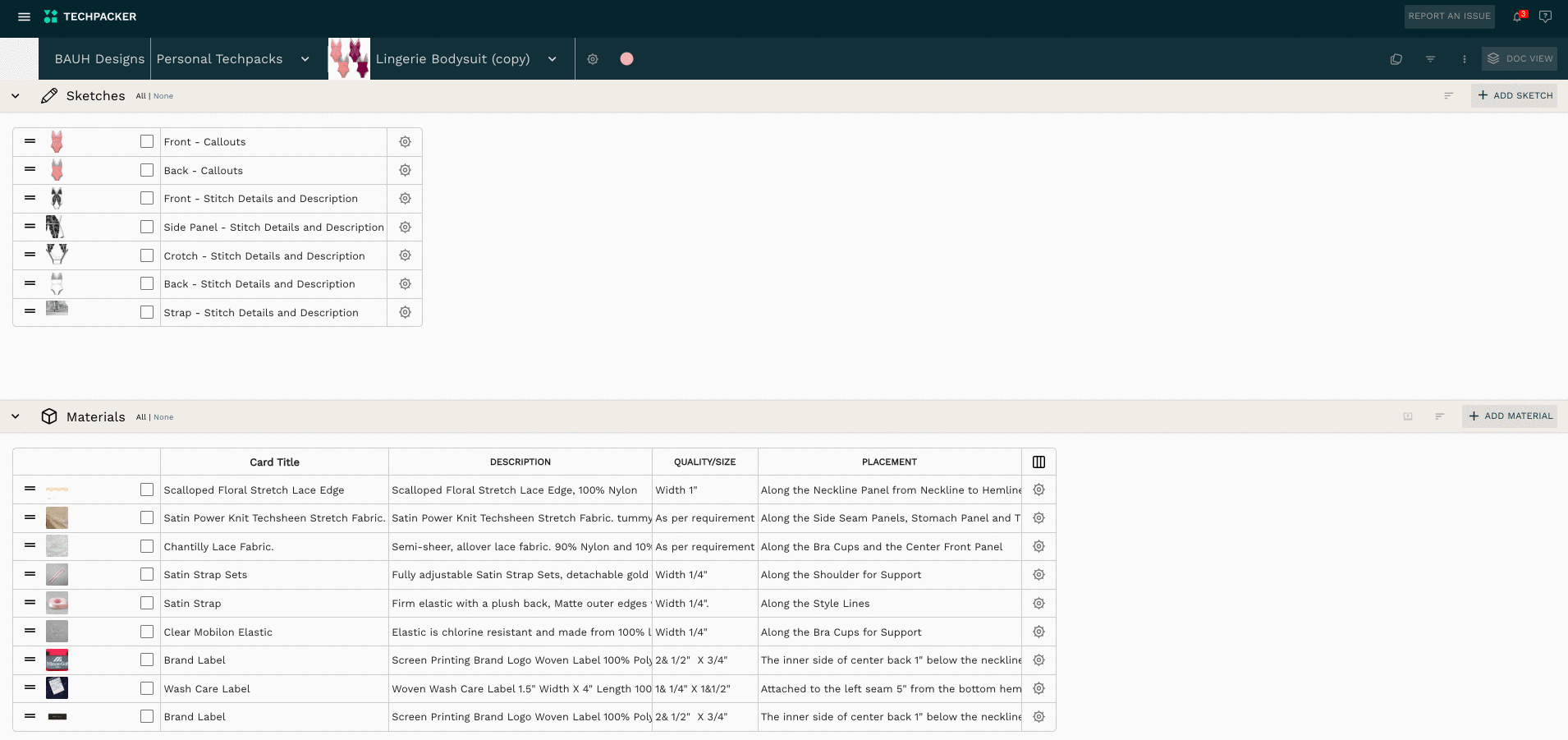 ---
Tech Pack examples
Now that you've learned all about how to make a tech Pack, here are some examples of detailed Tech Packs made with Techpacker.
Wrap dress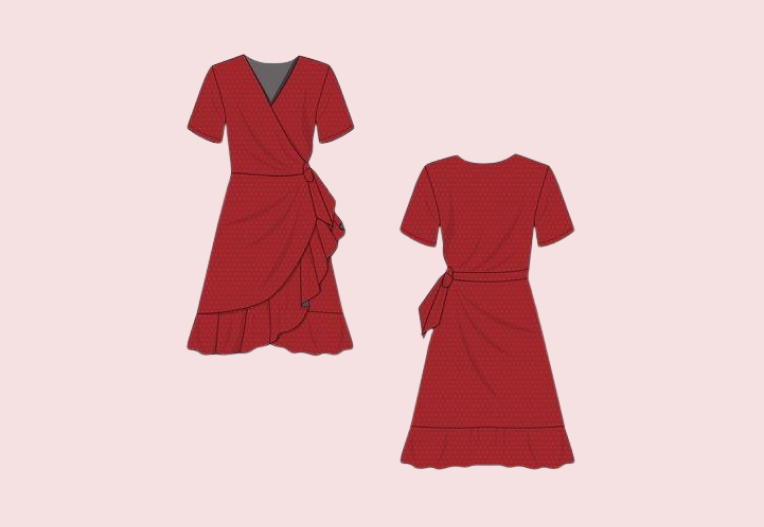 ---
Menswear Jacket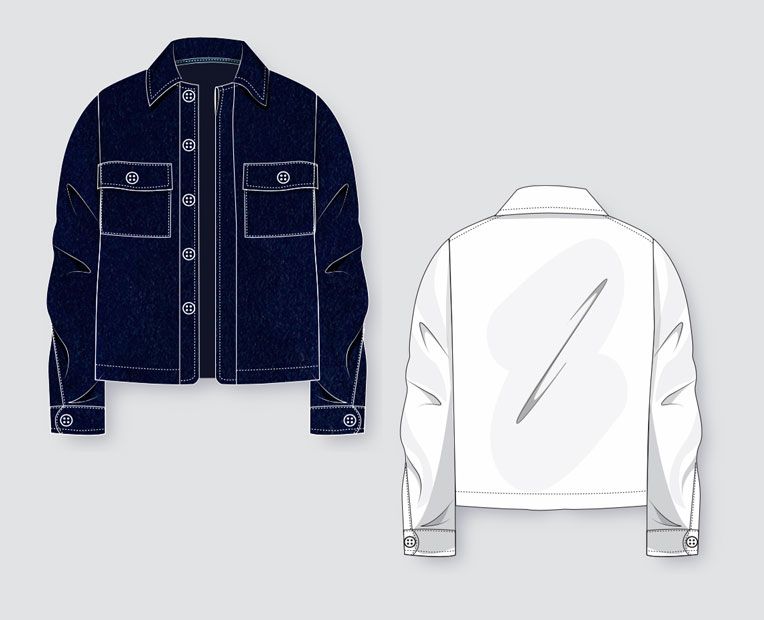 ---
Women's shoulder bag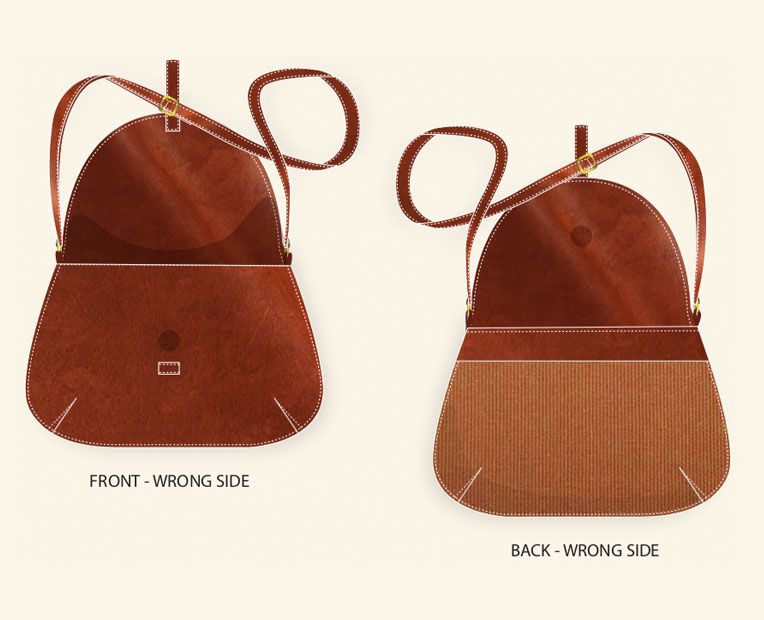 ---
Bed linens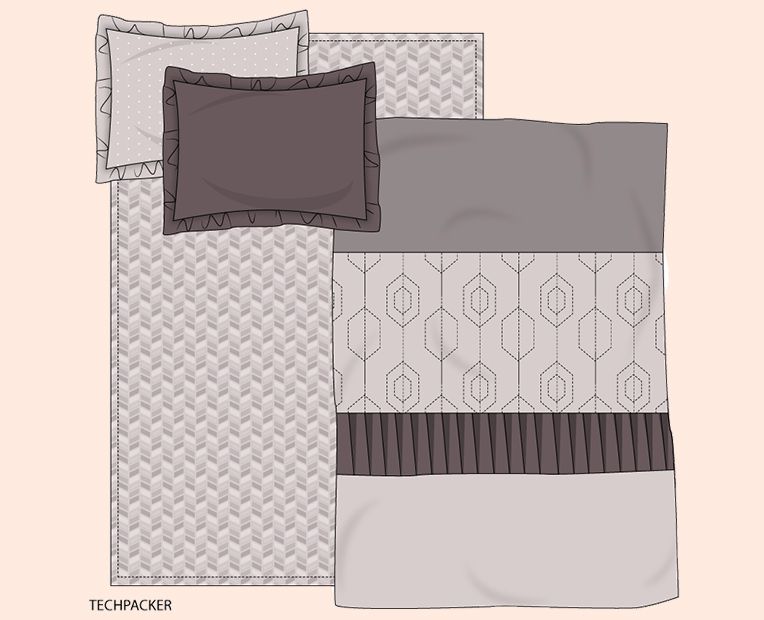 ---
Video: 5 Minutes Tech Pack Challenge
Can you believe that a factory-ready Tech Pack can be made in 5 minutes? Watch the video below!
---
Bonus: Download our "Ultimate Guide to Tech pack in Fashion Ebook" for free!