Contents
Collaboration between a designer and a clothing manufacturer is a complex thing. It requires a continuous communication and participation on both sides. For a designer this relationship will determine the overall quality of the line, for the clothing manufacturer the quality of their work and the future relations with clients. In this article we are focusing on design collaboration in the fashion industry. We discuss important stages like product development, pre production and production processes.
To illustrate the stages of collaboration between designer and clothing manufacturer let's look at this info graphic: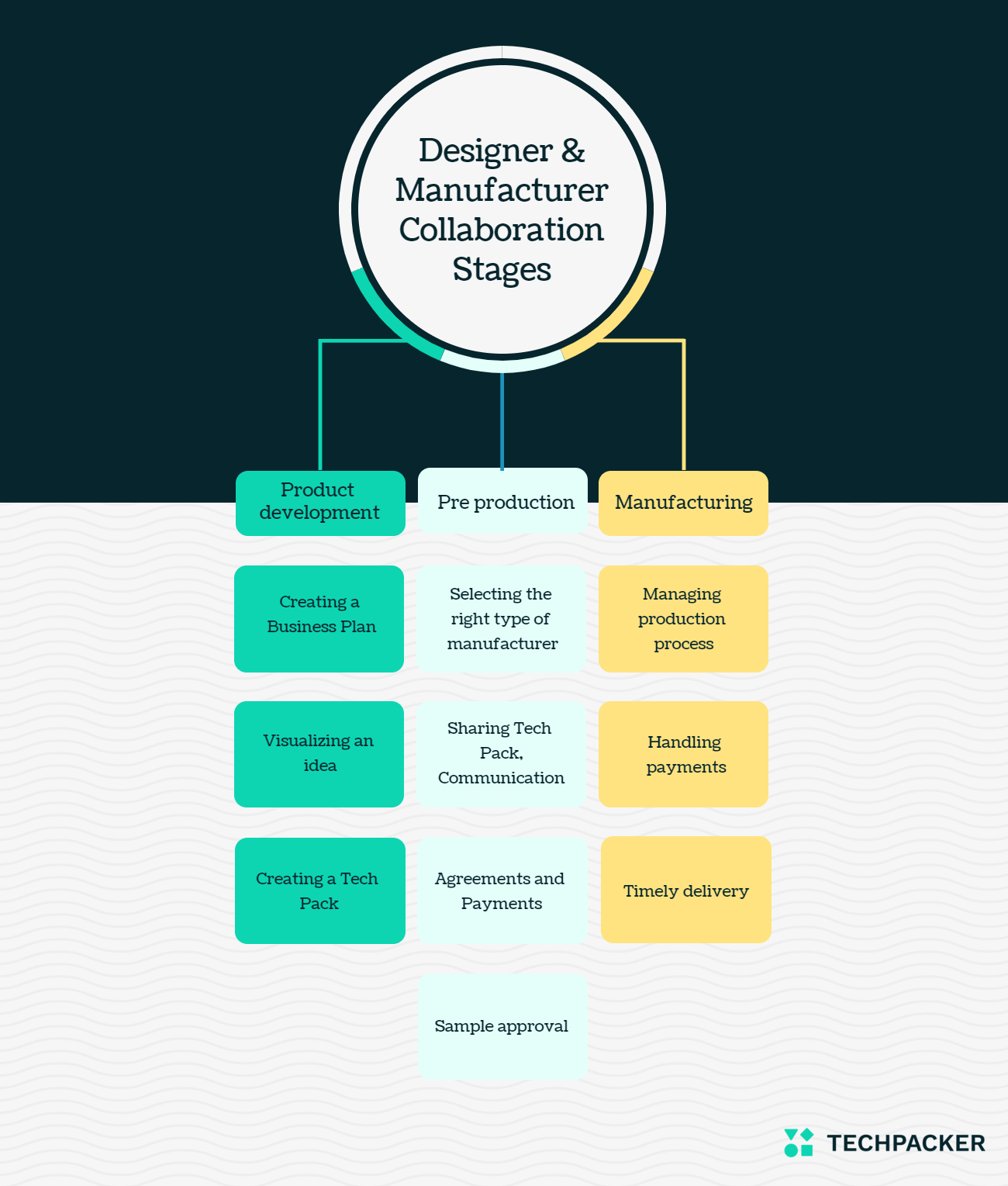 Now let's dive into the details...
Product development stage
Collaboration between designer and manufacturer is the foundation of the apparel business. The first time you communicate with each other you need to have clear expectations of what result you want and how each side will operate together.
Product development stage consists of:
Creating a business plan. At this stage designer is making a plan for their business. This plan includes: defining the target market, budgeting and goals.
Visualizing the idea. After the business plan is completed and approved the creative part begins. At this point the initial sketches, color stories and fabric selections are made.
Creating a Tech Pack. Once the brand has a clear vision of the design it is time to move to the technical part of the process. A factory-ready Tech pack includes: technical sketches, Spec Sheets, color and fabric preferences.
Pre production process
The typical pre production process normally consists of several stages:
Defining and selecting the right type of manufacturer for a particular business.
Sharing and negotiating Tech Pack with manufacturer.
Handling agreements and payment terms on both sides.
Communication between both sides.
The pre production sample approval.
Selecting the right type of manufacturer
Whether you are a small brand planning to manufacture in small batches or a big retailer willing to mass produce there are different options. Although in the past it was hard for a small brand to find a manufacturer, right now there are plenty of them willing to support the young artists.
Selecting the right type of manufacturer is a starting point for a clothing business. Once a brand has a factory ready Tech Pack on hand and a clear vision of a design they are planning to manufacturer, finding the manufacturer that can accommodate the ideas is the next step.
When choosing a factory the main deciding factor is what services they provide. There is a thing to consider: are you looking for a factory to produce straight from your Tech Pack and Spec Sheets or you require a full production service from product development to construction?
There are two main types of garment manufacturers:
CMT (cut, make, trim) clothing production. This type of manufacturer is suitable for advanced brands who have experience in working with factories.
FPP (full production package). The FPP is perfect for those brands who are just getting started. The FPP factory will provide the resources for all stages of product creation including pattern making, fabric sourcing and manufacturing.
Learn more about types of clothing manufacturers as well as advantages and drawbacks of each one here.
Sharing Tech Pack with manufacturer
Once the right type of manufacturer is selected the designer will share the Tech Pack and the supporting docs with manufacturer. This step gives a garment manufacturer a clear understanding of what kind of garment will be produced, what fabrics and trims will be used and what resources are needed for the project to run smoothly.
After designer added manufacturer to their platform the Tech Pack can be easily shared.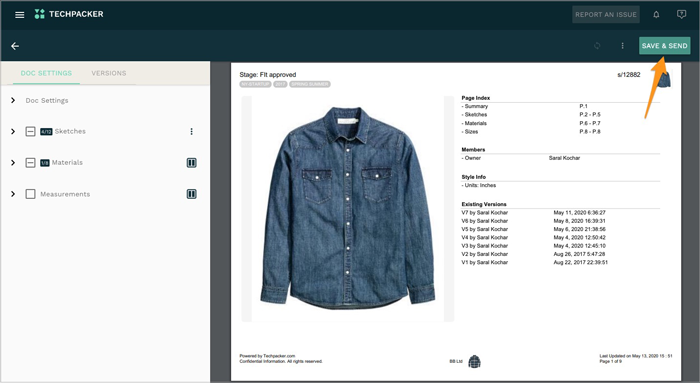 Handling agreements and payment terms
Many potential problems can be avoided by creating a clear manufacturing agreement. When manufacturing overseas the process can get very complicated. Laying out the deliverables clearly, adding as much specifications as possible and setting payments terms will save a lot of time and resources for both sides.
Follow our simple guide on how to create a garment manufacturing agreement.
At the pre production stage the payment terms are negotiated between a designer and apparel manufacturer. Designers will be able to request a price quotation from the garment manufacturer. Each agreement is unique and depends on designer's and factory's preferences so it is crucial to add every detail to the clothing manufacturing agreement to avoid potential delays and frustrations. A clear mutual agreement is beneficial for both parties to keep the manufacturing process on track.
Here are our top 5 tips on vetting garment manufacturers from the industry professional.
Communication between designer and manufacturer
Once the collaboration has started, continous and on time communication between designer and clothing manufacturer is a key to success. Therefore it's important to keep track of the conversation. Effective comminucation is not possible without the basic understanding of the clothing manufacturing terminology.
Digging in the mailbox in search of emails and updates can be very time-consuming. It is also very easy to lose important notifications in the spam folder or promotional emails.
Since the launch of the manufacturer's platform on Techpacker it's been very easy to manage conversations between designer and manufacturer all in one place on the single platform!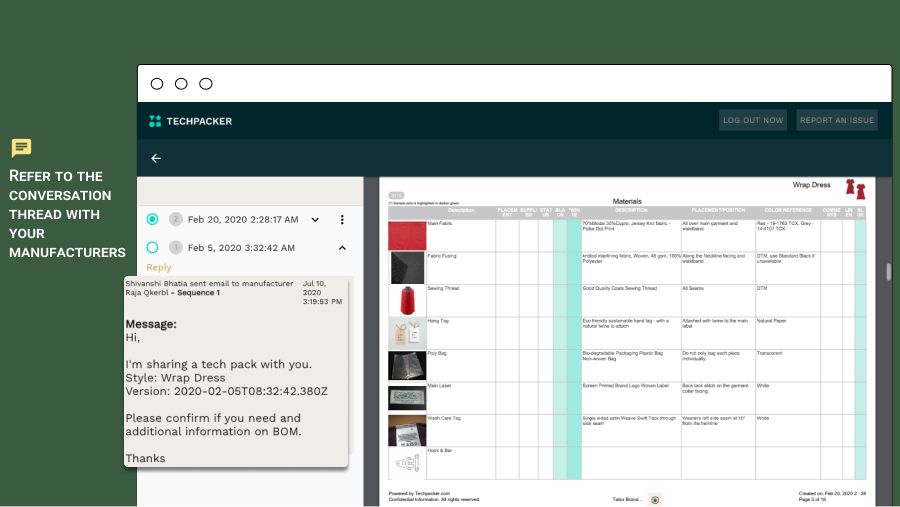 Pre production sample approval
The sample approval stage is an essential part of the clothing production process. It is also a final stage before the mass production begins. Creating a sample gives a designer an idea of how the final garment will look and feel to the touch. For a manufacturer it is a way to show their capabilities and start a relationship with the client. Before the final production run the sample will need to be checked and approved. Normally factory samples are much higher in price than the unit cost of the finished product.
Learn more about types of garment samples here. There are 12 of them!
Before the final sample is approved many changes may happen to the initial design. These changes can include fabric type, trims, sizing and patterns. It is important to document every change made along the process of the sample making.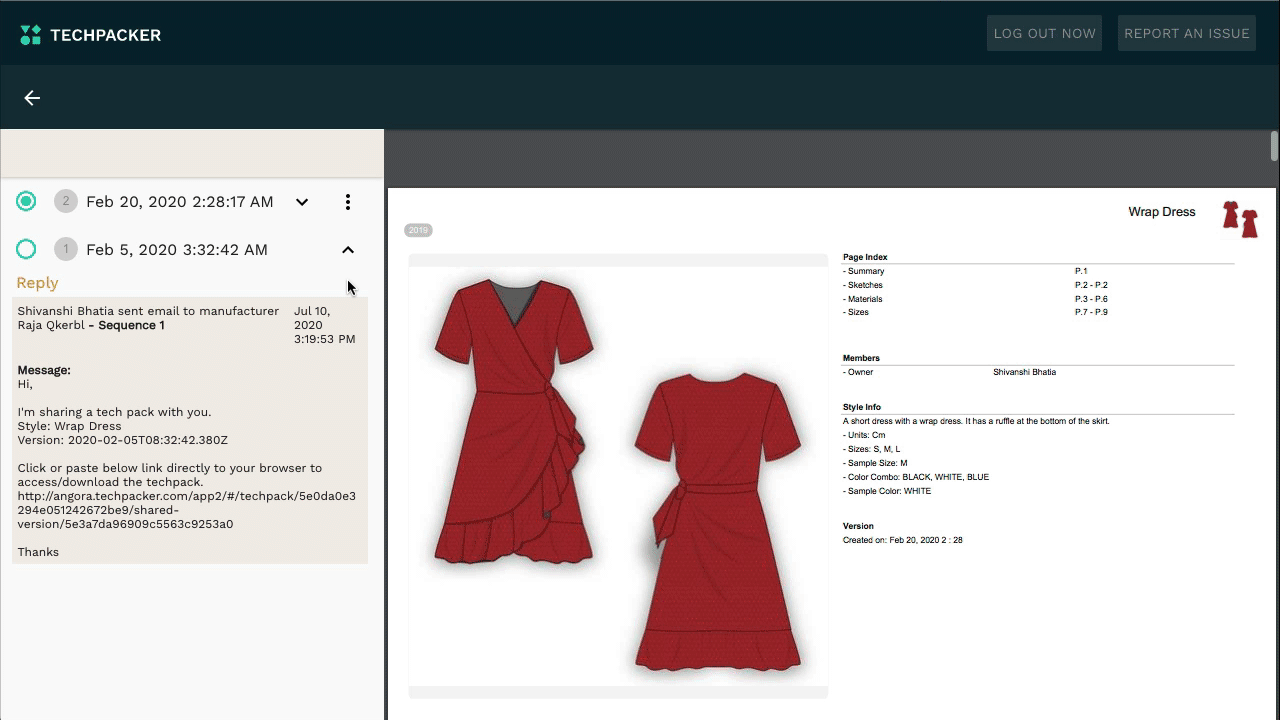 Clothing manufacturing process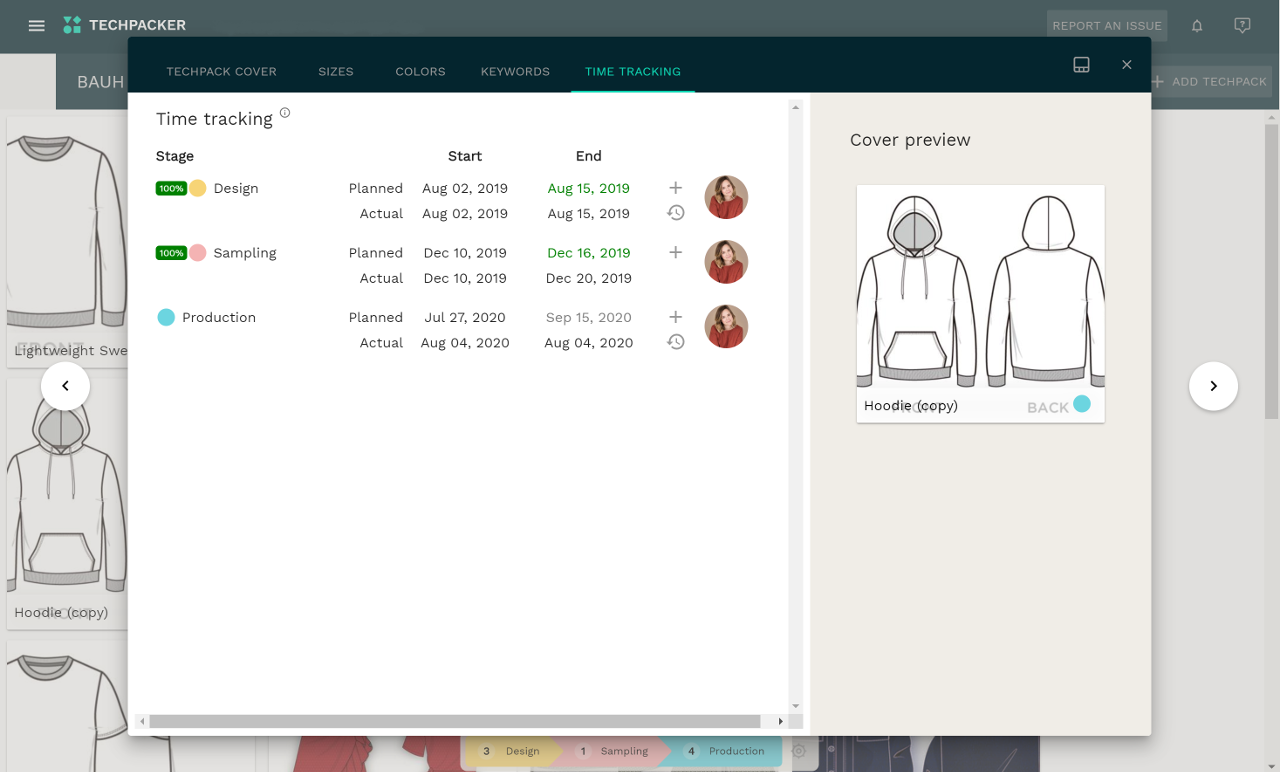 Managing the production process
Managing the production process includes precise planning of the on-time shipments, effective use of labor and overseeing the needed supplies and equipment for each order.
In short, production planning involves:
Scheduling each task.
Execution.
Delivery of products.
Garment manufacturers have to make sure everything goes according to plan, they can't afford to lose time or materials. Poor planning can result into missed opportunities. Delays can lead to late fees. If the manufacturer fails to deliver the client will quickly switch companies and replace manufacturers. The garment industry is working in a highly competitive environment.
Fabric makes 60-70% of the cost of the garment. Effective production management relies on garment manufacturer's ability to order the needed amount of fabric for each run. The cutting room processes need to be tracked to keep mistakes to a minimum. The planning process of each piece that goes into production must be as accurate as possible.
Handling payments
Payment terms vary in the garment industry. Traditionally, the manufacturer would receive 60-70% of the order value of goods being manufactured. The manufacturer would use this amount to buy raw materials and trims for the production run. Sometimes a buyer will present a Letter of Credit to the manufacturer where a bank guarantees that a particular seller will receive the money from a particular buyer. Lately, a Sales Contract has been a popular payment system in the garment production industry. Using this system a clothing manufacturer relies on the Purchase Order of the buyer. As the world evolves the way of handling payments in the garment industry is changing significantly.
Timely delivery
Ideally, clothing line should be delivered when the customer demands. Both early and late delivery can create difficulties like limited storage capacity.
For clothing manufacturers having sufficient labor and on time raw materials delivery are the key to meeting deadlines. That also helps avoid paying extra for labor overtime and overnight material deliveries. Shorter lead times between ordering and delivery are a trend in the garment industry. Those clothing manufacturers who can meet short lead times have a competitive advantage.
To avoid delays in the production clothing manufacturer provides daily managing of each step. Once the production plan is approved and the delivery deadlines are set the factory ensures the plan is being followed correctly. For example, if the cutting team falls behind its schedule, the sewing and finishing teams must wait. That could be the cause of of potential backlogs and late shipments.
Conclusion
Collaboration between a designer and a clothing manufacturer is a complex thing. It demands on-time and continous communication on both sides in order for production to run smoothly. The vital parts of the process are:
Having a strong factory ready Tech Pack on hand.
Establishing a good relationship between manufacturer and designer.
Managing the production processes and legal aspects.
---