Contents
Setting the right cost and price for your product is critical to the success of your business. In this article, we will look at the distinction between cost and price. We will delve deeply into the methods and techniques used to calculate the right cost and price for your specific product, as well as share exclusive tips on how to get the right cost from your manufacturer and set the right price for your target market in order to become a profitable business. Excited? We are!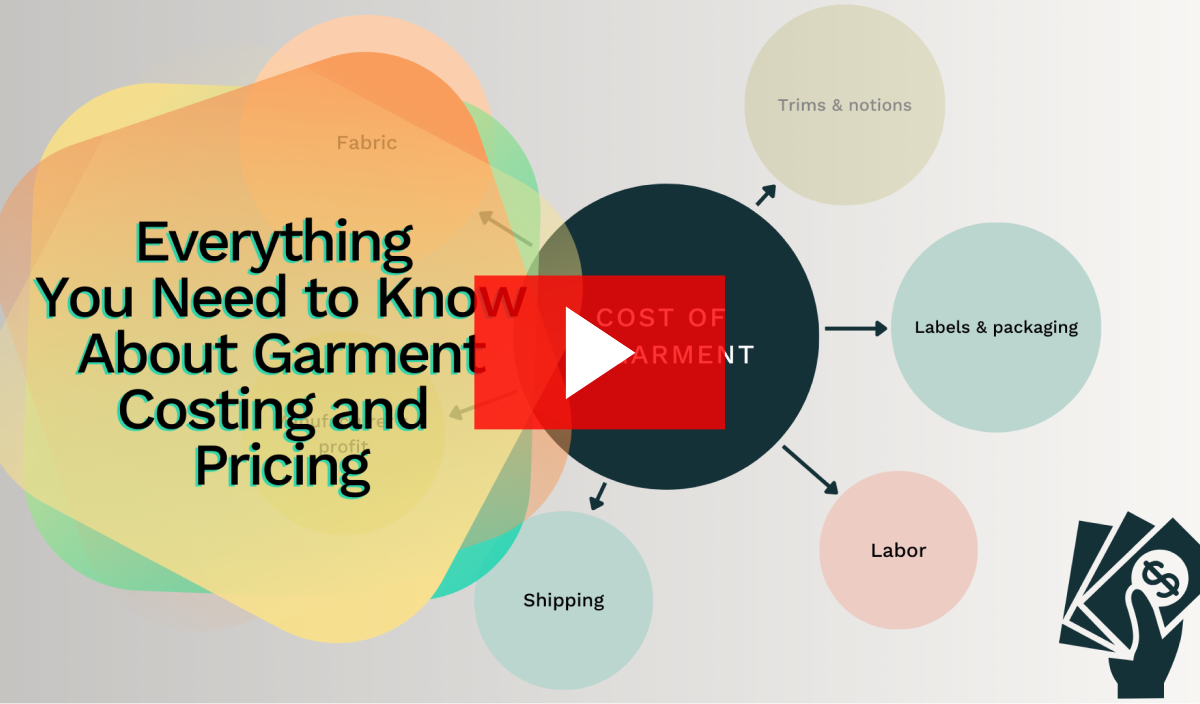 COSTING
What is the Cost of a Garment?
In a business, cost is the amount of money that is spent on the production or creation of a garment. From a seller's point of view, cost is the amount of money spent to produce a product. If sellers sold their goods at the same price as they cost to produce, then they would break even. This means that they would not lose money on their sales, but their company would not make a profit either. Cost does not include a mark-up for profit.
As a result, the price refers to the cost of a product from the buyer's perspective. This is the amount charged by the seller for a product, and it includes both the cost of making the product and the mark-up cost added by the seller to generate a profit. The garment can be priced by adding the manufacturing cost plus an estimated mark-up or profit percentage.
In fashion manufacturing, costing means the process of estimating and then determining the total cost of producing a garment or item. It generally includes raw material cost, construction of the garment, trims, packaging, shipping and operating expenses and manpower, among others.
The cost of the garment is calculated by adding the costs of various raw materials, the company's operating costs, and the expected profit. It is also necessary to understand the buyer's pricing expectations.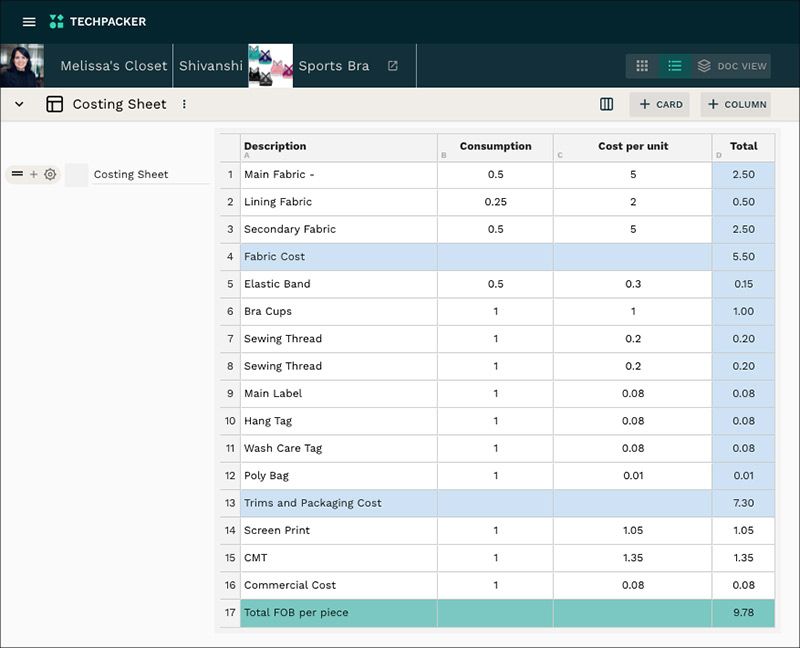 Garment Costing Methods and Techniques
The garment industry employs a variety of methods and techniques to determine the cost of a product. However, there are a few things that are commonly considered. These factors include the type of fabric and trims used, garment testing, logistics costs, organization profit, and value-added services such as printing, embroidery, washing, appliques, and so on. There are also other details that go into calculating the cost of a garment like unit of measurement, quantity of the order, and type of dyeing and finishes used. All of these components go into the Bill of Materials - a part of any Tech Pack, a so-called "production recipe" for a finished garment or an accessory.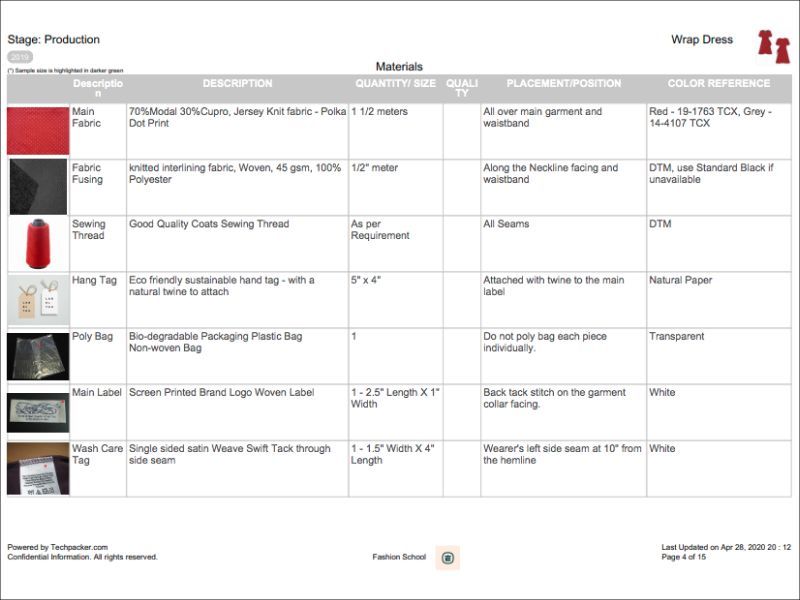 Sign up for our FREE membership and get access to
---
Main Factors that Affect Garment Costing
Let's start by defining the key factors that determine the cost of a garment:
Fabric type
Trims and notions
Labels and packaging
The cost of making
Shipping and logistics
Profit of the manufacturing organization
Other expenses
These parameters play a vital role when the production merchandiser does the costing of garment, as these factors are very dynamic and keep fluctuating frequently.
1. Fabric
Fabric is generally the most significant factor in the costing of a garment. Fabric accounts for 60 to 70% of the total cost of basic-styled garments.
The parameters that affect the fabric cost:
UOM: Unit of Measurement (UOM) is a standard measurement that is used. The UOM for woven fabric is normally in meters or yard.
MOQ: Fabric Minimum Order Quantity (MOQ) is nothing but the smallest quantity of a product that a fabric manufacturer can supply.
Order quantity: The cost of fabric may depend on the order quantity. This depends on the type of fabric required and fabric manufacturer capacity along with negotiation between fabric buyer and supplier.
Incoterm used: This factor makes a huge difference in fabric cost. While importing the fabric from another country merchandiser needs to deal with the supplier for delivery of the fabric on the basis of incoterms like EXW, FOB, CIF, DDP etc. based on which it will be decided who covers the cost of transportation and risk.
Other parameters that affect the fabric cost, they are also called the value added services:
Weaving or knitting cost;
Dyeing cost.
2. Trims, Thread, Buttons, Zippers and other accessories
Apart from main fabric garment construction include other materials like trims, buttons, thread, zippers, elastics, etc. Their quality and quantity affect the cost of the garment. The size, shape, and material used in trims like zippers, buttons, and labels also sums up the cost of making a garment.
3. Labels and Packaging
The cost of labels depends on size and material you are choosing, in mass production the amount of labels ordered plays a significant role too.
The cost of poly bags and cartons used for shipping is highly dependent on thickness, dimension and raw material used. The cost of packaging is equally important as it gives a significant difference when we consider the whole order quantity. Hand tags or price tags are used as packing material, the cost of hand tags are dependent upon material used, printing on it, and MOQ (Minimum Order Quantity).
4. Cost of making
The cost of making is based on the total cost per hour multiplied by the number of hours it takes to make the style and divided by the number of units produced if the making is done by a contractor. The contractor adds profit on to this amount.
5. Shipping and Logistics Cost
Whether you're sourcing in your own country or abroad, the transport logistics of your goods from the factory to your warehouse imply additional costs. These are usually known as freight and shipping.
6. Profit of the organization
This is basically what you earn when you sell your garment. This amount includes your own pay, helps your business stay afloat and invest into developing new styles.
7. Other expenses
Come up with the amount that helps you pay the bills like rent, employees salaries, utilities and include it in the cost of your final product.
To learn more about Garment Costing Methods and Techniques and how to add the expenses to your Costing Table with examples follow this link.
Costing table examples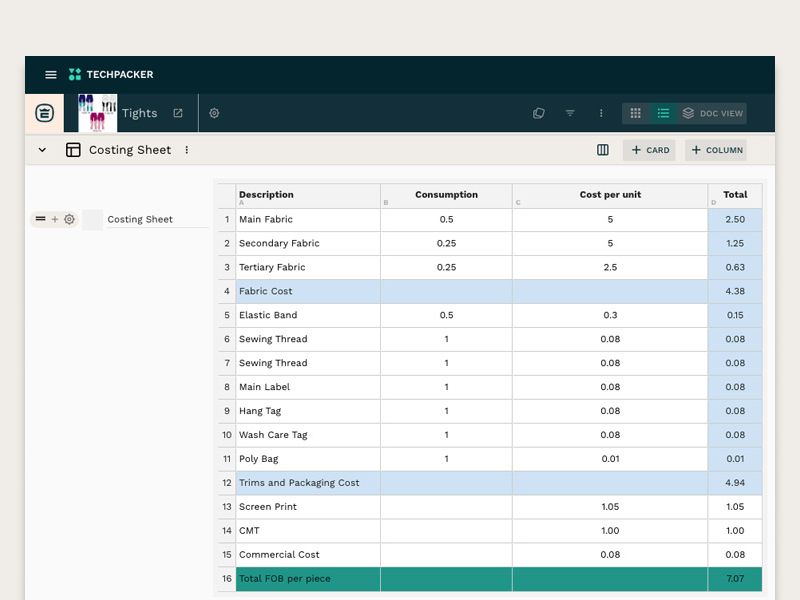 Techpacker helps you create a neat, organized, cost sheet that keeps track of all the expenses and that you can also save for your records.
Techpacker simplifies the process of costing  with its customs section. You can either use our costing template or create a custom table if you follow a particular type of format.
If you use our costing template, all the items that are in the 'Bill Of Materials' section automatically get transferred to the costing sheet. This is a time saver and reduces the probability of missing an item. Check out the example of the Costing Sheet below: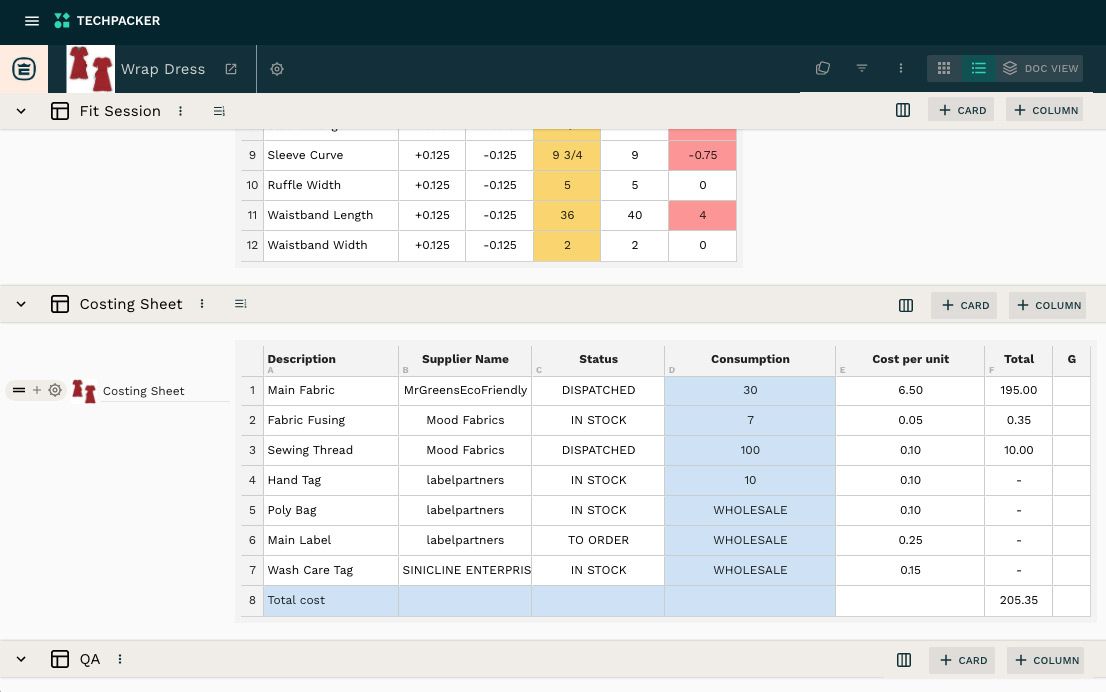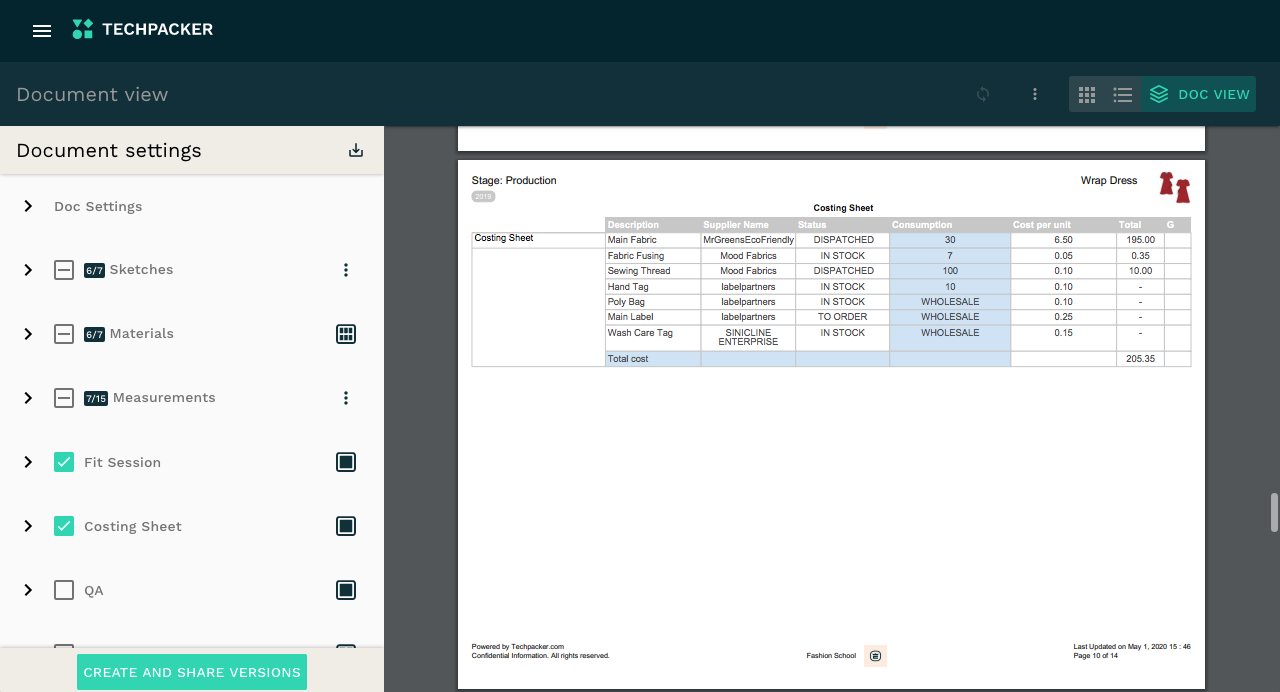 All that you need to do is to introduce the variables for the quantity, price per piece, and the UOM (unit of measurement). The total cost will be calculated automatically with formulas already integrated in the table.
With Techpacker, you can see the costing sheet and other Tech Pack data together in one place instead of having to go back and forth between two separate documents. You can always make edits and keep your entire team up to date with real-time information.
To share costing sheets with vendors and brands you can generate multiple PDF versions right from the platform. This makes it super easy to compare and analyze and make the necessary adjustments before sending to production.
Creating Costing Sheets with Techpacker will save you time, money and not to mention the headache of having to organize so many sheets and lines of products. It's all in one place, with files, history and details ready to share and access as needed!
Watch the video below to see how easy it is:
💡
Check our step-by-step tutorial on how to create a Costing Sheet in Techpacker
here
.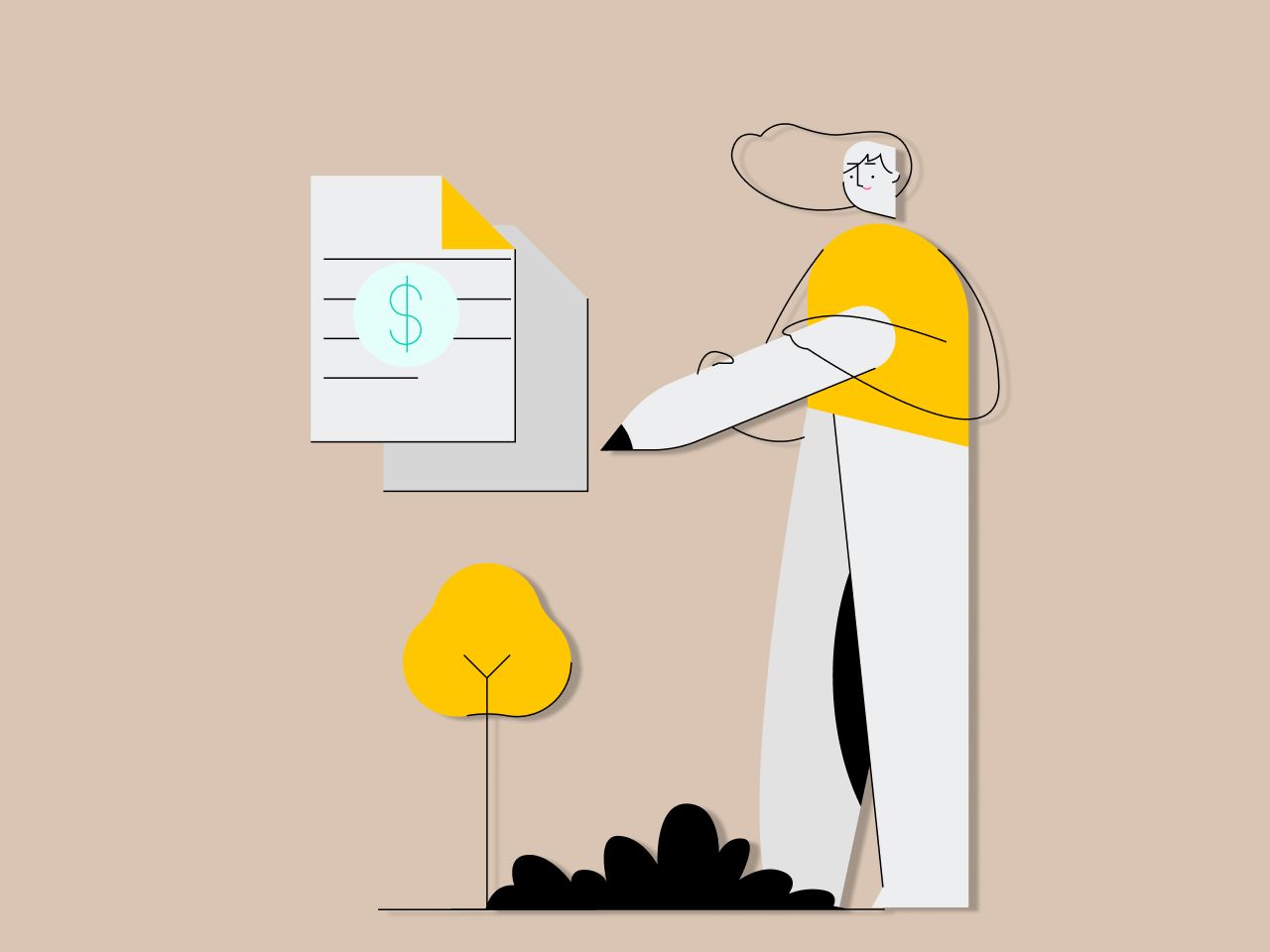 By now you already know how easy it is to create a Costing Table in Techpacker. But did you know that Techpacker allows you to create a Costing Sheet for different types of products? Whether it's a dress, pair of pants, handbag, sportswear, kids clothing and even home goods!
How to Get the Best Pricing From Suppliers?
As we discussed previously one of the main elements of the garment's cost is the material. What material you select for your product will define its quality, it's manufacturing cost and the final price for your customer. Therefore, knowing how to maintain a good relationship with the supplier of your choice plays a crucial role in product manufacturing.
Like most brands and designers, you've often wondered whether the price quoted by your supplier is "reasonable" and if you could get a lower price from someone else. You've also probably considered other important factors against price, such as quality and existing supplier relationships. With all of this in mind, (and your Tech Pack ready, of course) check out these tips on how to negotiate the best price from your factories from our friends at In-Touch Manufacturing.
One of the key elements of the Tech Pack is a Bill of Materials (BOM). A well-defined Bill of Materials will help you not only calculate an accurate cost of your garment but also effectively communicate with your supplier and possibly negotiate the cost of the materials that works for you. Check out our Ultimate Guide to the Bill of Materials in Fashion to learn how to create an effective BOM in order to produce a finished and sellable garment.
How To Request a Price Quotation From a Garment Manufacturer
So you've come up with a new design collection and you need to get an estimate of how much it is going to cost to produce it. Tech pack in hand, and with a list of potential suppliers, now you need to request pricing quotations to see which factory can work with your budget and timings, while still meeting your quality needs. Follow this price quotation strategy to get accurate quotes from suppliers.

Step 1. Ensure your tech pack is complete
First thing first, make sure all of your product details are clearly laid out in a tech pack. Include your design's flat sketches, bill of materials, colorway specs, POMs (Points of Measure) for your product in all sizes, plus the list of embellishments and branding artwork if it applies.
Here's an in-depth post by our CEO on what goes into a quality tech pack.
Step 2. Make a list of potential suppliers
Try to gather at least three, but ideally, you should have ten or more, if possible. The more choices you have, the better as it's not usually wise to accept the first price you obtain. This will allow you to compare and shortlist the best suppliers and you'll gain a better understanding of the overall market cost for certain items. What's more, you will also have backup options if there is an issue with your first choice.
Step 3. Get in touch
Now it's time to reach out to your shortlisted manufacturers. Send over your complete tech pack and request suppliers to provide the following information: the MOQ (minimum order quantity), payment terms, price breakdown, quality checks, shipping, timings, list with country destinations.
Step 4. Keep track of your requests
Be sure to follow up! Some manufacturers might be handling a lot of orders and requests and perhaps yours got lost in the crowd. Calling is a good idea to ensure they've received your quote request.
Step 5: Review Quotations
After you have gathered a few quotation files, take the time to study each one and compare them to see what works best for you.
Step 6: Shortlist the best candidates
It's always a good idea to request samples from more than one supplier. It's a good way to test the manufacturer before you ask for the full order and spend your production budget. It also gives you an initial idea on how they work and communicate, and this is key.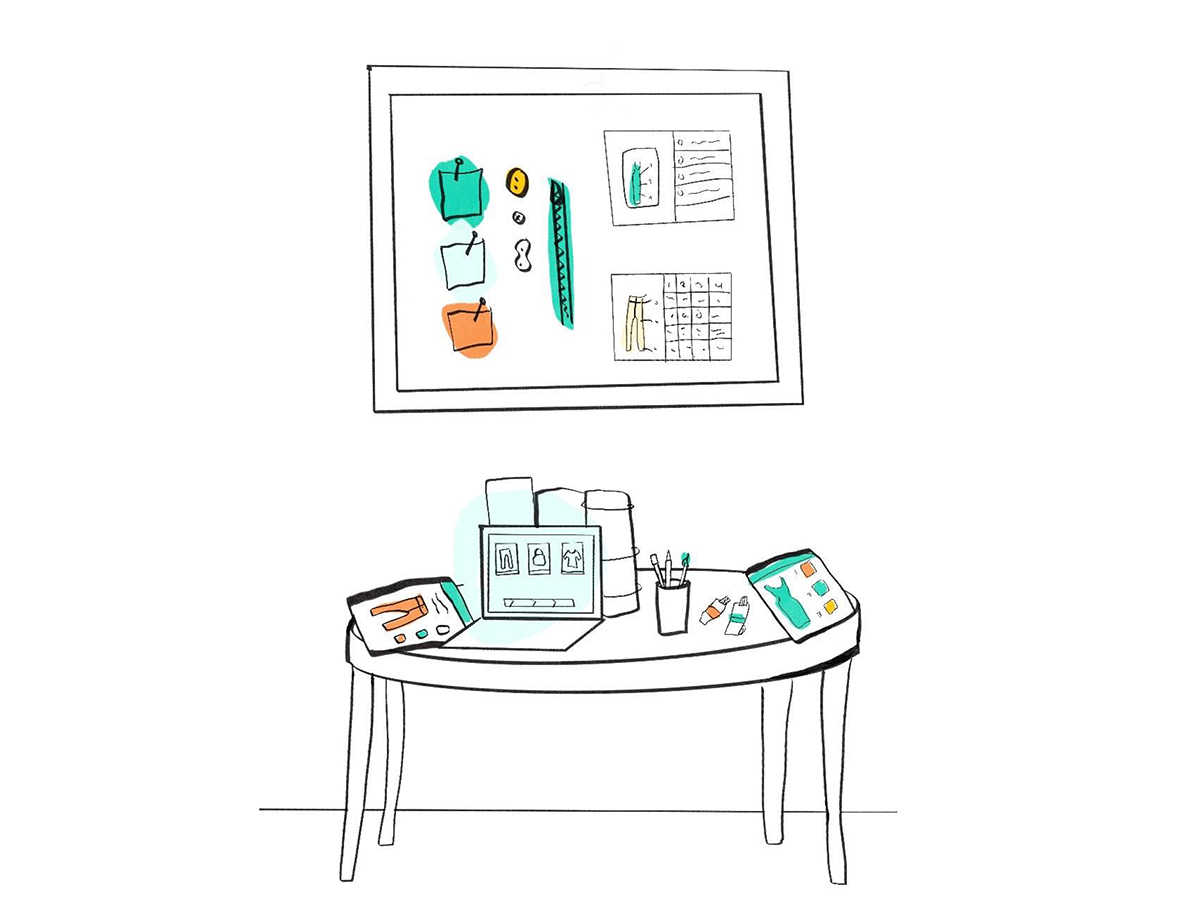 How to execute a garment production order
After you've conducted a careful search to find the right manufacturer, the time to produce your collection has come.These are the next steps to ensure everything goes smoothly when you execute your garment production order:
1) Write a clear and detailed manufacturing agreement
Your manufacturing agreement will help protect your business in the event of a production issue, this is why it's crucial. For example, in case you need to make a claim if there are defects in the final products, which is a common occurrence, this document will help prevent misunderstandings.
But before you start drafting your agreement make sure you have your tech packs ready. Your tech pack serves as a contract with suppliers that clearly lays out what you expect from them to produce for you. So be as detailed as possible: list things like thread count, a supplier list (for other trims and materials your manufacturer doesn't provide), colors, measurements and tolerances, fabric type, etc.
2) Deposit of initial payment
The agreed-upon payment terms should be well confirmed before placing the order. This is essential to build solid relationships with suppliers, so establish favorable contract terms before signing the payment document.
Production should begin from the date you transfer the upfront payment manufacturers require. In most cases, this is 30% of the (FOB) value.
The remaining 70% should only be issued once the order passes the respective quality tests.
3) Overseeing the production process
You've paid the initial deposit and now the supplier should execute the production according to the plan. You should allow enough time in your planning and production schedule to navigate and correct errors.
If you work closely with your clothing manufacturer, you should have the opportunity to negotiate turnaround times and factor in any issue they might encounter when producing your clothing.
After you've agreed on a shipping deadline, you must check in with them periodically to get updates on things like: the reception of the raw materials or if the production has officially started, for example.
This can help you anticipate any delays and plan accordingly. You might want to obtain a production schedule or timeline from the factory which could look like this, for example: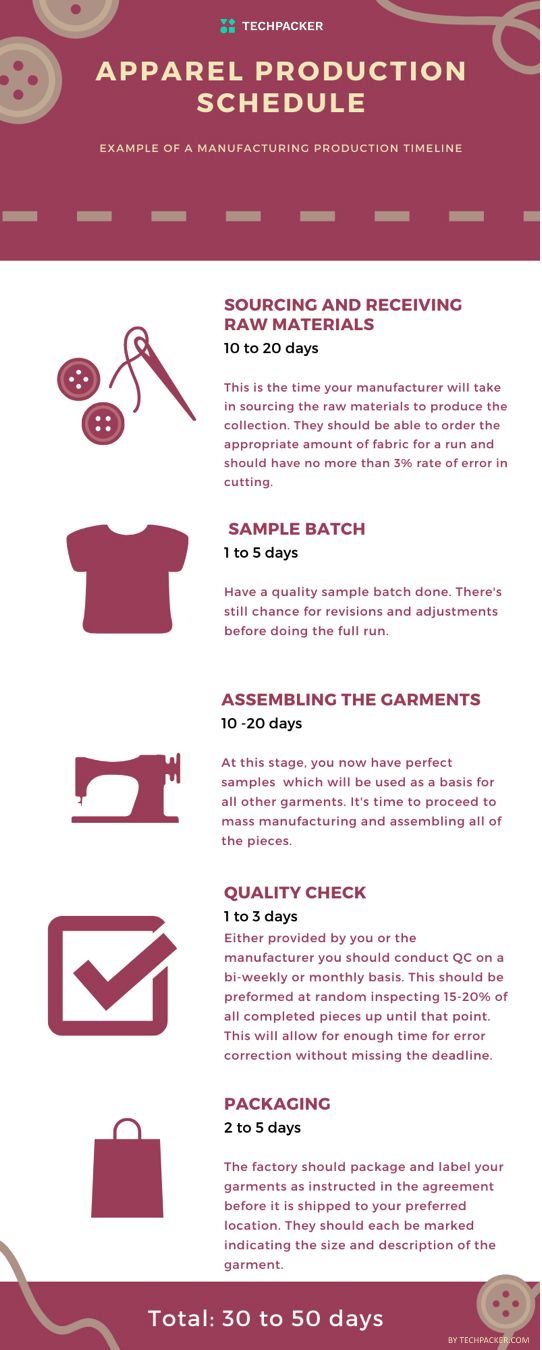 ---
PRICING
What is the Price of a Garment?
Pricing is the process whereby a business sets the price at which it will sell its products. In setting prices, the business will take into account the price at which it could acquire the goods, the manufacturing cost, the marketplace, competition, market condition, brand, and quality of a product. Price and cost are different things. Price is what the buyer pays for the product or service. Cost is the seller's investment in the product subsequently sold.
How does the seller set the price? The price-setting methods come down to three general approaches:
1. Cost-based pricing  is one of the pricing methods of determining the selling price of a product where the price of a product is determined by adding a profit element (percentage) in addition to the cost of making the product. It uses manufacturing costs of the product as its basis for coming to the final selling price of the product. This approach ignores (in theory but not always in practice) what any other seller sets as the price for the same or a similar product, and bases the selling price on its relation to cost.
2. Competitive pricing is the process of selecting strategic price points to best take advantage of a product based market relative to competition. This pricing method is used more often by businesses selling similar products.
3. Demand-based pricing is based on the customer's demand and the perceived value of the product. In this method the seller sets the price after comparing the customer's responsiveness to purchase at different prices. In this method, a seller may increase the selling price of something in limited supply when the demand is high or put a product on sale when it's low in order to clear inventory.
Difference between Wholesale and Retail Price
In short, Wholesale price is a rate charged by producer or distributor to retailer. Retail price is the price that consumers pay to retailers.
Wholesale is a process of selling the products in large amounts, at a lower price. The process of selling to end buyers in a small amount with a profit is called Retail. Wholesale Price includes the materials costs, manufacturing and labor invested, other overheads like rent, electricity, etc., and a minimal profit margin. To visualize take a look at the example of a Wholesale Price Formula.
Example of a Wholesale Price Formula:
Wholesale Price = Materials Cost + (Labour Invested x How Much You Value Time) + Other Overheads (Rent, Fixed Costs, Electricity, etc) + Profit Margin
The retail price, on the other hand, is the final price that a good is sold to customers for, those being the end users or consumers. When setting the price, the retailer will add a  profit margin but at the same consider to show an attractive price to compete with other retailers. Sometimes the retail price can be recommended by the manufacturer. To visualize let's take a look at an example of a Retail Price Formula.
Example of a Retail Price Formula:
Retail Price = Wholesale Price / (1 - Markup Percentage)
How you calculate wholesale price from retail price is completely dependent on you, your market, your positioning, your business, your future plans and much more.
Learn more about this topic here -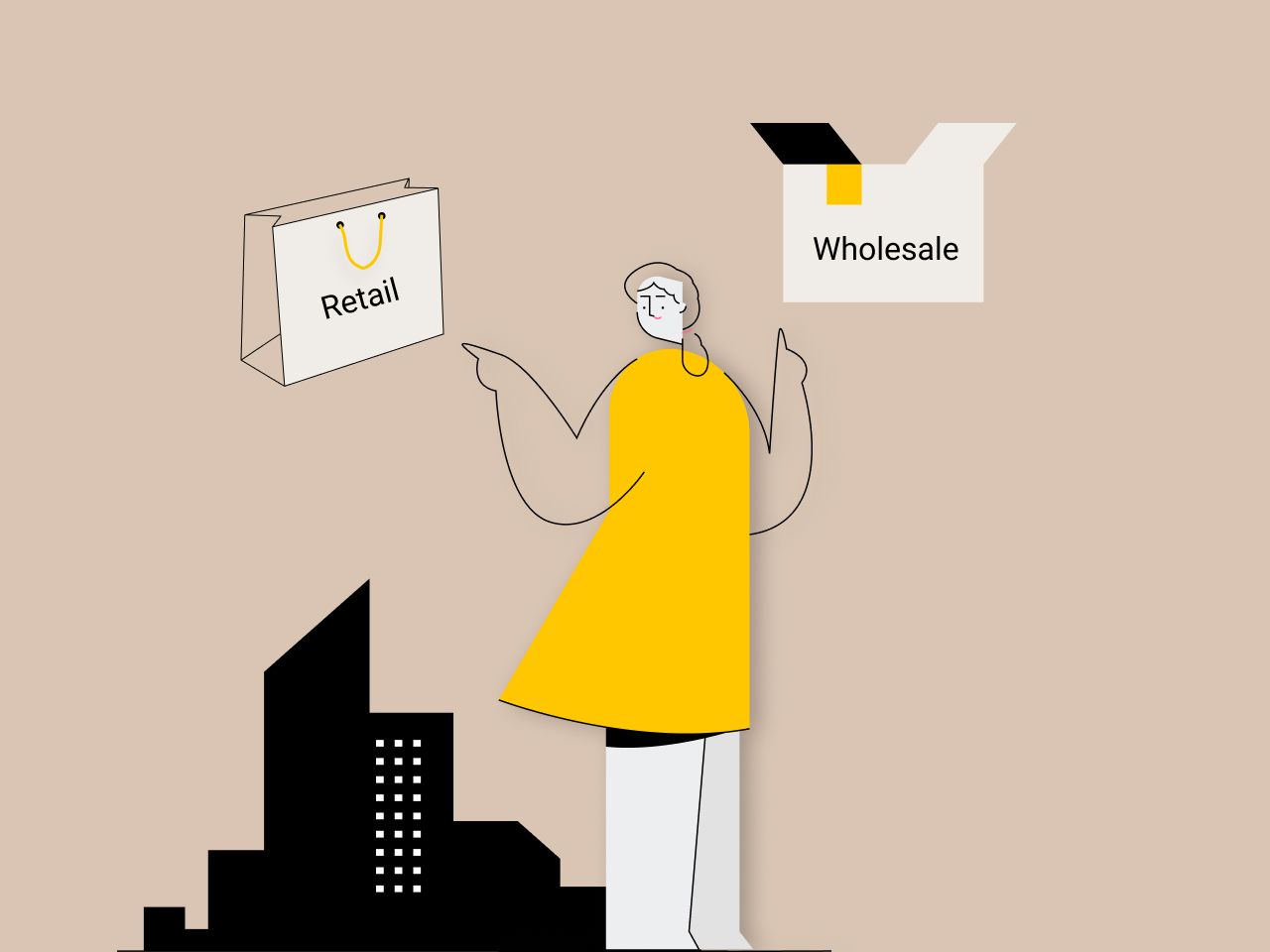 Pricing in Today's Digital Landscape

With the digital era in full bloom retailing has dramatically changed the environment and has required a reevaluation retailers' pricing strategies and capabilities.
This article by McKinsey focuses on key value categories (KVCs) and key value items (KVIs) and the relevance and evolution of these in pricing strategy in today's digital retail environment and why it's important to know:
The traditional role of key-value categories and key value items in retail price strategy.
How today's digital retail environment is changing the game.
The key implications for creating a winning price strategy.
How to Determine the Right Pricing to My Target Market
Pricing strategies help you differentiate your brand and gain competitive advantages in the marketplace. With the help of following price ranges you can find the ideal strategy for your business:
Luxury pricing is applied to products of extremely high value (compared to the actual cost of production). Brand customers tend to be loyal and purchase these products to elevate their social status.
Budget pricing refers to low-end, affordable products. Customers will buy based on price, therefore, customer loyalty is low. Serving this segment can yield significant sales volume at the expense of lower per-unit profitability.
Value-based pricing for the middle part of the market – this part of the market needs to see value for money – a careful mix of quality and price. This pricing strategy sits somewhere between the budget and luxury segments.
Difference b/w CIF and FOB
CIF is considered a more expensive option when buying goods. The seller uses a forwarder of their choice who may charge the buyer more in order to increase the profit on the transaction. Communication can also be an issue because the buyer relies solely on people who are acting on behalf of the seller. The buyer might still have to pay additional fees at the port, such as docking fees and customs clearance fees before the goods are cleared.
FOB contracts relieve the seller of responsibility once the goods are shipped. After the goods have been loaded they are considered to be delivered into the control of the buyer. However, the buyer can negotiate a cheaper price for the freight and insurance with a forwarder of his or her choice.
To better understand how each works, let's imagine take-out dinner scenario:
CIF: Cost Insurance Freight
Let's say you call your favorite Chinese take-out and ask them to deliver dinner to you (considering they charge a delivery fee). From that moment it's the restaurant's and their delivery guy's responsibility to ensure your food arrives on time or that your dumplings are not missing, for example.
It works in a similar way with Cost Insurance Freight, the factory making your garments is responsible for the goods until they reach your port of destiny. And there will be a surcharge for that service. Of course it's not as simple as Chinese take-out, you can learn more about CIF here.
FOB: Free or Freight On Board
Imagine this time you've asked not to have the food delivered to you. Instead, you'll pick it up yourself or have somebody of your choice do that for you. From the moment the order is collected, you become responsible for the food and its delivery.
In the same manner, with FOB the factory or seller is responsible for the goods until they are loaded on the vessel. From then on, the buyer assumes all of the responsibilities for the shipment. If only arranging garment shipping were this easy!
Learn more in-depth on this topic from the link below -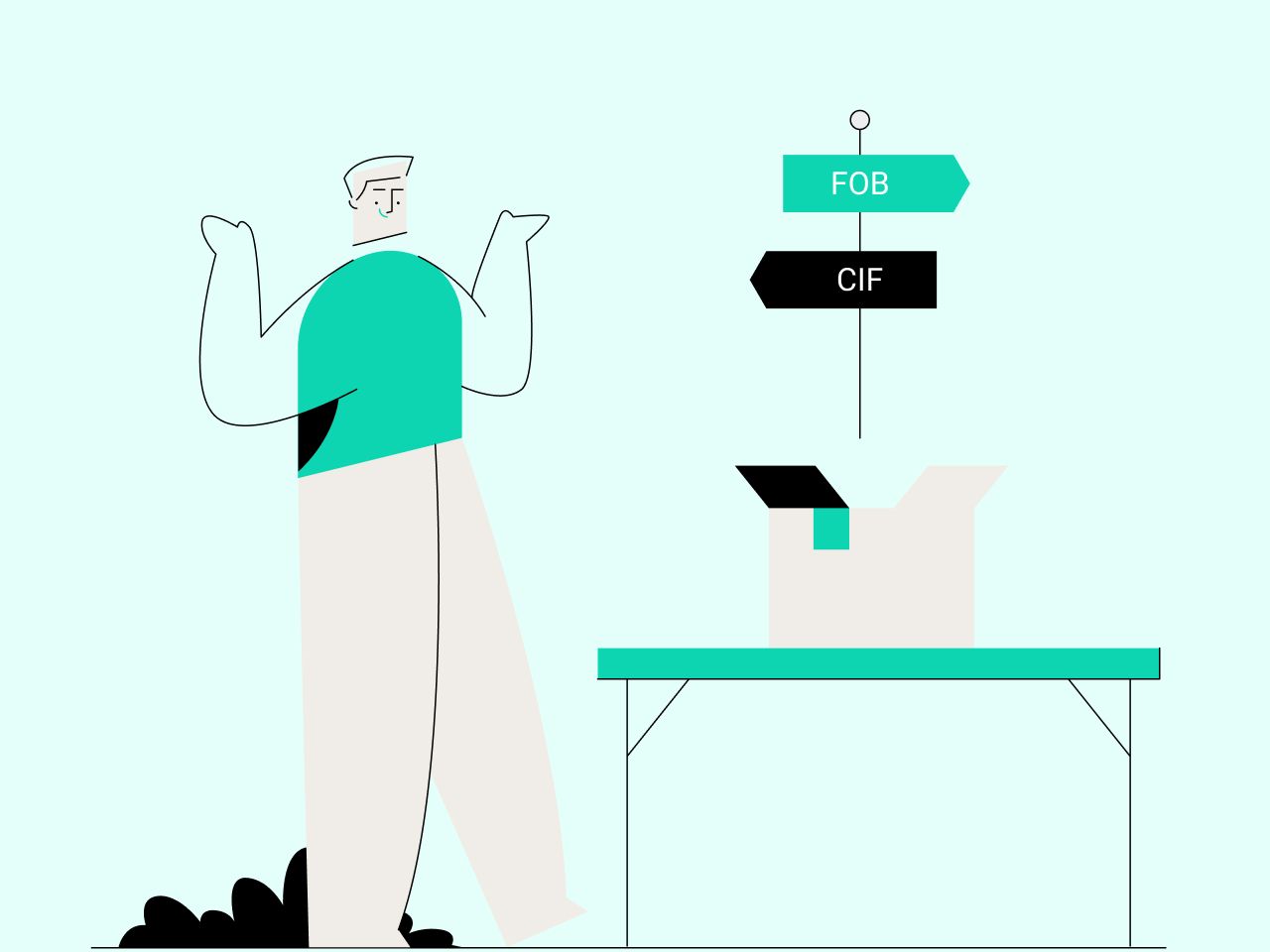 Final Words
As mentioned before, setting the right cost and price for your product is crucial in order for your business to be successful. And therefore it's important to:
1) We understand different methods and techniques used to calculate the right cost and price for your specific products.
2) Maintain organized techpacks with other crucial information like Bill of Materials. This would  help you to not only calculate an accurate cost of your garment but also effectively communicate with your supplier and possibly negotiate the cost of the materials that works for you.
3) Use excel spreadsheets or apps like Techpacker to organize all your costing data in one place. With Techpacker, you can see the costing sheet and other Tech Pack data together in one place instead of having to go back and forth between two separate documents. You can always make edits and keep your entire team up to date with real-time information.
Ready to create your costing sheet?
OR
Manage your product development to production workflow with factories hassle-free. Try Techpacker.