Contents
A tech pack is a set of documents created by the design team to explain their design to a manufacturer so they can turn this information into a finished garment. Essentially, it is a tool used by designers and manufacturers to communicate. A tech pack also acts as a collaborative environment where designers, product developers, buyers, and quality control planners work together.
A typical tech pack includes technical sketches (or fashion flats), construction details, measurements, a Bill of Materials, and a costing sheet. In this blog post, we will show you how to create a tech pack for a handbag step-by-step.
---
Sketches and construction details
Every tech pack starts with technical sketches (also called fashion flats). They represent the idea of what a handbag has to look like when produced. Fashion flats should illustrate every design detail from different angles. When developing a tech pack for a handbag, we suggest including front, back, and inside views. This will help your factory and pattern maker visualize how to make the first handbag sample look as close as possible to your desired product. Technical sketches are done in black and white and are typically created using Adobe Illustrator.
If you are creating a handbag in different color variations, you can also include colored sketches. Make sure to add the corresponding Pantone color for each colorway.
Start with front and back view sketches of your handbag. Add construction details like stitch type.
Add the inside view sketches to show the inside details like lining, darts, and inside stitching.
The next step is to add colorways along with the material placement. Specify the main fabric and lining placement. Handbags are complex, and to make them, a lot of little details are used. These details are called "hardware." And that includes zippers, magnetic closures, tri-glides, d-rings, etc. All of that has to go into a tech pack.
---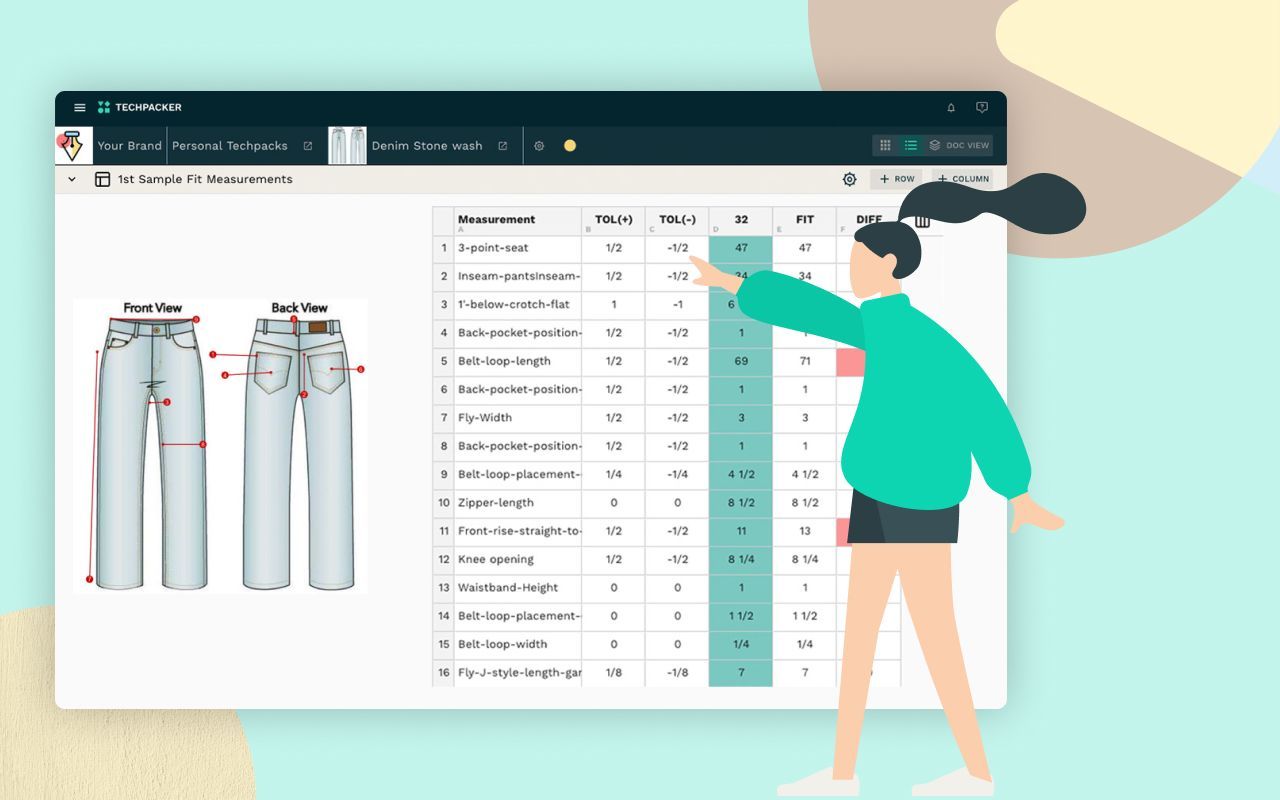 ---
A Bill of Materials
A Bill of Materials (BOM) is a complete list of all the items that are required to build a product. BOM helps brands estimate material costs to plan purchases and reduce waste. It also helps you never miss a single button or any other tiny detail when manufacturing your products.
When it comes to manufacturing a handbag, you will need to source a shell material like leather or an alternative to it, hardware accessories, trims, and leather thread. Your BOM table will include all of that, as well as labels, hand tags, and packaging supplies.
We highly recommend adding supplier info to your Bill of Materials. That will save a lot of time once it's time to order a new batch of materials.
---
Measurements
The measurements specification sheet (or measurements table) is an elaborate detailing of the measurements of different components in a particular garment. The garment measurement sheet is one of the most important documents used to produce a garment. Therefore, it is very important to create a detailed measurement sheet.
The measurements sheet for a handbag consists of technical sketches with callouts and a measurements table. Callouts (also called annotations) showcase how the measurements are taken. They are also used to specify construction details and material placement.
A measurements table for a handbag should include every measurement needed for a pattern maker to produce the pattern for a specific handbag. Some examples of these measurements are bag length (top and bottom), strap width and length, bag flap and buckle measurements, etc.
---
Costing Sheet
A costing sheet is made to calculate the cost of a product. It is a great tool for budget planning. Once you receive a quote from your factory, you will know how much it would cost to produce one handbag and the whole production run. Generally, the more handbags you produce, the lower the cost per handbag will be.
The costing sheet for a handbag will include:
Labor cost;
Materials costs, like leather, lining hardware (basically everything from your BOM table);
Labels and tags;
Packaging materials.
Once you create a costing sheet, you will know the total cost of one handbag. This will help you determine if the cost is within your budget, how many bags you can produce, or if you need to source different materials to cut down the cost.
---
Share with the manufacturer
Once you have your tech pack ready, you can generate a PDF doc in one click and share the factory-ready handbag tech pack with your manufacturer.
Once you share the tech pack with your manufacturer and sign the manufacturing agreement with them, the sample making process begins. During this process, the tech pack may be edited many times until you are satisfied with the final result. So it is important to keep each tech pack version on hand and compare them as needed.
---
Bonus: a free handbag tech pack template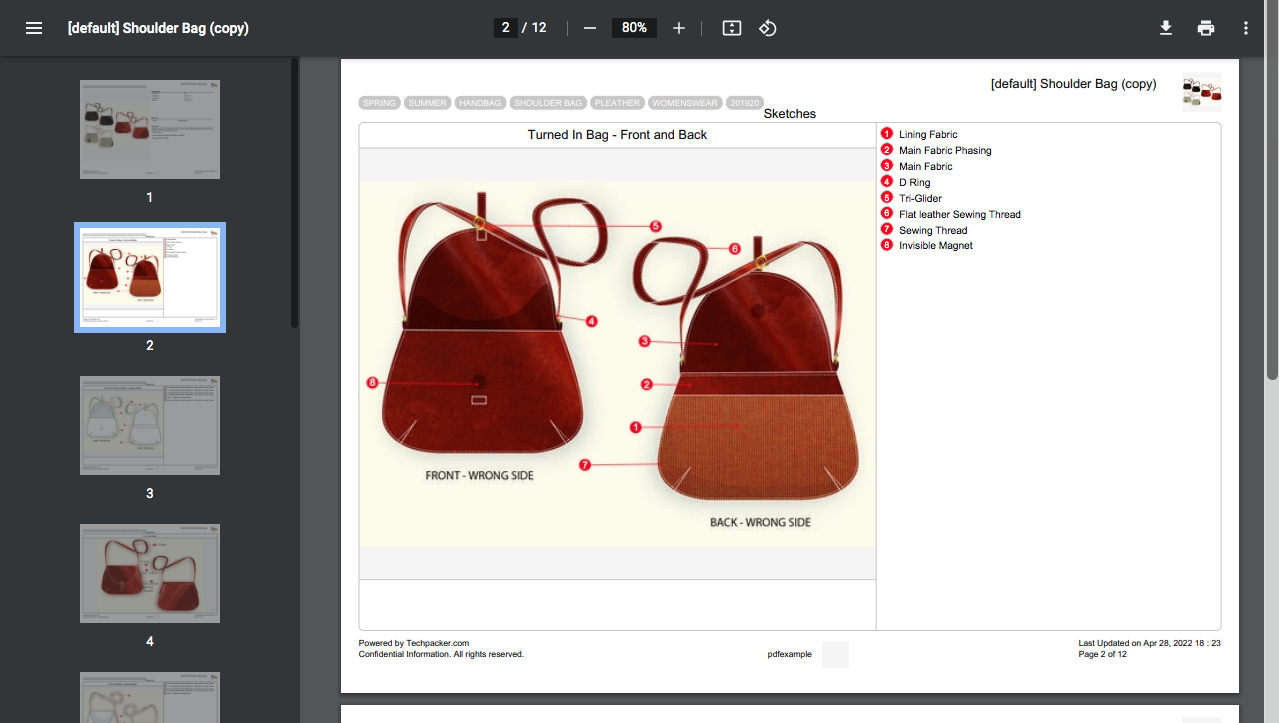 Use our free handbag template as a base to design your own bag or as a reference guide.
---
Other related content: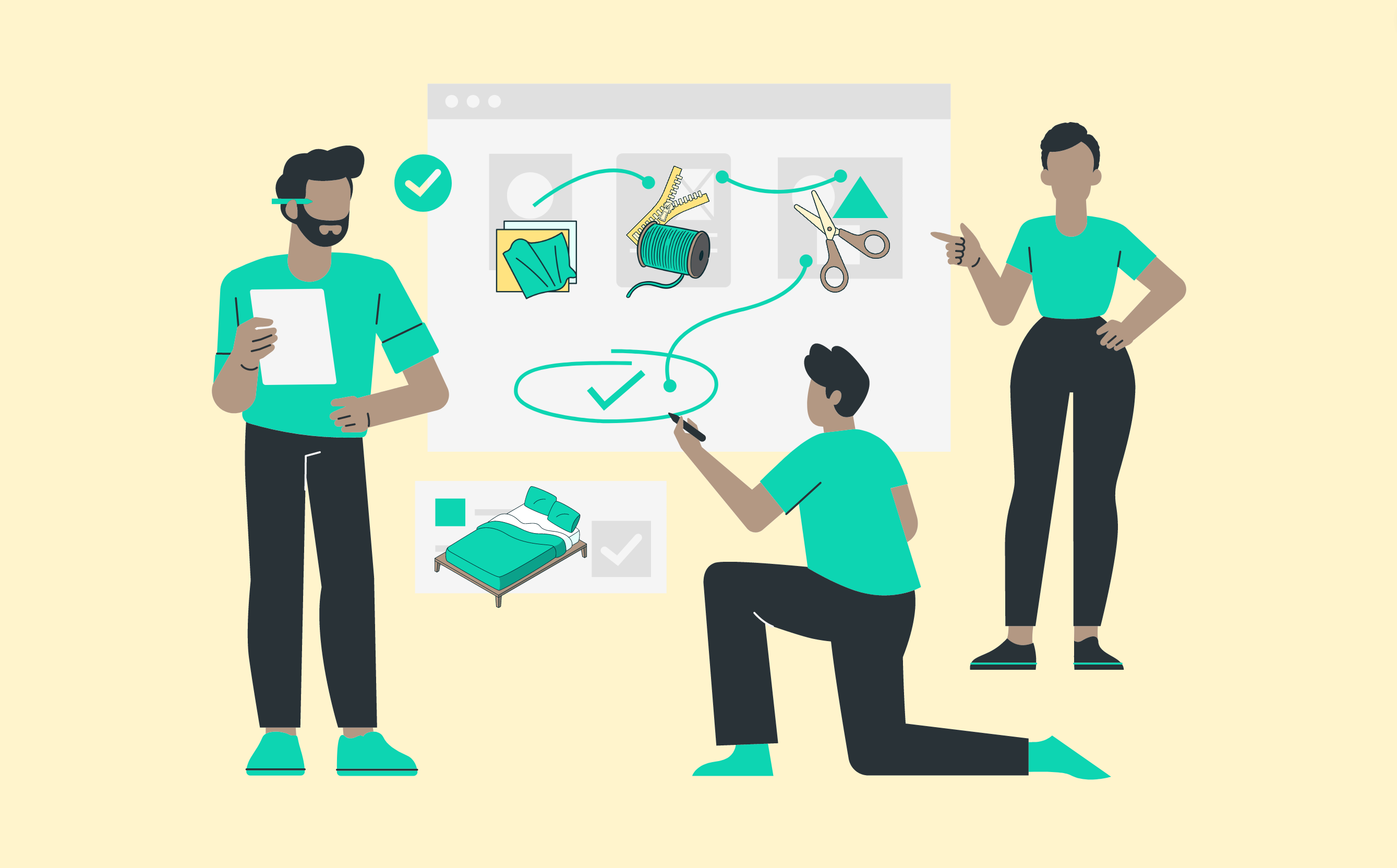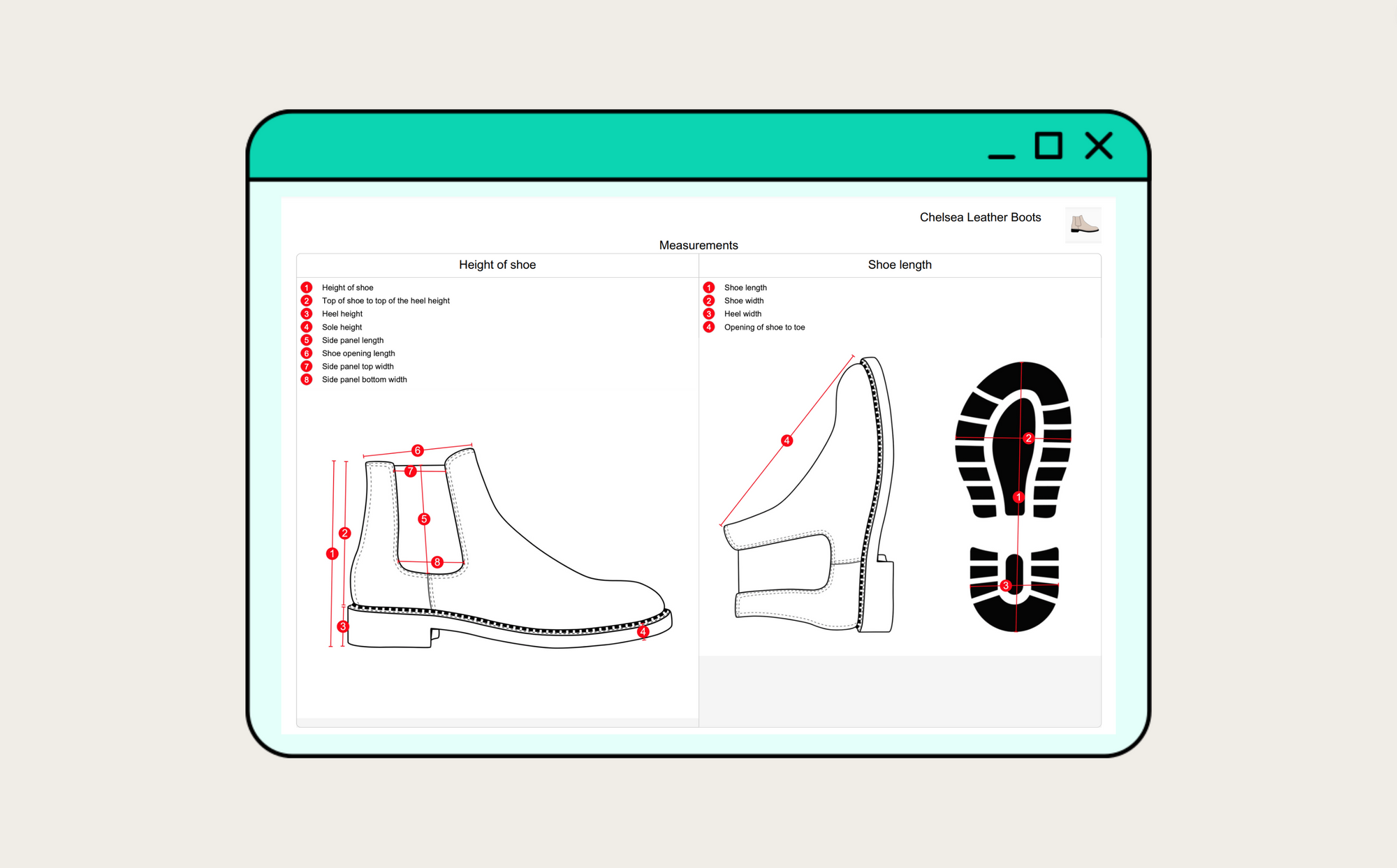 ---
---
Start creating your professional tech packs now!
OR
Request a demo
Manage your product development to production workflow with factories hassle-free. Try Techpacker.