Contents
A Technical Pack (or Tech Pack) is a blueprint for a finished garment. It includes all of the technical characteristics and design aspects that distinguish your product. Essentially, it is a communication tool used by designers and manufacturers.
A standard tech pack consists of sketches (also called fashion flats), construction details, measurements, a Bill of Materials, and a costing sheet. In this blog post, we will show you how to create a tech pack for a pair of sneakers.
---
The size range and sample size
To create your tech pack, enter the size range and the sample size for the sneakers. Based on your sample size measurements, your manufacturer will create the first mockup. Once the sample size has been accepted, the factory will create a size set with samples for all sizes specified in your tech pack.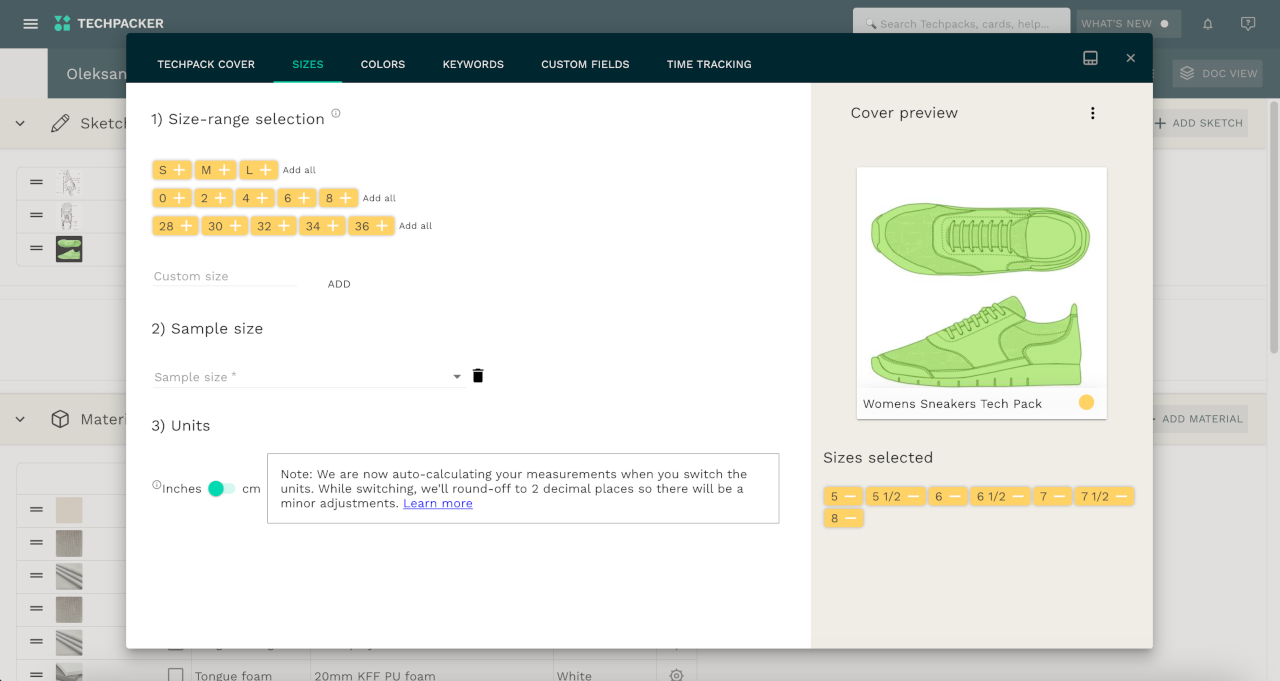 ---
Sketches and construction details
Your manufacturer will use your technical sketches as a visual reference. They demonstrate how a pair of sneakers should look when constructed. Your fashion flats must show every design element from several perspectives. We recommend including a side and top view in the sneakers tech pack. Based on your sketches, the pattern-maker will create a pattern for the sample size pair.
Technical sketches are usually done in black and white using vector editor tools. For this tutorial, we will repurpose this template on Repsketch.
You can change the color and other design details, as well as preview how your sneakers will look in real life. Sign up for the Repsketch newsletter to get notified as soon as this feature goes live!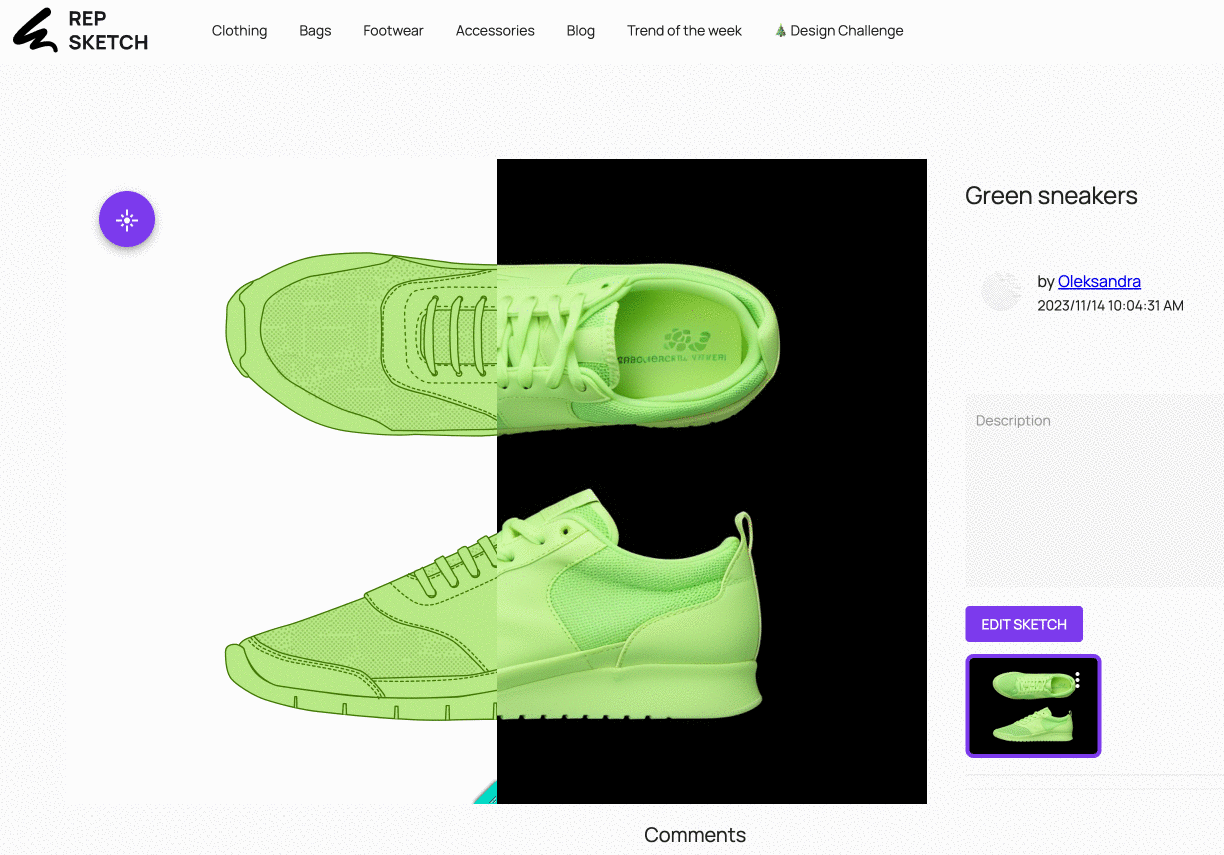 To our tech pack, we will add the flat sketches with construction details. The side view: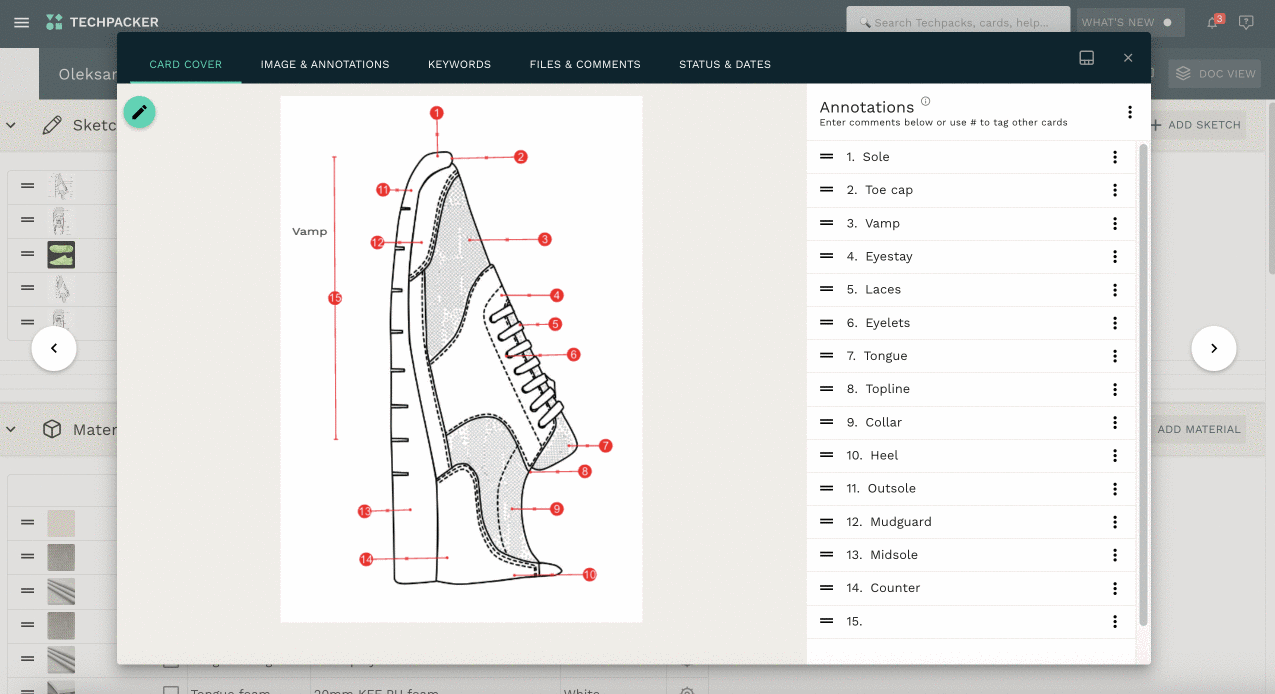 And from the top view: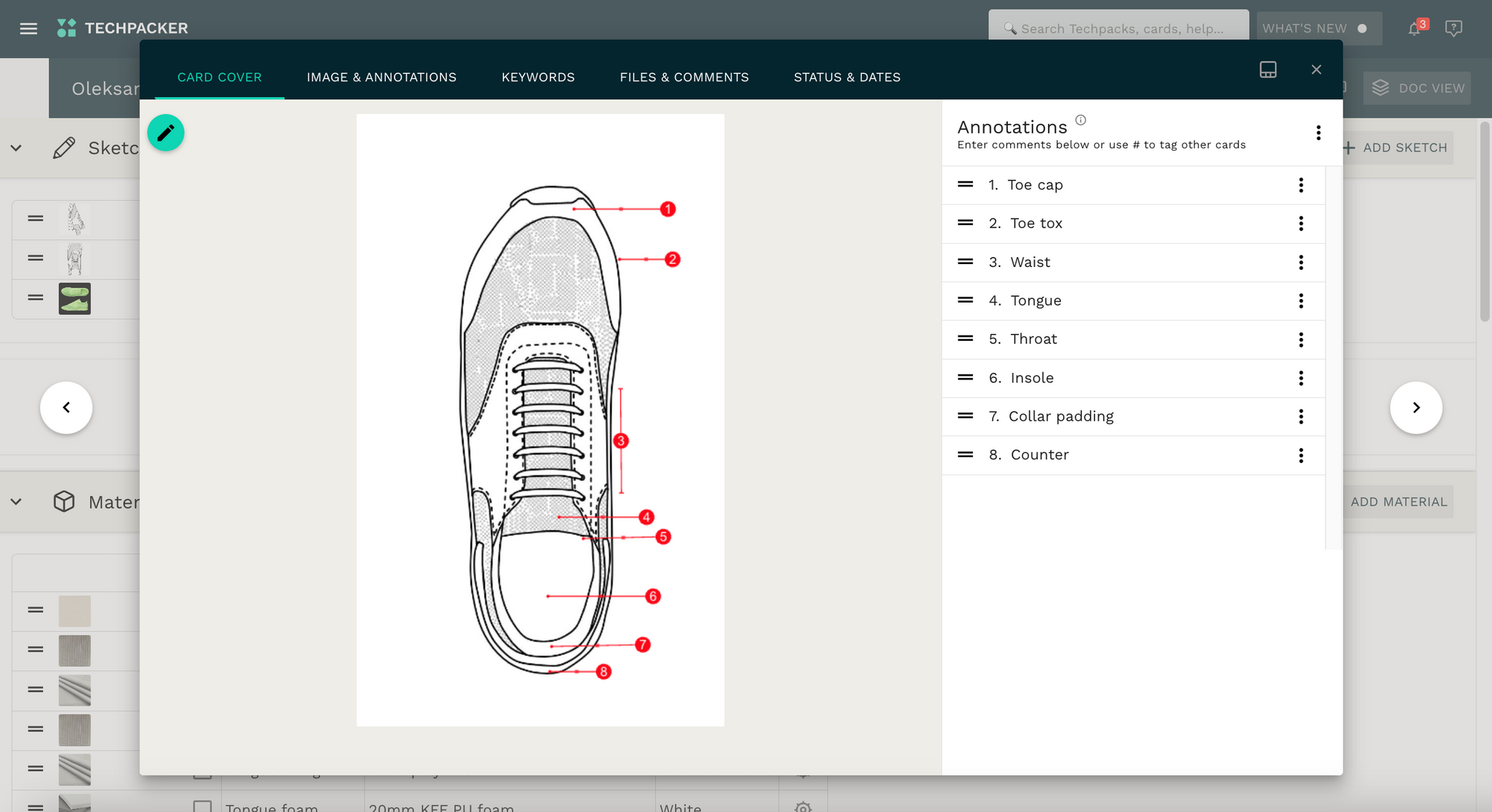 For this tutorial, we have re-purposed one of the Repsketch tech pack templates that you can find here.
---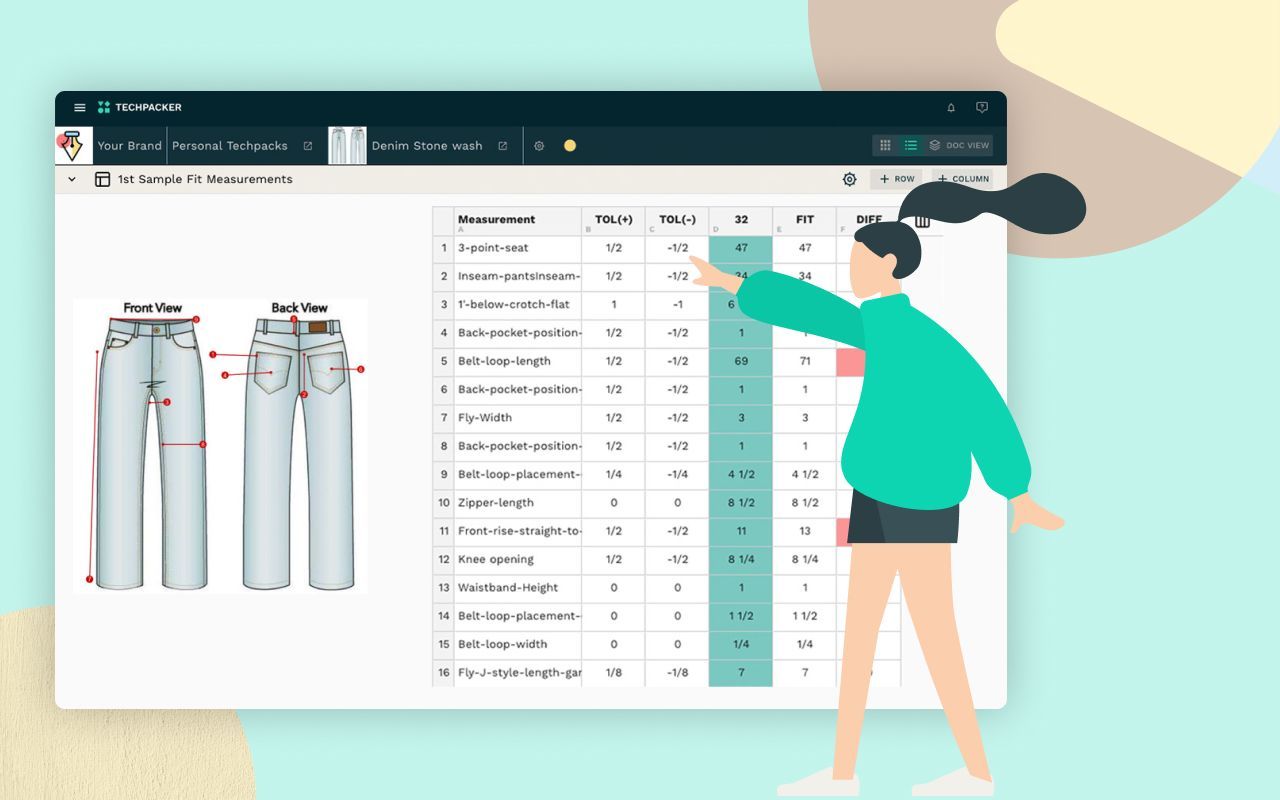 ---
A Bill of Materials
A Bill of Materials (or BOM) is a detailed list of all the components needed to construct a product. A bill of materials (BOM) is an excellent tool for estimating material costs and reducing waste. It also helps to pay attention to every detail when making your sneakers.
Sneakers have a complex design and are produced from a variety of materials from action leather for mudguards to lining materials and lace eyelets.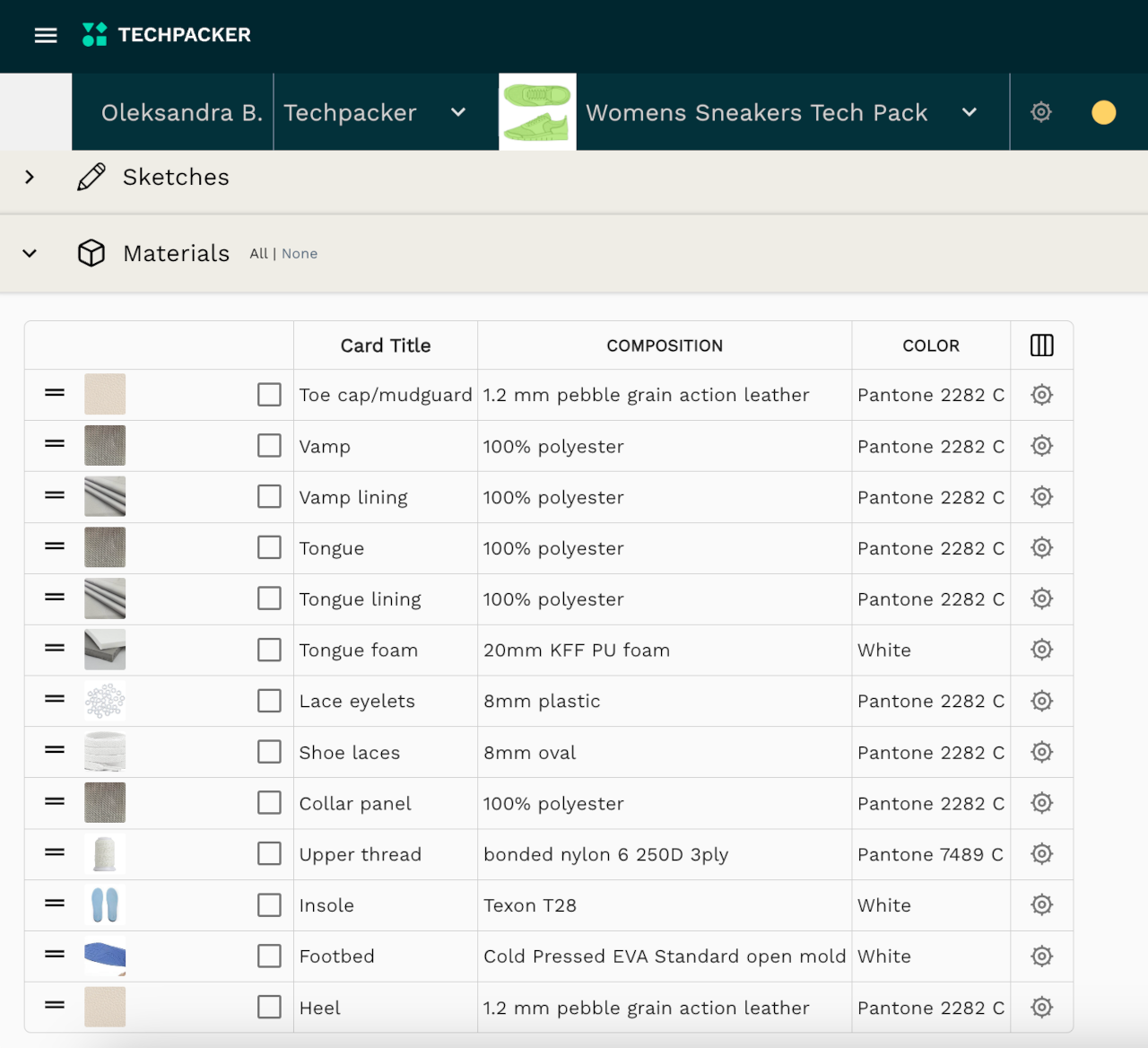 ---
Sign up for our FREE membership and get access to
Measurements
One of the most crucial documents needed in the production of a garment is the measurement specification sheet. In essence, it is a detailed description of the main measurements for the various parts of a certain product.
The sneakers measurement spec sheet includes technical illustrations with callouts and a measurements table. Arrow callouts (also known as annotations) indicate to the maker how the measurements are taken.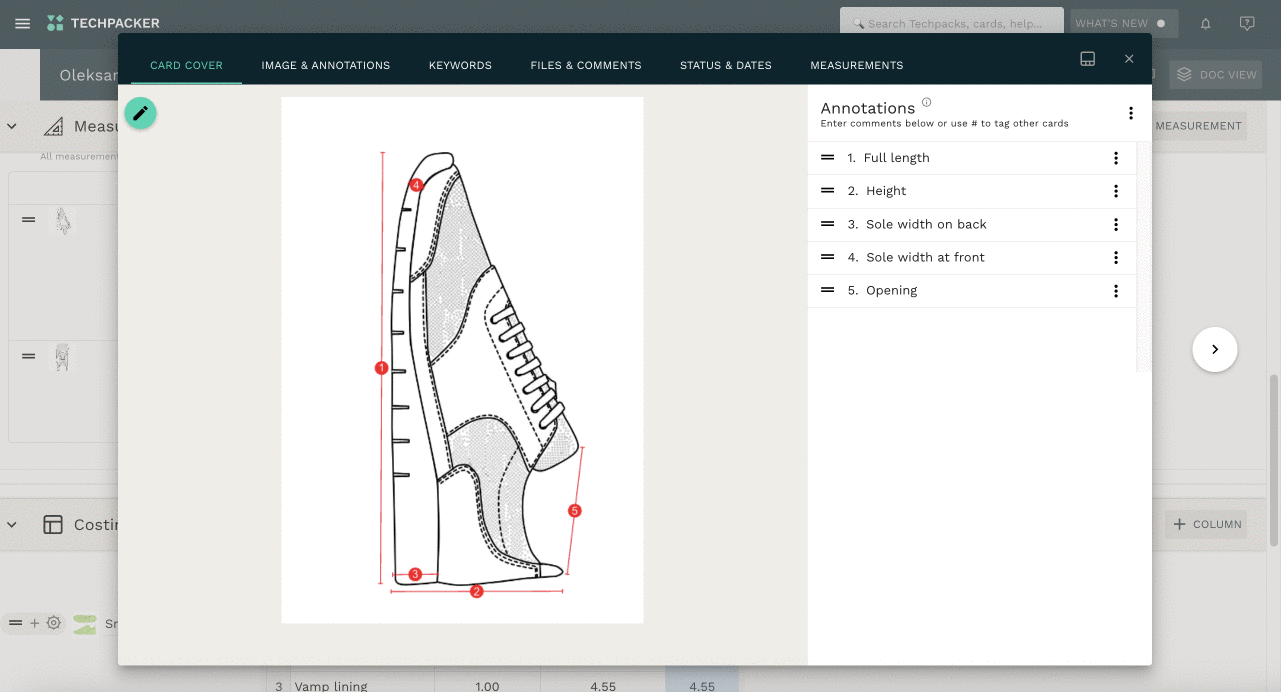 A tech pack for sneakers should include the following measurements:
Full length;
Width;
Height;
Sole width on back;
Sole width at front;
Opening;
Opening to toe.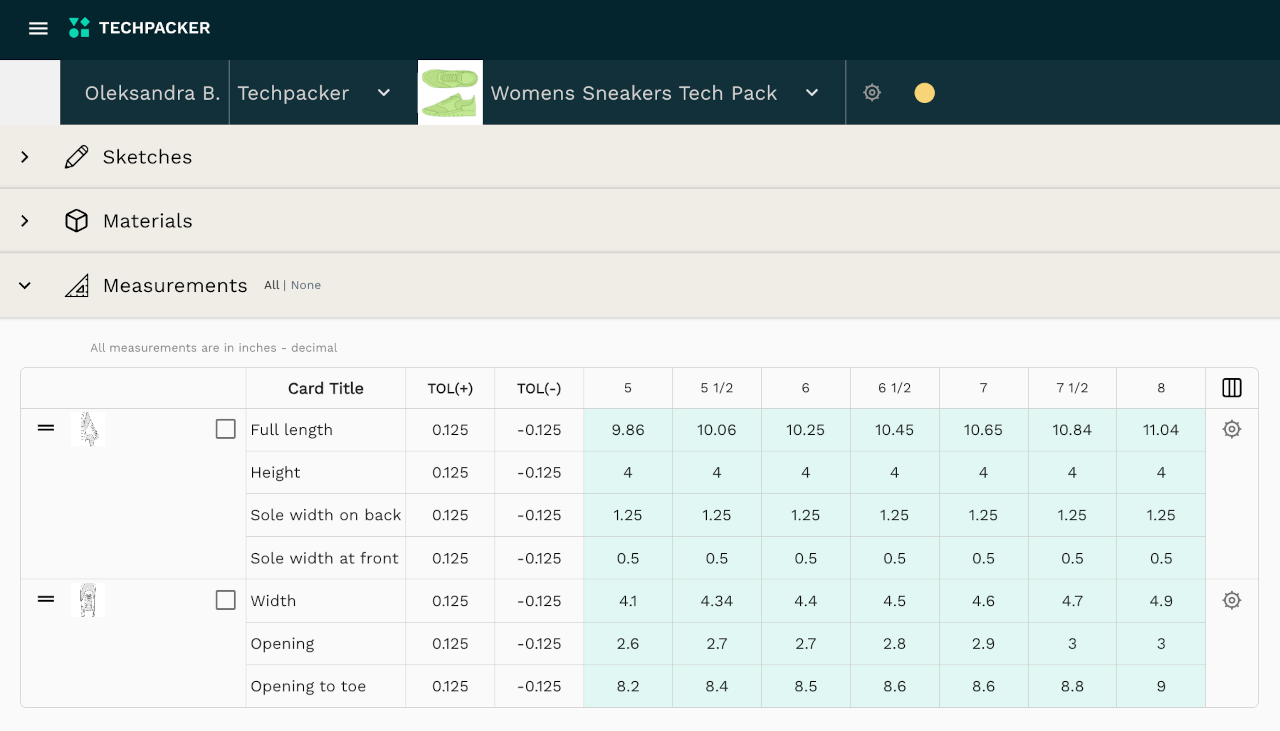 Depending on the style, a measurements table may include other measurements like logo or artwork placement.
---
Costing Sheet
Costing Sheets assist brands in determining the cost of a product. It aids in financial planning. You will know how much it will cost to make one pair of sneakers and the entire production run once you receive an estimate from your facility. Generally, the more sneakers you order from the factory, the lower the cost per pair will be.
The costing sheet for sneakers will include:
Labor cost;
Materials costs, like leather, lining, lace eyelets, etc. (basically everything from your BOM table);
Labels and tags;
Packaging materials.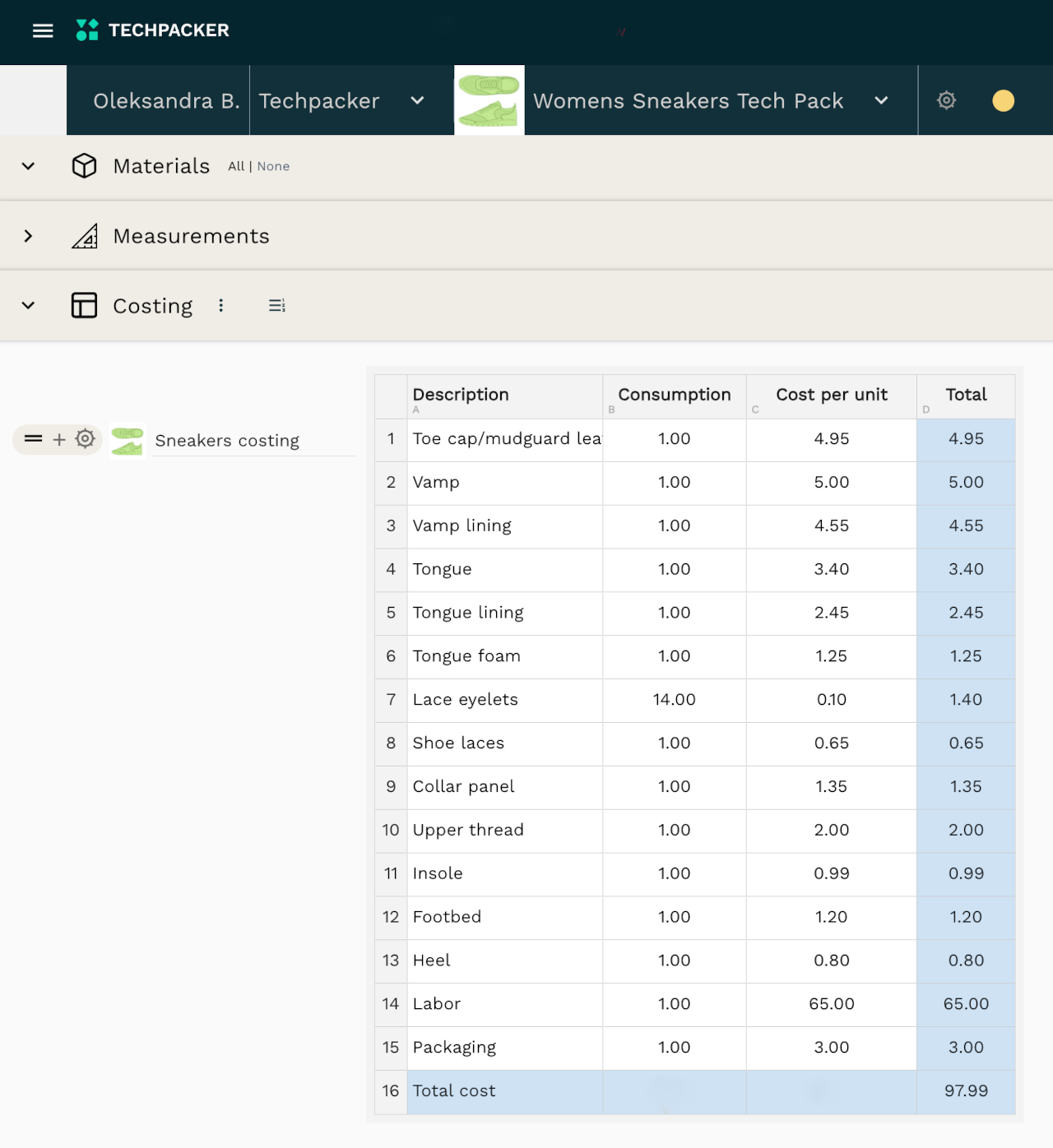 The costing sheet will calculate the cost of one pair of sneakers. Based on that, you will be able to plan your budget and decide how many pairs you would like to produce.
---
Share with the manufacturer
Once you have your tech pack ready, you can generate a PDF doc in one click and share the factory-ready tech pack with your manufacturer.
The sample-making process begins once you share the tech pack with your manufacturer and sign the manufacturing agreement with them. The tech pack may be updated several times during this procedure until you are pleased with the final product. It's critical to maintain each tech pack version on hand and compare them as needed.
On Techpacker, the system will highlight any modifications, making them more visible and accessible to the manufacturer.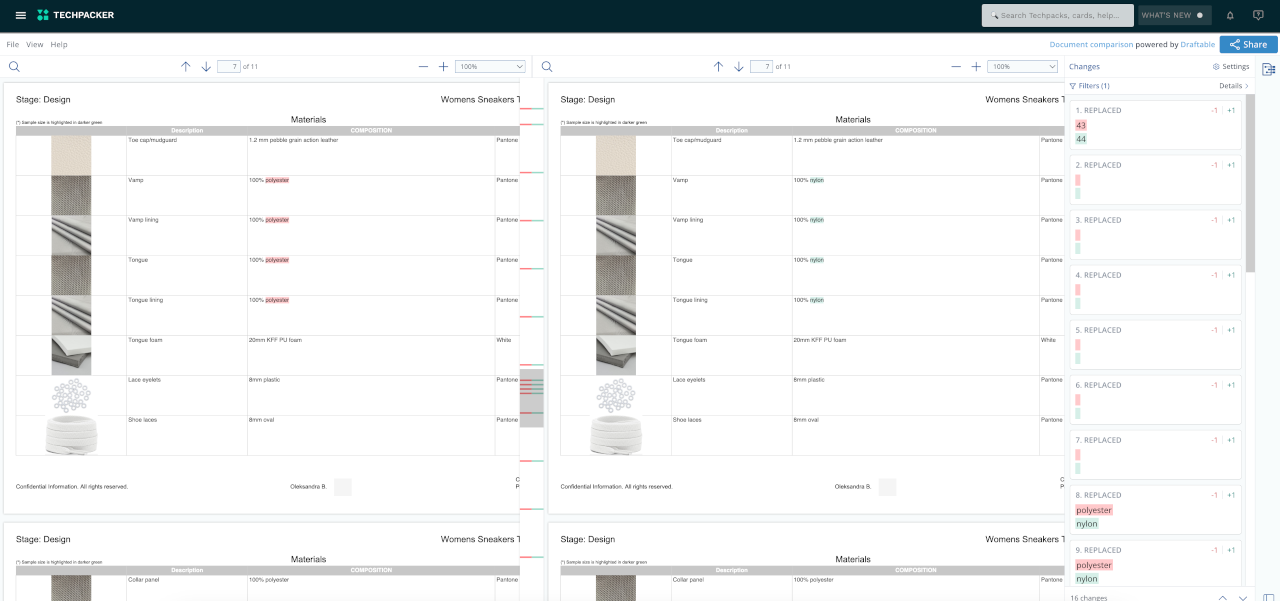 ---
---
💡
IMPORTANT:
To access this template, you must have a Techpacker account. Start by
creating an account now
and enjoy a 7-day trial. Follow our
simple guide
to download and utilize the template for free.