Contents
A Tech Pack, also known as a specification sheet, is a collection of documentation designers generate to describe their design to a manufacturer. It functions as a blueprint for a finished product, containing information such as flat sketches, materials, measurement requirements, size gradings, colors, etc.
The ultimate purpose of a Tech Pack is to reduce the number of samples produced and get a product to market as quickly as possible. The Tech Pack is also a master document for tracking product development, such as comments, revisions, and last-minute modifications.
In this blog post, we will walk you through the process of creating a tech pack for a dining chair.
---
Sketches and construction details
Having detailed technical flat sketches before beginning your tech pack is crucial. Every design element must be shown in your fashion flats from several perspectives. We recommend providing a front, side, top, and back view in the dining chair tech pack.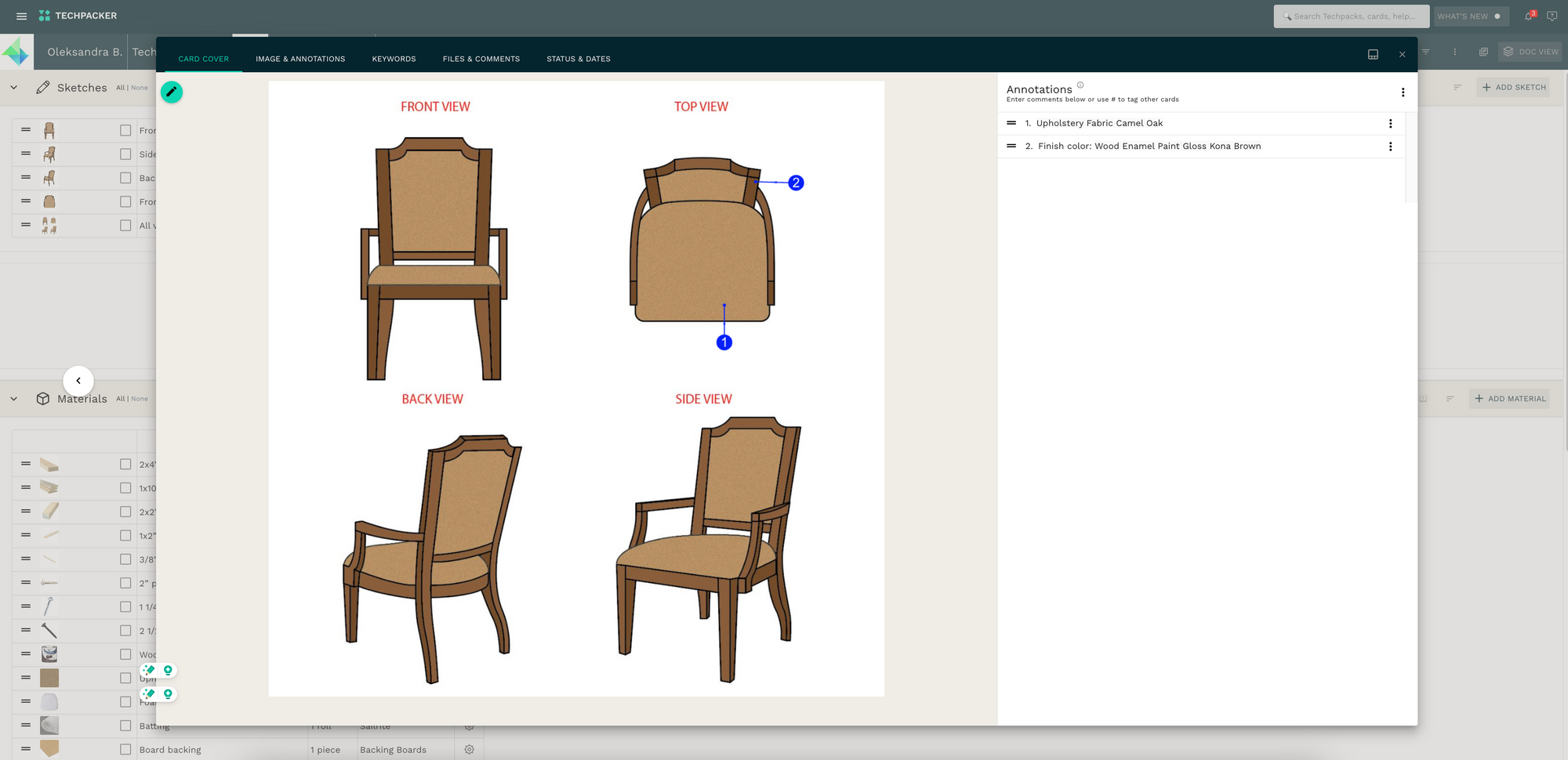 ---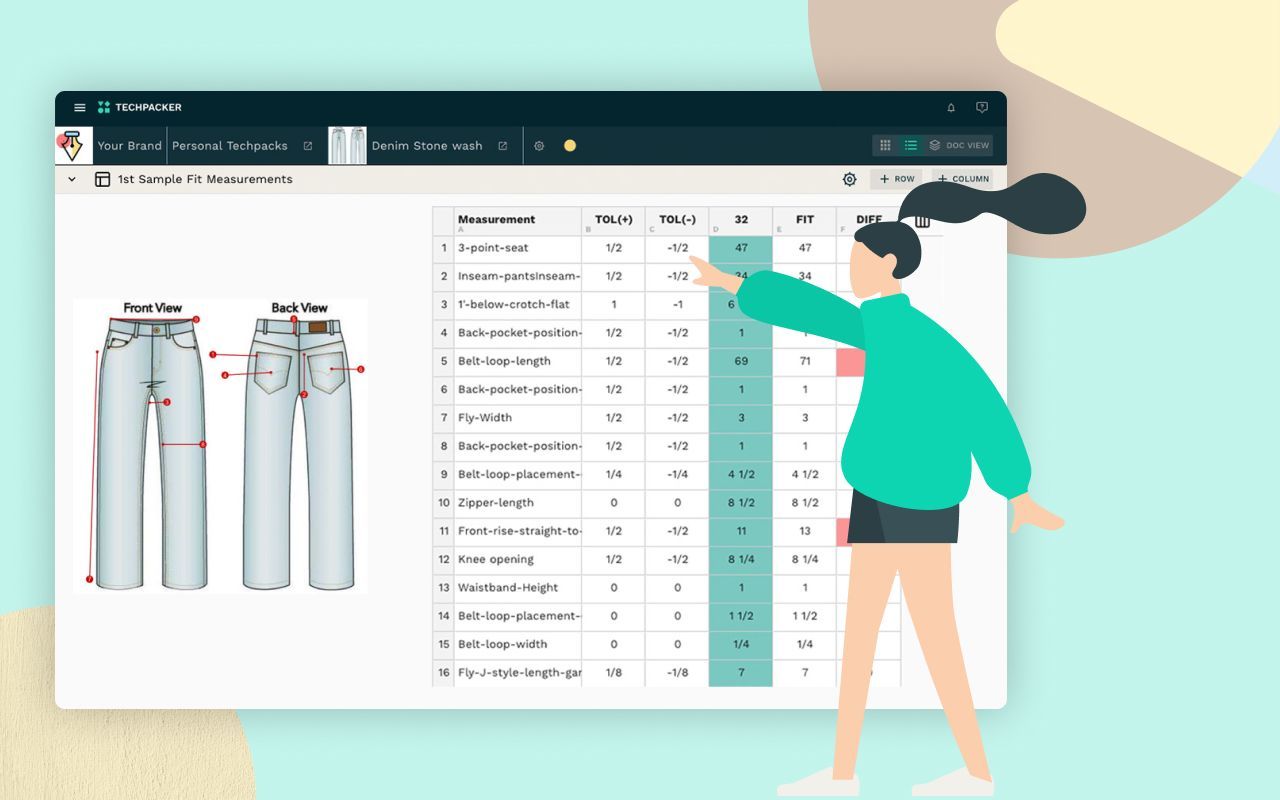 ---
Bill of Materials
A well-defined Bill of Materials is essential to the creation of new products. It is the whole list of components needed to make a finished good that can be sold. BOM tables assist businesses in estimating material prices in order to plan purchases and avoid waste. It also ensures that you never miss anything when producing your items.
Chairs are complex products. They consist of many parts that need to be smartly engineered in order to function well for a long time. This includes different types of wood, screws, and upholstery supplies.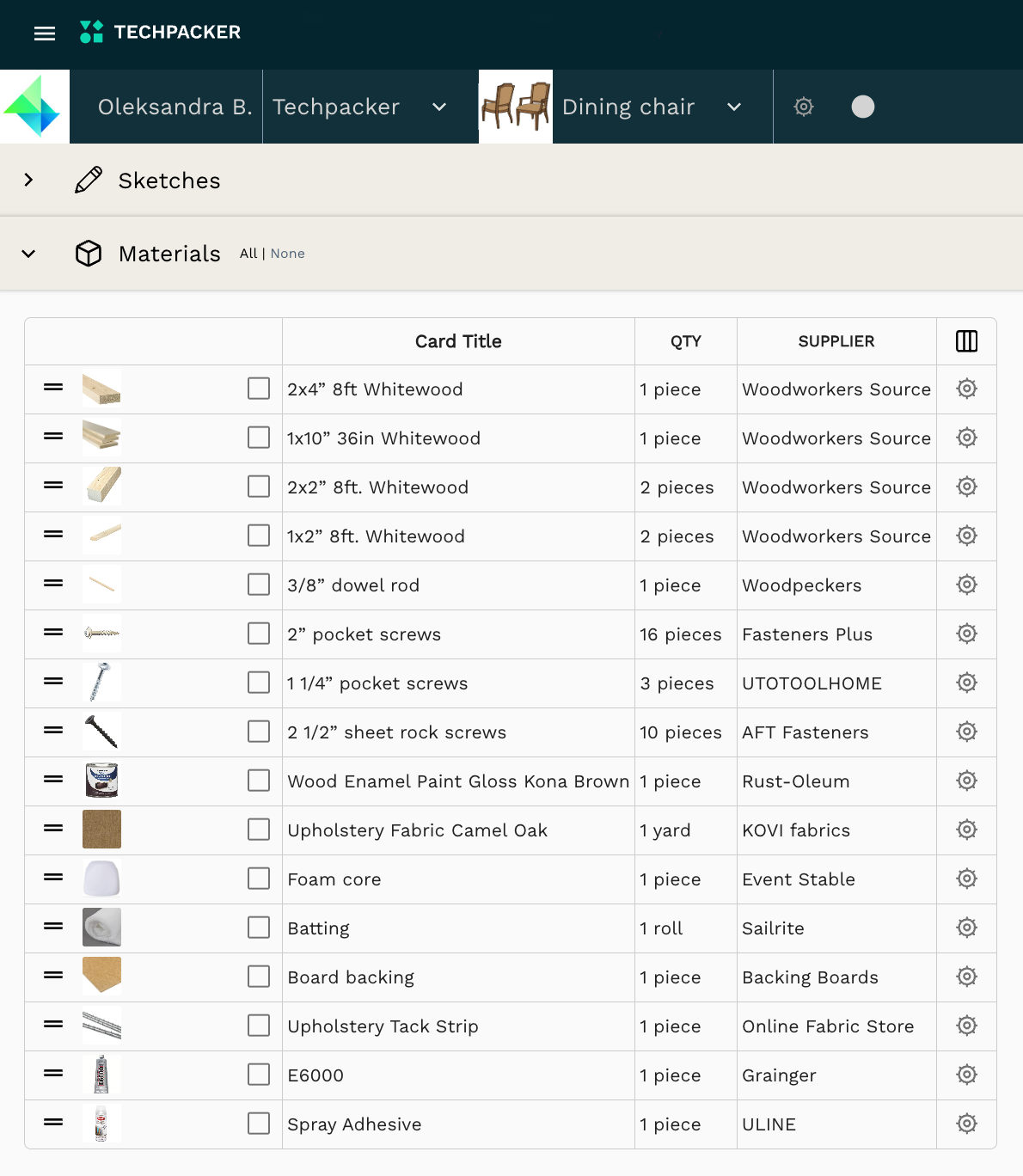 Make sure to include your supplier's information in the BOM table. It will save you a lot of time when it comes time to re-order materials.
---
Measurements table
A Measurement Table, also known as a specification sheet, is a technical document that includes all of the product's manufacturing data. With all of its measurements included, it resembles a technical diagram or a drawing of a product.
The measurements spec sheet for a dining chair consists of technical sketches with callouts and a measurements table. Arrow callouts (also called annotations) showcase how the measurements are taken to the manufacturer.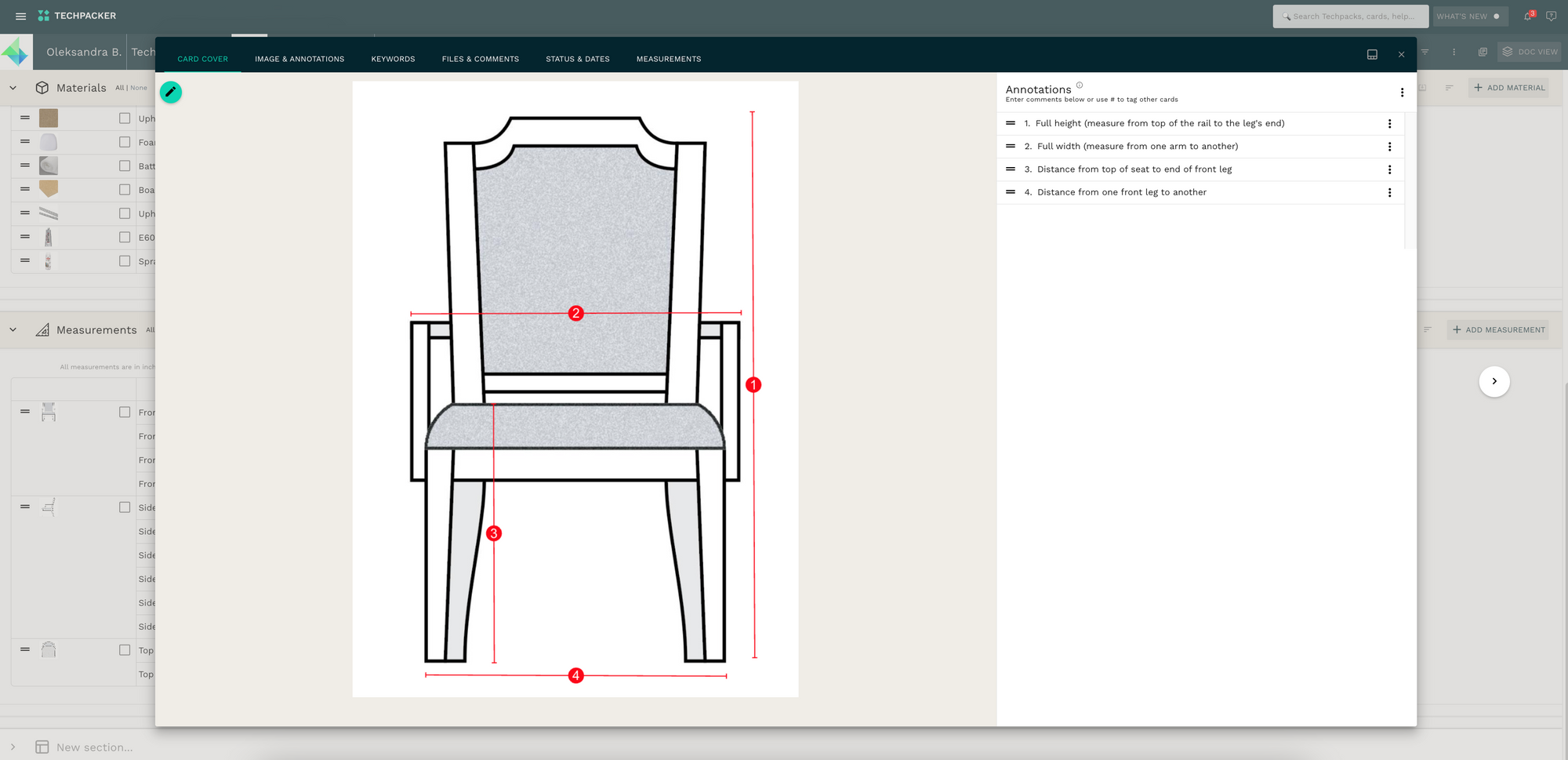 A tech pack for a dining chair should include the following measurements:
Front view: full height
Front view: full width
Front view: distance from top of seat to end of front leg
Front view: distance from one front leg to another
Side view: distance from the front leg to the back leg
Side view: apron width
Side view: seat width
Side view: arm width
Side view: distance from top of the arm to the bottom of the front leg
Side view: distance from top of the seat to the start of the arm
Top view: distance from top rail to the end of the seat
Top view: distance from one arm to another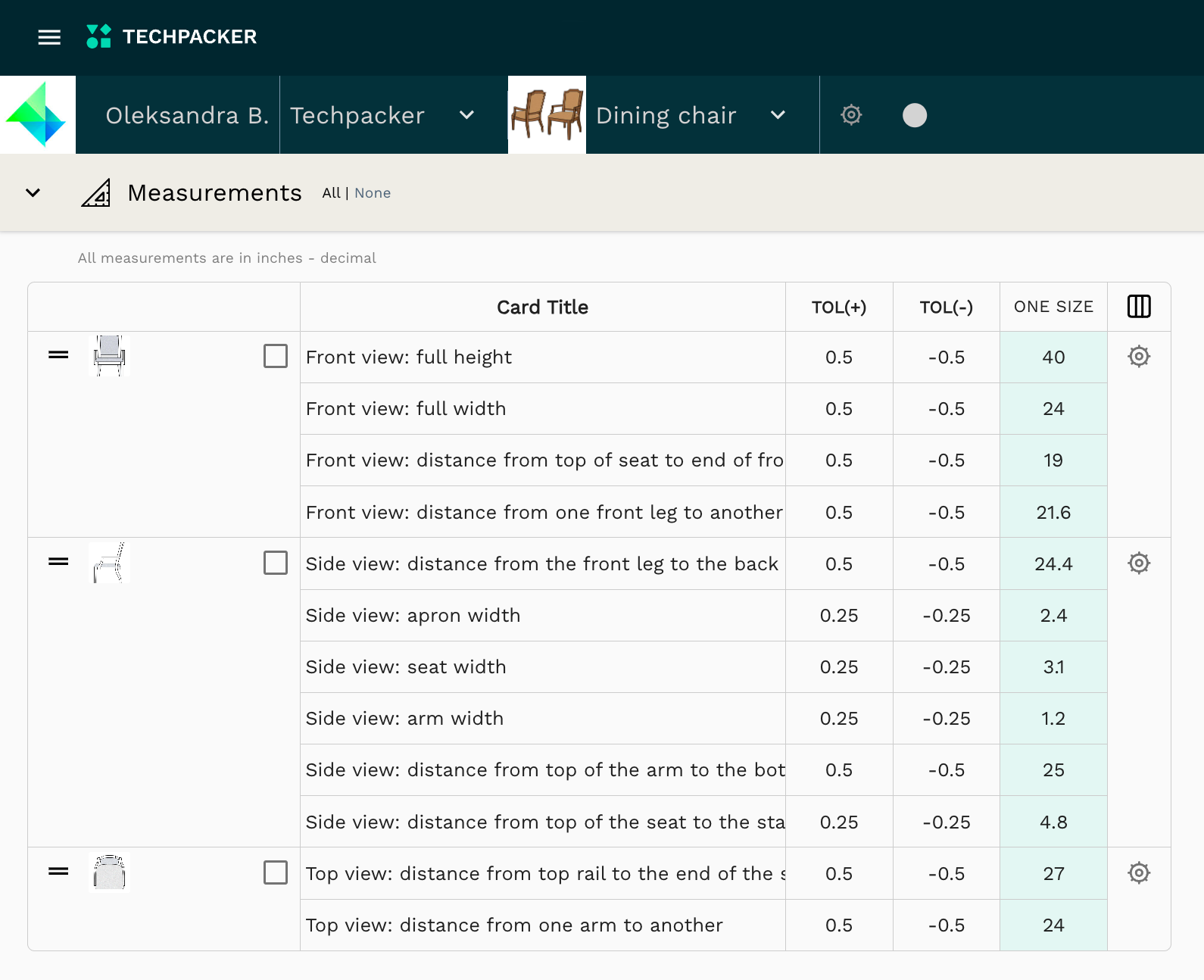 ---
Costing Sheet
Costing Sheets assist brands in determining the cost of a product. You will know how much it will cost to make one dining chair and the entire production run once you receive an estimate from your manufacturer. In general, the more chairs you make the lower the cost per chair would be.
The costing sheet for a dining chair will include:
Labor cost;
Materials costs, like wood, screws, padding, paint, etc. (basically everything from your BOM table);
Labels and tags;
Packaging materials.
On Techpacker, you can automatically generate a Costing Sheet based on your Bill of Materials.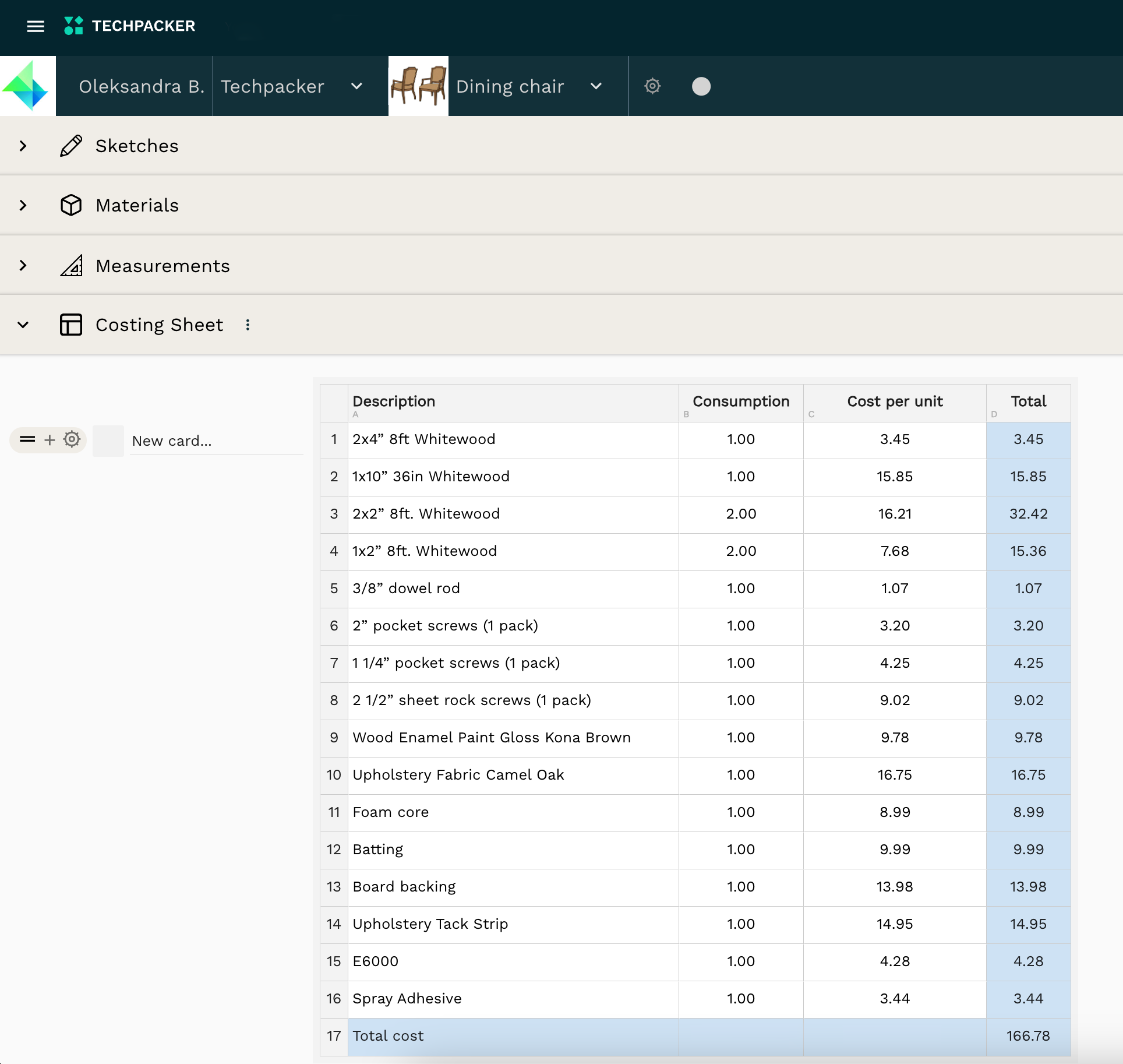 ---
Share with the manufacturer
Once you've completed your tech pack, you can produce a PDF document with a single click and share the factory-ready tech pack with your manufacturer.
The sample-making procedure begins once you share the tech pack with your manufacturer and sign the manufacturing agreement with them. The tech pack may be updated several times during this procedure until you are pleased with the final output. As a result, it's critical to maintain each tech pack version on hand and compare them as needed.
---
💡
IMPORTANT:
To access this template, you must have a Techpacker account. Start by
creating an account now
and enjoy a 7-day trial. Follow our
simple guide
to download and utilize the template for free.